Visiting New York City and seeing its iconic attractions and locations up close and personal is an item on everyone's bucket list. But if you only have a long weekend to spare, how can you make the most of your short trip to New York City? Keep reading to find out!
Visit the city's landmarks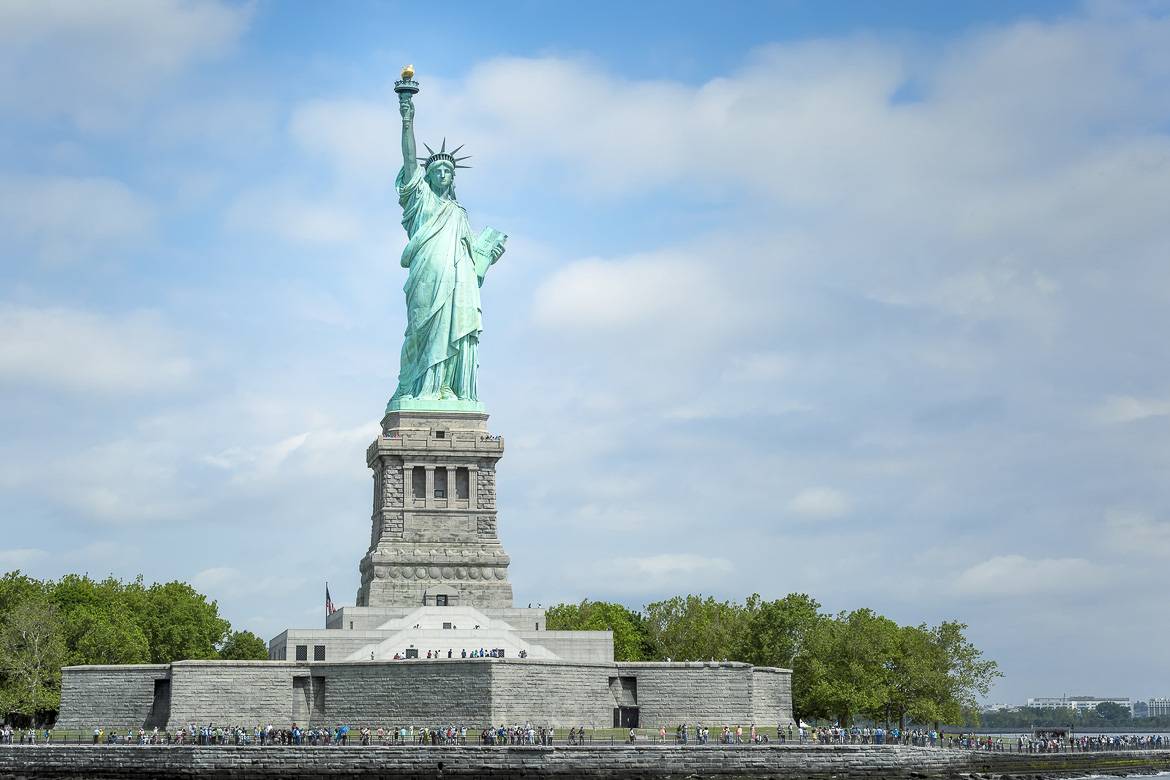 The Statue of Liberty has been an important monument for generations.
Begin your trip with the iconic buildings and locations around New York City. Enter the Empire State Building and ascend to the 86th floor observation deck for panoramic views of the glorious New York City skyline.
Is it possible to be in New York City and not experience Times Square? Here, you can marvel at all of the bright lights and advertisements that have made this landmark location shine!
See why New Yorkers are so proud of their city by visiting the Statue of Liberty. Experience this icon of freedom by catching a ferry to the island where overseas immigrants were once welcomed.
Ever wondered what it's like to commute like a New Yorker? Just visit Grand Central Station, one of the nation's most historic landmarks and one of the busiest train stations in the country, to watch the action while you browse the shops and eat some lunch (or maybe catch a train out of town!).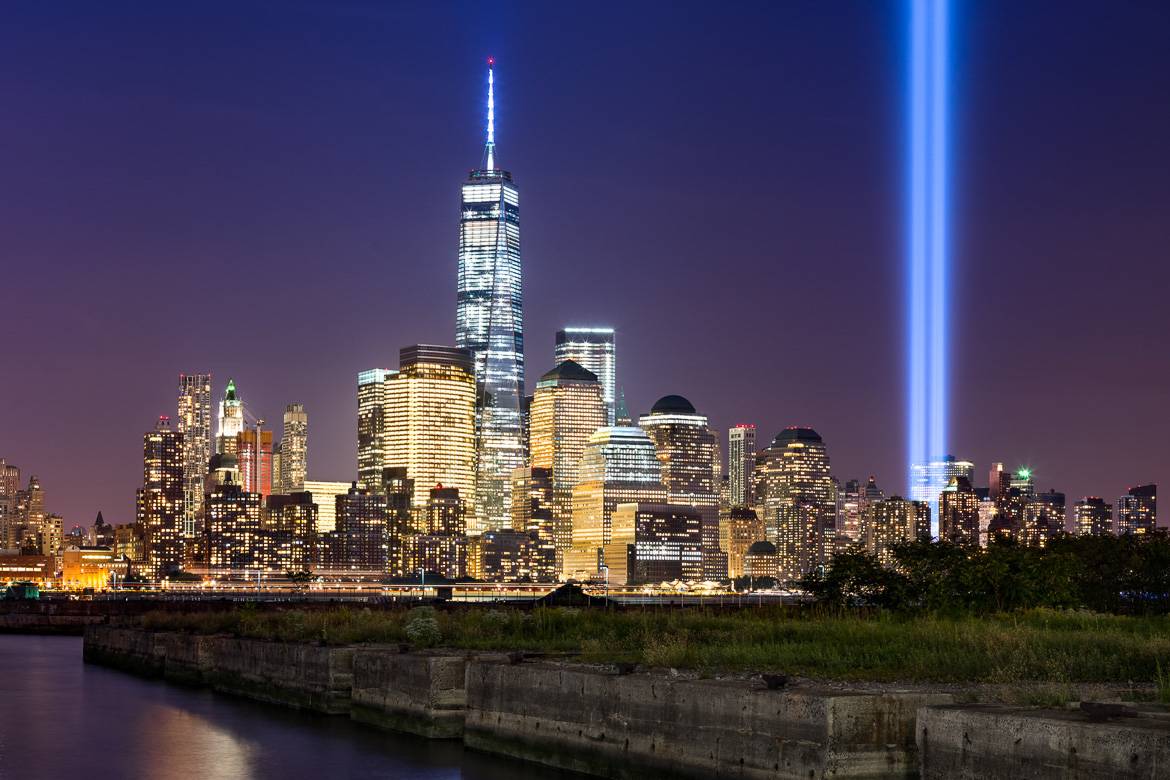 Visit the tallest skyscraper in the Western Hemisphere at One World Trade Center and experience the memorialization of the original World Trade Center complex.
If you have extra time in your weekend schedule, be sure to check out Ground Zero and One World Trade Center. These places are not only important to New Yorkers, but to the nation as a whole, and pays tribute to an important day in America's history. While you're downtown, visit the Brooklyn Bridge, one of the top bridges in New York City! For an alternate but breathtaking view of the Manhattan skyline, check out the Top of the Rock in Rockefeller Center. Regardless of which and how many landmarks you're able to visit, you'll end up with a whole new view of New York!
Go for a walk in one of the city's iconic parks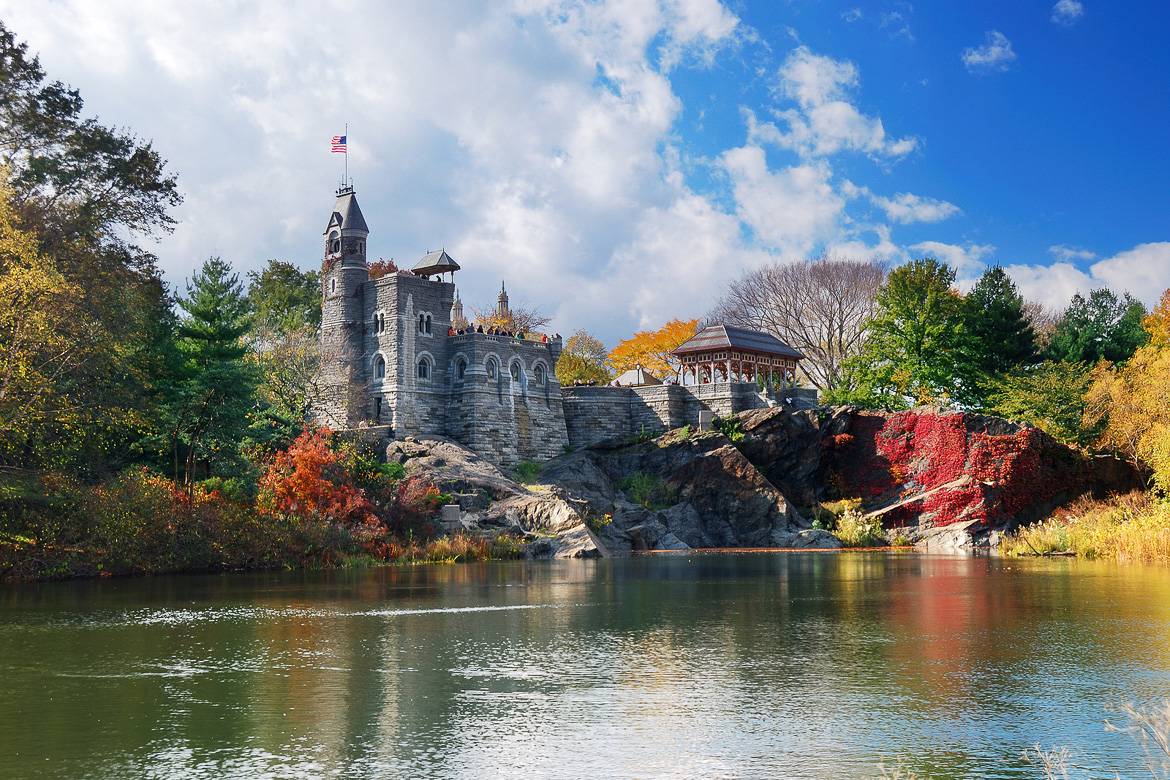 Walk around Central Park and make sure to stop by Belvedere Castle.
New York City has an abundance of parks for a casual stroll or a picnic. Central Park is just one of many famed New York parks, is the most-visited urban park in the United States, and is one of the most frequently filmed locations in the world. The park offers multiple attractions, including the Central Park Zoo, the Great Lawn, Belvedere Castle, and (seasonal) ice skating. There's always something happening in Central Park!
Another fascinating Manhattan park is Bryant Park. The options are endless here; sit at a table and watch some street performers, enjoy a game at the putting green, catch a movie on the lawn, or have a meal at the Bryant Park Grill.
Don't forget about the High Line, which is a 1.5 mile/2.3 km-long park built over Chelsea, Manhattan on an abandoned, elevated railroad track. Go for a walk and enjoy the abundance of greenery like the locals do.
When you are done exploring all the best Manhattan parks, don't forget about Brooklyn! Make your way to Prospect Park, where you can play a pickup game of football, baseball, volleyball, tennis, and more. You can also try horseback riding, boating, or simply enjoying the views.
Go shopping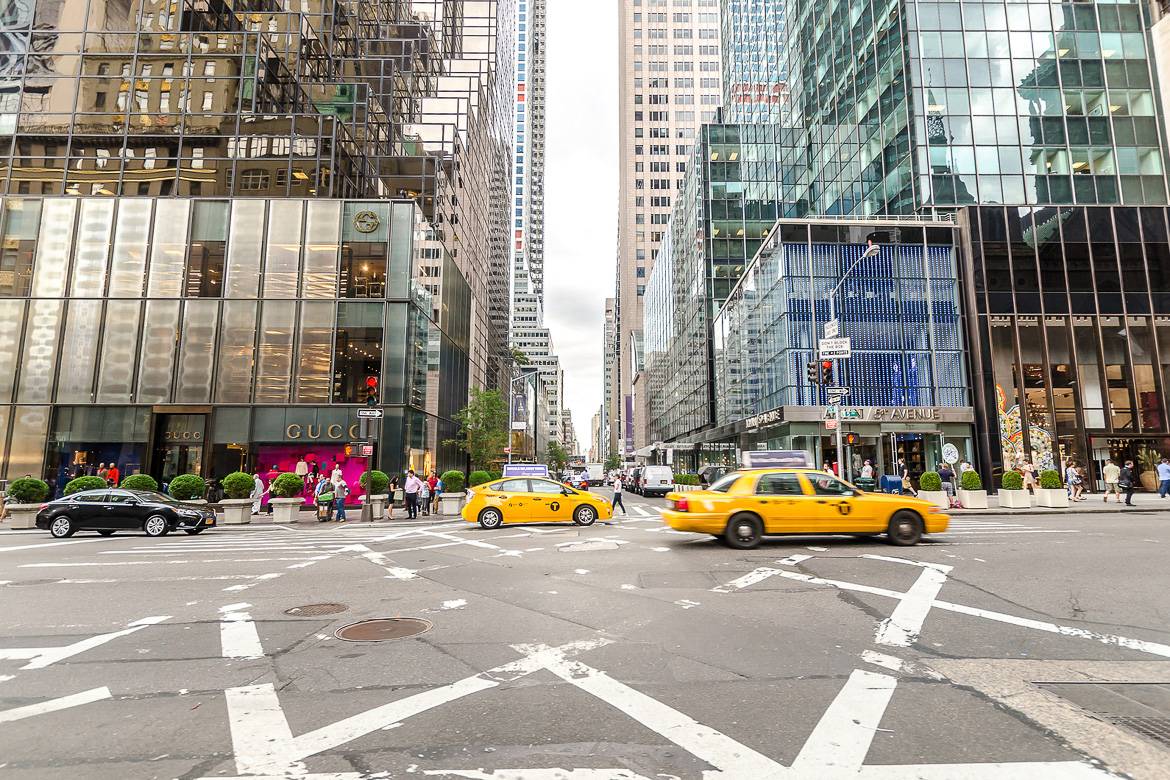 There's plenty of shopping to do on 5th Avenue, from large department stores to small souvenir shops.
New York is known for its incredible shopping destinations. If you think of yourself as a fashion-forward individual, stroll down 5th Avenue for some one-of-a-kind shopping. Between 39th and 60th Street in Manhattan, you'll find everything from housewares and NYC souvenirs to the latest fashions from large department stores.
If that isn't enough to satisfy your fashion craze, don't worry: there are plenty of other shopping locations in Midtown Manhattan! Walk across 34th Street on 7th, 8th, and 9th Avenues and you'll find all the shops that your heart and wallet desire. Shopping in NYC is a great way to experience the city on your own time!
At Times Square, you can cross off two destinations in one. This iconic attraction is also known for its large retail stores. See why Times Square is referred to as 'The Crossroads of the World' by doing some shopping! If Times Square doesn't satisfy you, try the Manhattan Mall or Rockefeller Center, or take a subway ride to Brooklyn and check out the King's Plaza Mall or Atlantic Center Mall. Be sure to also check out our top 5 shopping spots in New York!
Stay in a New York vacation rental and live like a local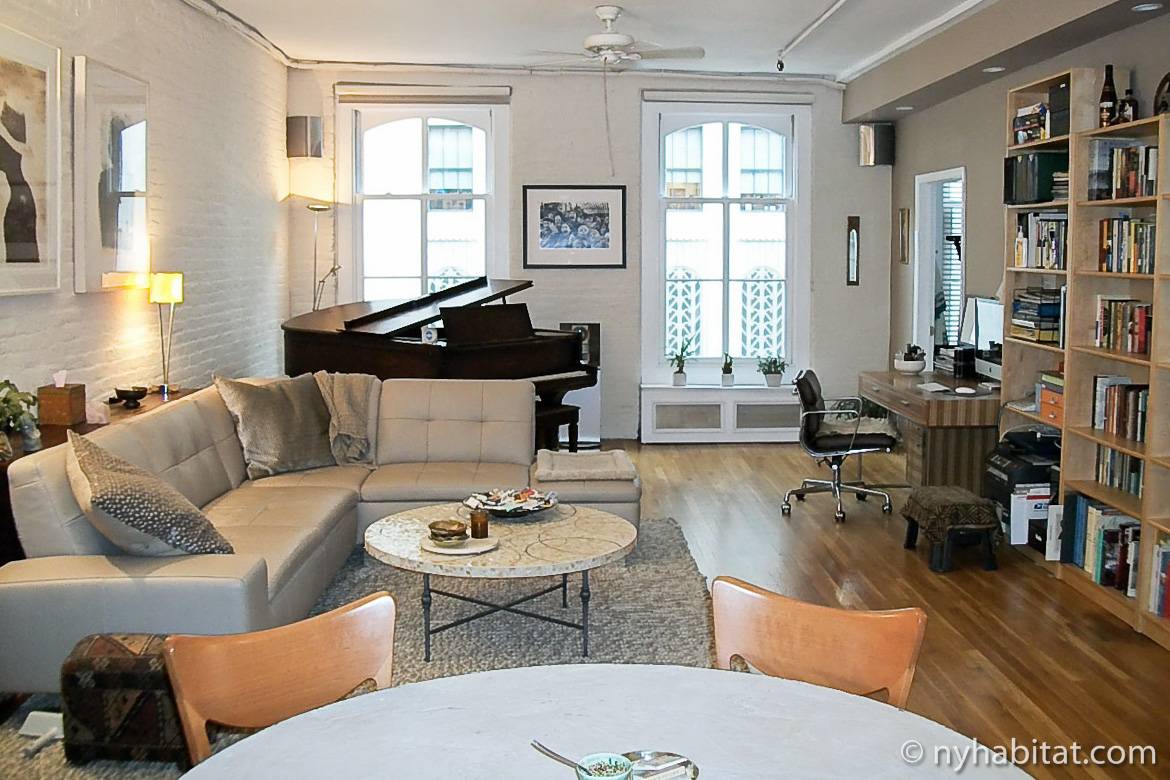 You can live like a local in NYC by staying in a vacation rental
If you're visiting NYC for a short time, it's important that you get the most out of your visit. By staying in a vacation rental, you'll be surrounded by locals who eat, breathe, and sleep in New York City! You'll save some money by staying in a vacation rental, as vacation rentals are usually cheaper than hotel stays. In addition, most vacation rentals come with fully-equipped kitchens, laundry facilities, and some form of an entertainment system. If you're completely new to the city, stay informed with our guide to basic tips and etiquette for visitors. By staying in a vacation rental in one of New York's neighborhoods, you'll know how it feels to live like a local. Take a look at our New York vacation rentals and see what living like a local in NYC is all about!
Visit one of the city's best museums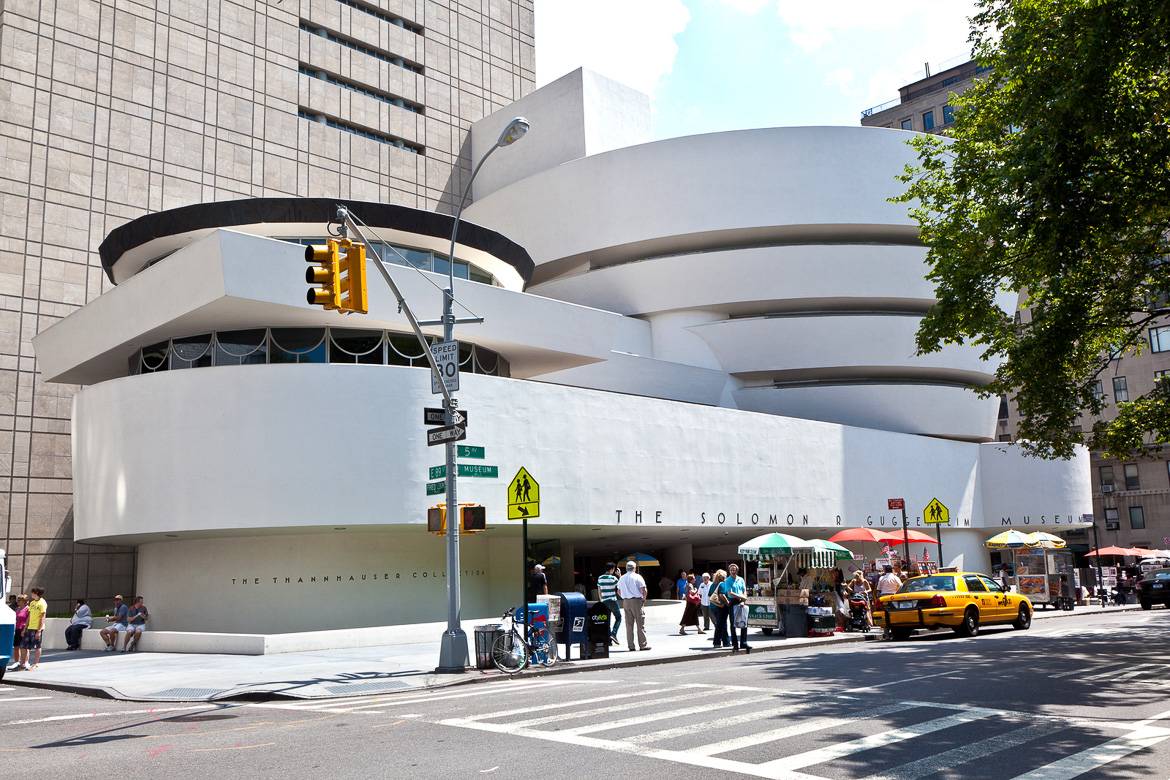 The Guggenheim Museum, with its cylindrical shape and numerous art exhibits, is a must-visit!
New York City's world-famous museums entertain a variety of interests in history, art, and culture, so be sure to explore New York's Museum Mile! Check out the Guggenheim Museum on the Upper East Side, featuring impressionist, post-impressionist, modern, and contemporary art, as well as special exhibits throughout the year. The museum is known for its eye-catching cylindrical shape.
No trip to NYC is complete without a visit to the Metropolitan Museum of Art, known simply as 'The Met!' The Met is the largest art museum in the United Sates and one of the most-visited art museums in the world. The museum's permanent exhibits run a range from Ancient Egyptian art pieces to American and modern art.
The American Museum of Natural History has been seen in movies like Night at the Museum and is one of the largest museums in the world, consisting of 27 interconnected buildings housing 45 permanent exhibitions. With so many artifacts, only so much can be displayed at one time, so every trip is a new experience!
Lastly, don't forget about the Museum of Modern Art (MoMA) in Midtown, which is known for its modern and contemporary art pieces ranging from architecture to electronic media.
Musicals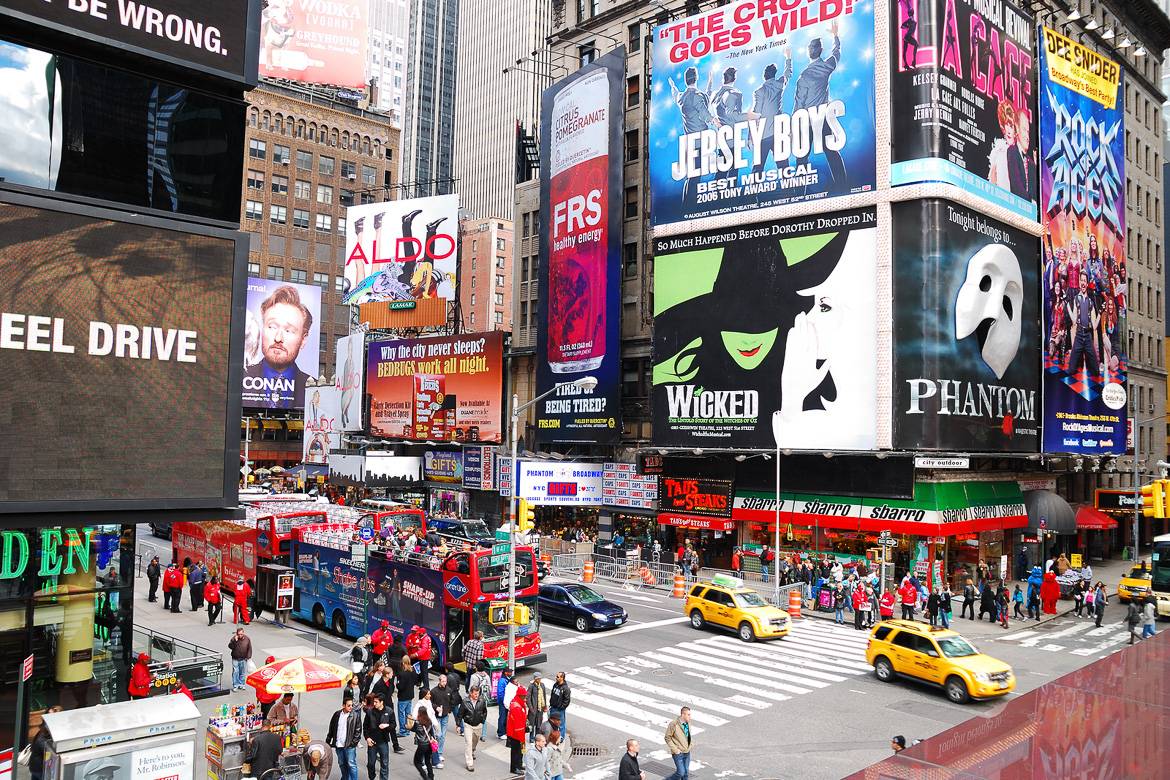 With so many Broadway and Off-Broadway shows, you're bound to find one to suit your tastes!
After actively exploring the city, you're probably ready to do something a little less taxing. What better way to unwind in New York than by seeing a musical or play? Whether you see a Broadway or an Off-Broadway show, you'll take part in a major tradition in Midtown Manhattan. In case you were curious, Broadway shows are typically considered the most successful level of commercial theatre and have larger seating capacities, while Off-Broadway shows are located in smaller theaters and are usually a little cheaper. Some popular Broadway shows include The Lion King, The Phantom of the Opera, Les Miserables, and Chicago. If you're interested in an Off-Broadway show, consider one of the following: Avenue Q, Stomp, or the Blue Man Group. With so many shows to choose from, you're bound to find one you'll enjoy! If a particular Broadway show catches your eye, try going to the theater's box office and asking about their rush ticket policies. Many theaters discount their tickets to as little as $20 on the day of the performance. Remember to explore nearby Hell's Kitchen and see what it's like to live like a local.
Regardless of how you plan your itinerary for your long weekend, these activities will help you experience some of the best of New York City. If you have some extra time in your schedule, check out our top 10 must-see sights in NYC. Be sure to let us know what you did during your trip in the comments!