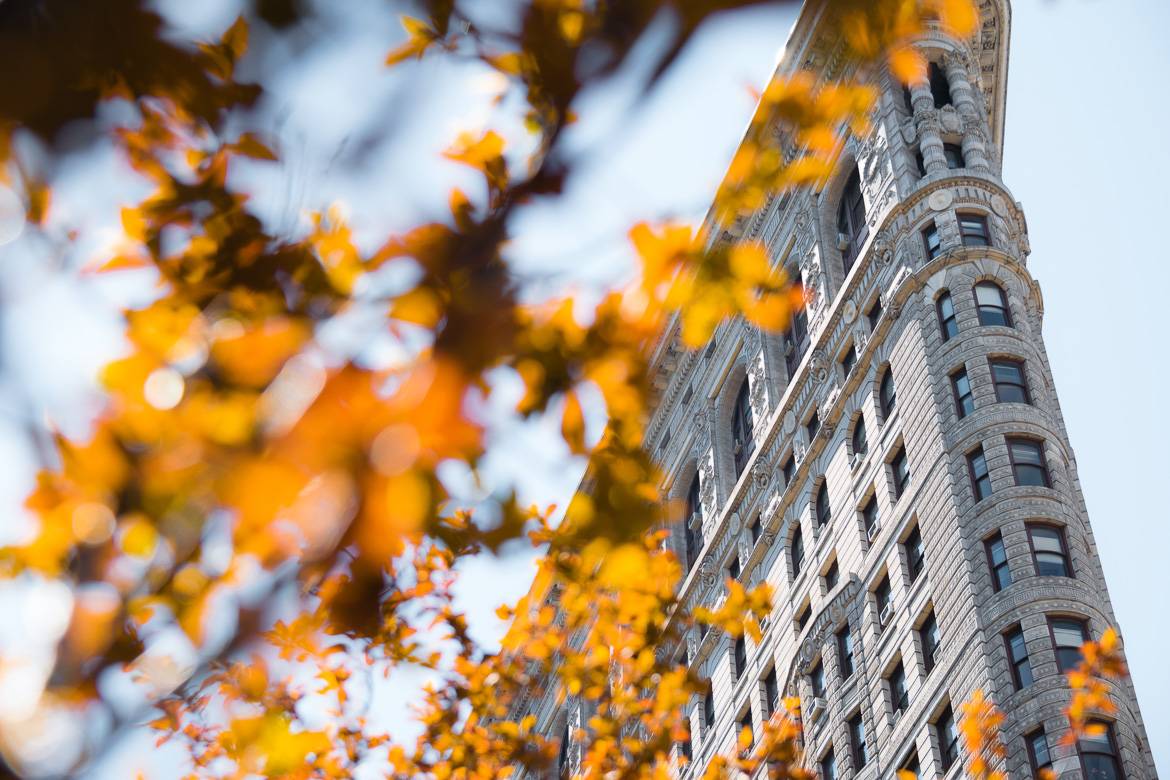 The fall colors of New York City will take your breath away!
New York City summers get quite a reputation for their blazing temperatures and the winter season is often walloped by lake-effect snow and ice, which means the perfect time to visit is between the two. Autumn in New York is great for its mild temperatures, gorgeous fall colors, and a lull in tourism (which means cheaper flights and more apartment availability!) before the extravagant Christmas season. Whether you're in the mood for a breathtaking stroll through Central Park to look at the fall colors, enjoying a quirky Halloween celebration in true New York style, or celebrating the harvest season with activities for kids and a delicious pumpkin treat, the city has something to make this fall special. New York Habitat also has the perfect accommodation to make your season special, so be sure to book with us—you won't find a pre-war fireplace or a full kitchen for making festive treats in a hotel room!
In NYC, fall = festival season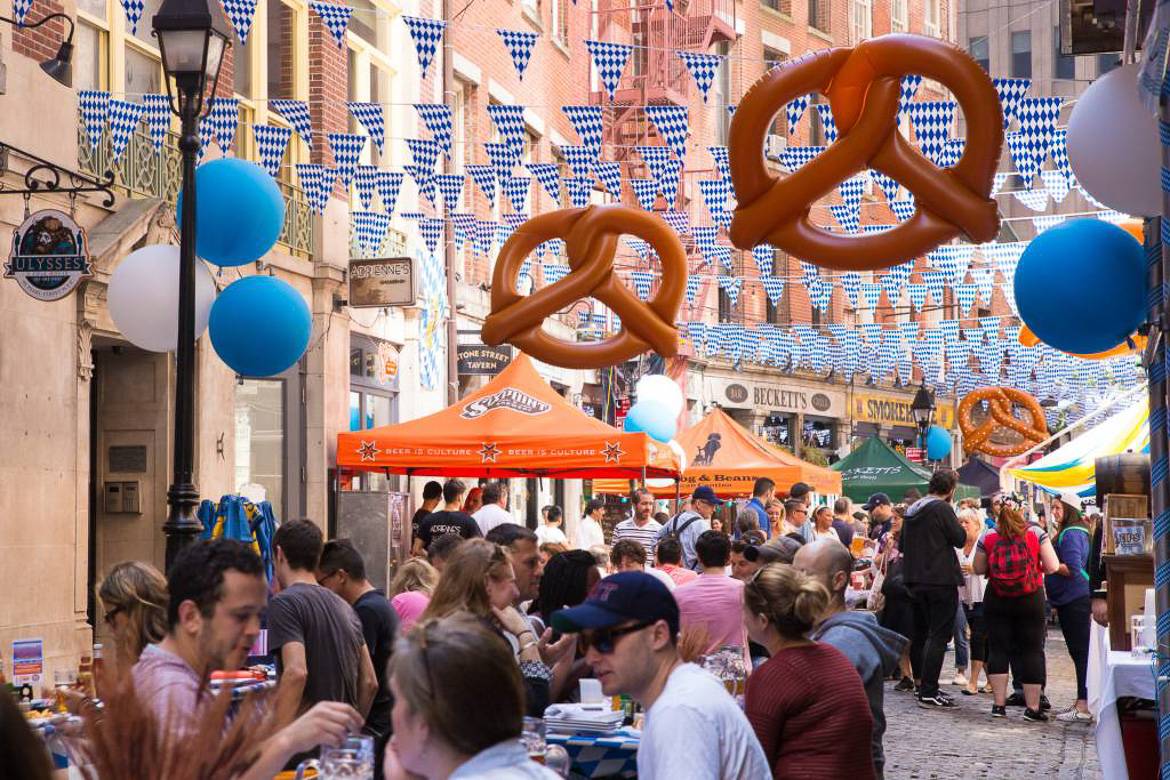 Oktoberfest is one of the many fall festivals you can enjoy in NYC. Visit for beer, pretzels, bratwurst and music!
If you're looking for a slice of New York culture and some of the best in entertainment and the arts, there is truly no better time to visit NYC than the fall! In September and October, the city broadens its horizons with events celebrating architecture, pop culture, gastronomy and everything in between! Kick off your fall festival tour with the Brooklyn Book Festival (September 10-17), the largest free literary event in New York City, which features author panels, discussions, citywide special events, and activities for children all themed around reading and literature. A week later, check out Atlantic Antic in Brooklyn, which shuts down the busiest avenue in the borough to traffic for a day of street vendors, musical performers, and food stalls. September 30 brings another great family event to Fort Tryon Park with the 2018 Medieval Festival. The park in uptown Manhattan will venture back to medieval times for a day of traditional food, music, and costumes.
During the month of October, the fun continues with the annual celebration of the German beer and food festival of Oktoberfest! For fans of cinema, the annual New York Film Festival will bring some of the most anticipated fall releases as well as favorites of the film festival circuit and big-name actors and directors to the Big Apple from September 28 to October 14. Fans of superheroes, comic books, blockbuster films and TV will be thrilled with the return of Comic Con from October 4 to 7. You can also hang around the Javits Center in downtown Manhattan just to catch a glimpse (or a photo) of all the elaborate costumes.
Finally, for something more high-brow, check out The New Yorker Festival (October 5-7), a weekend-long festival of discussions, performances and screenings from some of the most intriguing personalities in politics and pop culture. Or, for a true New York experience, check out the list of events during Open House New York, an architecture-focused weekend festival from October 13-14 that provides access to some of New York's most intriguing buildings and spaces, many of which are not usually open to the public.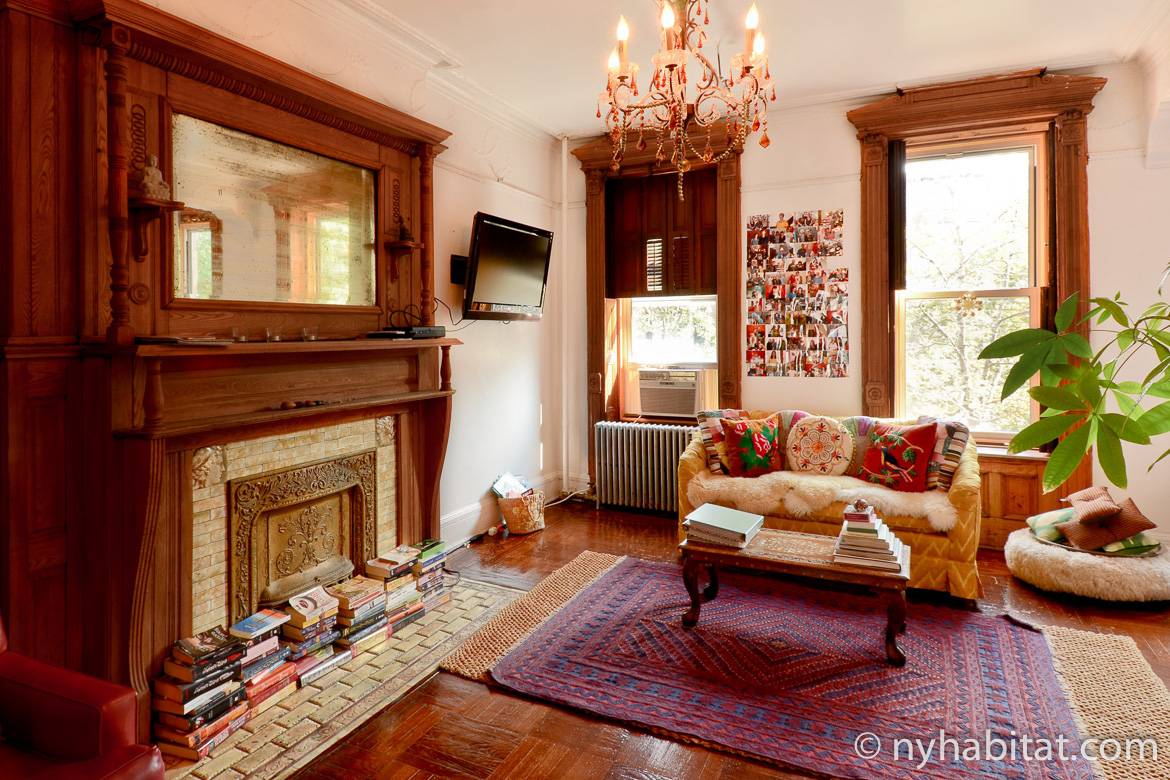 This cozy Bed-Stuy apartment is eclectic but chic, just like New York's festival scene.
You can take advantage of all of the great festivals in New York this fall from the comfort of this 1-bedroom vacation rental in Bedford-Stuyvesant. This apartment is as versatile as it is quaint and cozy for fall! The handsome wood details of this pre-war apartment in the window frames, cabinets and decorative fireplace create the perfect warm and welcoming space for the colder turn in the temperatures outside. Chic bohemian décor, a red brick backsplash in the kitchen and hardwood floors further add to the charm of this apartment. The apartment sleeps up to 4 people and is also available as a monthly rental, making it perfect for festival-seekers of all kinds, whether you're going as a family or a group of friends. Finally, the outside of this apartment counts as much as the inside! Not only will you be staying in a classic brownstone building with views of tree-lined streets, but Bedford-Stuyvesant is also centrally located in Brooklyn. This accommodation is close to a C subway stop, so regardless of whether your festival of choice is in Brooklyn or Manhattan, you can access all the events easily!
Pumpkin picking and other harvest hauls for the whole family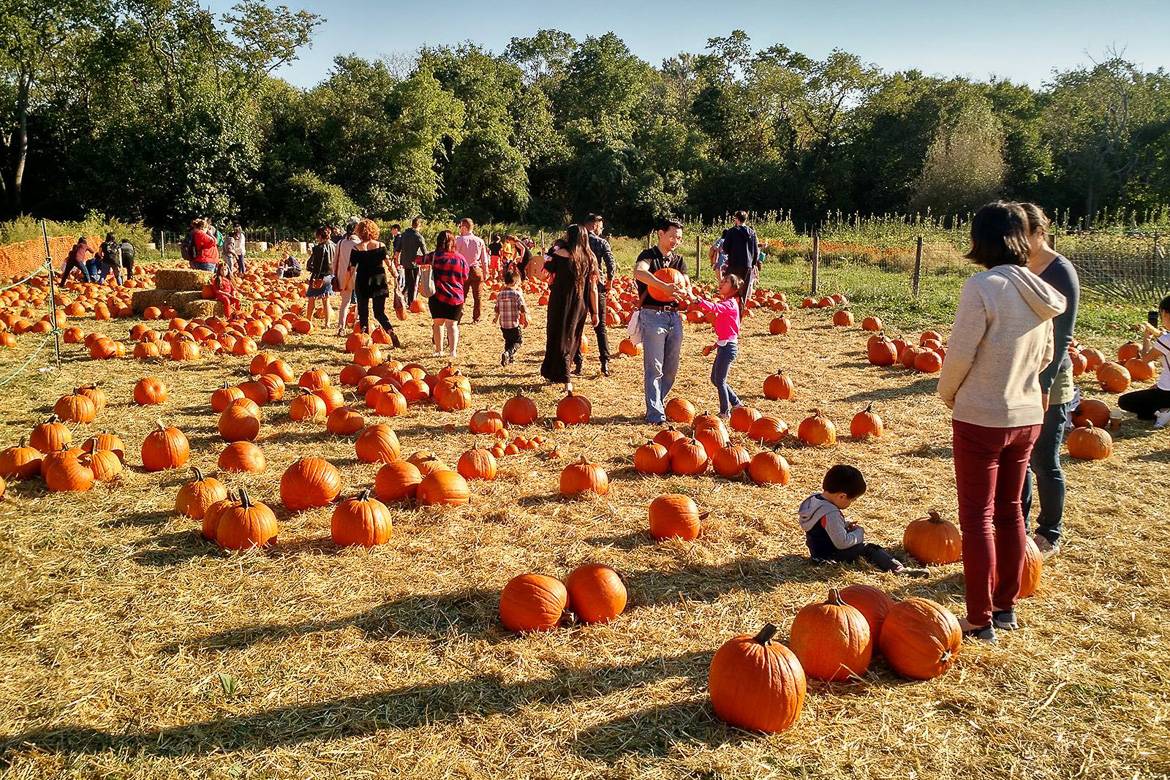 You can visit the Queens County Farm Museum for an authentic pumpkin-picking experience (Photo credit: Sarah Meyer and queensfarm.org)
You may be surprised to hear that New York City hosts a number of ways to celebrate the annual fall harvest—after all, NYC is not really known for farmland! Fortunately though, New York's long and proud tradition of hosting community parks and gardens as well as markets with farm-fresh food mean the supply and demand for agriculture is still high in the city. It also means there are plenty of outdoor events to get you in the harvest spirit. The Queens County Farm Museum in Glen Oaks, Queens is a great place to take the kids as they will be hosting autumn events throughout the entire month of October. Pick the perfect pumpkin from their patch, indulge in fresh fall produce and apple cider, or enjoy a hay ride and the 3-acre on-site corn maze.
With a regular one-way Metrocard fare, you can also visit Hoboken, New Jersey via the PATH train (you can catch it in downtown Manhattan). The Hoboken Harvest Festival on October 20 will provide plenty of outdoor fall fun at Pier A Park with hay rides, pony rides, a petting zoo, face painting, arts and crafts and more.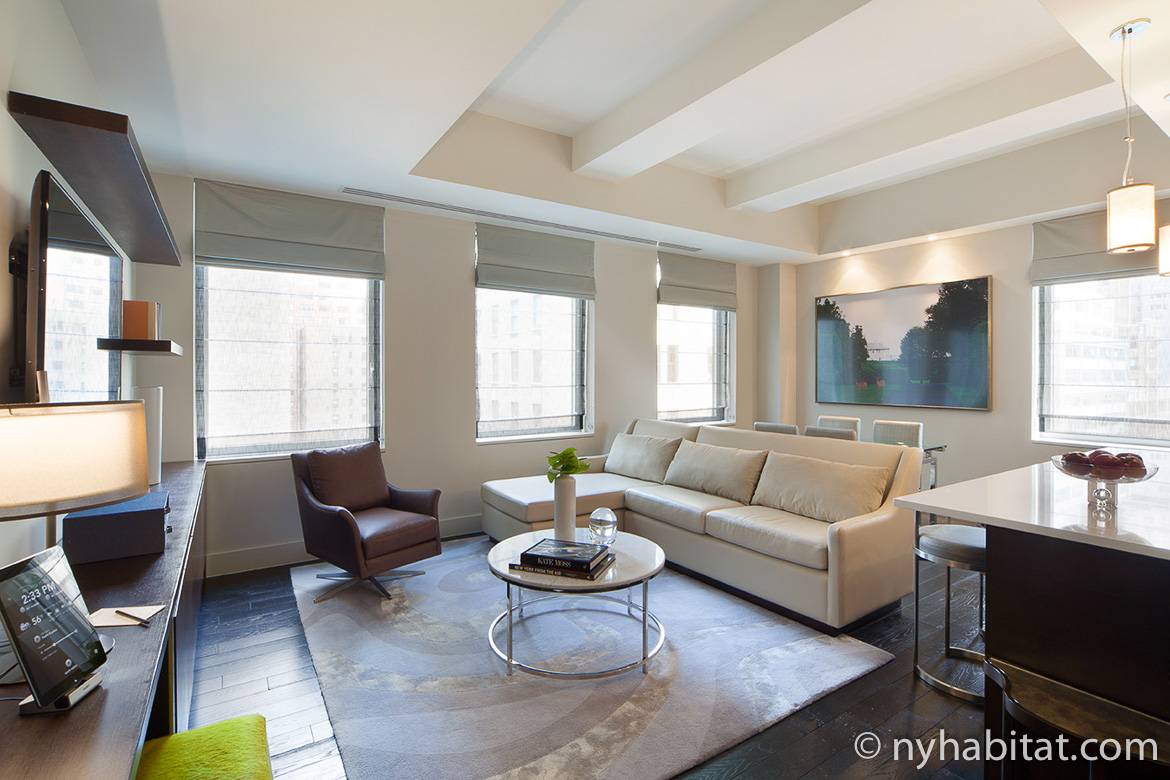 The sleeping and seating arrangements in this Murray Hill apartment make for a harmonious family vacation.
If you're seeking the perfect accommodation for a family vacation, this 2-bedroom vacation rental in Murray Hill is a great place to start! The apartment has plenty of features that make it great for accommodating a family, including a sectional sofa for maximum seating, a breakfast bar, a full kitchen for preparing healthy meals and a dining table at which to enjoy them, and best of all, a bedroom with two single beds for the kids, letting them spread out without having to share. Besides being notable for its layout, elegant dark hardwood floors and contemporary styling, the apartment is also centrally located to a number of great attractions, including the Empire State Building, Bryant Park and plenty of public transportation to go as far out as Hoboken or Queens.
Pumpkin treats to feed the fall frenzy
The return of fall means the return of one of America's favorite foodie trends: pumpkin spice everything! New York in particular defends its title as a culinary capital by embracing the pumpkin craze and creating a number of delicious treats to enjoy over the fall season. Of course, there's the famous pumpkin spice latte, with variations available at almost any coffee shop in the city, but why not also try a pumpkin pie cheesecake at Junior's Cheesecake, pumpkin wontons in the Flatiron District, pumpkin cannolis in Little Italy, or a pumpkin beer at one of NYC's 45 breweries? If all that sounds a little too crazy for you, you can always pick up your own pumpkin and try your hand at making a treat in your furnished rental's kitchen.
For spectators and athletes, sports heat up NYC in the fall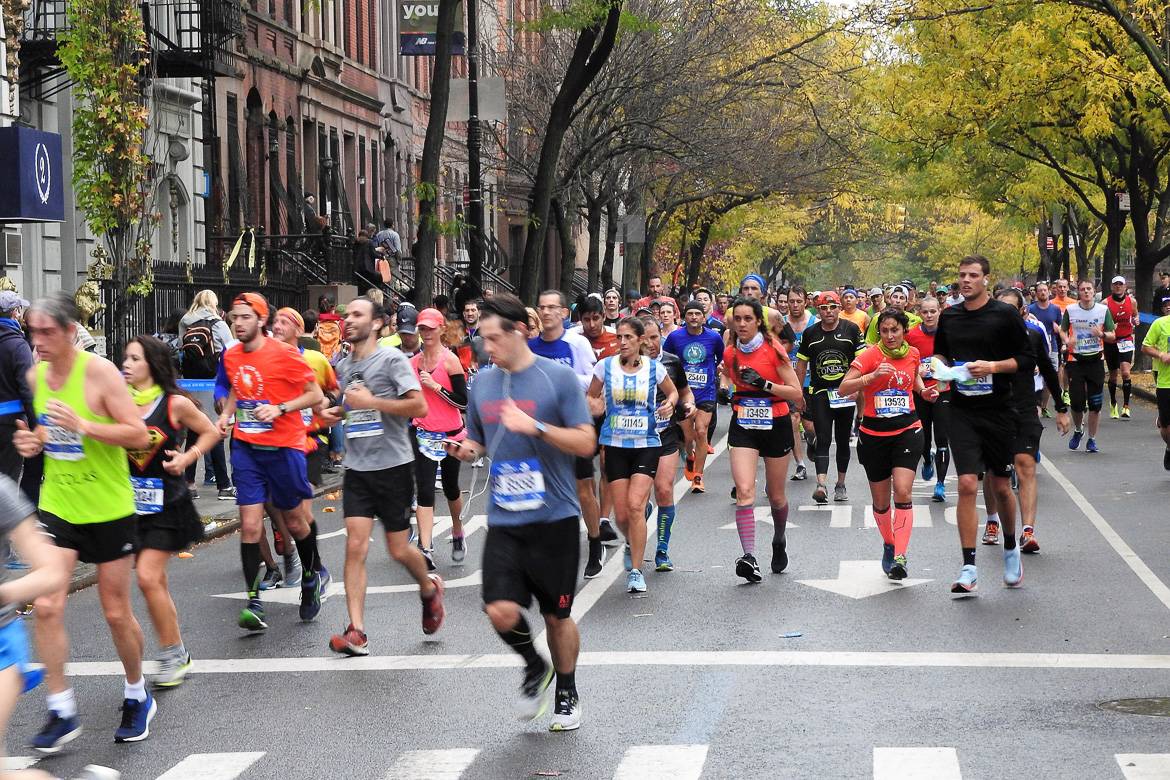 You can get a good spot to watch the New York City Marathon practically anywhere in the five boroughs.
The delight of fall doesn't have to be all about gorging yourself on pumpkin treats! On November 4, you can catch the famous New York City Marathon as it winds its way through all five boroughs of the city, beginning in Staten Island and ending in Central Park. It's not just the runners who will be burning calories; you can park yourself anywhere along the 26.2-mile long route and warm up by cheering the runners along, or register to volunteer to help the race run smoothly (and maybe make a few friends!).
If you're more into games than races, you'll also be pleased that fall is the kickoff of football season in the United States! New York City's two home teams, the Giants and the Jets, both play at MetLife Stadium in New Jersey, which is easily accessible by bus and train from Penn Station, Grand Central Terminal, and Port Authority Bus Terminal.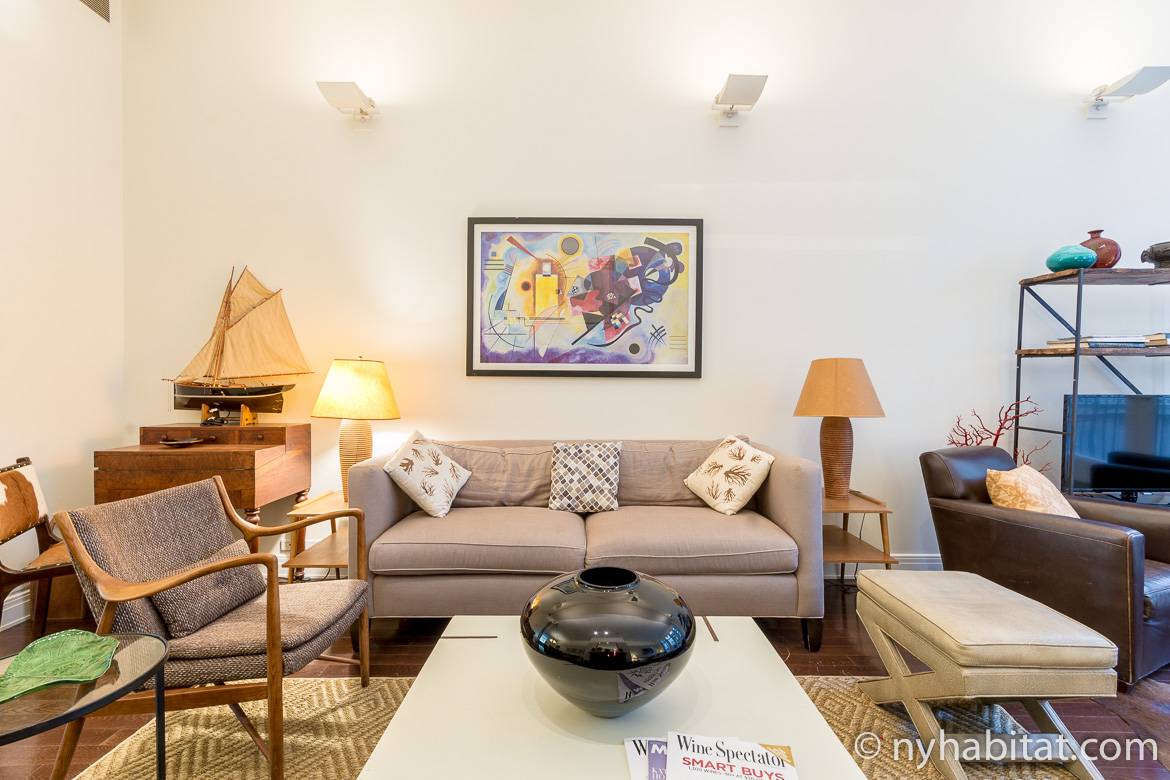 You can host a whole group of fall sports fans in this huge Upper East Side triplex!
Athletics in New York are a big deal—your vacation rental should be too! This 4-bedroom triplex in the Upper East Side will put you in the lap of luxury for your entire stay. Styled in a modern fashion with a curated collection of artwork and one-of-a-kind furniture pieces, this apartment also boasts enviable features like large wall-to-wall windows, wood floors, and an en-suite bathroom for each bedroom (this triplex has 5 bathrooms in total!). There's also a fireplace to make your fall gathering extra cozy, and best of all, this space has a flat-screen TV for each bedroom so you'll never miss a game. With a separate dining alcove and full open kitchen, this apartment is perfect for entertaining and will be the go-to place on game night. Plus, on the day of the New York City Marathon, you'll be conveniently located in the Upper East Side, which borders Central Park and the race's finish line.
Trick or treat! Spend Halloween in the Big Apple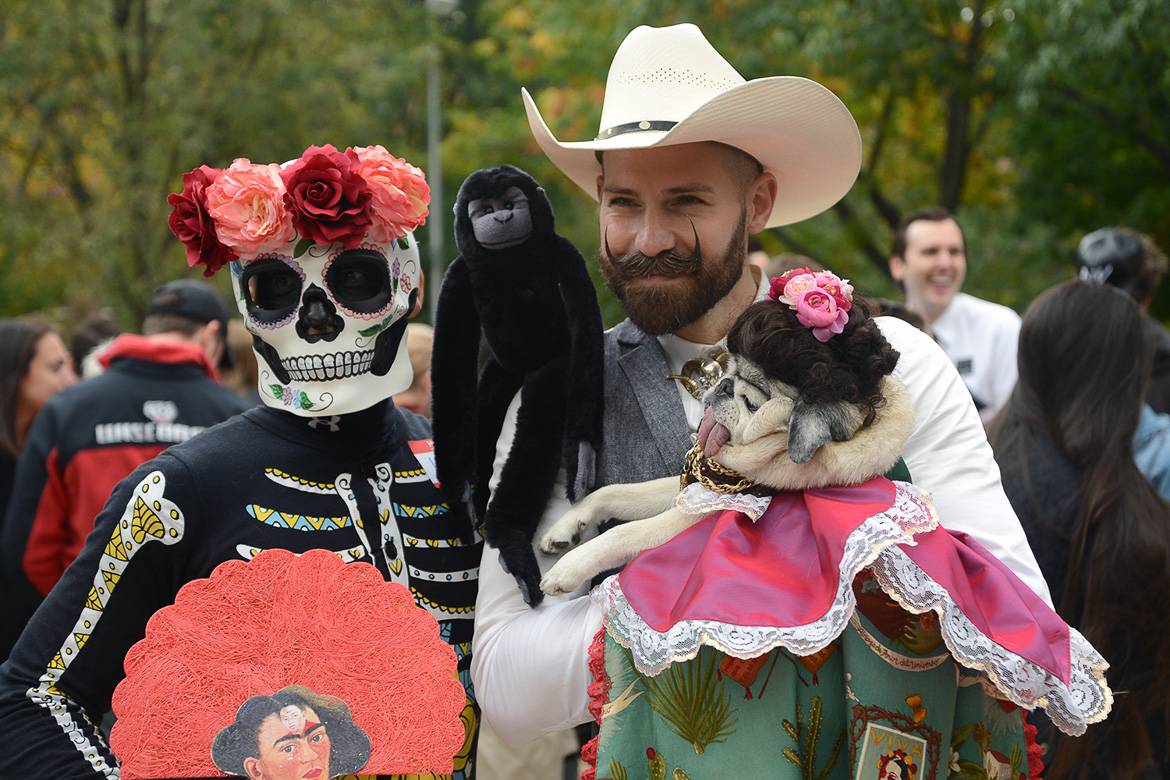 Halloween brings out all the most colorful characters in Lower Manhattan. (Photo credit: Sara Bogush https://www.flickr.com/photos/75933606@N00/)
No fall activity guide is complete without a salute to Halloween. The October 31st holiday promises to be a good time with the abundance of celebrations and attractions you can attend in New York City. Making its return in 2018 is the famous Village Halloween Parade in Greenwich Village, celebrating its 45th anniversary as the largest Halloween parade in the world and the only nighttime parade in NYC. Come dressed in costume on October 31st and watch thousands of New Yorkers stroll up 6th Avenue, or throw on a costume and join the parade (registration not required!). For other ghoulish Halloween fun in New York, you can visit a haunted house like the ever-popular Blood Manor in Lower Manhattan, or the Gravesend Inn Haunted Hotel, a high-tech haunted house experience presented by City Tech. For a kid-friendly Halloween event, check out the Prospect Park Haunted Halloween Walk + Fair in Prospect Park, which invites kids to don their costumes for a woodland walk and encounter witches, zombies and all manner of ghouls, ending in a fair with family-friendly activities and treats.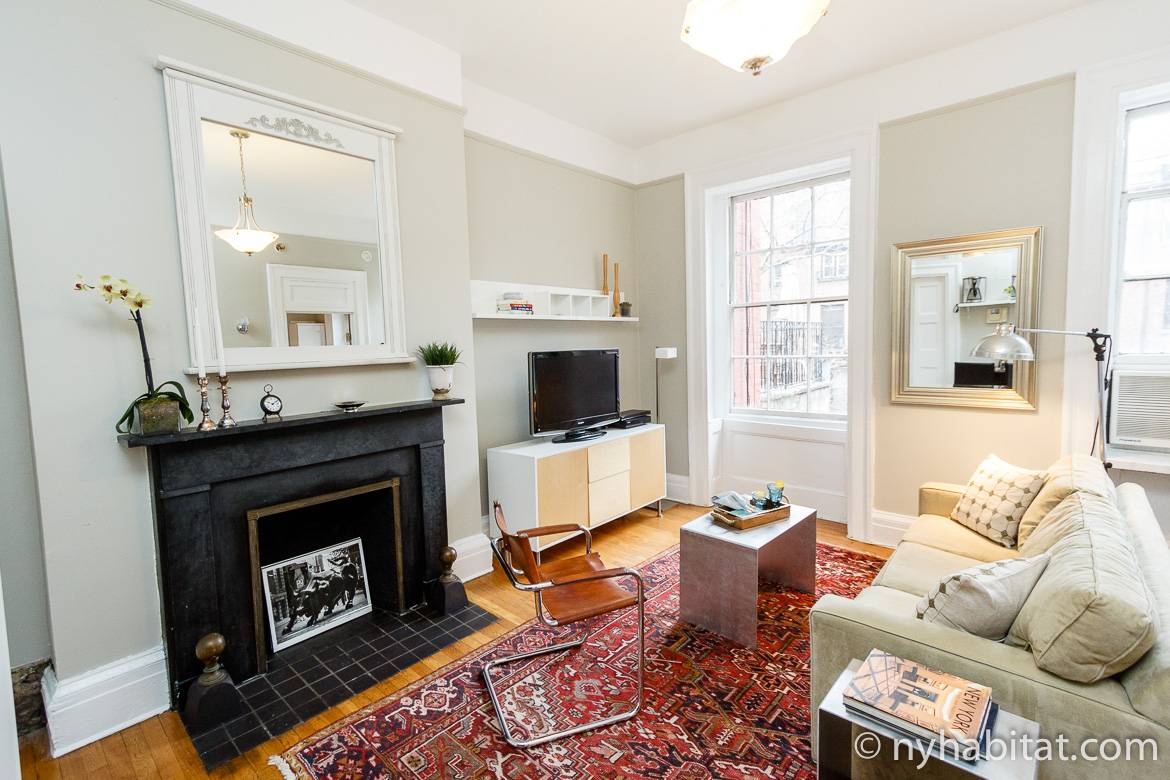 This welcoming Greenwich Village apartment is a perfect home base for the Halloween season.
Coming to NYC for Halloween? Be sure to book a stay in this 1-bedroom furnished apartment in Greenwich Village. The remarkable look of this 1-bedroom apartment means that you'll experience the quirks and charm of Greenwich Village with the comfort of contemporary furnishings and amenities. Like the spooky romantic spirit of Halloween, this unit features classy pre-war touches like a black stone decorative fireplace and window molding, creating the perfect environment for sipping some cider on a cool night. No matter what the fall weather brings, you'll also be ready to enjoy all of it with the option to sit out on your own private balcony. Watch a spooky film in the living area on the flat-screen television, or get some rest after a night of Halloween parties or trick-or-treating in the double-sized bed. Finally, this apartment features several storage units for all your Halloween finery, and is located only 2 avenues over from the Village Halloween Parade route!
Close out the season and kick off the holidays with a truly American tradition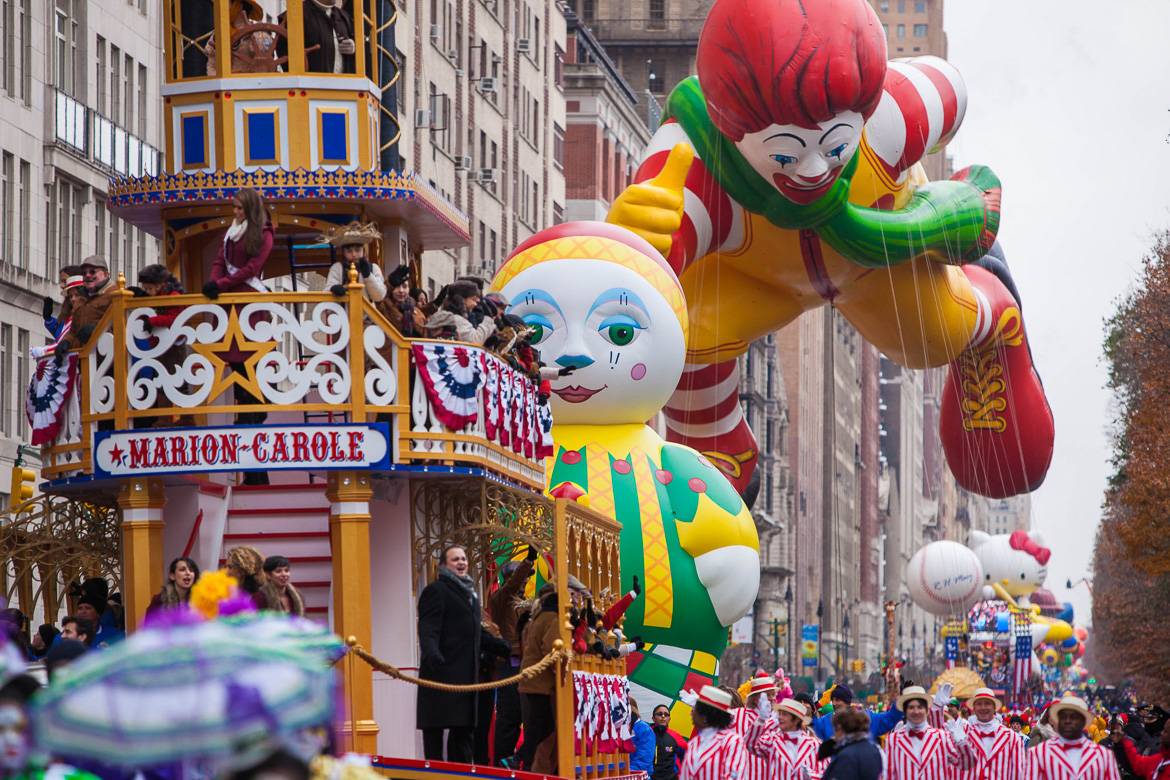 Most Americans consider the Macy's Thanksgiving Day Parade a great end to autumn and the beginning of the holiday season! (Photo credit: Anthony Quintano)
If you want to experience the fun of a uniquely American tradition, come for Thanksgiving on November 22, and to celebrate the holiday in true New York style, don't miss the Macy's Thanksgiving Day Parade as it makes its way down Central Park West and then 6th Avenue. The parade will feature extravagant floats, enormous character balloons, dancers, marching bands, musical performers, and select live performances from Broadway musicals. Line up early to get a good spot, or watch on the television in your apartment rental, as the events of the parade will be broadcast all morning. When the parade festivities are over, you can celebrate the classic American holiday by preparing a traditional meal and pumpkin pie (or just a spread of your favorite foods) in your full kitchen!
Fall in NYC is a chance to experience all kinds of festive fun, from holiday celebrations to gorgeous fall colors to athletic events. It's also the perfect time to get cozy indoors, so find your perfect rental accommodation with us and enjoy all the perks of staying in an apartment rental, including flexible sleeping arrangements, private bathrooms, a furnished kitchen and/or a dining table for entertaining and hosting. With so much going on, it couldn't be a better time to visit New York City, so plan ahead and contact us to start booking your perfect stay!