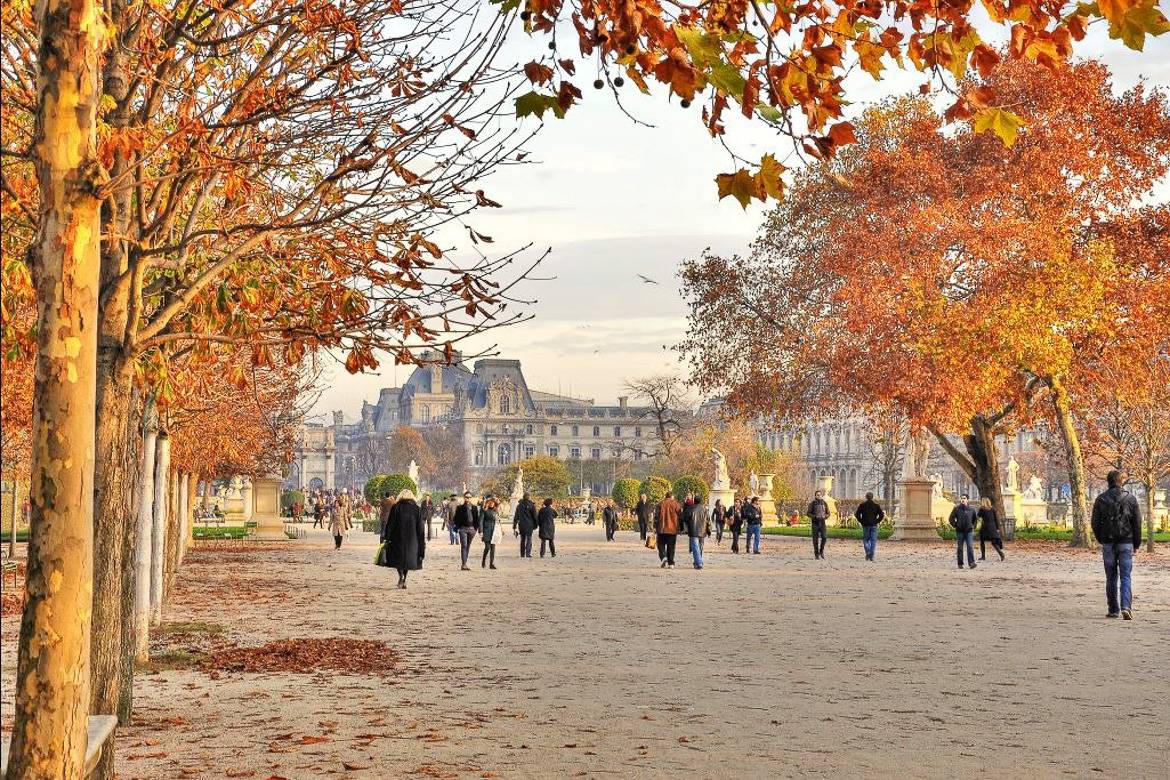 The stunning colors and lighter crowds of Paris in autumn will tempt you to come outdoors even as the temperatures drop. (Photo credit: Wieslawa Hoummada flickr.com/sizun_eye)
Just as the explosive reds and oranges burst forth on the trees, autumn in Paris is when the city truly comes alive. As the summer season comes to a close, the swell of tourists and visitors dies down and locals return home to the heart of Paris to work and go to school. That being said, autumn is considered the best time to experience a truly authentic slice of Parisian life. The weather is mild and comfortable, airfare is cheapest from late September through November, and Paris comes to life with special events, one-of-a-kind art exhibitions, holiday celebrations and of course, the gorgeous backdrop of fall colors in some of the world's most beautiful gardens. If you're not yet in love with fall in the City of Lights, consider booking a furnished apartment in Paris to feel truly at home at this wonderful time of year.
Indulge your senses at a more leisurely pace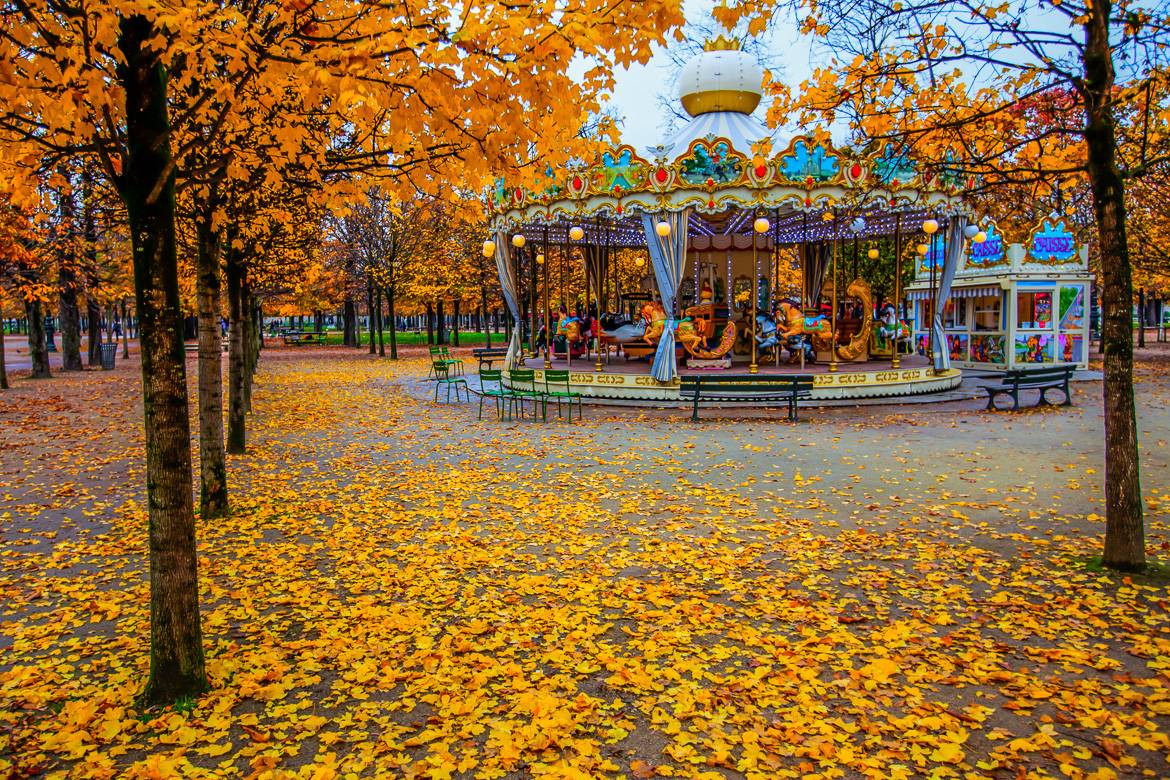 Ride the carousel in Tuileries Garden and admire a brilliant blur of orange and yellow. (Photo credit: Valerii Tkachenko)
Fall in Paris allows visitors and locals alike a unique perspective on the city and a chance to absorb the city at a slower pace with fewer crowds. One of the best ways to do this is with a leisurely stroll through one of Paris's stunning parks or gardens to catch a glimpse of the beautiful foliage that fall brings! Visit Tuileries Garden for some of the best of Paris's fall colors; the garden is famous for its abundance of trees, manicured promenades, and beautiful sculptures that will make a perfect subject for photographs. You can even take a ride on the park's carousel, which will be a hit with the kids. Another great park to visit is the Buttes Chaumont, which offers a slight departure from the groomed hedges and topiaries of traditional French gardens (and of course, is full of plenty of trees). And, to truly get away from it all, venture out to the fringes of the city and Butte Bergeyre, a quiet village overflowing with ivy and trees that is a best-kept secret among tourists and locals alike.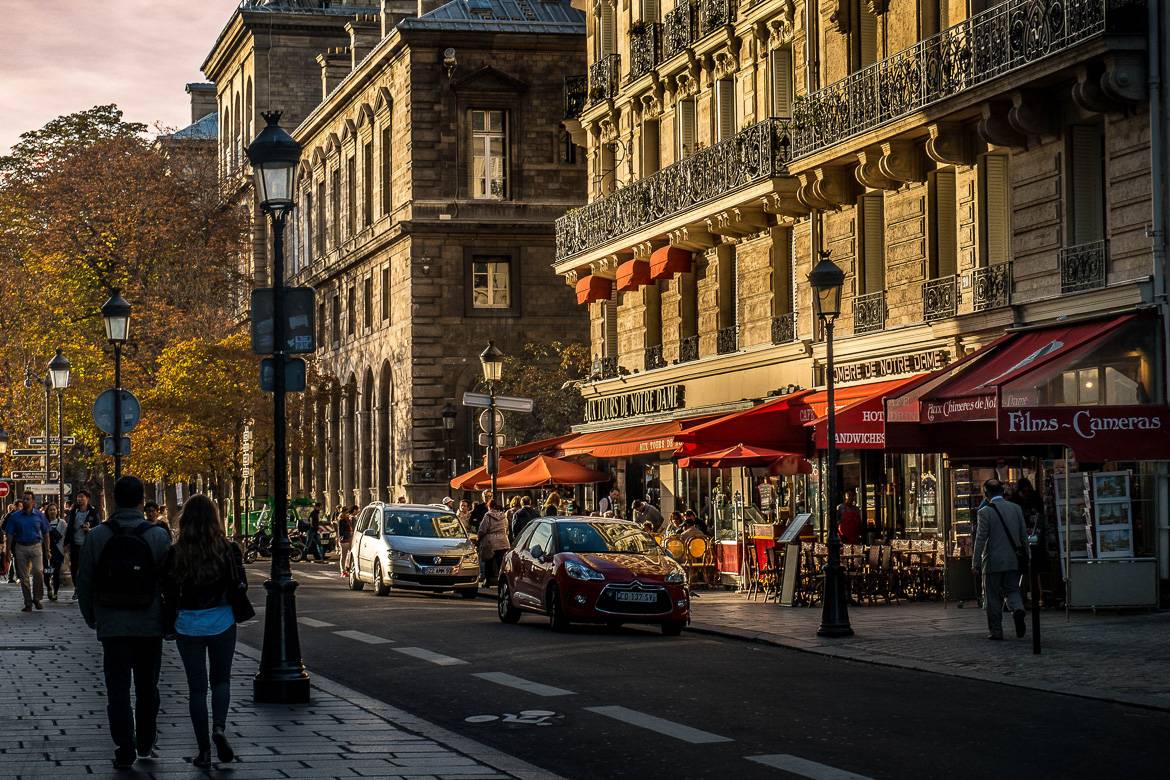 Rue du Cloitre in Paris is another scenic street to enjoy a cup of coffee. (Photo credit: S. Barry Lubman)
Besides feasting your eyes on the fall colors as the temperatures drop in Paris, another great way to indulge in the city is by enjoying the last few days of mild weather before winter and sitting outdoors at one of Paris's many street-side cafes. Walk along Boulevard du Montparnasse or Rue de Buci in the 6th Arrondissement, or the historic district of Le Marais for some of the best traditional cafes, creperies and people-watching in the city. You can also consult our guide to the best cups of coffee in Paris and find a quiet moment to enjoy a strong brew along your favorite Paris street.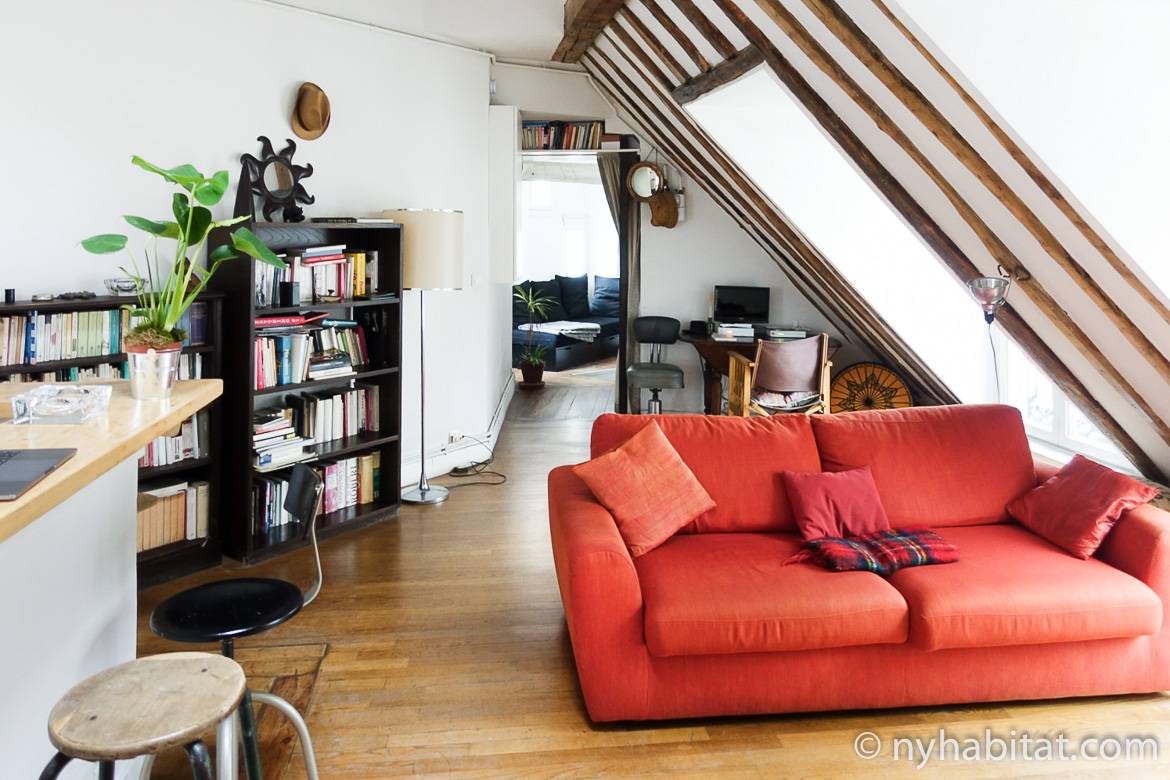 The charm and privacy of this Bourse apartment is perfect for those who appreciate the simple things in life.
You can enjoy the more leisurely side of life in Paris and still be close to major attractions in this 1-bedroom furnished apartment in Bourse. Located right on the edge of Tuileries Garden, this apartment is as picturesque as it is convenient for a brisk fall walk. In this apartment you will find classic Parisian features like exposed-beam ceilings and French windows, as well as a cool split-level design and sloped ceilings in the upstairs living area to make it extra cozy. Those looking for peace and relaxation in Paris will love to indulge their inner bookworm with the numerous bookshelves in the living area and an alcove that can be used as the perfect reading nook! You can also enjoy the comfort of a soaking tub in the bathroom and a double bed and futon on which to lounge in the bedroom. Additionally, when you're in the mood to slip back into the more bustling side of Paris and its most famous attractions, this apartment is only steps away from the Louvre!
Paris's best fall festivals, from fun to fancy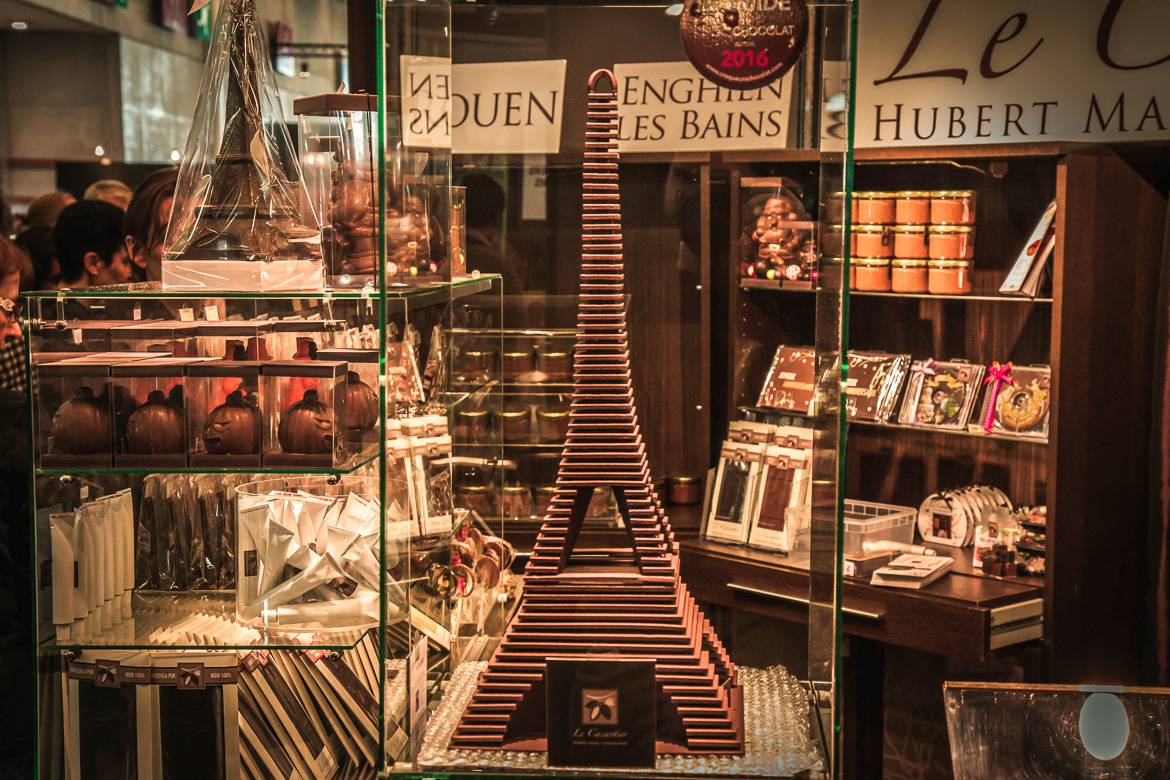 The Salon du Chocolat, or Paris Chocolate Show, will give you a sugar rush with a French spin! (Photo credit: Tasaka Sama)
When you think of traveling to Paris, what comes to mind? Maybe the world-renowned French cuisine, refined art collections, elegant fashion, or fine French wine? Well, you may not believe it, but Paris has festivals devoted to each of them! There is even a festival specifically devoted to celebrating the season; the Autumn Festival in Paris makes its return in 2018 starting September 10 and running through December 31. Venues all over the city host events in theatre, film, dance, music and visual arts, from the Centre Pompidou to Théâtre de l'Odéon. If the arts in Paris delight you, you may also enjoy Salon de la photo, a five-day event in November (dates TBA) dedicated to the world of photography. Participants can enjoy talks, workshops, and screenings devoted to the art of photography and learning the latest techniques for photo technology, retouching, and more.
You'll also want to save room on your plate for two of Paris's most joyous food festivals, the Paris Chocolate Show and Goût de France. From September 21-23, Goût de France will welcome some of Paris's best chefs to the city streets to offer tastings and events for all (kids and adults alike)! If you have a sweet tooth, the Paris Chocolate Show (October 31-November 4) is a can't-miss event featuring chocolatiers, patissiers and confectioners from all over the world. There will be tastings, demonstrations, and even a chocolate fashion show with the models wearing dresses made of chocolate!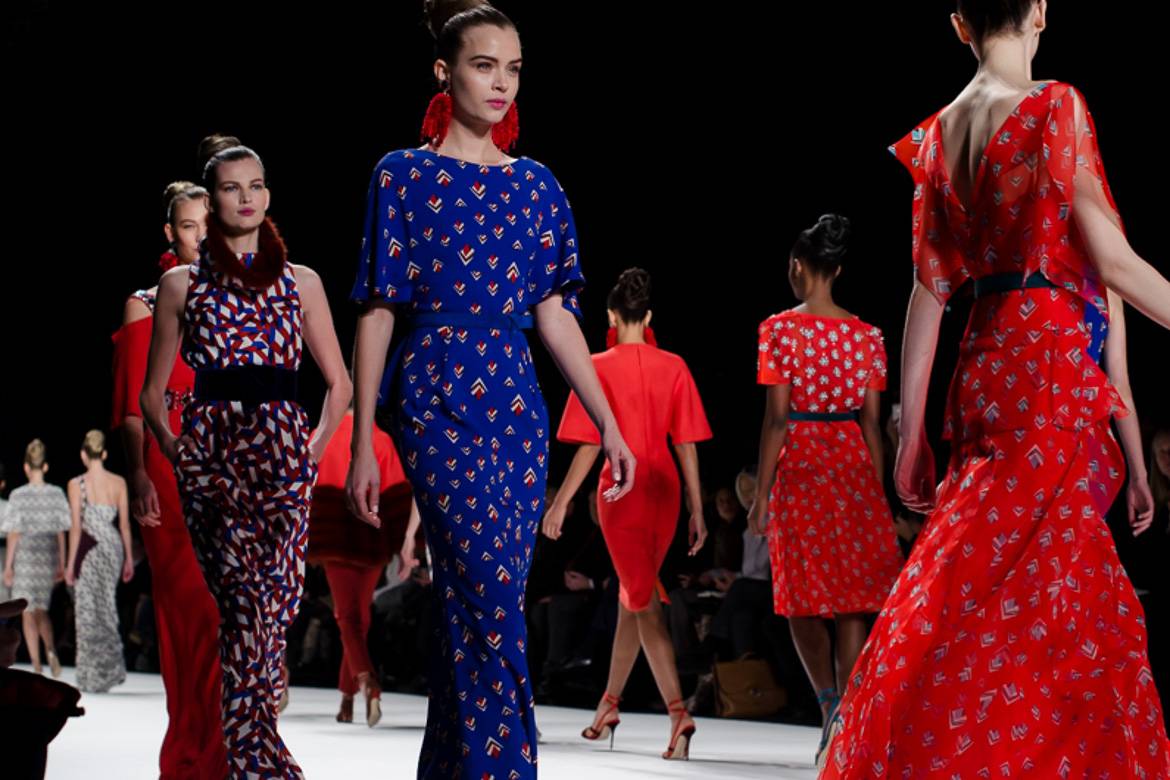 See Paris's high style in action at Paris Fashion Week.
Speaking of fashion, the City of Lights becomes the host of one of the biggest fashion events of the year with Paris Fashion Week from September 25 to October 3. Even if you can't make it to a private runway show, it's worth strolling around the city to see if you can spot any cutting-edge fashion or even a celebrity.
After all this time running around Paris to art exhibitions and fashion shows, maybe you'd like a drink! You're in luck with the Montmartre Grape Harvest Festival. Hosted in the famously beautiful district of Montmartre, the annual festival celebrates the harvest of a new batch of wine grapes at Clos Montmartre, the last functioning vineyard in Paris. Bars and restaurants all over the 18th Arrondissement participate in the merriment, which includes tastings, exhibitions, concerts, and a popular fireworks display (perfect for watching under a cozy blanket!).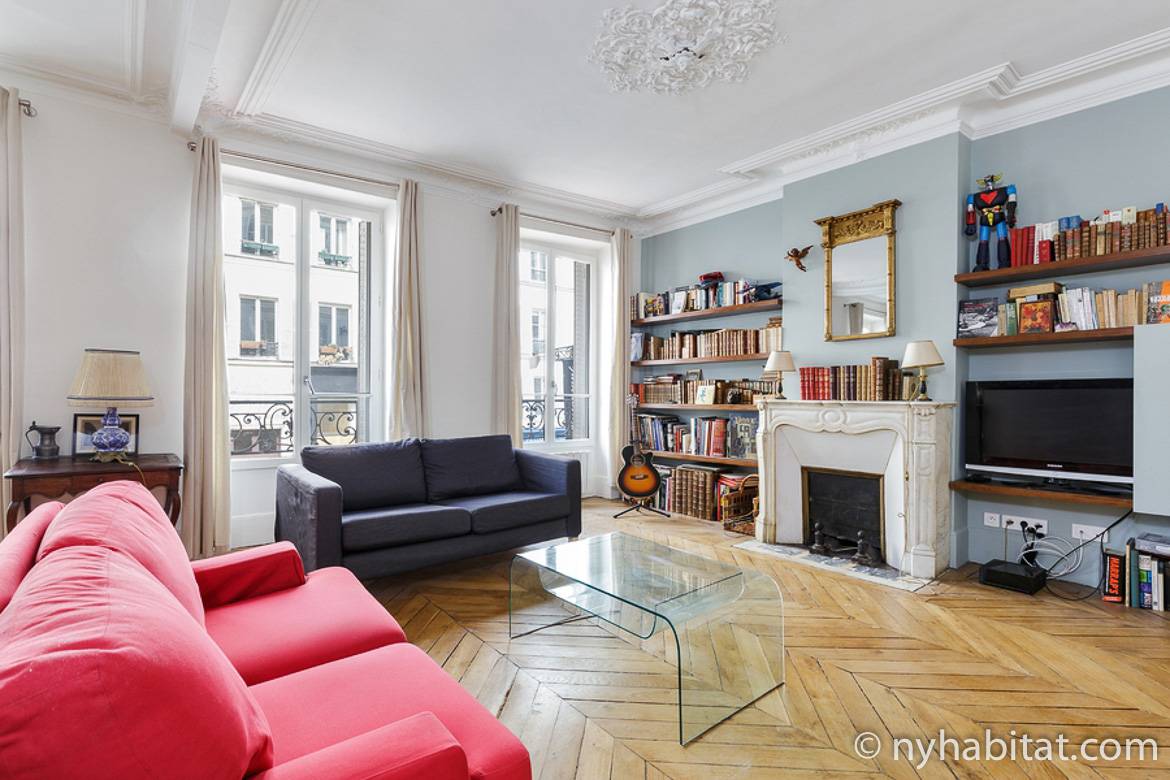 Get in touch with French culture from this gorgeous Montmartre apartment.
This 2-bedroom vacation rental in Montmartre perfectly captures not only the charm of the neighborhood, but the spirit of Paris at festival time. A stay in this vacation rental will make you feel like royalty with its high ceilings with baroque crown molding, large windows with stylish drapes, and a gilded mirror over the decorative fireplace (a warm bonus feature you will surely appreciate in the fall season). Antique-style furniture adds an extra level of class to the space, especially the dining area in the eat-in kitchen. If you choose to take a bottle of wine home from the Montmartre Grape Harvest Festival, you'll know just where to enjoy it! When the weather in Paris starts to get chilly, you'll enjoy restful sleep in the master bedroom, which also includes its own decorative fireplace. Finally, the abundance of books, instruments, a television and collectible curiosities on the built-in bookshelves in the living room will be sure to delight every visitor to Paris's festivals.
Enjoy the return of longer nights with Nuit Blanche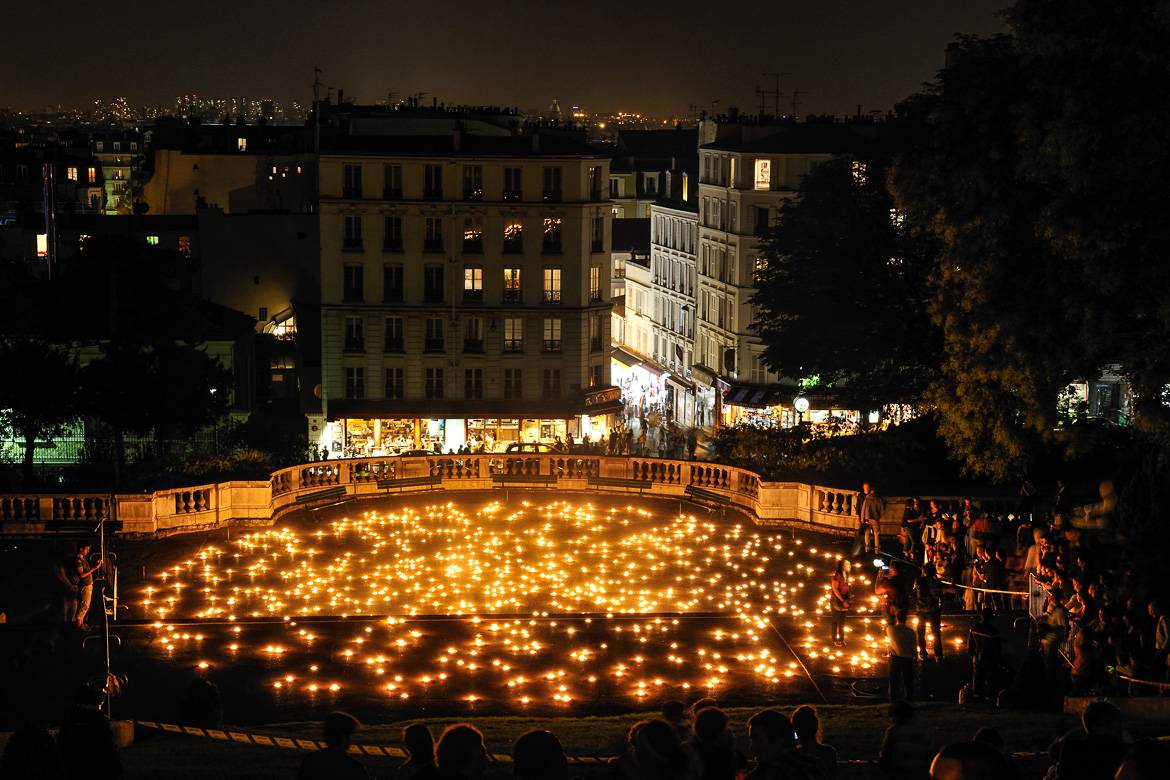 Like the rest of Paris, the hills of Montmartre come alive with light during Nuit Blanche.
A natural trademark of the return of autumn is the beginning of shorter daylight hours and longer nights, and in true Parisian fashion, the city of Paris celebrates with a night of contemporary art installations all designed with lights! On the night of October 6, Paris will be lit up with installations, concerts and performances, and creations by international artists during Nuit Blanche, or "White Night." You can expect to find everything from candles to neon bulbs lighting your way. The event is city-wide and lasts all night, so be sure to rest up and plan your route ahead of time to see as much of the night as possible.
Mystery and history in Paris for the spookiest time of year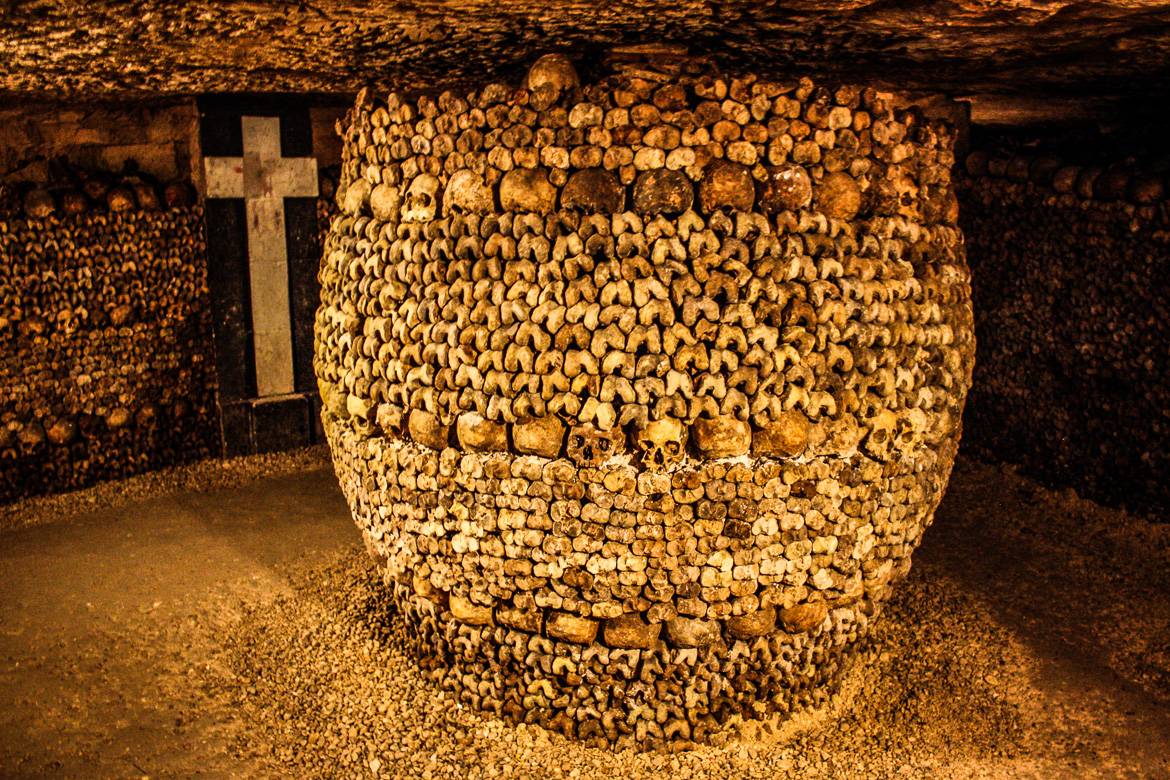 The bones of thousands of departed Parisians will guide you through the creepy Paris Catacombs!
On the surface Paris may be cosmopolitan and glamorous, but the city is also rich with history that is at times macabre. Fortunately, for the bravest travelers, that makes Paris a great place to visit during the Halloween season! As an alternative attraction for second-time visitors to the city, the Cathedral Basilica of St. Denis is a great alternative to the much more touristy Notre Dame de Paris. For a spine-tingling slice of history, the cathedral also hosts an impressive collection of human remains. Tour the necropolis and see the tombs and statues marking the resting place of over 40 French kings and 32 queens, or visit the crypts where you can see the tombs of Marie Antoinette, her husband Louis XVI and St. Denis himself.
Of course, if you're looking for the spooky side of the City of Lights, you have to pay a visit to the Paris Catacombs, the resting place of over six million past Parisians. Real human bones line the walls of the catacombs (which you can explore on a self-guided tour), and some are arranged into columns, crosses, and more. In a rather morbid way, the catacombs are beautiful, just don't try to take home a souvenir— attempting to take remains from the catacombs is a capital offense and for this reason, large bags are not allowed.
Still not scared? If you're interested in something a little more terrifying, you can check out Le Manoir de Paris in the 10th Arrondissment, a historically-themed haunted house that is guaranteed to thrill! Over 30 professional actors will put on a show for guests, retracing some of the creepiest local legends and dark moments in Paris history.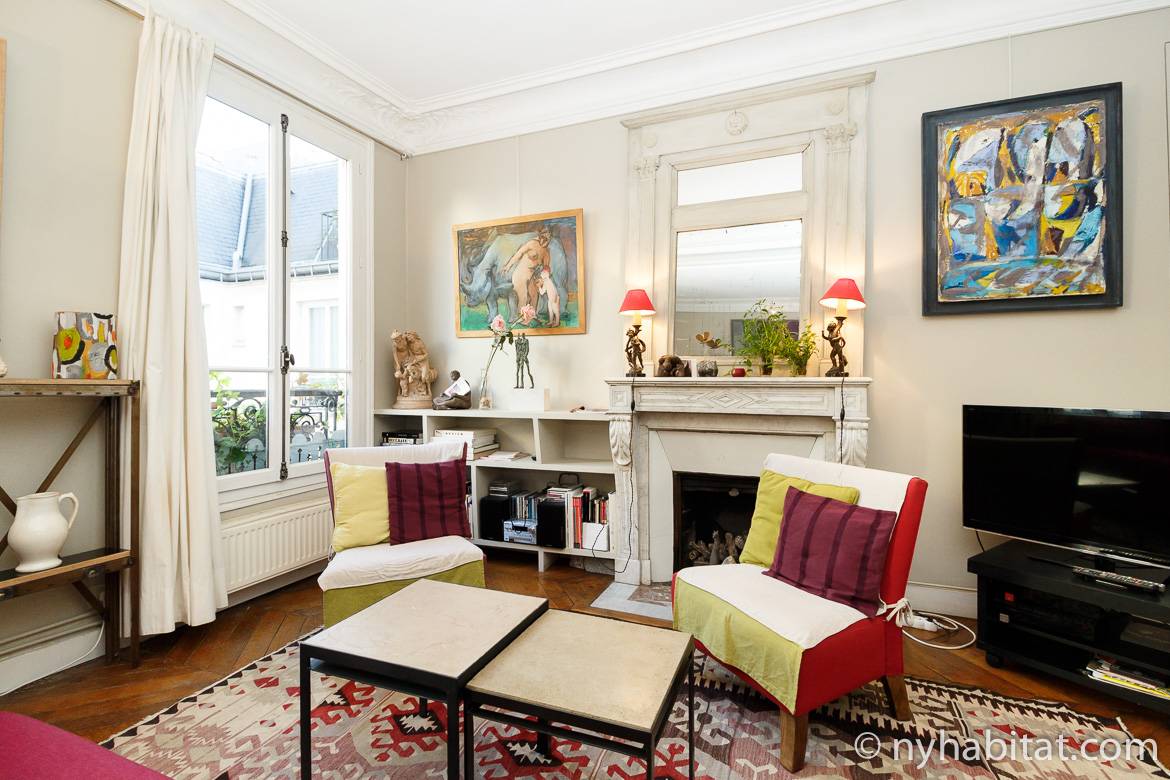 Lighten up after a day of spooky sightseeing in this charming apartment in Saint-Germain des Prés.
Don't let your visit to Paris be completely overtaken by the chilly gloom of the city's mysterious history! Find a nice balance in this colorful 1-bedroom furnished apartment in Saint-Germain des Prés. The apartment is filled with cheer from the colorful modern furnishings and embraces the contemporary through its artwork. After exploring the dank and dark catacombs, you'll also appreciate the large windows in this apartment that allow plenty of sunlight. You can cook up some comfort food in the apartment's full kitchen, and enjoy the added warmth of a classic decorative brazier in the bedroom as you read a book in the king-sized bed. Plus, you can enjoy a distance from the catacombs that's just comfortable enough, as the entrance is only 15 minutes by train (and the Seine is even closer).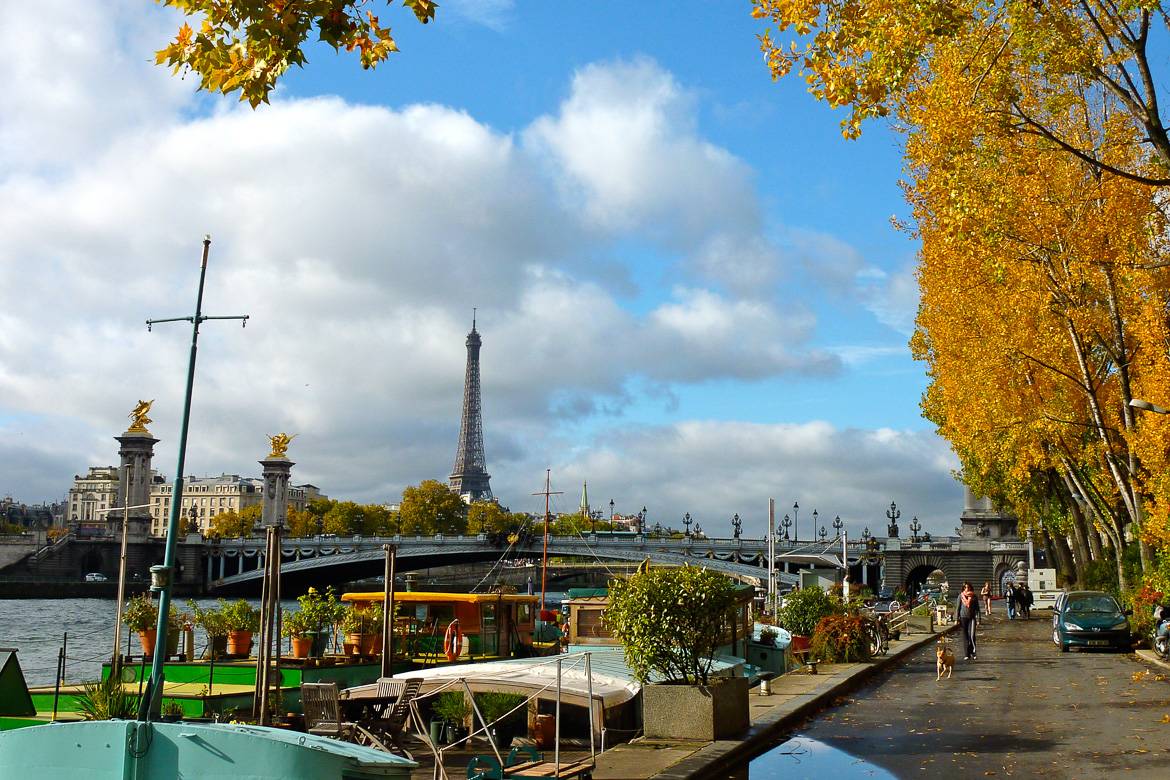 A stroll along the Seine is a wonderful way to spend any day in Paris, but the fall colors will make it extra scenic. (Photo credit: Magnus D. flickr.com/magnus_d)
As autumn in Paris is fast approaching, the time could not be better to start planning your trip to this historical, breathtaking and romantic city. Whether your idea of the perfect fall in Paris involves taking it slow and enjoying the city sights, sampling the local food and wine at an annual festival, or getting your heart pounding with some chilling local history, there's a fall destination in Paris for you! Of course, don't forget to book your trip with New York Habitat—we can help you find the coziest autumn apartment rental to serve as your home away from home. Bon voyage, and bienvenue à l'automne!