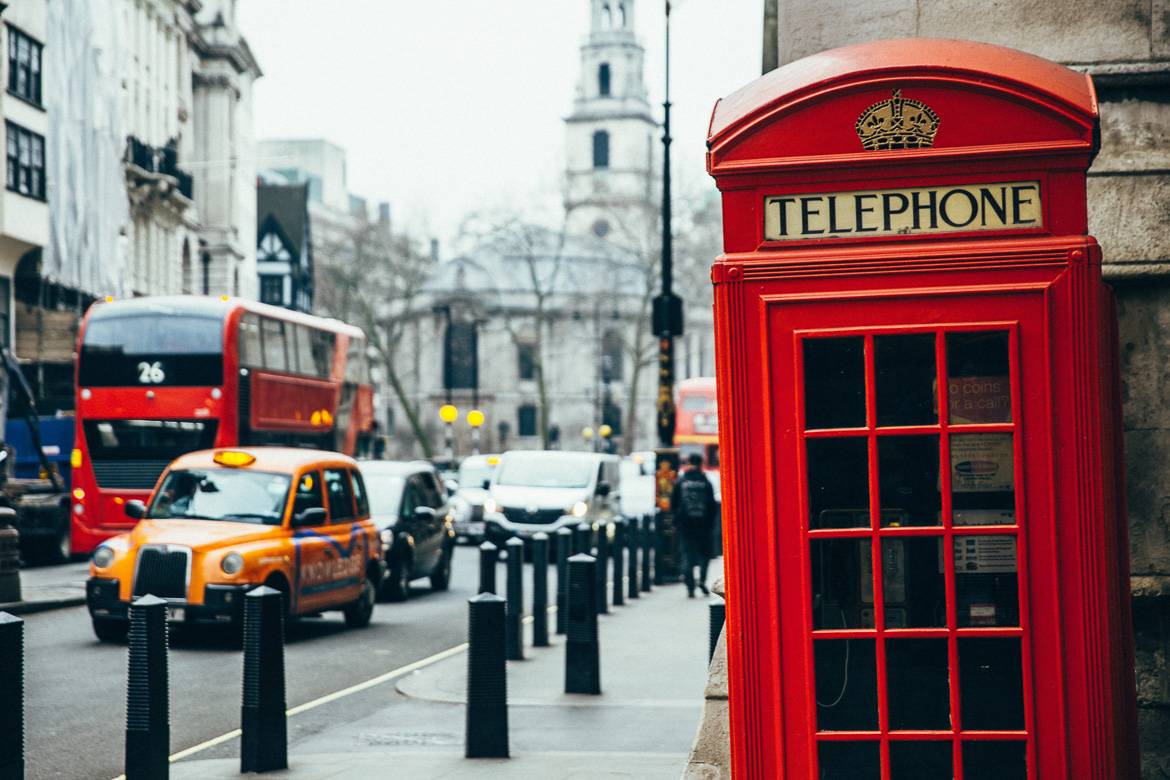 London's signature red phone booths reflect the most beautiful colors of the season.
London is invigorated with new life during the fall season. The centuries of history woven into the brick buildings and cobblestone streets as well as famous landmarks like the Tower of London create not only a quaint and moody atmosphere for the cooler, wetter autumn season, but also great places to explore as the Halloween holiday approaches! London was practically designed to open its arms to autumn; with all its hospitable pubs, scenic parks, historic locations and cozy furnished apartments available to you, there's no better time to book your stay in London and visit this magnificent city.
Use your eyes and the Eye for the best views of fall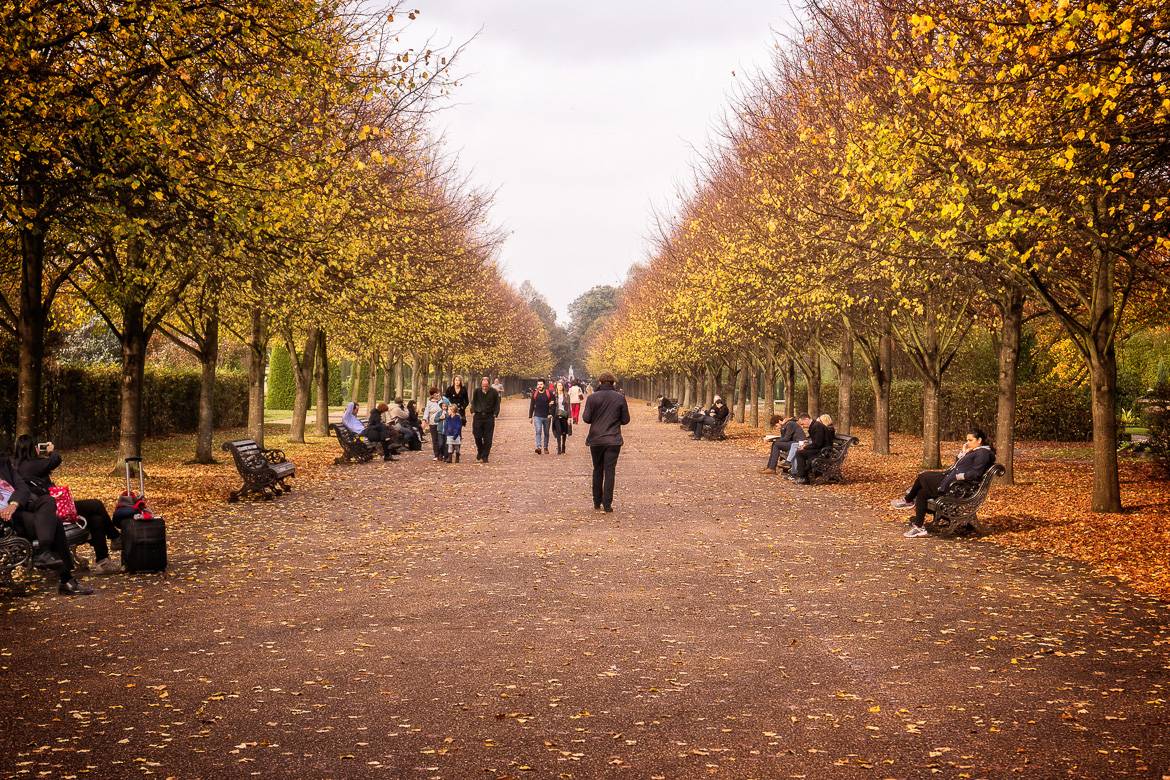 Regent's Park is our top recommendation for a stroll to see the best autumn leaves. (Photo credit: Garry Knight)
Those looking to get their fix of nature and the beauty of fall's colors have plenty of options when autumn rolls around! For the peak of the colors, plan your trip for late October, then decide your next move. Perhaps you'd like to soak in the views of the whole city and admire the view of the Thames in its "natural" habitat. If so, the London Eye is a great way to see the city from above, and offers plenty of glimpses of the tree-lined walking paths along the river. If you'd prefer to get a little closer to nature, Hampstead Heath offers great views of the city, all from the perspective of one of the locals' favorite picnic spots.
Speaking of which, make sure you pay a visit to one of London's remarkable parks. Forty percent of London is devoted to public green spaces (35,000 acres in total), which means you'll have plenty of options! Regent's Park is a great place to go on your fall tour for the tree-lined paths, hedges, and fountains. Holland Park will provide a rich color palette thanks to the deep red Japanese maple trees in the Kyoto Garden. Last but not least, Kensington Gardens (particularly the area around the Albert memorial) is a favorite photography spot of those "in the know" for its tall trees that turn a stunning yellow-gold in the fall.
If you'd rather stick to the streets, there are a couple great places to see colorful leaves in town as well. In the shadow of the London Eye on the Mall you can see colorful trees with a great view of Buckingham Palace in the background, or on the nearby Horse Guard Road, admire the cascades of red ivy. Both are in the neighborhood of Westminster.
Celebrate the season with a British tradition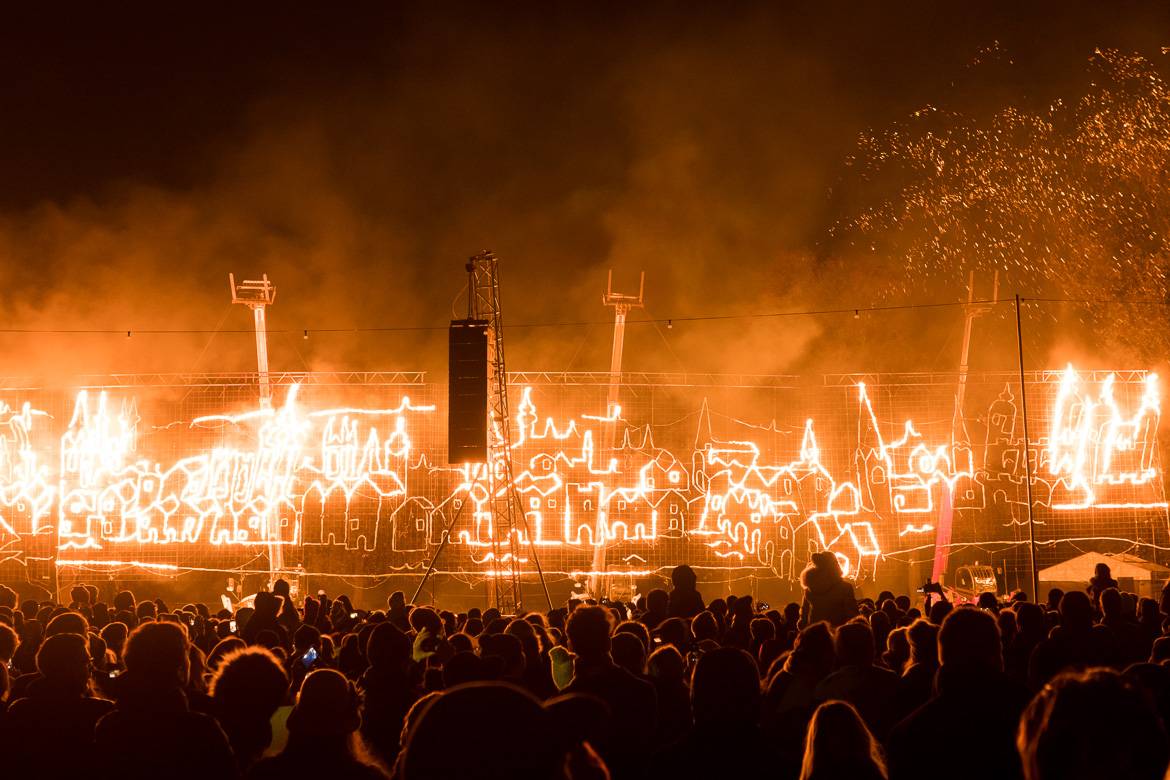 Bonfire Night in London features dazzling light shows and fireworks displays as a salute to British history. (Photo credit: Tim A)
As summer turns to fall, Londoners look forward to the return of several annual celebrations and events that will accentuate your trip to London with the perfect amount of local flavor as well. Three of the biggest events kick off in November, beginning with the Regent Street Motor Show on November 3. Come out to the famous Mayfair shopping street as it's closed to vehicle traffic to make way for a huge lineup of classic and modern cars, motorcycle stunts, and history and activities all themed around automobiles. Two days later, on November 5, come out for the proud London tradition of Bonfire Night (also known as Guy Fawkes Night), an annual day of thanksgiving and celebration of the failed Gunpowder plot of 1605. Bundle up and catch the raucous fireworks displays, bonfires and light shows all over the city in celebration. On November 10, you can celebrate one more "government" holiday with the Lord Mayor's Show in the City neighborhood. A parade with dancers, marching bands and horse-drawn carriages will make its way from City to Westminster as a celebration of the newly-elected mayor and is free to street-side spectators!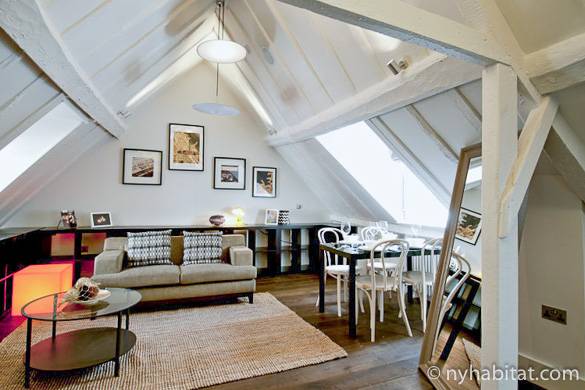 The rustic feel of this vacation rental will make you feel like you're far away, but the convenient location certainly won't!
Whether you're in town for a special event like Bonfire Night or the Lord Mayor's Show, or just the general feel of the season, you can have the best of both worlds without compromise in this 1-bedroom City of London vacation rental apartment! Striking a perfect balance between chic and homey, this apartment features hardwood floors and sloped ceilings with exposed beams to give it a rustic, log cabin feel for fall. However, the contemporary furnishings and modern amenities like a dishwasher, laundry washer/dryer and stereo system ensure your vacation has every convenience. Speaking of convenience, this apartment's location in the City means you well be right in the heart of London, putting you close to numerous tube lines, famous attractions like St. Paul's Cathedral and Shakespeare's Globe Theater, and giving you easy access to parks and events all over the city. When you come home from a day of sightseeing, enjoy a meal prepared in your full modern kitchen to refuel!
Have an autumn-approved pub crawl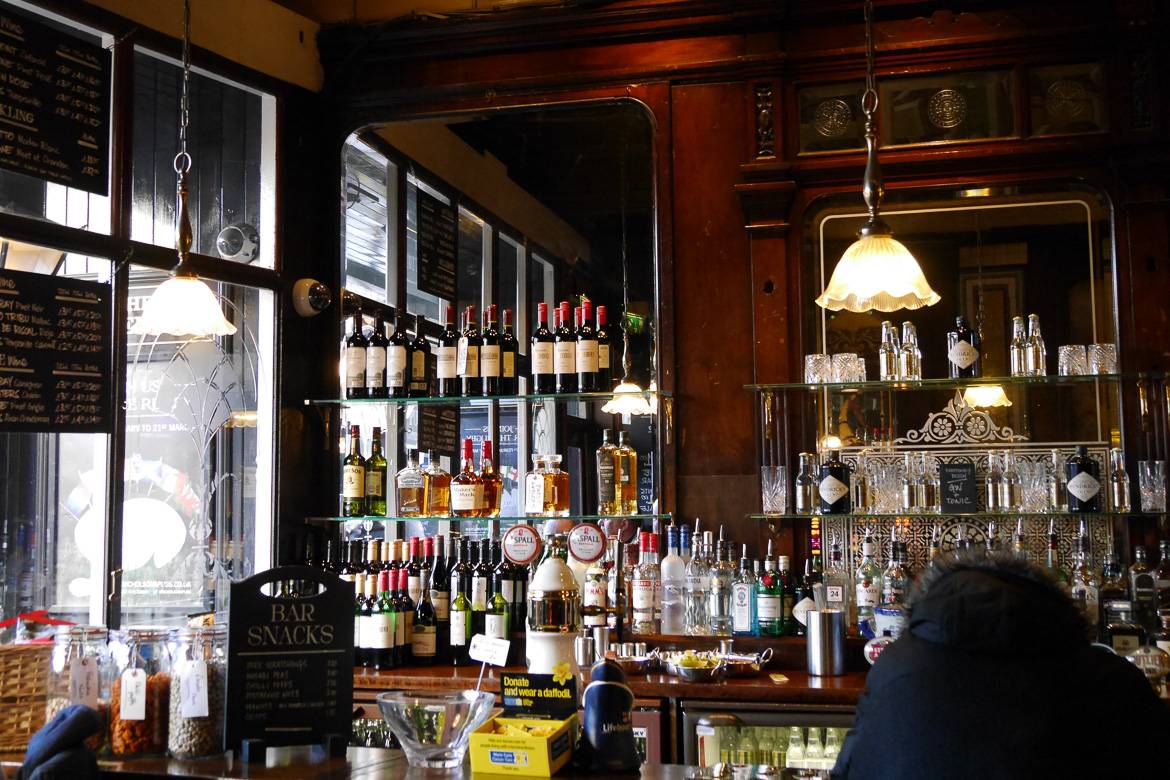 Take a seat at the bar in a classic English pub and enjoy one of fall's best traditions.
If you're looking for a good brew and warm food to fill you up this fall, you could not be in a more perfect place than in London. One of London's signature charms is its scores of neighborhood pubs, ranging from classic to trendy and hip. Some English pubs even feature an open fireplace around which you can gather with a pint and some friends, making them perfect for autumn. If you get hungry, make sure to sample the food—the traditional British cuisine of stews, pies and meats is the filling fare you'll be craving with the start of the cooler weather. English pubs are also so abundant in London that you can host your own pub crawl on a rainy autumn day in the city! See our picks for some of the best London pubs, or just pick a neighborhood and scout out the coziest-looking storefront: Camden Town, Islington, Shoreditch, Bloomsbury and Clerkenwell are some of our most highly-recommended areas to explore for bars and pubs.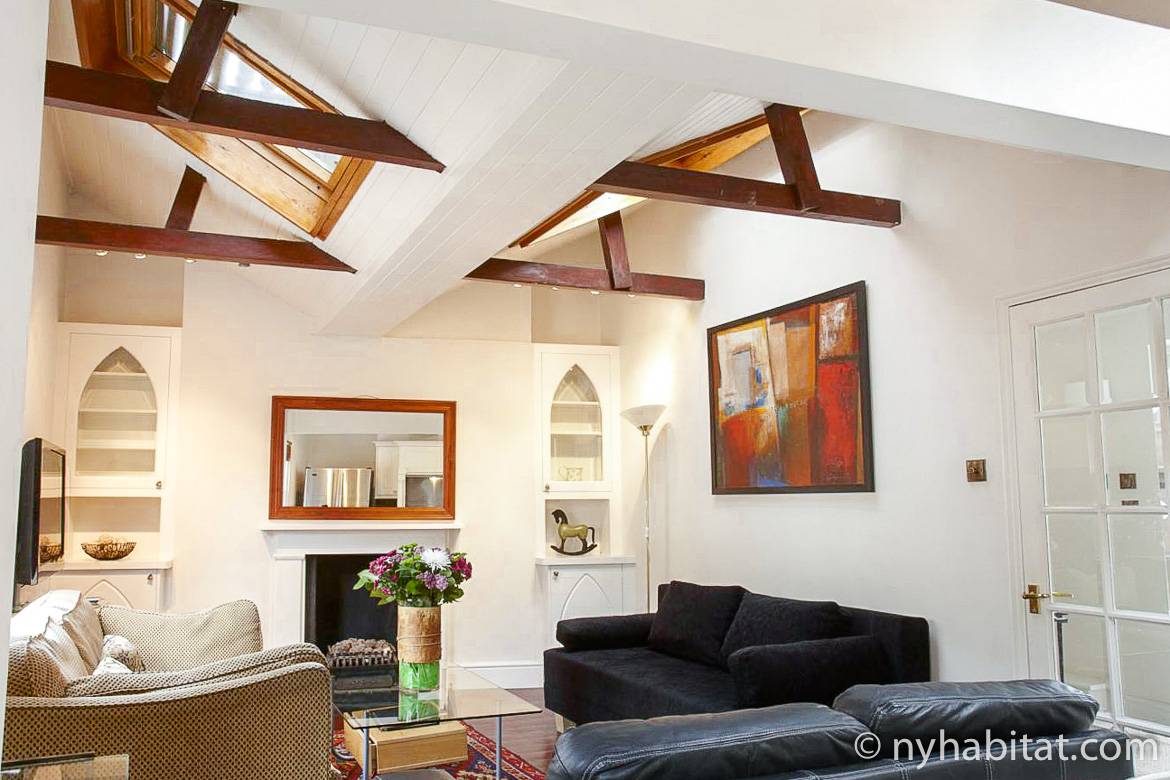 The squashy seating and exposed-beam ceilings of this vacation rental make it as welcoming as your favorite fall pub.
Hosting your own British pub crawl means a lot of walking, and you'll want somewhere to rest those tired feet at the end of the day. Opt for this 4-bedroom duplex vacation rental in Covent Garden and you'll have the perfect accommodation for those late nights after traversing the city! Like the signature features of some of the coziest pubs in London, this loft apartment features a living room with sloped ceilings, exposed beams and a pair of skylights to create a welcoming old-time environment. A decorative fireplace and 3 sofas add extra warmth to the space. The eat-in kitchen contains a dining table that seats 8, perfect for a late-night snack before your group retires to the bedrooms (each of which sleeps 2!) Beyond that, the apartment is perfect for hosting the most social groups due to its ample amenities, including in-unit laundry and a security system to give everyone peace of mind. In Covent Garden, you'll be in the historic West End, bordering all of our favorite neighborhoods for pubs and nightlife, which makes enjoying a spontaneous pint a breeze.
London's fall festivals: Offbeat, but still on the pulse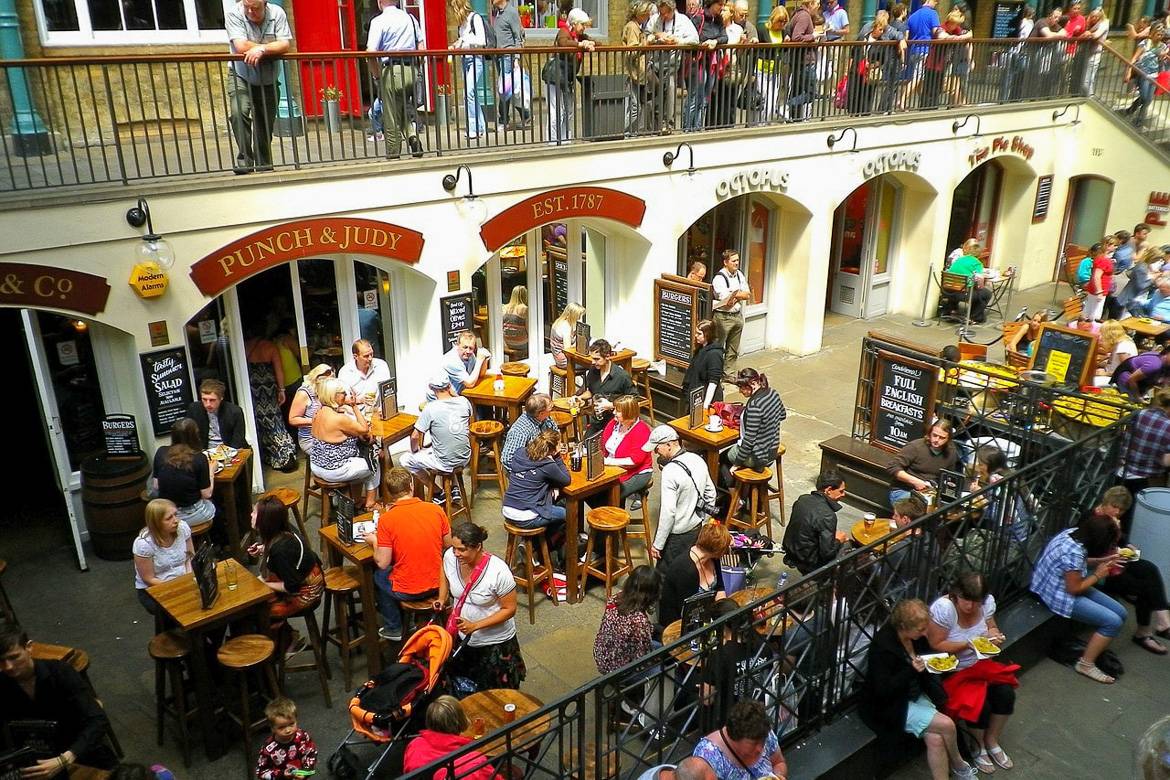 You can expect to be one of many satisfied customers at the London Restaurant Festival.
Autumn is one of the best times to mingle with Londoners due to the return of a host of festivals and cultural celebrations that will help you truly get a feel for the city! Totally Thames kicks off the fall season with a month-long September festival celebrating the "heart" of London: the Thames! You can walk along the river to see larger-than-life art installations, performances and exhibitions all themed around the beloved Thames. At the end of September, you can also attend the annual London Tattoo Convention from September 28-30. The convention promises to be a "colorful" affair, with over world-renowned artists in attendance, live performances, tattoo competitions, and tasty food and drink.
You can also eat your fill at the London Restaurant Festival during the entire month of October. Enjoy exclusive menus, theme nights and more at London's many vibrant eateries ranging from world-class cuisine to casual neighborhood fare. Of course, nothing pairs better with dinner than a film, so make some time to catch one of the premieres during the London Film Festival from October 10-21. Enjoy premieres, events, discussions and more film-themed events during the celebration, which will highlight some of the most acclaimed films of the year.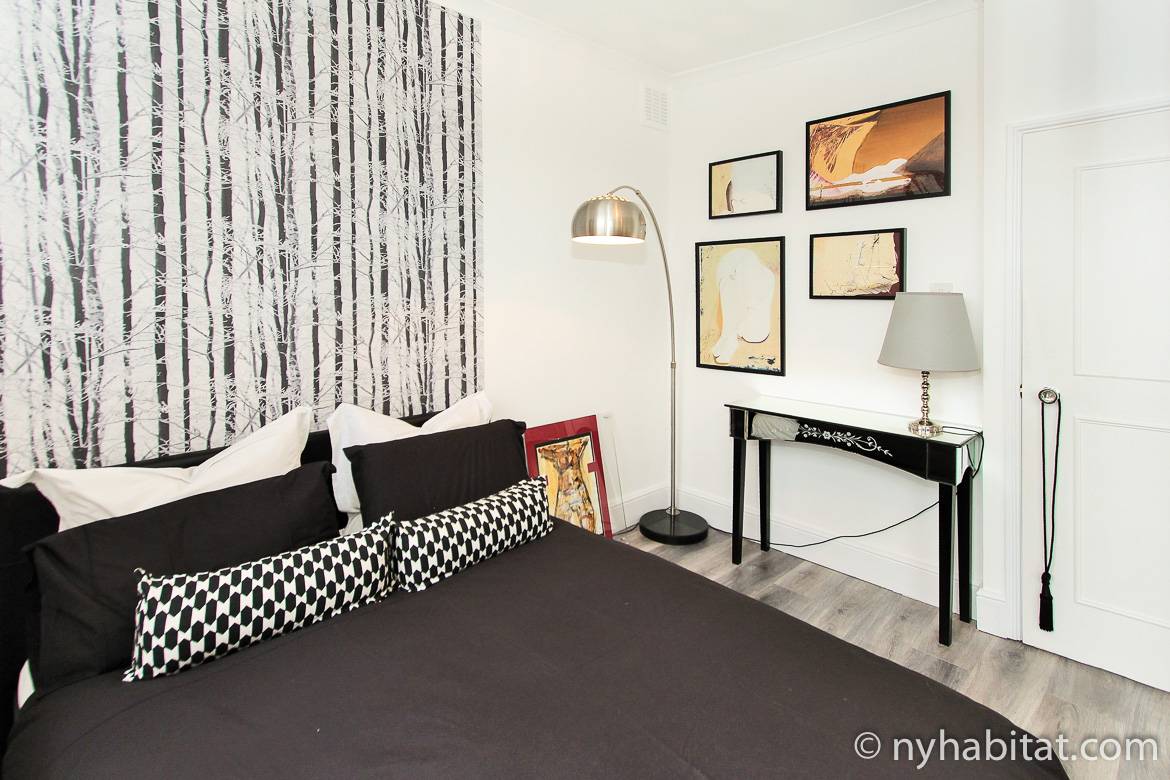 The double bed and tree motif on the accent wall make this a comfy place to stay for autumn.
Take some of the spirit of London home with you by staying in this 1-bedroom vacation rental in Notting Hill! The apartment perfectly embodies the vibe that festival season in London celebrates: Located in a posh period building, the apartment has classic touches like crown and window molding and a few stylish antique furnishings, but also a touch of the modern through a contemporary kitchen and a collection of fashionable modern art. Perfect for a solo traveler or couple, the apartment has a double bed and sofa on which to lounge. In the neighborhood of Notting Hill, you'll enjoy a slightly more private escape on the outer edges of London, but still a high amount of accessibility to whatever festival suits you (the nearest tube station serves the Hammersmith, District and Circle lines).
Celebrate Halloween with ghosts, wizards and more!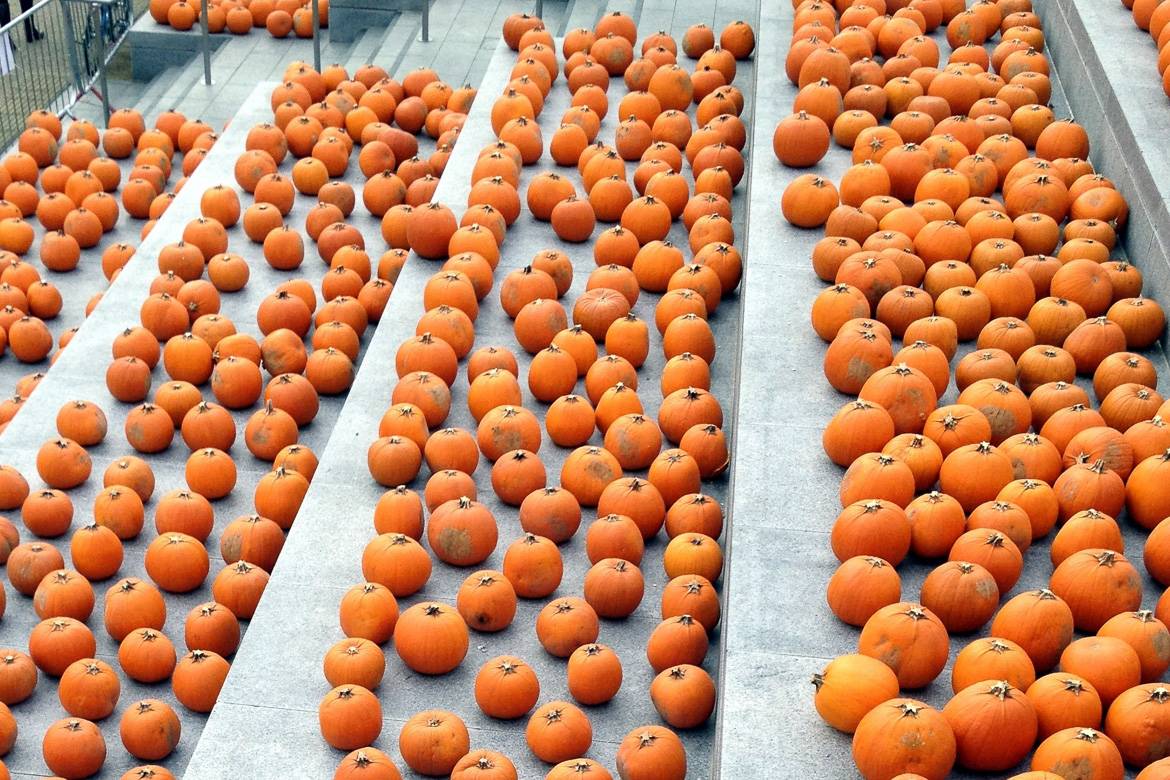 London offers so many great Halloween events. Don't be surprised to see pumpkins decorating the steps of King's Cross Station! (Photo credit: Bex Walton)
Halloween traces its roots back to Celtic traditions, which makes the British Isles one of the best places to celebrate! London hosts plenty of special events during the month of October that celebrate the darker side of the city's history to get you in the Halloween spirit. Creepy history tours emphasizing gruesome details in England's past like the Black Death and Jack the Ripper are offered year-round, but will add to the chilling atmosphere of an October evening. You can also visit notoriously haunted locations like the Tower of London or Hampton Court Palace and see if you can catch sight of a ghost, or visit a haunted attraction like the London Dungeon or haunted mazes at Thorpe Park for some real screams! London's Museums at Night program is also hosting some spooky theme nights at famous area museums in the month of October.
And of course, London is the birthplace of Harry Potter! When in London, you can tour some of the locations that inspired or served as a film set for the Harry Potter books and films. You can also tour Warner Bros. Studios to get a behind-the-scenes look at the making of the films, including authentic props, costumes and more. The studio tour hosts a special feature just for the Halloween season to honor the witches and wizardry of the Harry Potter universe.
Kids and adults can all find something to appreciate in this 2-bedroom vacation rental.
If you have young Harry Potter fans in your family, you can't do much better than this 2-bedroom vacation rental in Regent's Park, London. The accommodation has a simple, welcoming look with hardwood floors, sloped ceilings, and an open floor plan. Besides having two bedrooms (one for the parents and one for kids) and the possibility for extra bedding (including a crib for infants), the apartment also comes with access to multiple amenities to make your fall vacation a breeze. Stay with peace of mind knowing a video security system is protecting your family. A housekeeping service is offered once a week so you won't have to worry about cleaning on vacation. If you want to clean, there is laundry in the apartment as well, so you won't have to worry if the little ones can't resist the urge to jump into a pile of leaves! Best of all, the whole family will be starry-eyed to see this apartment's proximity to King's Cross Station, a major filming location of the Harry Potter series and home to a Harry Potter-themed gift shop for great souvenir shopping.
Not only is fall one of the best times to visit London with kids, it has seasonal activities for every age group and lifestyle. Grab a pint of a proper English brew at a cozy fireside pub, enjoy a delicious meal at the London Restaurant Festival, or just enjoy the dazzling sights of fall leaves or a fireworks display! With its weather, mysterious history, natural spaces and embrace of traditions new and old, London makes a great destination to visit this autumn.