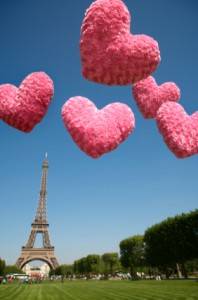 Valentine's Day in Paris
Paris is not only the most beautiful city to visit in the world, it is also unparalleled for romance and beauty.  For Valentine's Day this year, why not rediscover love through the age by taking a tour of the famous lovers in art and sculpture at the Louvre?  You're in for an unforgettable and romantic experience.
Most visitors to the Louvre take the time to admire the Venus de Milo, but you'll want to look at her with new eyes on this trip.  Venus—or her Greek counterpart, Aphrodite—was the immortal goddess of love and beauty.  This graceful sculpture was carved around 100 BCE, and its unknown sculptor believed in appealing to Aphrodite for help with matters of the heart.  Share a kiss with your sweetheart in front of this monument to love, and reap the rewards of Aphrodite's favor.
Aphrodite was not the only god in charge of love in the ancient world.  Her son, Cupid (also known as Eros) was the young man who shot love arrows at unsuspecting couples, making them fall helplessly in love with each other.  Cupid also fell for a woman—the beautiful mortal Psyche, of whom his mother was jealous.  The sculpture Psyche Revived by Cupid's Kiss by Antonio Canova depicts the moment when Cupid saves his beloved from an endless sleep caused by Venus.  The elegant lines of this tender scene will move any art lover and anyone who has ever fallen in love.
After seeing Cupid's poignant kiss, you'll want to take your sweetheart to study the painting Lover Crowning His Mistress by Joseph-Marie Vien.  This 18th century piece depicts a young man placing a crown of flowers on the head of his lady-love—proof, as if you needed it, that all women should be treated like queens by their lovers.  The light, composition and color in this cheery piece will have you smiling at such an innocent depiction of love.
For a more earthly view of passion, seek out the amorous 18th century painting The Bolt by Jean-Honoré Fragonard.  In this piece, a young man reaches up to bolt shut his lover's bedroom door while she gives a half-hearted protest.  The disarray of her passion-red bed linens and the embrace the couple shares both gently suggest at the ardor felt by those madly in love.  As you observe this painting, take the time to enjoy the realization that love and passion are as eternal as art and beauty.
Plan your romantic trip to Paris, the city of Love, today!  Not sure where to stay when you're not gazing deeply into your sweetheart's eyes or admiring depictions of love through the ages?  New York Habitat can offer you any number of charming apartment rentals for your tryst to Paris.  Get your search started for the perfect Valentine's Day trip with one of these vacation rentals close to the Louvre:
Fall in love with the Valentine's Day color scheme in this sleek 1 Bedroom Vacation Rental – Le Louvre – Les Halles – Châtelet – Paris (PA-3206).  Featuring a gleaming and modern kitchen (in red, of course), an airy bedroom with French windows, and an enormous and relaxing tub in the red-tiled bathroom, this is the perfect pied-a-terre for lovers visiting Paris.
There could be nothing cozier than snuggling with your sweetheart in this adorable Alcove Studio Vacation Rental – Le Louvre – Les Halles – Châtelet – Paris (PA-3782).  Wake up to a beautiful dawn through the skylight above the bed—and enjoy the natural light and cheery décor throughout the day.
You and your lover will feel oh-so-sophisticated in this 1 Bedroom Vacation Rental – Le Louvre – Les Halles – Châtelet – Paris (PA-3805).  Exposed roof beams, modern furnishings, and gorgeous hardwood floors will make this apartment an important memory of your Valentine's trip to Paris.
What is your favorite artistic representation of love?
Related apartment rental posts from New York Habitat: