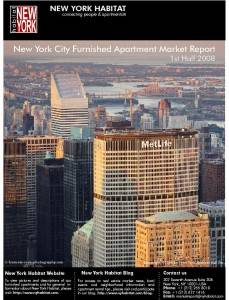 New York Habitat 1st half 2008 Furnished Apartment Report
Earlier we read about the 2007 New York Furnished Apartment Market Report.
New York Habitat continues it market report series with the release of the 1st half 2008 New York Furnished Apartment market report. Our report covers the following divisions: furnished rentals, vacation rentals and roommate share apartments. We continue to be proud to be able to offer you details about the current market conditions related to our business. To read this report visit: New York Furnished Apartment Market Report site.
In the 2008 1st half market report we compare date from the 1st half of 2006, 2007 and 2008.
Trends are explored and predictions are made for the 2nd half of 2008 and the into 2009. The following trends are noted in the report:
•    Strength in the vacation rental and roommate share markets
•    Continued growth in Brooklyn, Uptown, Manhattan and Queens
•    Future uncertainty with the world economy suffering from the credit crisis
To see all apartment listings throughout New York City visit : The New York Vacation Rental search, The New York Furnished Rentals Search and The New York roommate share search. Read the entire story here…»