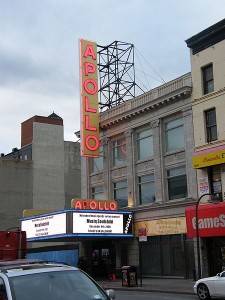 Photo of Harlem's Apollo theatre
Famous for its cultural institutions, such as the Studio Museum and the Apollo Theater, its shopping district and for its multicultural community, 125th street in Harlem is going to be rezoned if it is up to the New York City Department of City Planning. New York Habitat is keen to share with you what is happening in the neighborhood so you can find the perfect apartment.
To support the ongoing renewal of this main street in Harlem, 24 Blocks along the 125th Street are going to change, with the two of the main goals to strengthen the continuity and maintain the unique character of this street.
At this moment, the neighborhood consists of many townhouses with few highrises in the area. The plans keep the townhouses intact however, the plan will change the character and the street scene of the neighborhood drastically and has already caused a lot of commotion and discussion among current residents.
Plans are to increase the number of people (residents and businessmen) in certain areas, residential use will be more strongly encouraged, and visitors and nightlife in this area will be encouraged to grow. Highrises will be constructed and about 1.8 million square feet of new commercial retail space will be developed. As a consequence, real estate values will likely increase, possibly causing some small businesses to disappear because they can no longer afford the higher rents. Read the entire story here…»