The vegetarian movement has had a slow start in Paris, but more vegan and vegetarian establishments are opening and gaining popularity with the masses. We've searched high and low and found the top 10 vegetarian and vegan places to shop and eat in Paris; keep reading to find out more!
1. East Side Burger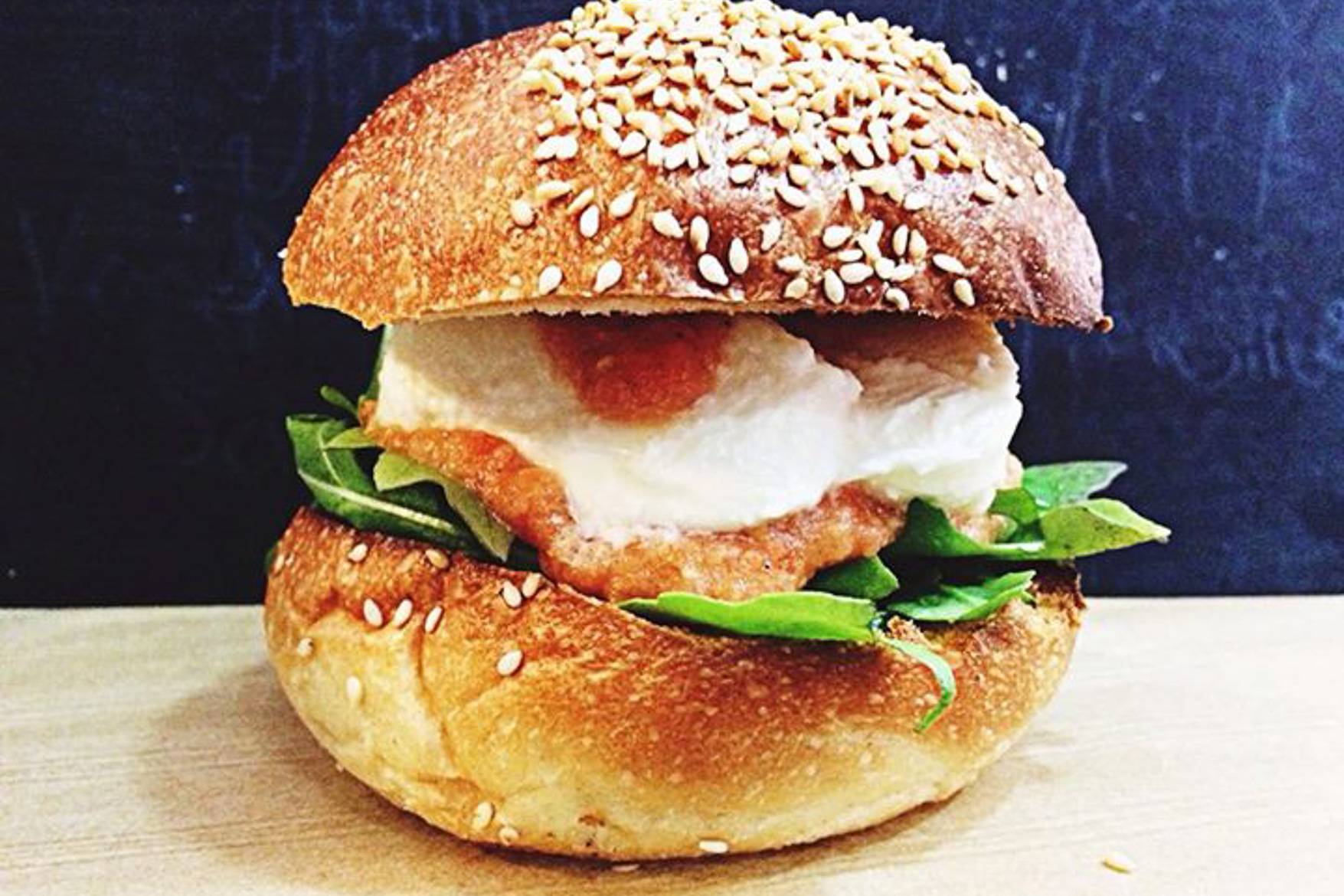 The delicious and 100% vegan Marcello burger from East Side Burger!
Vegetarians and vegans alike can choose from the wide menu at East Side Burger and either sit in or take out their delicious selection. Every day, East Side Burger offers two burgers from its menu and informs the customers ahead of time so everyone can choose their preferred day to visit. All their burgers are vegetarian and can be made vegan, with the exception of 'Le Fromager.' In addition to the delicious burgers, they also serve vegetarian hot dogs, homemade sides, vegan quiches, onion rings, and desserts both vegetarian and vegan. You can get a burger, french fries or coleslaw, and a drink, all for 10 euros! They also have a coffee menu with all-you-can-drink coffee and 2 vegan cookies for only 4 euros. Stay close to this burger joint by staying in one of these vacation rentals in the 11th Arrondissement!
2. Le Potager du Marais
Le Potager Du Marais offers traditional French cuisine with a vegetarian twist. Be warned, this place is extremely tiny (about 9-10 feet wide), but it packs a punch with its Parisian charm and authentic décor. Their menu offers a full page of options for vegans, along with luscious, homemade dishes packed with tofu, grains, vegetables, and beans. The desserts are less luxurious but still quite tasty, with sweets like apple and green tea puree or a simple fruit tart. Le Potager is the place for you if you're gluten-intolerant, as they offer multiple gluten-free dishes, which is quite rare in Paris! If you're enjoying Le Marais, check out our post about it and live like a local in Paris!
3. Pousse-Pousse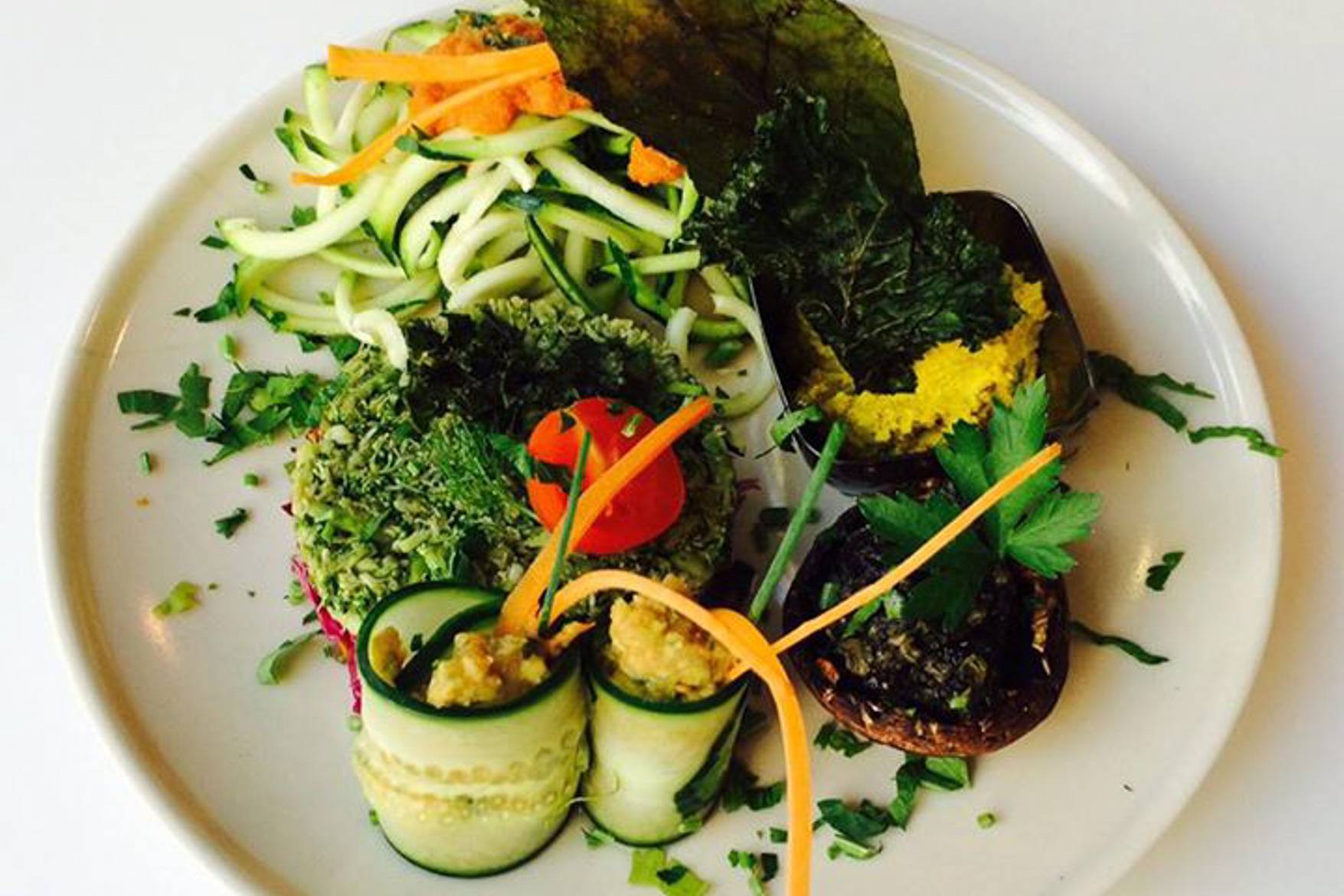 A vegetable-filled plate from Pousse-Pousse will delight any vegetarian or vegan.
For one-stop shopping and a bite to eat, look no further than Pousse-Pousse at 7 Rue Notre-Dame-de Lorette. The restaurant and juice bar serves raw and cooked vegan food using ingredients such as sprouts, seaweed, and even fresh pollen. This isn't just an ordinary restaurant and juice bar, but an organic, vegan, and gluten-free restaurant, juice bar, and organic store all in one. If that isn't enough, Pousse-Pousse also offers raw food cooking workshops. The price for one workshop is €80, dinner included! At the shop, you can purchase various groceries, equipment such as juicers, and health and beauty items. The restaurant and shop are located right next to each other, but have different opening hours. Pousse-Pousse serves two soups (one raw and one warm), a cooked superbowl, a large mixed salad, a raw plate, and a dessert, changing daily depending on the mood, season, and the markets. Be within walking distance of Pousse-Pousse by staying in a furnished apartment in the 9th Arrondissement.
Note: As of April 2019, Pousse-Pousse is permanently closed.
4. Hobbes
Hobbes opened its doors in 2014 and prides itself on being 100% organic, vegetarian, and homemade. They refer to their kitchen as a "living kitchen," which means they use raw foods, low-temperature cooking, whole grains, whole sugar, and only the freshest, finest fruits and vegetables. This vegetarian restaurant in the 19th Arrondissement holds brunch on Satudays and Sundays as well, and if you're in a rush, they offer takeout. While in the area, explore the largest park in the city, the Parc de la Villette of Paris.
Note: As of April 2019, Hobbes is permanently closed.
5. Un Monde Vegan
Un Monde Vegan is a 100% vegan retail shop and online store. This retail store sells a variety of items from vegan cheese, to animal food, to eco-friendly cleaning products, ensuring they have whatever a vegan heart desires. This shop at 64 Rue Notre Dame de Nazareth is open Monday thru Saturday from 10:00 a.m. to 8:00 p.m. If you're a Paris newcomer, be sure to brush up on basic tips and etiquette before making your way through the city and shop.
6. Soya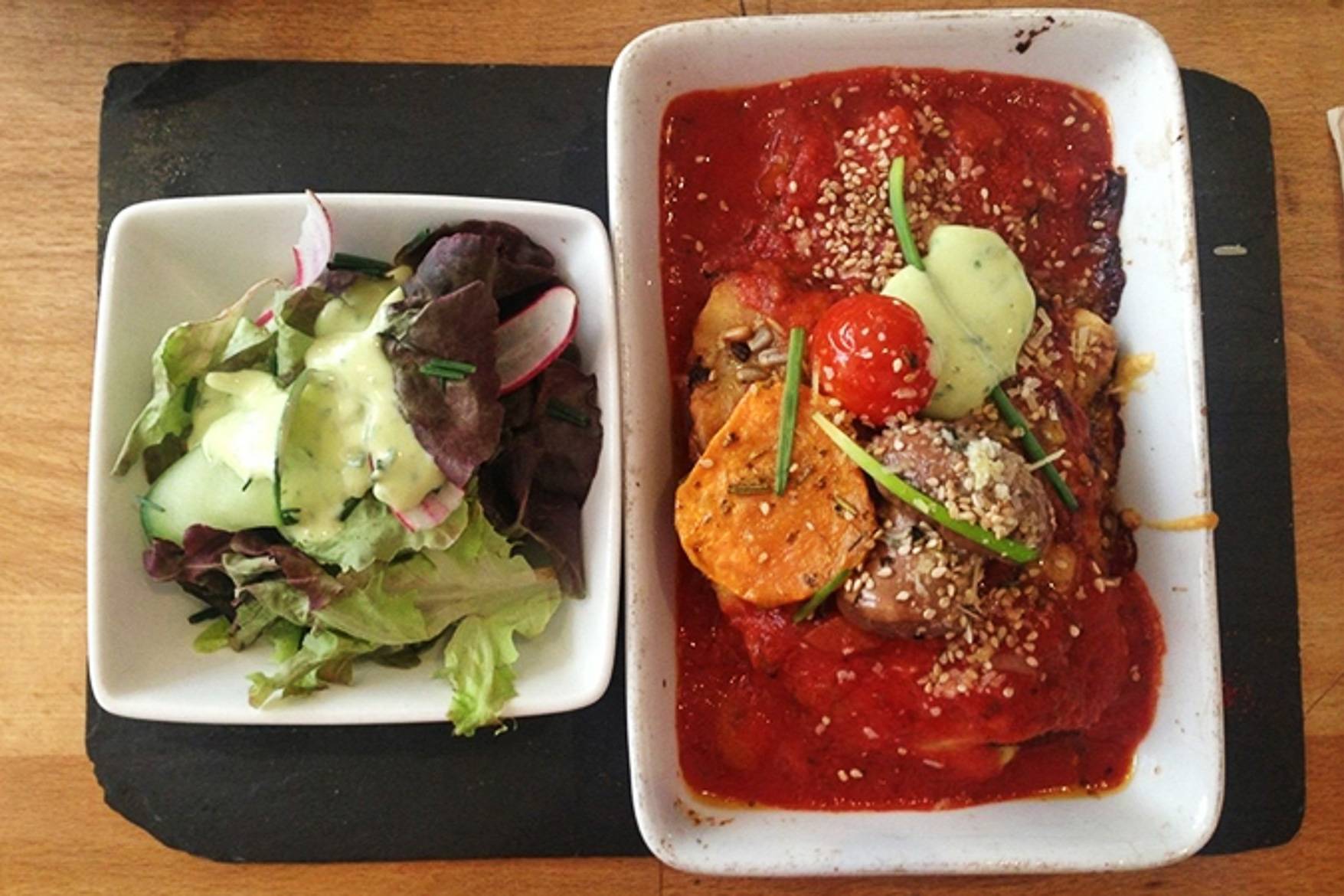 The vegetable lasagna with a side salad is a hit at Soya!
Soya is a vegetarian oasis thanks to its peaceful ambiance and airy feel. Their lush salad bar includes tabbouleh, humus, cabbage, and beetroot, along with hot dishes like a vegetarian lasagna, spring rolls, and seaweed dumplings. On Sunday, stop into Soya for brunch from 11:00 a.m. to 4:00 p.m. and €27 will get you a brunch buffet and a fruit juice. Soya tends to fill up by 1:00 p.m., so try to make a reservation if possible! When you're done eating, explore the area with our guide to Oberkampf. When you're finished exploring, come back to your Paris apartment rental to unwind for the next day!
7. Le Grenier de Notre-Dame
On your vegetarian tour of Paris, be sure to stop by Le Grenier de Notre-Dame, which is famous for being the very first vegetarian and macrobiotic restaurant in all of Paris. The restaurant has partnered with the same local famers since opening in 1948, and still uses them for fresh, organic ingredients today. Pull up a seat and be faced with two lunch menu choices for €15.50 (€17.50 for dinner and weekend options). Both include a starter, a main dish, and a dessert, which are all full of nutrients. Unlike many other vegetarian restaurants in Paris, this one is open daily from 12:00 p.m. to 11:00 p.m. While in Paris's Latin Quarter, be sure to walk around the Sorbonne, a famous university in Paris. Or, while so close to the Seine, explore one of the most prominent rivers in the world!
8. Vegan Folie's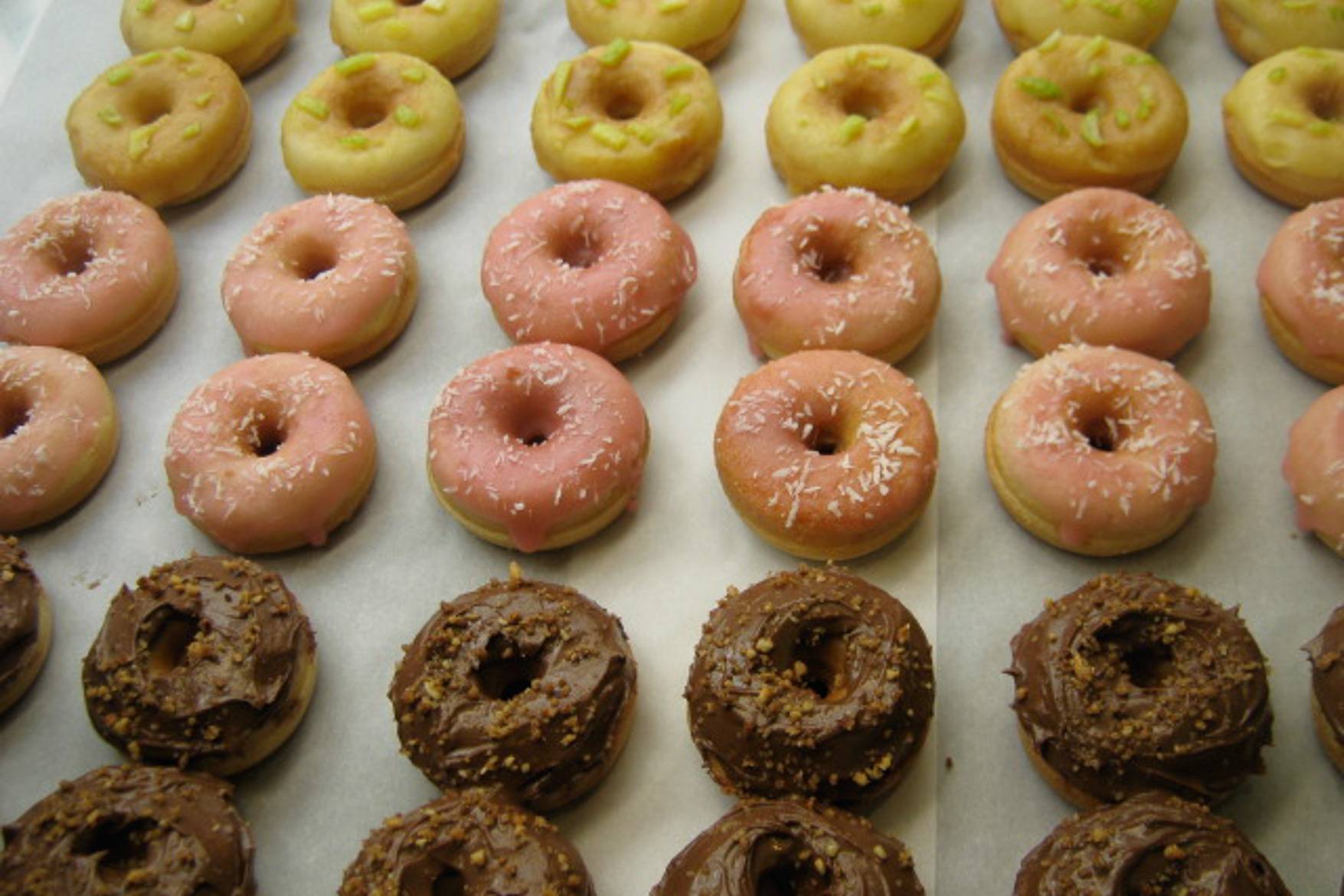 All the mouth-watering desserts at Vegan Folie's are completely vegan, including these doughnuts!
If you have a sweet tooth, head over to Vegan Folie's! It's a vegan, dairy-free bakery which produces small batches of its famous desserts daily. The small window entices you with vegan cupcakes, brownies, cookies, cheesecakes, ice cream, and more! If that wasn't enough to convince you, they also offer fresh sandwiches any time throughout the day. The flavors of their desserts change frequently, but you can stay up to date by checking out their blog. Shelves empty quickly, so don't hesitate if you see something you like! Once you have your sweet treat, head over to Arènes de Lutèce, an amphitheater with plenty of places to sit (Vegan Folie's is a small shop with no seating). Stay in one of our furnished apartments in the 5th Arrondissement for easy access to all the best desserts Vegan Folie's has to offer.
9. Gentle Gourmet Café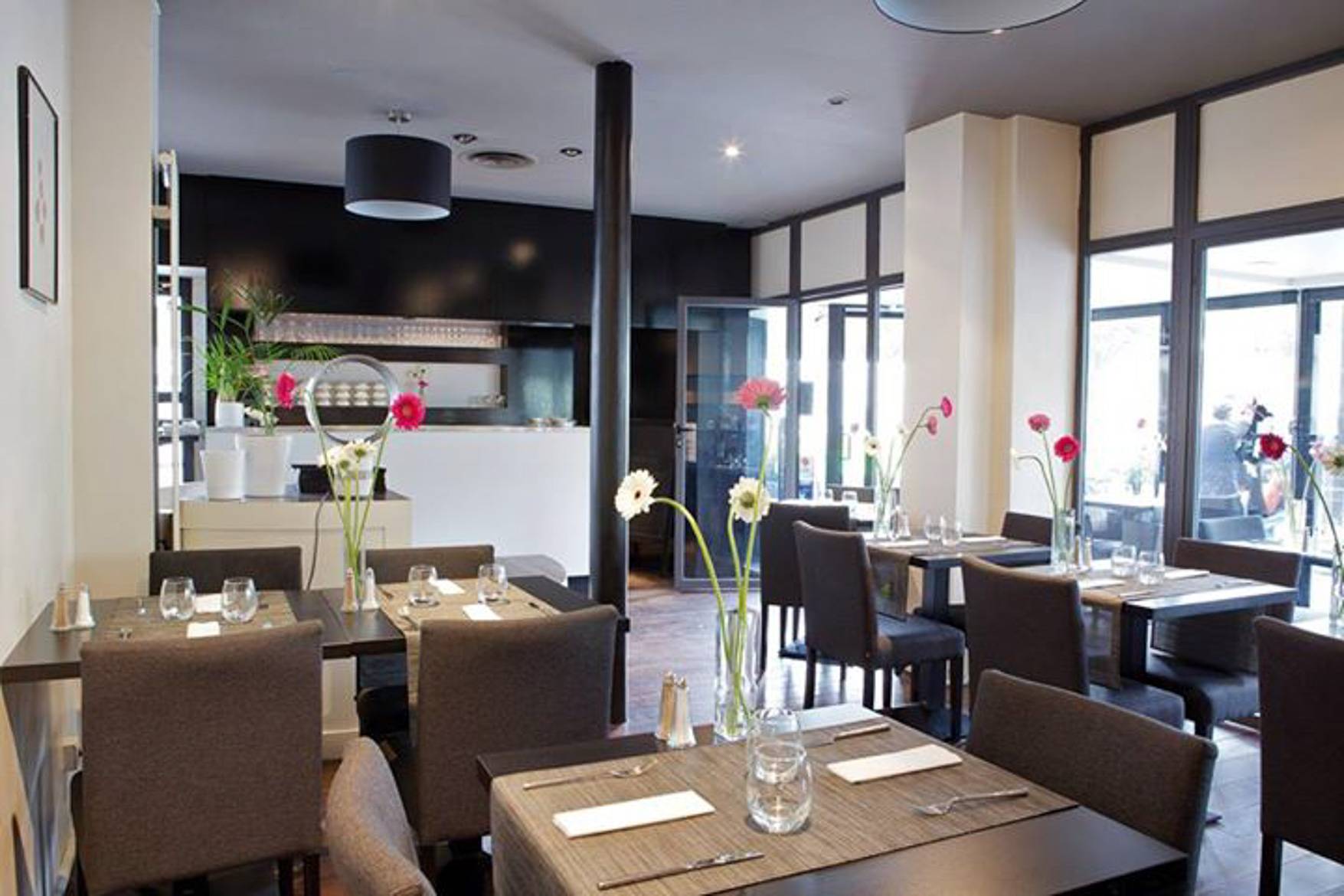 The inviting atmosphere of Gentle Gourmet Café allows diners to sit back and enjoy their meals.
Like many of the other vegan restaurants mentioned above, Gentle Gourmet Café varies its dishes seasonally. However, instead of offering primarily French dishes, they serve a 100% vegan combo of French and Mediterranean food. Their menu also has gluten-free options, soy-free options, raw dishes, and a variety of satisfying flavors. Sit down and try their vegan croissants or one of their exquisite salads. If you're on a quick lunch break, they also offer a wide variety of takeout options; just head to the delicatessen and pastry area of the restaurant. Gentle Gourmet is also expanding and opened up a boutique filled with aprons, mugs, teas, bags and more; great news for vegans! Gentle Gourmet Café is in the 12th Arrondissement and is open Wednesday thru Sunday from 12:00 p.m. to 2:30 p.m. and reopens later from 6:30 p.m. to 10:00 p.m. Stay in one of our vacation rentals in the 12th Arrondissement and do some shopping in the area like a true Parisian!
10. Café Ginger
Café Ginger's 4th Arrondissment location just next to Bastille is open Tuesday thru Sunday from 12:30 to 4:00 p.m., and is also open on Saturday and Sunday nights for dinner from 7:30 p.m. to 11:00 p.m. You're able to choose from a set menu with a juice or soup, followed by a tart with a variety of sides, and then a dessert. The restaurant is small, so it's recommended that you book a reservation in advance on their Facebook page.
With so many great vegetarian and vegan restaurants around Paris, you're bound to find something you love. If you try any of the restaurants we mentioned above, be sure to let us know what you think!