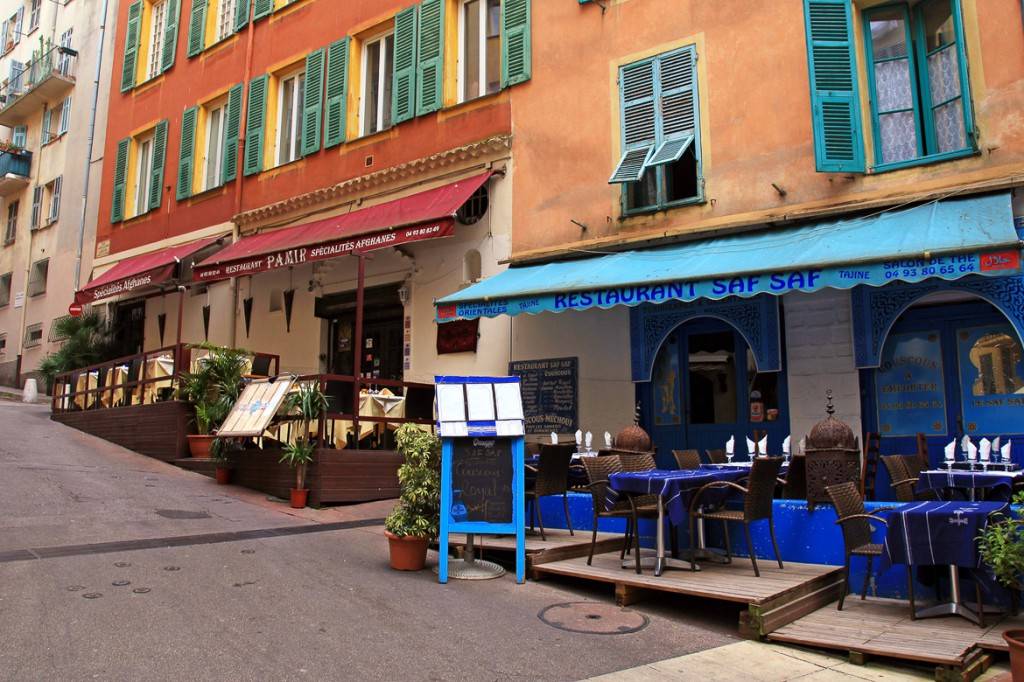 There's nothing quite like enjoying a meal of fresh Provençal cuisine en plein air!
There is perhaps no national cuisine venerated more than that of France, and no French region more famous for its culinary prowess than the southeast, where the warm sun of the Mediterranean meets French savoir faire. One of the best parts about staying in a vacation rental on your trip to Provence, rather than in a hotel or resort, is that you'll have a home with a full kitchen at your disposal to try your hand at the famous cuisine of Provence and the French Riviera. Keep reading through our gastronomic guide and get some ideas for ambitious cooking during your stay in a home-away-from-home in the South of France!
1. Herbes de Provence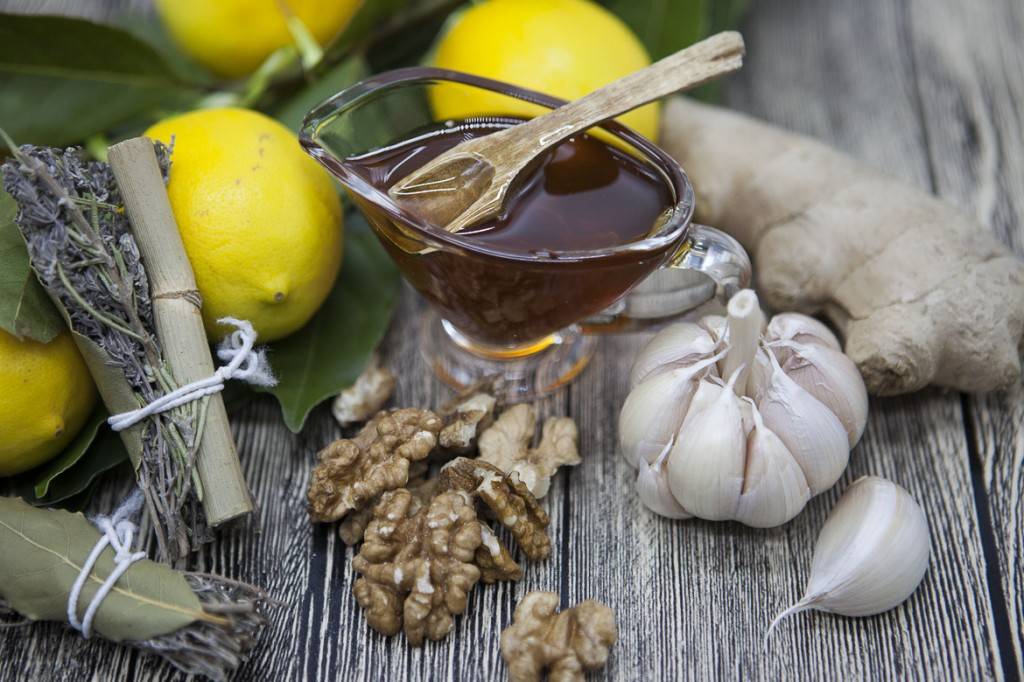 Often packaged in small bundles, as seen above, herbes de Provence make a great souvenir.
Not so much a dish as a thread running through all the famous specialties of the region, herbes de Provence are as fundamental as they are simply beautiful. The bundle of seasonings, while not a fixed formula, is normally made up of savory, marjoram, rosemary, thyme, and oregano. For a dash of color, lavender is often included (see above), but doesn't fit into the flavor palette. A special spice blend can make a great Provençal souvenir to commemorate your trip, bringing a bit of France home with you!
2. Tapenade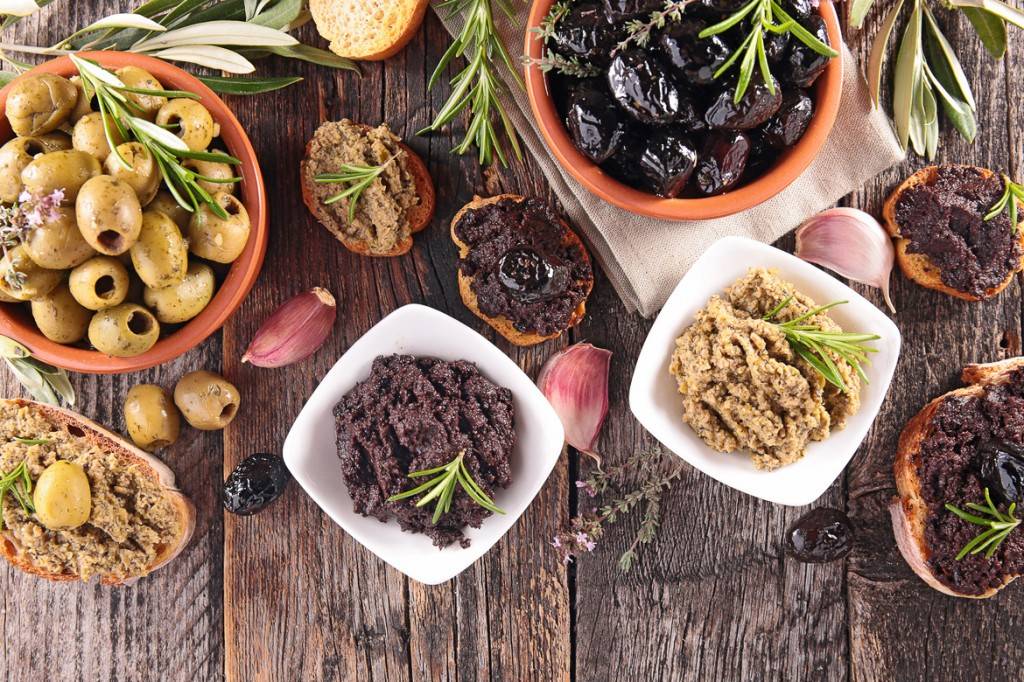 Olives, the main ingredient in tapenade, are an essential feature of any Provençal table.
No ingredient is as deeply associated with the Mediterranean as the olive. Indeed, whether green, black, or Kalamata, these savory little fruits pop up everywhere in the cuisine of the region. The Provençal iteration of olive-based seasoning is the now-widespread tapenade. A basic recipe includes olives, capers, anchovies and plenty of olive oil, a winning combination!
3. Aioli
While aioli may be known to most foreigners as a delicious sandwich topping or a dip for fries, the hard-to-spell sauce is actually a fundamental of Provençal cuisine. The spread itself is a mixture of garlic, olive oil, egg yolk, and lemon juice, a zesty yet creamy complement to many dishes. However, in Provence the word also signifies a dish: the namesake sauce, homemade of course, surrounded by plenty of boiled vegetables, poached fish, and hard-boiled eggs. Pick up these ingredients and more at one of Provence's outdoor markets. Aioli is so tasty, you might find yourself wanting to try it on everything else in the kitchen!
4. Socca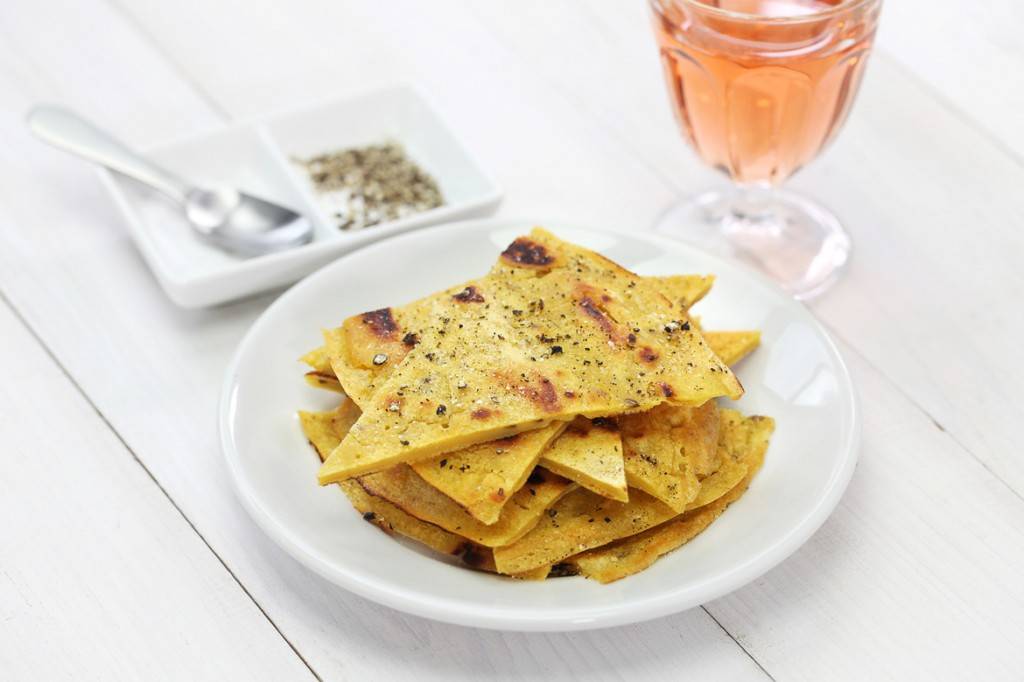 There's nothing as Provençal as warm socca with refreshing rosé from the South of France.
One of the most savory and multicultural dishes native to the region, socca is the Southern French response to the crêpes of Brittany and Paris. This chickpea-based flatbread is cooked in an open oven, typically on a massive (almost 1 meter wide) copper platter. Seasoned with herbes de Provence and lots of cracked black pepper, the dish is best eaten straight from the oven, no silverware needed!
5. Fougasse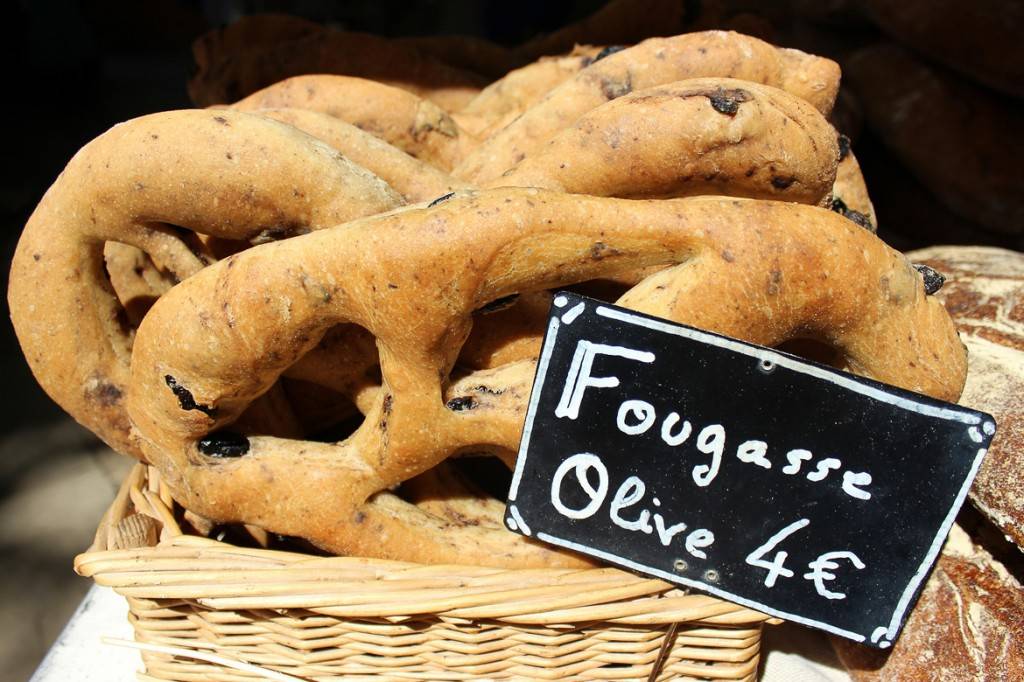 Fougasse's unique shape and savory olives distance it from the traditional French baguette.
While most French regions have their own spins on fougasse, descended from a Roman flatbread served across the Empire, Provence's is unique. Like many other Mediterranean delicacies, the flatbread is improved by a hefty dose of olives, cheese and anchovies. Sound familiar? Some have called fougasse, along with its cousin socca, Provençal pizza. While this might be more a marketing ploy than a fair characterization, the resemblance is undeniable!
6. Salade niçoise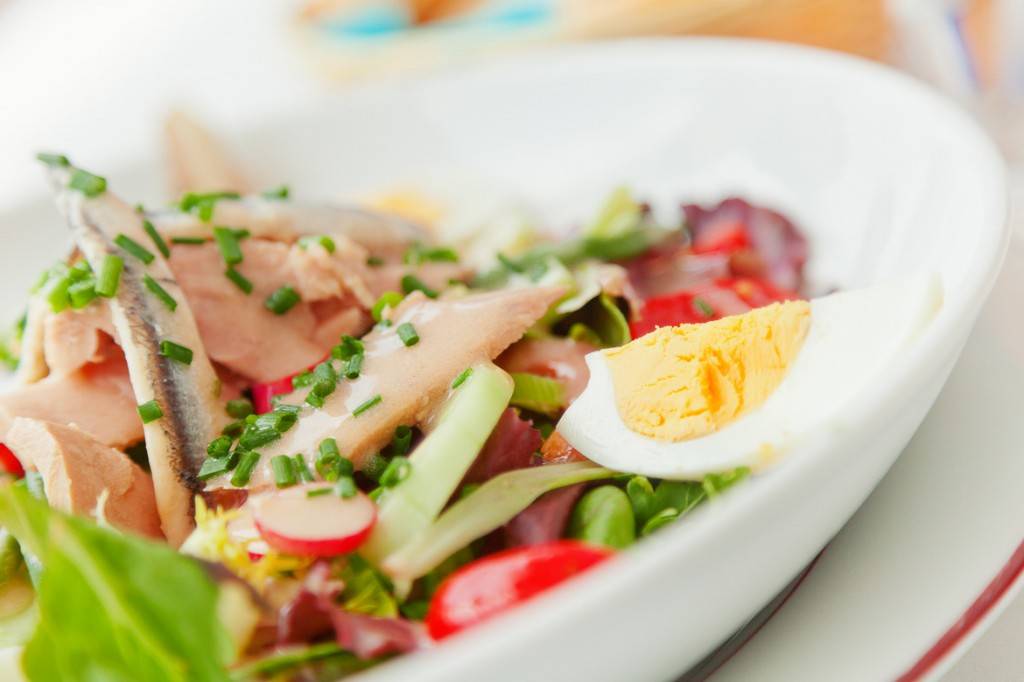 With its anchovies and fresh tomatoes, salade niçoise is microcosm of Southern French cuisine.
There are only a handful of salads that have made their way outside the confines of France into the broader world. Chief among them is salade niçoise, a specialty from the country's far southeast corner. A salade composée in the French tradition (not exactly the leaves-and-dressing American formula), a salade niçoise contains fresh tomatoes, tuna, hard-boiled eggs, local olives and, for good measure, anchovies. Topped with vinaigrette, the combination has a unique flavor deeply tied to the Mediterranean region.
7. Ratatouille
Once scoffed at as a peasant dish of inexpensive vegetables, ratatouille has, thanks to health food crazes and the well-known Pixar film of the same name, become an iconic French dish over the years. The stew, originating in Nice like many of these dishes, is composed of tomatoes, eggplants, onion, zucchini, and bell peppers (and any other vegetables you're craving), slow-cooked with garlic and herbes de Provence into a subtle yet comforting dish, easy enough that you can try it yourself in a unique outdoor kitchen like this one in our 4 Bedroom Rental in Saint-Rémy.
8. Bouillabaisse & Rouille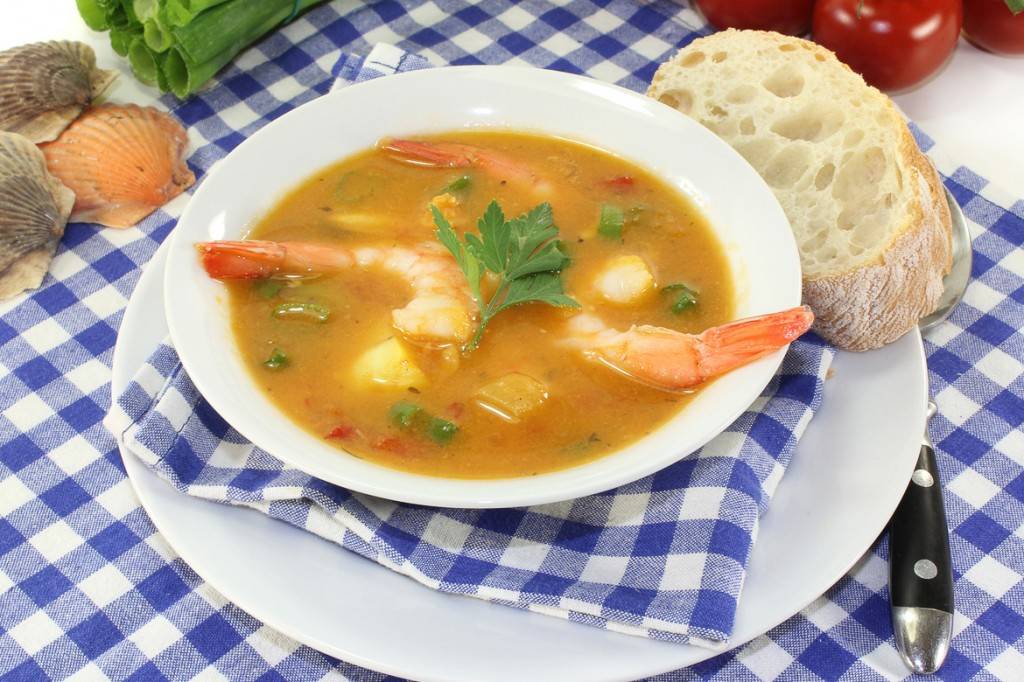 From a fisherman's stew to the annals of haute cuisine, bouillabaisse is at the heart of French cuisine.
An authentic seafood-heavy dish from the port city of Marseilles, this fishy stew is renowned well outside of the South of France. Traditionally the soup has at least three kinds of fish, red rascasse, sea robin, and European conger, though this component of the dish is flexible. What's more important is the seasoning, a combination of herbes de Provence, garlic, onions, and tomatoes, and the traditional side: rouille. Meaning rust in French, this spread is closely related to aioli, consisting of olive oil, breadcrumbs, garlic, saffron and chili. Spread on a crusty slice of bread and soaked in fishy broth, the flavor combinations are prototypically Provençal, perfect if you're planning a winter trip to Provence – or at any time of the year!
9. Soupe au pistou
Something you may notice about many of these dishes is a close connection to northern Italian cuisine, a resemblance even more clear in soupe au pistou, the Provençal adaption of Italian pesto. This cold soup includes the same ingredients as the basil-based pasta sauce and is often served as a topping on a minestrone-like vegetable stew. Add lots of parmesan or gruyere cheese on top and you'll have a hearty meal perfect after a long day of exploring the region.
10. Thirteen desserts of Christmas Calends
Much of Provençal cuisine, like French gastronomy in general, is tied up in culinary traditions going back centuries. Perhaps the most unique of these traditions is the Thirteen desserts of a Provençal Christmas Calends, or feast. While variations are common across the region, a common version of the meal features: 1) pompe à l'huile (fried dough), 2) fougasse, 3) mixed nuts, 4) hazelnuts, 5) white nougat, 6) candied fruit, 7) apples, 8) pears, 9) oranges, 10) raisins, 11) vin cuit, a spiced wine, 12) dates, and 13) fruit preserves. See if you can find them all on a market trip to Saint Rémy de Provence (one of our top 10 Provençal villages) or Avignon and you can have an authentic Christmas feast!
11. Bonus: Pastis and AOC wines from Provence and the Côte d'Azur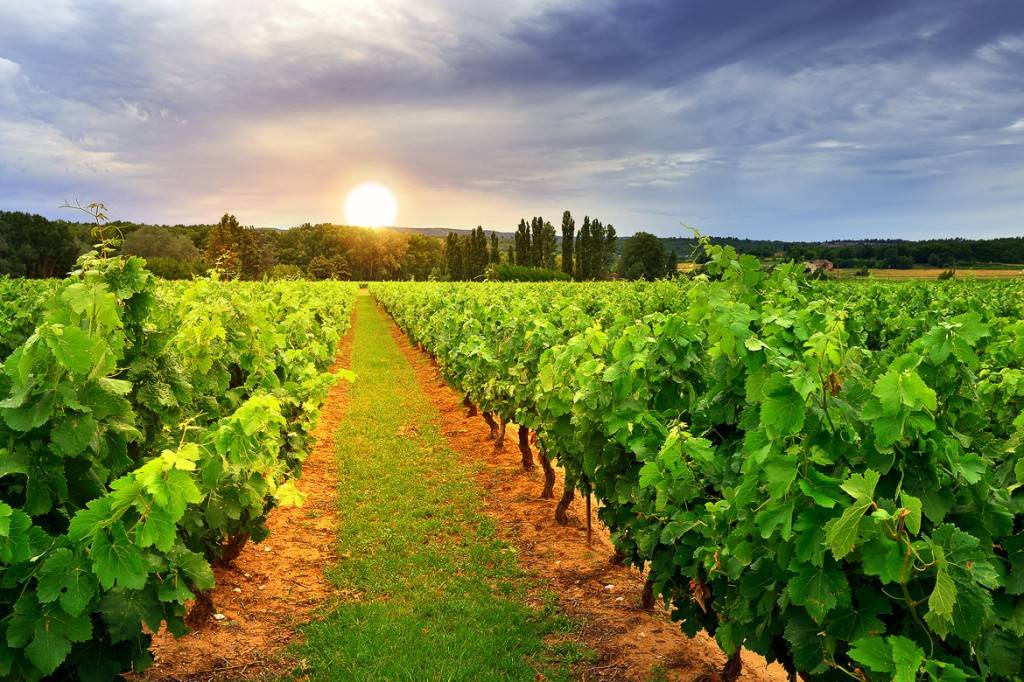 Enjoy the products of Provence's sun-drenched vines with your meal for an authentic pairing!
With all these delicacies to choose from, you may find yourself needing something to wash down your meal. Thankfully, Provence's traditional beverages are perhaps even better known than its cuisine, from the aniseed-flavored spirit pastis to the AOC (Appellation d'origine contrôlée) regional wines.
Stuck on the wrong side of the Atlantic, far from the warm sun of the South of France? Worry not – there are plenty of places in the U.S. to sample Provençal cuisine! Conveniently located in Carroll Gardens, known to some as NYC's Little France, Provence en Boîte has been serving up French and Provençal delicacies since 2011. Stay in our 1 Bedroom Vacation Rental in Boerum Hill and you can walk to get fresh croissants in the morning and pastis at night!
Related apartment rental posts from New York Habitat: