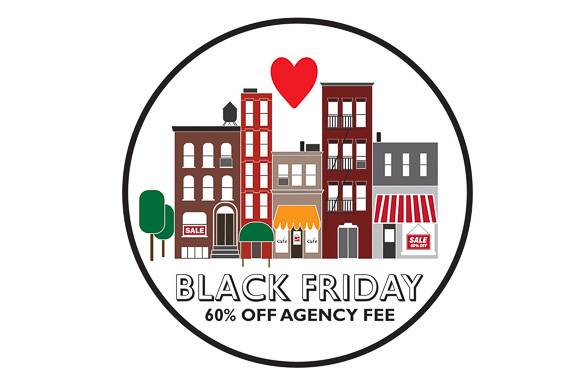 New York Habitat is celebrating Black Friday with 60% off agency fees on furnished apartment rentals!
As the leaves change colors and fall begins, New York gets ready for Thanksgiving and the beginning of the holiday season. Just after that festive kick-off comes another uniquely American holiday: Black Friday deals and low prices draw hordes of shoppers to stores across the country for a limited time! There's nowhere better to experience the excitement than the famous shopping streets of New York during the best sales of the year!
Stay for a few more days–or even the whole month–and you can see what New York really has to offer. We are offering a 60%* off sale on the agency fees for bookings made November 1-30  in these one-of-a-kind furnished apartments and vacation rentals which let you live like the locals in two of New York's most famous neighborhoods: Williamsburg and Harlem!
Two-bedroom rental with panoramic views in Williamsburg, Brooklyn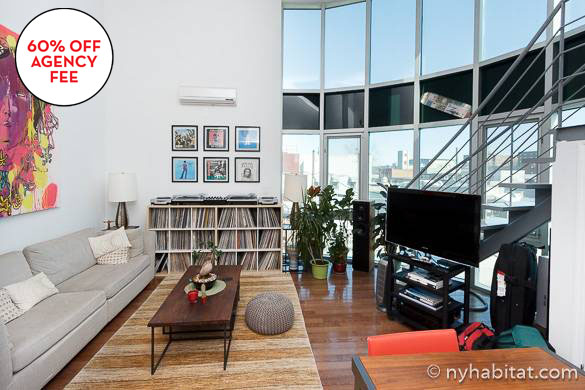 You can watch a New York sunset from your living room thanks to these duplex windows.
It's tough to find a cheap apartment in New York with natural light, let alone floor-to-ceiling duplex windows right in the living room! On top of that, this two-bedroom furnished apartment in Williamsburg offers two balconies, one off the living room and one off the second bedroom. Inside, contemporary art and a flat-screen television give the space a modern touch despite the LPs and record player, an homage to Williamsburg's love of vinyl and many record stores.
The kitchen is modern too, with a full range of appliances to suit all your cooking needs. Save on meals by making food at home– cleanup will be easy with the stainless steel dishwasher. The two bedrooms upstairs each have their own attraction. A queen bed and a TV make bedroom 1 the master bedroom (as do its panoramic windows). It's bedroom 2 that has the balcony though, as well as a single bed and (like the rest of the apartment) air conditioning. Other amenities include the washing machine and dryer and the video intercom system, convenient when you're living on the third story of a walk-up building.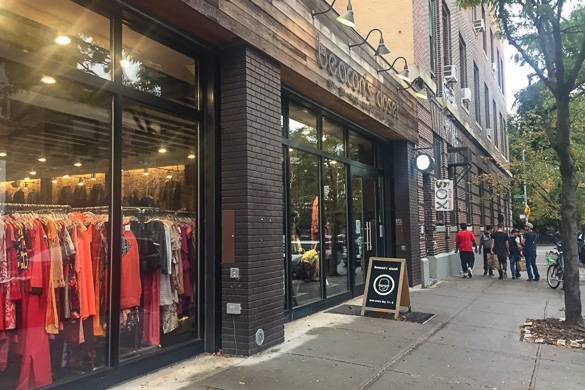 Restock your closet without breaking the bank at vintage stores like Beacon's Closet!
The North Brooklyn neighborhoods of Williamsburg and adjacent Greenpoint are a great option for travelers who are tired of everything mainstream to take advantage of Black Friday deals without venturing into busy Manhattan. The area is famous for style, whether from flea markets or designers and stores like Beacon's Closet and Oak NYC. Local music venues like the Music Hall of Williamsburg and AVIV host everything from punk, to pop, to hip-hop. Just a few blocks away is the redeveloped waterfront, complete with aging piers as well as benches with scenic views.
Two-bedroom vacation rental right off 125th Street in Harlem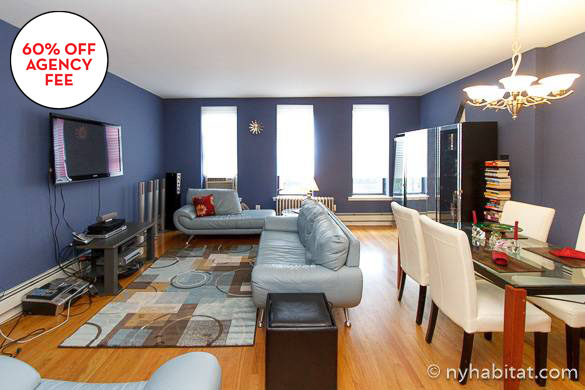 Sit down and relax in this lounge space after a day of exploring NYC.
Decorated in soothing purple tones, this two-bedroom apartment in the Upper Manhattan neighborhood of Harlem will make you feel right at home. Even if it's just for a vacation rental, you can sit down for a meal with friends at the dining table, curl up by the TV on the couch, or just beat the heat with the AC.
With a queen bed and storage space for clothes, bedroom 1 can accommodate two people. A cable TV, great for catching late-night shows, sits on top of the mirrored closet doors. Bedroom 2 also offers a queen bed and TV, as well as views to the south towards the back of the house.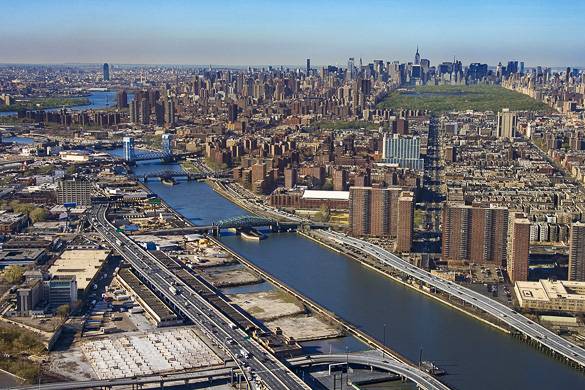 Harlem lies just above Central Park, giving a unique perspective on Manhattan.
Sitting in northern Manhattan between Central Park, the Bronx, and the Hudson River, Harlem is  full of life, culture, and history. Long-known for authentic soul food from the likes of Sylvia's Restaurant and the launch of music stars via the Apollo Theatre, the neighborhood has no shortage of places to eat or see a show. If you do feel like heading downtown, the 2 and 3 trains run express downtown to Times Square in less than fifteen minutes!
Studio apartment share in Central Harlem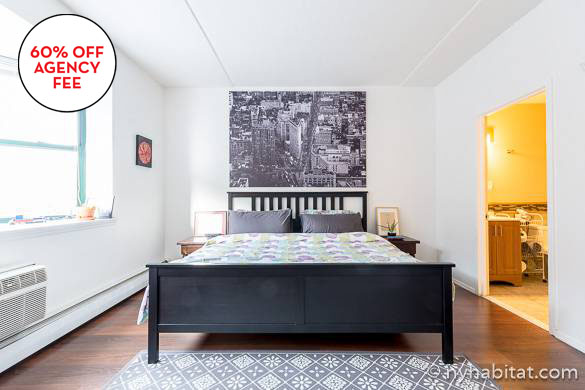 There's lots of room in this king bed in a private bedroom.
Find your own niche in NYC with this Harlem studio apartment share for monthly rentals. It's tough to find a space this affordable in Manhattan, let alone just a few blocks from 125th Street, the main commercial street in Harlem. You won't have to sacrifice on comfort, considering the air conditioning and spacious king-sized bed. You may want to opt for delivery or a simple meal using the basic kitchen amenities: a fridge, a microwave, and a coffee maker.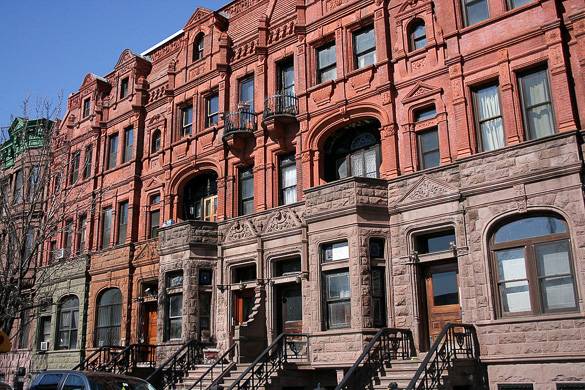 You'll really be part of the neighborhood when you live in a Harlem brownstone! (Photo credit: Ilan Costica)
Though November is a bit early for snow, Harlem is picturesque year-round. Its brownstone buildings, including the one where this apartment is located, have charming architecture, and some are historical landmarks. There's more than just history in Harlem, as any stroll down 125th Street on a Friday night–maybe even Black Friday, the biggest shopping day of the year–will tell you.
Music fills the streets in Harlem, from the booming subwoofers of the cars driving down the street to the jazz music of bustling cafés and Central Park. For some soothing tunes after a day out shopping, head downstairs from Red Rooster, a beloved Southern comfort food joint, to Ginny's Supper Club, which builds on the history of venues like the Cotton Club.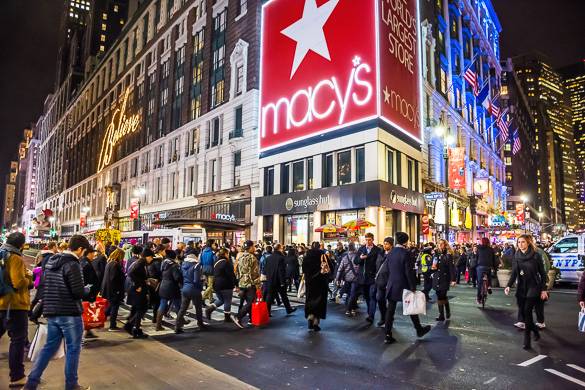 Macy's massive Herald Square store, a Black Friday hub, is an easy subway ride away from Harlem!
The neighborhood may feel like its own world, but the rest of Manhattan is just minutes away! Express B and D trains run downtown in just 20 minutes to Herald Square, which is home to the Empire State Building and the flagship Macy's store that spans 1 million square feet. Like Macy's Herald Square on Black Friday, the NYC Subway trains are open 24 hours, so you'll always have a cheap way to get back home.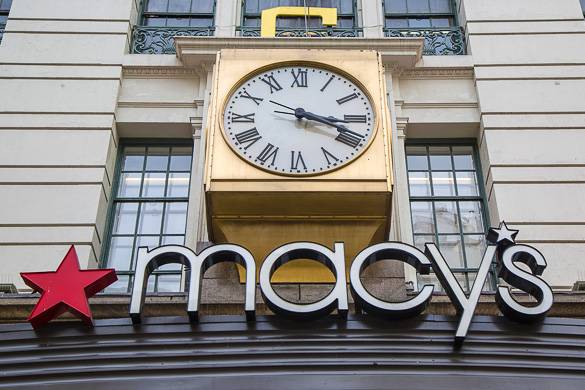 Macy's helps you get your bearings in Manhattan's busy 34th Street shopping district.
If you're looking for unique shopping opportunities, convenient transportation during the biggest shopping event of the year, or Brooklyn quirkiness, take advantage of our 60% discount on bookings between November 1 and November 30*. At least for this Black Friday Sale, you won't have to wait in line!
*Don't forget you can book these apartments for any days you choose, but to get 60% off the agency fee, you must book the accommodations in November.