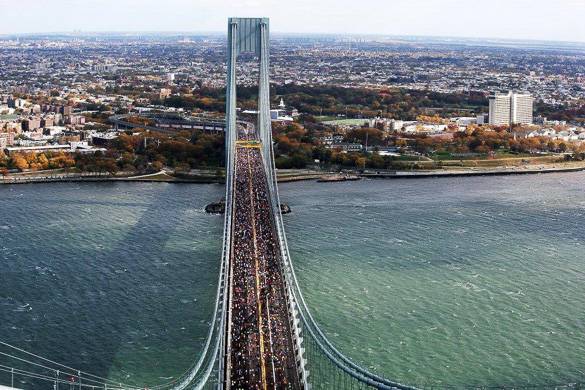 A run across the Verrazano-Narrows Bridge is good for exercise and seeing the city!
With 520 miles of coastline, some of the world's most famous urban parks, and a range of new initiatives to get its residents outside and exercising, New York City is a great place to go for a run. The five boroughs offer so many routes, you'll have a hard time choosing one! We've made this handy guide to running routes that optimize views, time in the parks, and convenience. So if you're staying in the city for a short stay in a New York vacation rental or with friends, or if you're trying to fit in some exercise after a day at the office, we've got you covered.
1. Midtown Landmarks – 4.5 miles (7 km)
When most people think of NYC, big landmarks like Central Park, the Empire State Building, and Grand Central Terminal come to mind. You can check these major sights and many others off your list with this route through Manhattan's urban core.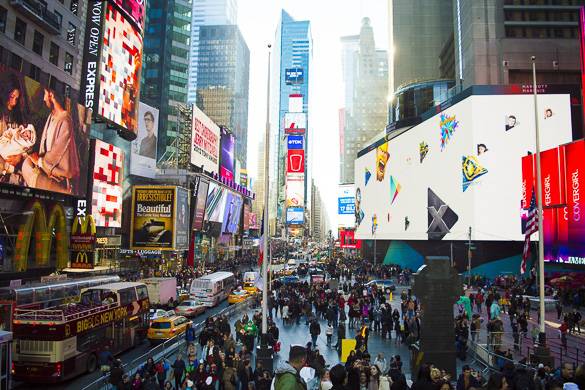 There's nothing like Times Square!
Start at Times Square amid the glowing billboards and Broadway theaters of this entertainment hub. You'll find yourself passing through Herald Square, then turning at the Empire State Building down Fifth Avenue, past the Flatiron Building, and then down to Union Square. From there, you can head up Park Avenue (one of NYC's most swanky addresses) to Grand Central, and along Fifth Avenue again past historic department stores to a Central Park endpoint.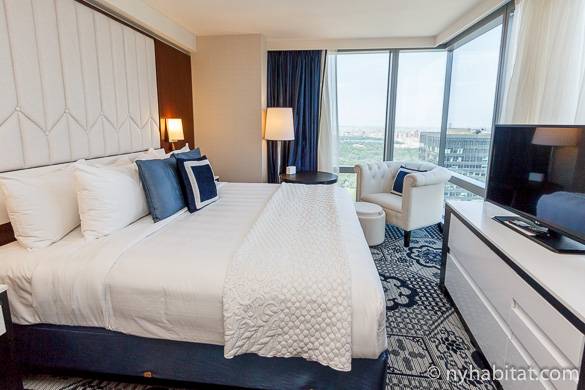 Central Park views are just one of the big draws of this studio!
Given the array of activities and sightseeing in the area, Midtown is a great place to stay in the city if you're visiting. With a rental like this furnished studio that looks out on Central Park, you don't have to sacrifice comfort to stay in the center of the city. Air conditioning, cable TV, WiFi internet access, and building amenities like a laundry center and parking spaces (a rarity in Manhattan!) will make you fall in love with the space.
2. Times Square and the West Side – 5 miles (8 km)
In one of the most remarkable urban revitalizations of the last century, Manhattan's West Side has gone from seedy railyards and slums to some of the most valuable real estate on the planet. You can see why with this run down from Columbus Circle (at one of Central Park's four corners) through Times Square and across to the Hudson River Greenway, a miles-long stretch of waterfront park that takes you all the way down to Lower Manhattan.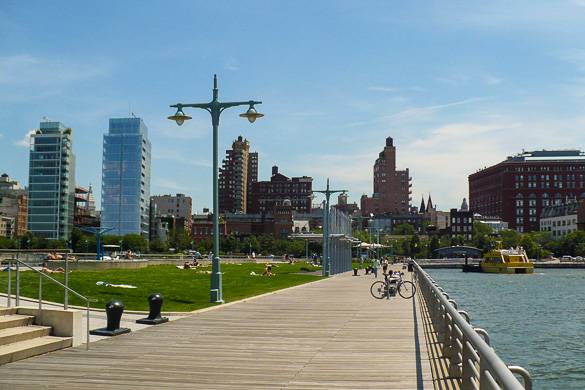 Hudson River Park's piers offer a break from the city – and a great view of it!
There, you can finish off your route with some reflection at the 9/11 Memorial in Lower Manhattan, an essential stop for NYC visitors.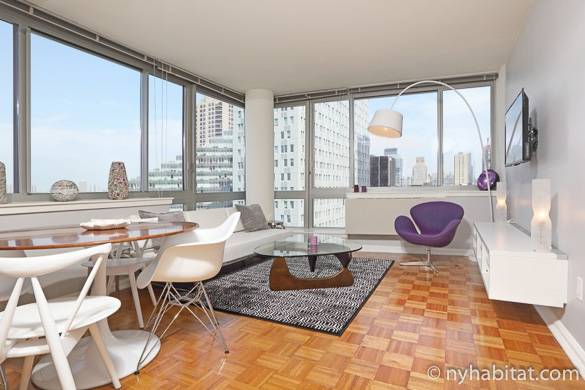 The West Side offers stunning views and modern apartments.
If you're in New York for more than a few weeks, you'll want to find the perfect furnished apartment to suit your needs. We've got just the place; a few blocks from Columbus Circle, Times Square, and other West Side highlights, in one of the new upscale developments in the neighborhood. This fully-furnished one-bedroom apartment has parquet flooring, all the creature comforts of home, and panoramic Midtown views. From this prime location, work, play, and exercise will all be within walking distance.
3. Central Park – 5.5 miles (9 km)
New York's most famous green space is something to behold: an urban oasis removed from the bustle of the surrounding street grid. There's nothing quite like escaping from the city while never actually leaving, and with this park route you can get the full tour!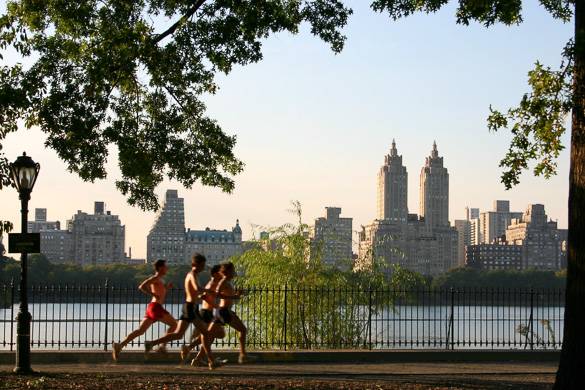 Many of Central Park's paths (like this one beside the reservoir by the Met) are perfect for running.
From the walkways at the southern end of the park, to the Metropolitan Museum, the Reservoir, and the hilly upper reaches on the Harlem end, get to know all of Central Park with this itinerary. Famous landmarks along the way include the Loeb Boathouse on The Lake, Belvedere Castle, the Guggenheim Museum, and the Jacqueline Kennedy Onassis Reservoir, a small but excellent loop with a view. You can even make it up to the Harlem side of the park, where a skating rink, pool, and quiet paths contrast with the bigger sights.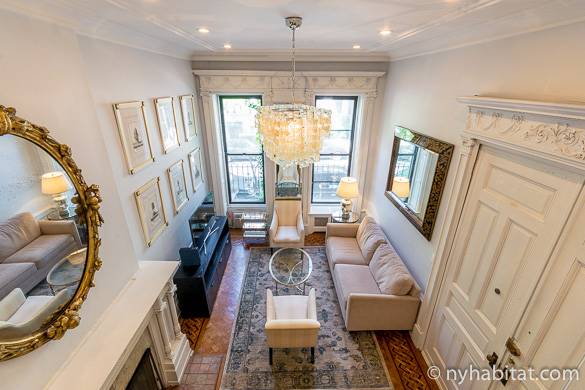 This may be an NYC studio, but the décor makes it feel palatial!
If you live on the Upper West Side, the park can practically be your backyard! Although with a sumptuously furnished rental like this studio on the Upper West Side, you may be tempted to never leave. A fireplace, parquet floors, a full kitchen, and a mezzanine sleeping loft populate the space. You'll have more than enough to be comfortable in this NYC apartment! Plus, if you get bored, the Museum of Natural History is right outside your door and is a great destination to visit with kids.
4. Broadway: From Midtown to Uptown – 4 miles (6.5 km)
As one of the most fascinating streets in a city full of them, Broadway has both a rich history and a current relevance. From the Battery all the way north out of New York City, the street defies the grid pattern of Manhattan and passes major landmarks along the way. Follow this running route and start at Times Square, Broadway's busiest intersection. Continue past the classy Lincoln Center, through the residential Upper West Side up to Columbia University in Morningside Heights. The route ends lined up with Central Park's northern end at the Cathedral of St. John the Divine, the largest church in the US.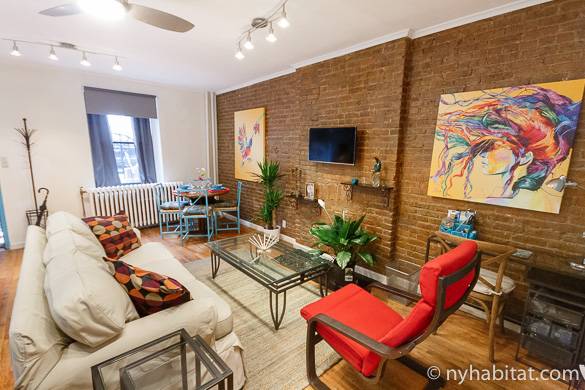 This one-bedroom in Harlem is a great place to get to know the neighborhood
Columbia University students, young professionals, and anyone who likes to be plugged into a vibrant neighborhood will love this one-bedroom in Harlem. The furnished rental offers classic NYC features like exposed-brick walls, as well as a comfortably large bedroom and a homey living room in which you can relax. Park lovers can appreciate Central Park, Morningside Park, and Riverside Park, all just a short walk away.
5. Two Bridges: the Brooklyn Bridge and the Manhattan Bridge – 5.5 miles (9 km)
New York is a city defined by its bridges that link the boroughs to each other and to the mainland. Two of the most historic and beautiful among those river crossings are the Manhattan and Brooklyn bridges, known for their distinctive architecture and century-spanning histories.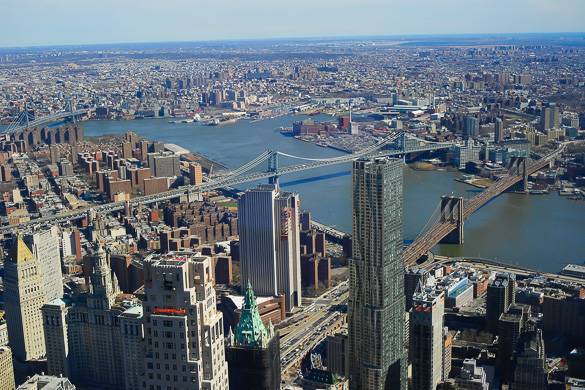 New York is defined by its bridges, especially the Brooklyn Bridge and the Manhattan Bridge.
The redeveloping DUMBO waterfront forms a triangle with the unique Chinatown as its northern point and the stunning Brooklyn Bridge Park at its southern end. This route will cover all the bases with a connection to bustling Wall Street at the western side as well. Take a break along the way to appreciate the view from all six piers in Brooklyn Bridge Park!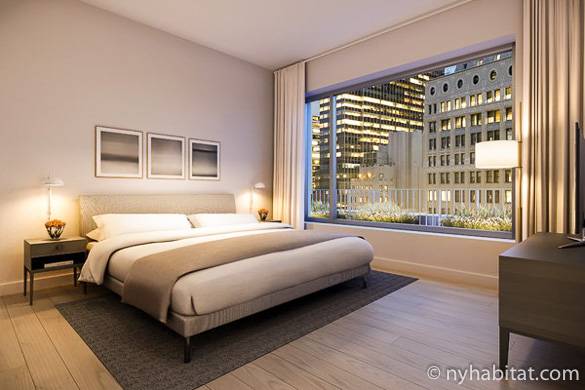 Live the Wall Street life in this upscale one-bedroom rental.
If you're just in town for a visit, consider this one-bedroom apartment in a luxury building complete with a gym, terrace, and swanky downtown address. Commuters to Wall Street will only have one block to walk, while the rest of the city is easily accessible by train, bike, or ferry.
6. Park Slope and Prospect Park – 4.8 miles (7.8 km)
Brooklyn has its own Central Park of sorts that's little-known to non-New Yorkers and located right in the middle of the borough. Prospect Park was also designed in the nineteenth century by Frederick Law Olmstead, but since it lacks Central Park's tourist crowds, it feels even further removed from the city around it. This route takes you from the recently developed Barclays Center in Downtown Brooklyn through Park Slope, one of the nicest neighborhoods in the borough, and through Prospect Park's meadows, glens, and walking paths.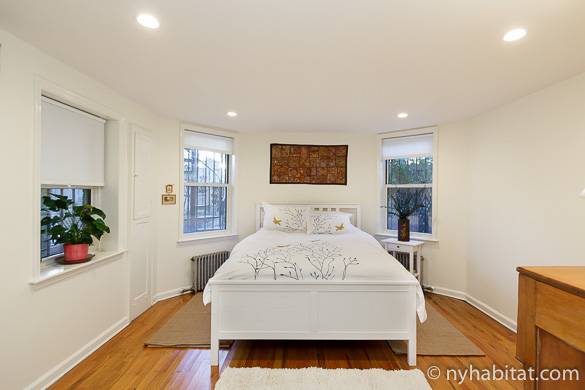 Kick back and relax in this bedroom just off Prospect Park West.
Brooklyn's hotel scene hasn't quite caught up to its residential boom, making it a great place to stay in a furnished vacation rental. With this one-bedroom right on Prospect Park West, you can stay in a real home complete with a fireplace, laundry room, and a bay window overlooking the backyard. It's your own slice of NYC, though Prospect Park's shared green space is just steps away.
Whether you're running or walking at a comfortable speed, these routes show off some of the best that NYC has to offer. Whether you're around the city for a week, a month, or a year, we hope you enjoy the sights!