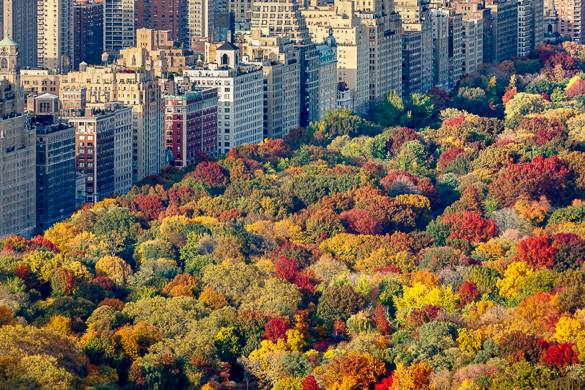 Can you recall Central Park in fall?
Autumn in New York is so lovely that songs have been written about it and movies and countless books have been based upon it. Best of all, it's almost here! The summer humidity is disappearing, there's a cool breeze in the air, and it's one of the best times to be in New York. So, what do New Yorkers do when the fall season hits the Big Apple? Read on to discover some typical fall things you must experience when you're in NYC.
Take a walk through the fall foliage in Central Park (or any other NYC park)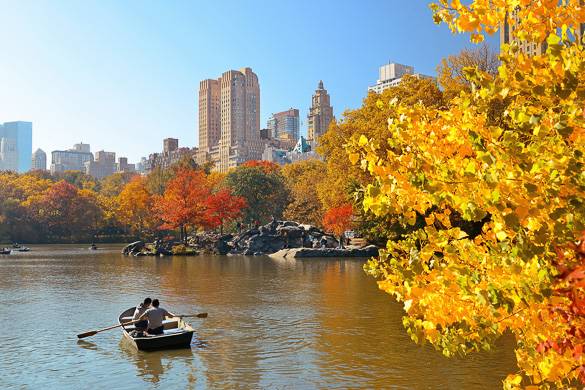 What could be more romantic than a boat ride on the lake in Central Park in autumn?
In a city filled with skyscrapers, New Yorkers know it's officially fall when they pass Central Park and notice the trees slowly changing colors to rust, orange, and brown. Taking a stroll through Central Park in the fall is a must! Meander through wooded paths and see the beautiful autumn foliage, rent a rowboat at the Boathouse and take a romantic boat ride on the lake (with nature and the city skyline surrounding you), or have a picnic with friends while the weather is still crisp and clear. Consider renting a quaint guest room in this Upper East Side apartment or this furnished studio with decorative fireplace and you'll be just a short walk away from Central Park, museums, and shopping along 5th Avenue (including Bloomingdale's), so you can get to work on that new fall wardrobe. This studio in Morningside Heights is just 3 blocks from Morningside Park, another one of Manhattan's parks, and is also convenient to Columbia University if you're visiting an enrolled student.
Sip something warm in a cozy café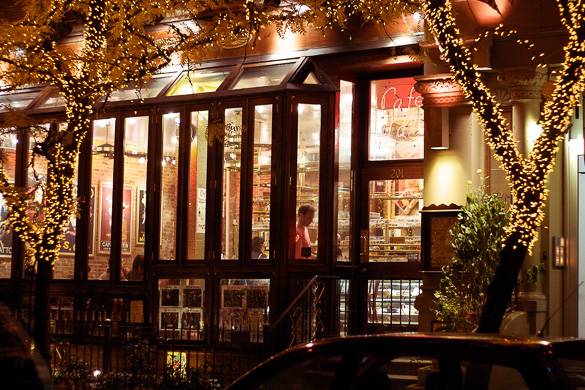 Fall is all about sipping warm drinks in cozy cafés in NYC (Photo credit: David Joyce https://www.flickr.com/photos/30815420@N00/3050332707)
NYC has tons of great cafés where you can do some interesting people-watching while sipping some apple cider or hot chocolate. Cafe Lalo, a European-style cafe on the Upper West Side of Manhattan and famous for its role in the Meg Ryan & Tom Hanks romantic comedy You've Got Mail, is a great brunch spot and has some delectable desserts to go with your hot chocolate.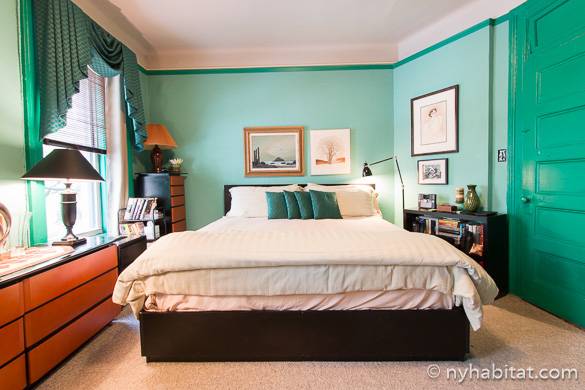 This two-bedroom furnished rental on the Upper West Side has a decorative fireplace in the bedroom
This 2-bedroom furnished apartment is a short walk from this famous café (and other European-style cafés, like French Roast), and even has a cozy decorative fireplace in one of its bedrooms. If you're a coffee lover, Greenwich Village is one of the best places in town to indulge your addiction. This apartment share in Greenwich Village puts you right in the café epicenter and within walking distance of Cafe Reggio. One of NYC's oldest (and coziest) Italian cafés, it's been around since 1927 and was the one of the first cafés in the US to to serve cappuccino!
Fireside food and drinks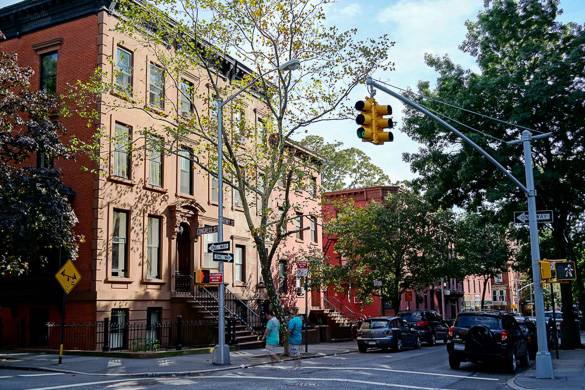 Get the feel of living in a real New York neighborhood by renting a furnished apartment
When you think of fall, curling up near a fireplace may come to mind, and the city has no shortage of places where you can grab a seat near the fire. Local favorite Molly's Shebeen is a traditional Irish pub in Gramercy, Manhattan that serves great burgers and beer, and its wood-burning fireplace is perfect for crisp fall nights. If your home base is Brooklyn, try Black Mountain Wine House at 415 Union Street in Carroll Gardens. This wine bar has a menu suitable for sharing and a log cabin feel, complete with a fireplace, of course!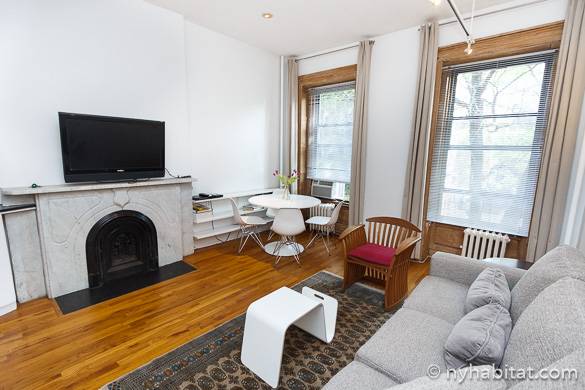 A decorative fireplace gives a warm autumn feel to an apartment
What could be nicer in the fall than a decorative fireplace right in your apartment? This 1-bedroom furnished rental in Harlem has one, and you can also enjoy the fall weather and foliage right from your own garden. In this 1-bedroom apartment in Chelsea, the decorative fireplace is the focal point of the living room, which also has trees outside the back windows so you can watch the changing leaves from your apartment.
Browse the vintage shops for your new fall wardrobe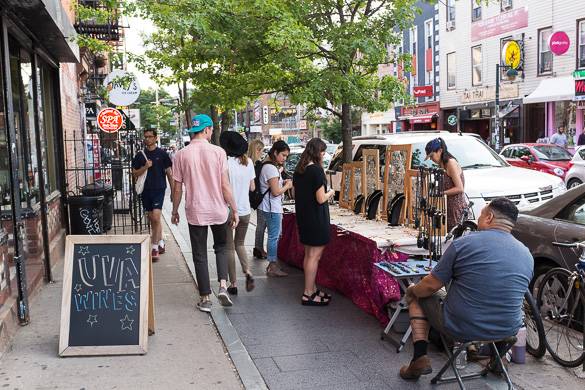 Fashion is found on the NYC streets
In a city where everyone wants to be unique, New Yorkers love expressing themselves through fashion. Browsing the vintage clothing shops for a great find is a favorite pastime. Find some great additions to your fall wardrobe at Beacon's Closet, a vintage clothing store with locations in Manhattan as well as Greenpoint, Bushwick, and Park Slope in Brooklyn. While in Park Slope, you can rent this vacation rental that sleeps six and has an outdoor garden area for basking in the beauty of autumn in New York. Students will love this apartment share in Bushwick, complete with a decorative fireplace in the living room and close to vintage stores for back-to-school shopping on a budget. And don't forget: New York Fashion Week is September 8-15, 2016, in case you need some fashion inspiration.
Check out some great fall events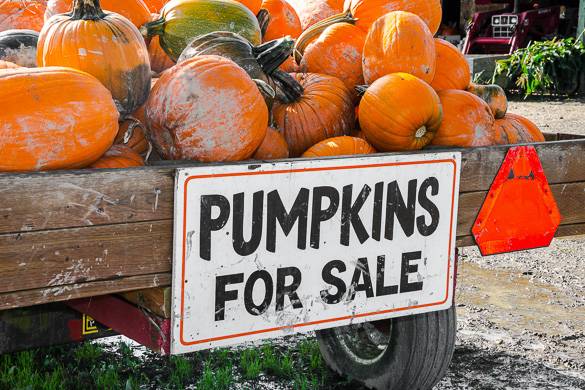 Fall means fresh autumn produce (and of course, pumpkins)!
The Queens County Farm Museum (73-50 Little Neck Parkway, Floral Park, Queens), which you can reach by subway and bus, has a variety of fall activities throughout the season for the whole family. Try not to get lost in the 3-acre corn maze, and be sure to visit the Queen's County Fair (Sept 24-25, 2016). Every weekend in October they host New York Apple Weekends where you can find Hudson Valley apples for sale, as well as locally-made apple cider, candy apples, and pies. You can also pick your own pumpkin at their pumpkin patch. Don't miss the Haunted House (Oct 29-30) and Children's Fall Festival (Oct 30) too!
The Medieval Festival at Fort Tryon Park (Sept 18th, 2016) features jesters, knights, music, magic, crafts, and food with a medieval theme. It takes place in the surroundings of the famous Cloisters, a magnificent museum of medieval art located in northern Manhattan.
The 54th New York Film Festival brings the best cinematic works from around the world to Lincoln Center. The festival runs from September 30-October 16, 2016 at the Film Society of Lincoln Center, and tickets can be bought online.
More than 1,500 museums across the country provide free admission for one day on Museum Day Live!, sponsored by Smithsonian Magazine. This year's event—the 10th anniversary—takes place September 24, 2016. Online tickets provide free admission for two.
The Village Halloween Parade on Oct 31st is a spooky spectacle like no other. Come see all the crazy costumes as the parade runs up Sixth Ave from Spring Street to 16th Street in Manhattan. The Central Park Conservancy also hosts its own Halloween Parade & Pumpkin Flotilla on October 30, 2016. Activities include a live bat demonstration presented by the Organization for Bat Conservation, and at twilight, participants can bring a pumpkin that will be illuminated and sent out to float on the Harlem Meer at this creepy, cool event for all ages.
Last but certainly not least, the world-renowned Macy's Thanksgiving Day Parade is an unmissable New York tradition and one to add to your travel bucket list! We've got the perfect vacation rental to make your holiday stay unforgettable.
Now that you've got a start on some of the best things to experience in NYC this autumn, check New York Habitat's website to find the perfect furnished apartment, roommate share, or vacation rental to call home during your stay in the Big Apple.