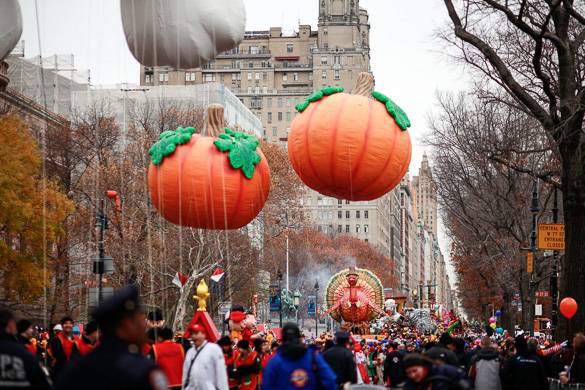 Macy's Thanksgiving Day Parade is a fall tradition in NYC
As October approaches with a chill in the air, New Yorkers start to crave the chills and thrills of the Halloween season. Luckily, New York City is full of enough eerie places and spooky events to keep everyone entertained. Read on and find some of the best ways to get your heart pounding this October in NYC.
New York City is full of haunted history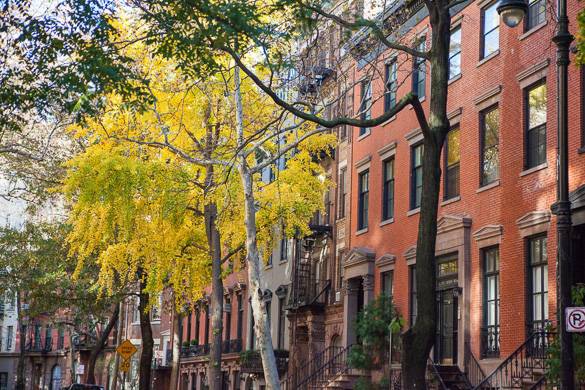 Tree-lined streets boast fall colors in NYC
There's no shortage of sites in NYC where paranormal activity has been reported. The Chelsea Hotel, at 222 West 23rd Street in Manhattan's Chelsea neighborhood, has been frequented by many famous writers, artists, and musicians over the years, including Mark Twain, Bob Dylan, Andy Warhol, and punk legend Sid Vicious. Some of their spirits seem to have never left. Nancy Spungen, girlfriend of Sex Pistols bassist Sid Vicious, was found dead in room #100 back in 1978. Her boyfriend Sid Vicious was arrested for her murder, but died from an overdose before he could face trial. Witnesses say the ghosts of this stormy couple still haunt the halls here. If you'd like to live close to this famed landmark, consider this 2-bedroom apartment share in Chelsea, close to another famous NYC spot, the High Line elevated park.
After a stroll on the High Line, take your date to a romantic dinner at One If by Land, Two If by Sea, a cozy restaurant in Greenwich Village. Just don't be surprised when the lights start flickering! Patrons have reported paranormal activity here, from being shoved by spirits to ladies' earrings mysteriously going missing while at the bar. All of this may work to your advantage if you want to leave your date clinging to you!
Who doesn't love lingering in nearby Washington Square Park? From street musicians to NYU students, the park is the central place to hang out in this neighborhood. Just be aware that many have hanged here before you. The park was once a gallows and execution ground where many people were hanged. There's even a tree known as the "Hangman's Elm," a famed execution spot dating back to the 19th century. Not to mention, the park is built over a Native American burial ground, just in case you have that eerie feeling you're not the only soul lingering here.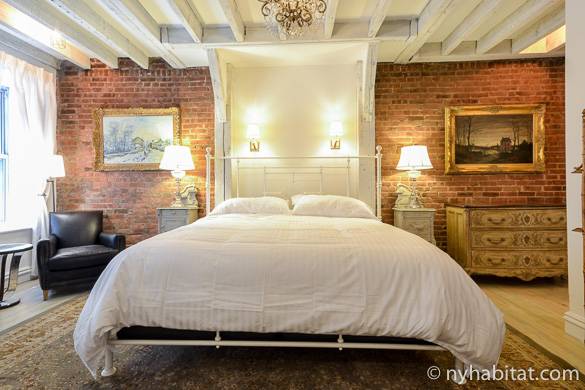 This Upper West Side duplex apartment is the perfect cozy spot for fall
The Village isn't the only spot with parks and brownstones. This luxurious 2-bedroom, 2-bath duplex apartment in a 19th-century brownstone on the Upper West Side will have you reminiscing for past times with its gorgeous chandeliers and exposed-brick walls. Don't let the charming old-world decor fool you, this apartment is also fitted with modern amenities like an in-unit washer/dryer and a dishwasher. Spend a chilly fall day strolling through nearby Central Park (if you can tear yourself away from your private backyard garden, that is).
Commune with the dead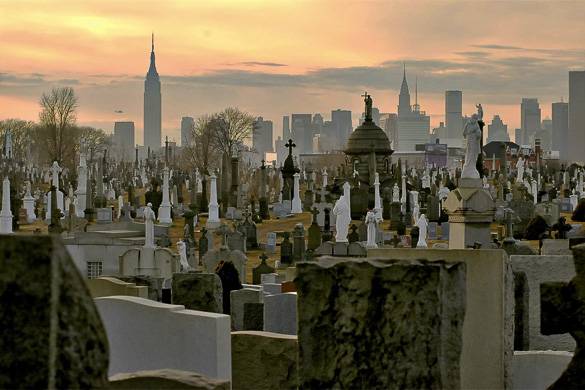 Prime real estate with a view
If you want to get up close and personal with NYC's past inhabitants, may we suggest a cemetery tour? The Rural Cemetery Act, passed in 1847, authorized commercial burial grounds in rural New York state. In an era when the urban population was crowding out Manhattan churchyards, the concept of the rural cemetery on the outskirts of a city was becoming stylish.
One effect of the law was the development of a large concentration of cemeteries along the border between the New York City boroughs of Queens and Brooklyn. There's even a Queens Cemetery Belt for avid bicyclists, which will take you biking from Long Island City through Woodside, Maspeth, and Glendale, Queens. Along the way, you will pass the famous Cavalry Cemetery, one of the oldest cemeteries in the United States. The famous burial scene from the movie The Godfather took place here, and Pulitzer Prize-winning American playwright Tennessee Williams is buried here. At Machpelah Cemetery, you can find the elaborate grave of famed magician Harry Houdini, who curiously died on Halloween day. Along the way, you can visit the graves of deceased famous people and get some great macabre shots of the NYC skyline.
Cross over to Brooklyn and check out Greenwood Cemetery, a gothic-style cemetery located several blocks southwest of Prospect Park and modeled after Pére Lachaise Cemetery in Paris. With over half a million graves, this cemetery and site of the 1776 Battle of Long Island is said to be one of the most haunted in NYC. Stop by for a eerie tour and a great view of the Statue of Liberty from Battle Hill. The catacombs are only open to the public during the "Spirited Strolls" event on Halloween weekend, so get your tickets early if you can. Don't forget to buy some haunted honey on your way out— the cemetery welcomed 120,000 bees to its grounds last April in an effort to preserve the dwindling western honeybee population. Its resident bees have returned the favor, producing the fittingly-named "Sweet Hereafter" honey that's for sale at Greenwood's 25th Street entrance.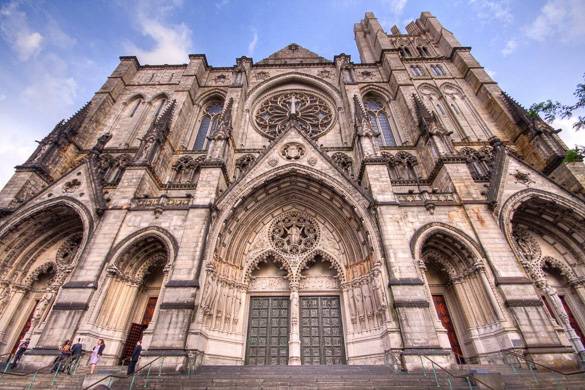 Visit the crypts of the Cathedral of St. John the Divine
If graves are your thing, don't miss the Crypt Crawl at the Cathedral Church of St. John the Divine in Morningside Heights. On October 28-29, 2016, the cathedral will open the crypts (which are usually off-limits to the public) for guided tours for ages 12 and over. Bring a flashlight, step inside, and hear the tales of those entombed there… if you dare.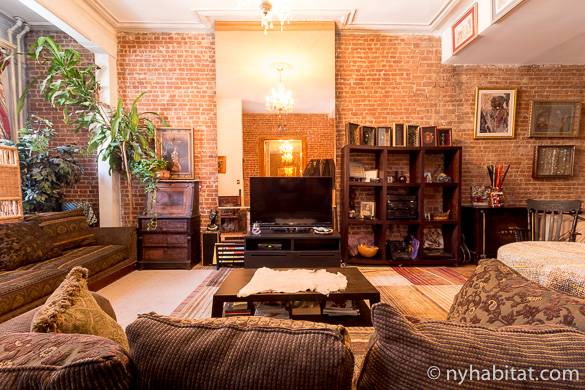 This roommate share apartment features exposed brick and chandeliers
The chandeliers and decorative fireplaces in this 5-bedroom brownstone apartment share in Harlem will surround you with a cozy fall feeling, and the location puts you in close proximity to the gothic architecture of the Cathedral of Saint John the Divine. A perfect spot for students, this apartment has spacious common areas to share with your roommates and an outdoor garden area for socializing. There's no need to fight over bathrooms in this apartment: it has three! The washer/dryer in the apartment is a welcome convenience for busy students, as is the apartment's proximity to both City College and Columbia University.
Attend a monster party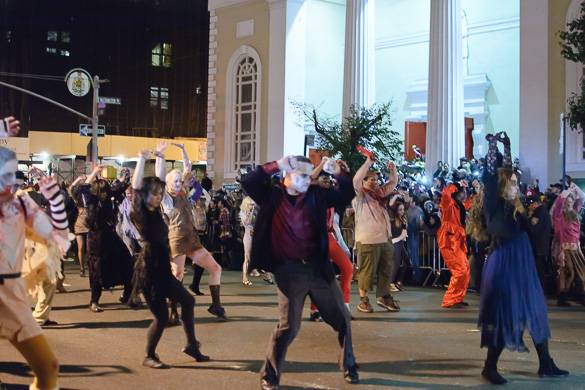 The Village Halloween Parade is a spook-tacular time!
For those who want to dress up and join the ghoulish festivities, there's no better place to be than the Village Halloween Parade. You're sure to be entertained by the crazy costumes on display here; it's one big freaky street party! After the parade, head to one of the many masquerades and parties around the city. Village nightclub Webster Hall hosts a parade afterparty full of debauchery, when the four-story Webster Hall becomes "Webster Hell," a spooky dance party like no other. Times Square's mega nightclub Stage 48 at 605 West 48th Street hosts Vampire's Monsters Ball 2016, with multiple dance floors, expansive bars, a live DJ, and costume contests.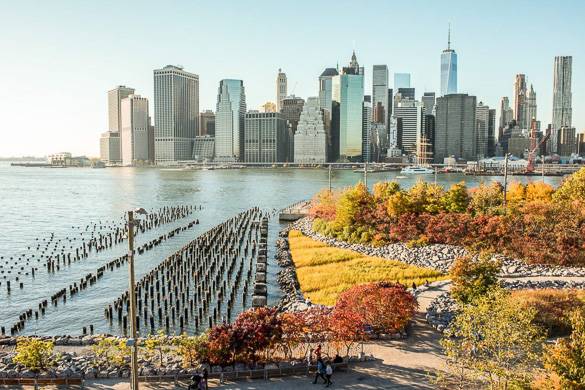 The skyline of NYC in autumn is spectacular!
If you just can't get enough of NYC's best haunts, continue your adventure with Boroughs of the Dead Walking Tours, where you'll be guided through a tour of the spookiest places in NYC in every borough! Don't forget to check New York Habitat's website for the perfect furnished rental for your trip to NYC in the fall!