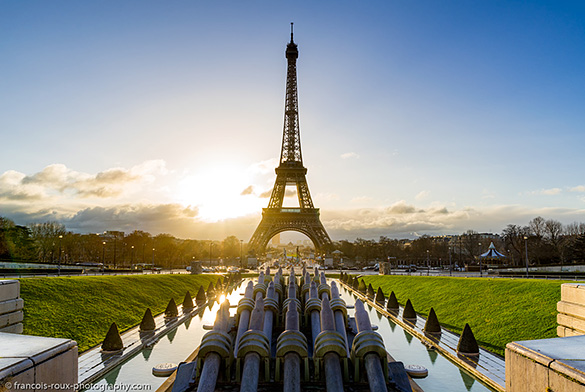 The Eiffel Tower is an iconic sight in Paris
The sun is shining, flowers blooming, birds chirping, and all of Paris is headed outdoors to revel in the lovely weather! Spring has sprung, and there isn't a more perfect time to plan a trip to Paris. After all, we all love Paris in the springtime! Can't you just picture yourself joining the local Parisians as they head outdoors to bask in spring's warm weather? The outdoor cafes are bustling with friends meeting for a drink or the stereotypical writer, lost in thought, lingering over a cup of coffee, observing Parisian life. The jardins around Paris are in bloom and become the "it" spot for an impromptu picnic on the grass with a bottle of wine, a baguette, and some local delicacies.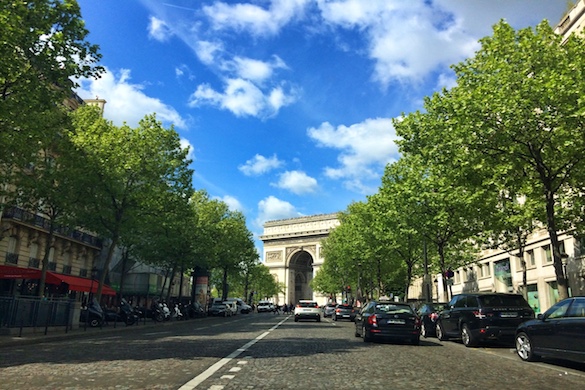 Its spring in Paris and green is everywhere!
If you can picture yourself among the cafe and croissant crowd, then it's time to start planning your Paris trip and finding the perfect apartment to call home. When you rent an apartment, you get the unique experience of living life as the locals do. After all, part of the allure of travel is escaping your everyday life and creating, even if for just a moment, a life your alter ego dreams of living.
Besides being incredibly chic and having that French "je ne sais quoi", apartments are roomier and more economical than budget hotels if you plan to stay for a week or longer. They're also great for families, giving everyone privacy and letting the kids have room to play. You can also save a lot of money by cooking some meals at home — those elegant Parisian restaurants aren't cheap! And let's face it, it sounds nice but we all know dining out ends in spilled drinks, one kid falling asleep at the table and the other having a meltdown. Now, doesn't that fully equipped kitchen back at your rental apartment sound like heaven?

What to See & Do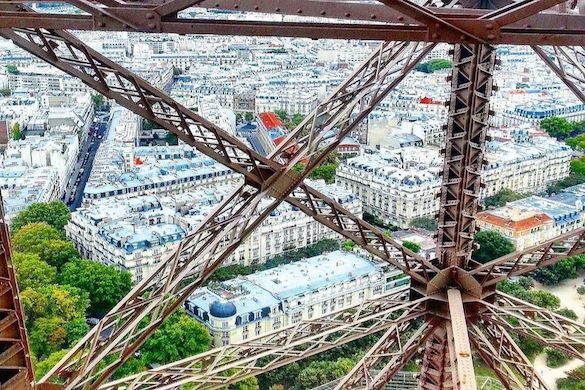 Haussmannian buildings are typically Parisian
For an impressive view with an air of fantasy, a trip to the iconic Eiffel Tower is always a must-do. But to really soak up spring, get out and visit the lovely parks and gardens around the city. At Jardin du Luxembourg (Luxembourg Garden), you can take a peaceful stroll through acres of beautiful French and English flower gardens, admire the statues of former French queens and saints (the garden has over 100 statues, fountains, and monuments), and entertain the kids for hours. The garden features a puppet theater, playgrounds, a spot to sail model boats, and even a vintage carousel, so the kids will be thrilled! Check out our blog for more ideas on how to keep the kids entertained in Paris.
If you're visiting Paris with the family in tow, this 3 bedroom apartment in Île Saint-Louis is spacious enough for the whole group, and it's situated on a little island oasis in the heart of Paris. Natural light from French windows flows into the living room where you can gather around the decorative fireplace crowned with a gilded mirror. The dining table seats six so you can have family dinners at home if you choose. There's also a marble-topped breakfast nook in the kitchen for the kids to grab a quick bite. Two and a half bathrooms ensure that nobody will be waiting in line for the shower. The three bedrooms allow everyone to have privacy, while the two twin beds in the second bedroom allow the kids to share a room without having to share a bed. Rooms overlook the courtyard and the riverbank, providing a peaceful refuge.
Speaking of riverbanks and canals, stroll along Canal St. Martin and choose your perfect location for a picnic. This 19th-century canal with iron footbridges is about as picturesque as a picnic spot gets. After lunch, browse the little boutiques lining the area.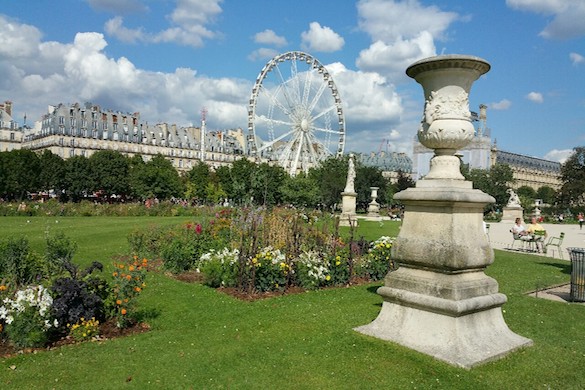 Stroll through parks and gardens this spring in Paris
If you're looking for artistic inspiration, of course, there is the famous Louvre, and across the river on the left bank of the Seine is the Musée d'Orsay, housed in the former Gare d'Orsay, a Beaux-Arts railway station. If you're in the mood for some inner reflection, check out the exhibit Beyond the Stars: The Mystical Landscape from Monet to Kandinsky. Running from March through June 2017, this exhibit examines the use of landscape to evoke contemplation and expression of inner feelings—something to ponder as you take in the spring vistas. Too deep for you? You can always contemplate the landscape while biking through it instead. Just rent a Vélib (city bikes that are located all around Paris) and take a serene bike ride around Bois de Boulogne (it's two and a half times the size of Central Park)!
Where to Eat & Shop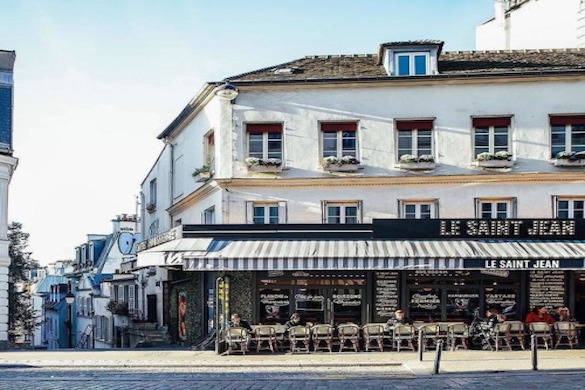 Dining al fresco is one of spring's pleasures
For unique shopping and dining options, head north to Montmartre, the highest point in the city. After successfully climbing the famous stairs and twisty cobblestoned streets of this quaint neighborhood, you will be rewarded for your efforts with streets lined with local artists. Catch your breath on the steps of Sacré-Coeur, then stop for some steak frites at Café Le Saint Jean, a classic French bistro with outdoor seating that is perfect for a lovely spring day!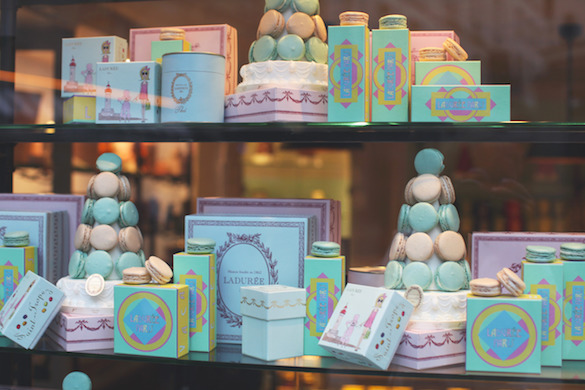 Even the macarons are in spring colors at Ladurée
If you're looking for something sweet and spring colored, head to Ladurée! Their spring edition macarons are great for a personal treat or an excellent choice for a lovely gift! But that is not the only option, as there are plenty of patisseries to entice you as you make your way through the city. Just consider it cultural research. And while you're at it, savor a coffee at one of these top coffee shops to go with your sweet treat.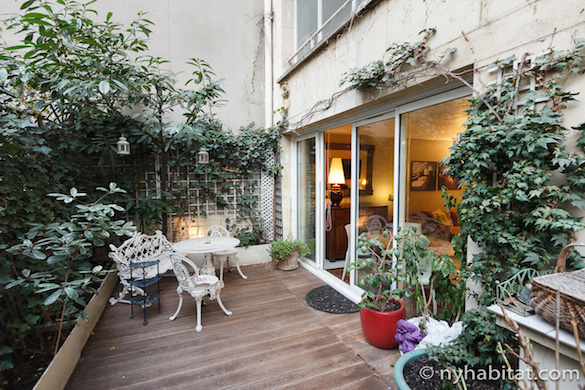 A terrace is a must-have in spring!
After a day of "researching" all the best pastries Paris has to offer, you'll appreciate having a peaceful spot of your own to unwind. The perfect apartment for spring in Paris is one like this 1 bedroom in Grenelle that has a tranquil planted terrace so that you can enjoy the open air right from your rental. Grab a copy of the French newspaper Le Monde and sip your coffee at the cafe table on the terrace before heading out for the day. Natural sunlight illuminates the relaxing living room area just through the sliding doors. Its modern eat-in kitchen includes many stainless steel appliances and a breakfast bar area where you can prepare meals at home after a day of shopping the local markets for fresh spring produce. In-unit laundry adds convenience for getting everyday errands done from the comfort of home. The bedroom is painted in a cheery spring pastel peach color with windows looking onto greenery and trees. Accented with a beautiful black and white print of views over the Seine and the Eiffel Tower aglow in the distance, you'll be reminded that you are in one of the most romantic cities in the world as you drift off to sleep.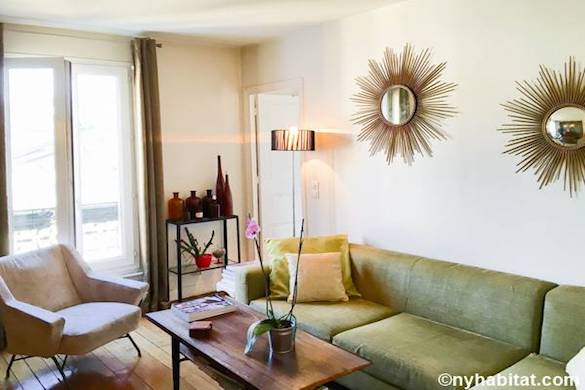 Rent a furnished apartment for your trip to Paris
If you're staying in an apartment with cooking facilities, you can take full advantage of the great range of produce in Parisian markets and supermarkets. Some supermarket chains to look out for include Monoprix, Franprix, Carrefour and Marché U. This 1 bedroom apartment in Gambetta Père Lachaise has a fully equipped kitchen with a dishwasher, gas range, and both microwave and conventional oven, allowing you to test your French culinary skills right at home (and save a lot on restaurant bills). Located in a classic Haussmannian building and decorated in spring chartreuse tones, this apartment will surely put you in a "spring in Paris" state of mind. It wouldn't be spring without a gentle rain — from the rainfall shower head in this spa-like bathroom! A mirrored wall in the bedroom reflects the morning sunlight illuminating the space to awaken you with a warm springtime glow.

Things Only Local Parisians Know About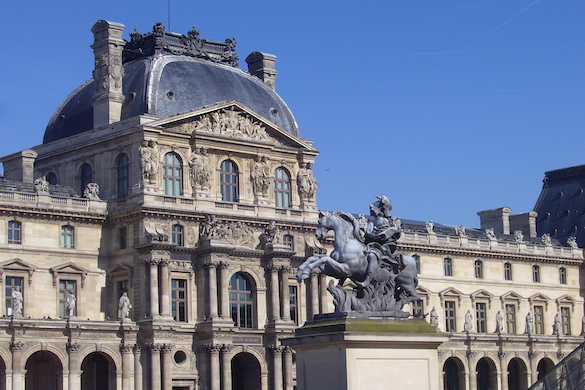 There are plenty of museums in Paris, find out when they're free to enter
Once you're up and about, here are a few final tips from those in the know, to make the most of your trip:
The first Sunday of each month, many museums are free to visit, including the Musée d'Orsay, Musée du Quai Branly, Pompidou Centre, and Picasso Museum. If you're a museum lover, the Museum Pass gives free entry to 50 museums and monuments, including those listed above. It only costs €48 for two days, €62 for 4 days, or €74 for six days, so you can museum hop until you drop!
One of the best yet lesser-known viewpoints for an unparalleled nighttime vista is from the Montparnasse Tower. It gives you a prime view of the Eiffel Tower instead of the other way around. So skip the throngs of tourists and head to this local recommendation instead.
And last but not least, as we hurl towards summer, get ready to soak up the soleil on the beaches of France that officially opened this past May! No matter what the season, we have Paris apartment options that suit it perfectly, so be sure to check out our website and find an apartment to match your vision of your perfect "home" in Paris!
Related apartment rental posts from New York Habitat: