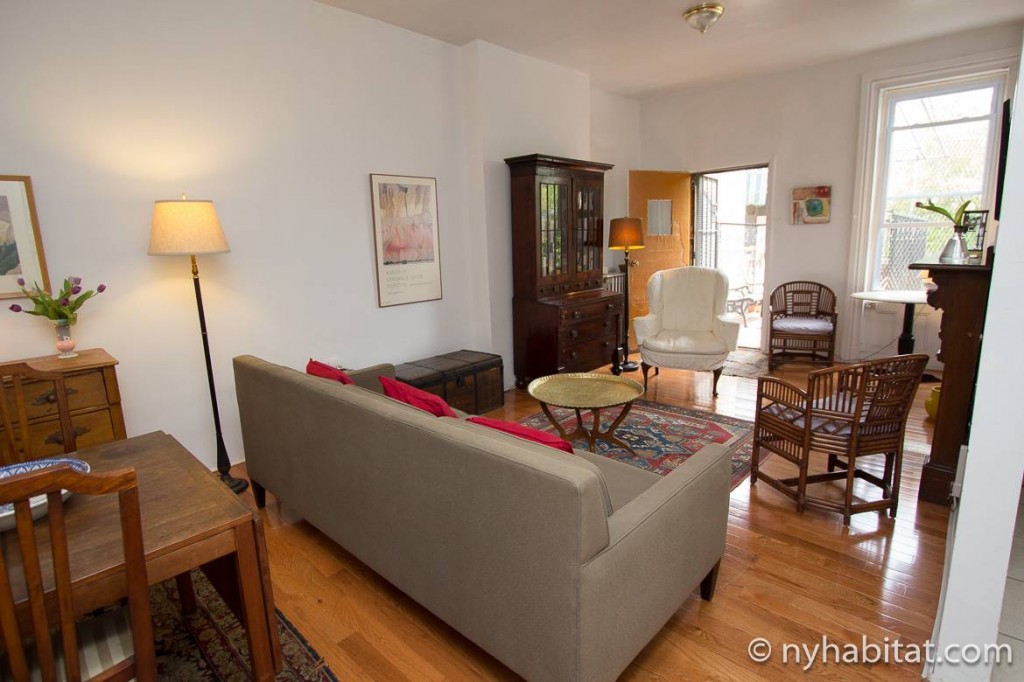 This apartment share in Williamsburg, Brooklyn has outdoor seating space off the living room
An apartment share is a great way to share the costs of living in NYC with one or more roommates, plus it lets you live with a local, which helps smooth the transition of moving to a new city. It also means you will be sharing the apartment and common spaces with your roommate(s), so it's important to find the right "fit". At New York Habitat, our agents always strive to match you with the perfect roommate and apartment. Through our tailor-made service, our agents assess your needs and strive to offer the most compatible living options for you. In each of the blogs in our series on apartment shares we will provide a tip from our agents on finding an apartment share that works for you.
NEW YORK HABITAT AGENT TIP TO FIND A COMPATIBLE APARTMENT SHARE:
Agree on the Use of Common Spaces:
Sharing an apartment means sharing use of some common spaces so find out exactly what areas you will have access to. While bathroom use is a requirement, some apartments have rules about the use of other common areas such as kitchen and living room. Ask if there is full or limited use of these areas so there are no surprises once you move in. If you are limited to just the bedroom you rent and can't hang out in the living room or have only limited use of the kitchen (during certain hours or for minimal food prep and no actual cooking) this should be stated and agreed to in advance. There are so many options for take out and delivery in NYC that some people have never even used their oven, but if you love to cook, these types of details can be a decision maker.
We've all heard realtors talk about location, location, location! An important first step in any apartment hunt is determining the location you want to be in. Do you need to be close to school or a subway line that makes the commute to work easy? The outer boroughs of NYC such as Brooklyn offer many apartment share options because the properties tend to be more spacious with multiple bedrooms. If you're considering an apartment share in Williamsburg, you can get some initial information searching online or by watching our video below!
But, nothing compares to hearing about a neighborhood from someone who actually lives there. Check out our interview below with apartment share host Michael O'Loughlin, a book developer whose beautiful apartment in the heart of Williamsburg is one of several apartment shares in the area that you can find on the New York Habitat website.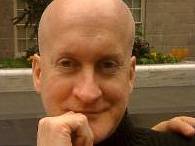 Meet Michael - Williamsburg resident and neighborhood insider
1. Can you describe yourself in a few sentences?
I'm a former journalist turned book developer, a big reader, an OK cook, a Twitter hound, and a solid Democrat. A Boston native, I lived in Seattle, San Francisco, and Paris before moving to NYC.
2. What words best describe the neighborhood?
Quiet, safe, multicultural, interesting, accessible.
3. What's the general atmosphere?
South Williamsburg has surprisingly quiet, tree-lined streets full of children playing on the sidewalks, with families and hipsters coexisting nicely.
4. What are the MUST KNOWs for people looking to live in the area?
Within a couple blocks of my place there's great transportation, decent services, a Citibike rack on the corner, and interesting restaurants and cafes sprinkled about.
5. What do you love most about Williamsburg?
Great location (close to J,M,Z,G,L trains); quick access to Manhattan, Queens, and other Brooklyn neighborhoods; impressive diversity; epic food scene and beautiful artisanal spaces; and groovy people.
6. What's the one place that you love to go to in Williamsburg?
Diner (superb and friendly, farm-to-table restaurant on Broadway, a couple blocks from the river)
7. How did you end up living in Williamsburg?
I realized Brooklyn was more interesting than Manhattan, and Williamsburg is the coolest part of Brooklyn!
8. What's the one thing you wish people knew about Williamsburg?
Ooh, secret's out: Everyone knows everything about Williamsburg, it seems, and they're here for a reason. People are surprised that, in addition to Williamsburg's great restaurants and fetching shops, there are neighborhoods, like mine, a short walk from the epicenter, that are quiet but close to the action.
9. What are some of the highlights about the apartment (i.e., it's close to a metro, grocery store, surrounded by great restaurants, near a park, etc.)?
My place, the top floor of a row house, has high ceilings, decent light, and a large deck in the back. It's close to three key subway lines, is two blocks from a big grocer and a friendly dry cleaner, and at the end of the block is a cool restaurant with a nice happy hour and good live music.
10. What do you enjoy most about sharing your home?
Meeting interesting people and witnessing their delight in the city.
11. Why should a potential renter pick Williamsburg over other neighborhoods?
Williamsburg attracts hip people from around the globe, is a quick shoot into Manhattan, is packed with restaurants and cafes run by people who care about quality and atmosphere, and is the epicenter of Brooklyn.
12. Favorite street to stroll in the area?
The side streets off Bedford Avenue, the commercial strip of Williamsburg: they're great for errands and meet ups, and because this area is a short walk away, I get the perks of access without the noise and crowds.
13. What's a hidden gem in the neighborhood?
Velo: a steampunk-y café/restaurant that's vegan and host to artsy live music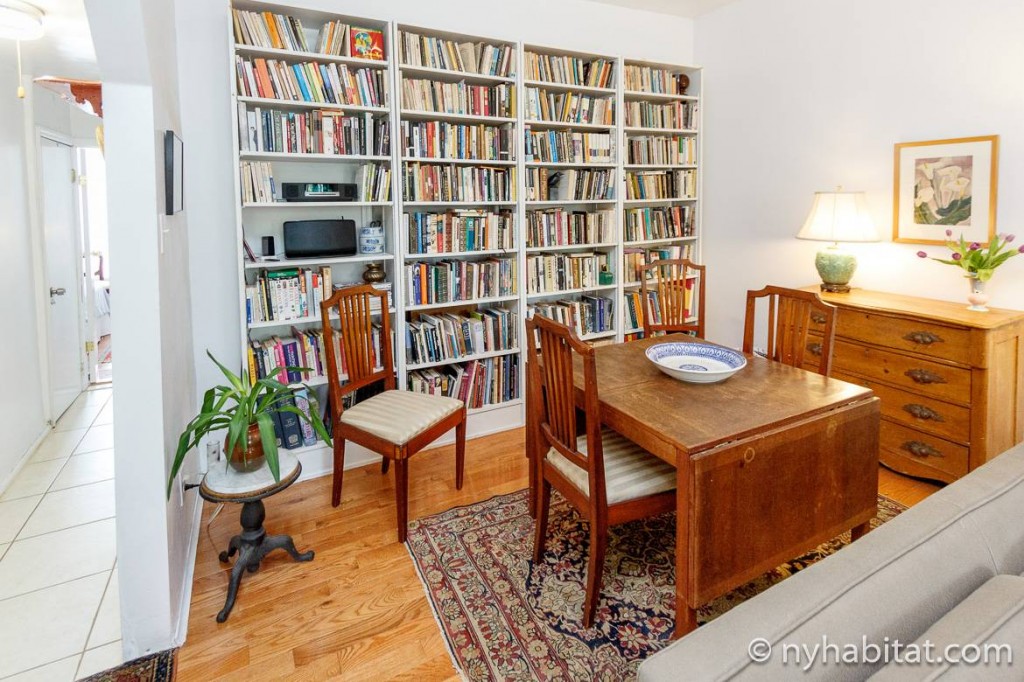 Live with a book lover in this charming Williamsburg apartment share
Now that you've got the inside scoop on why Williamsburg is a great neighborhood choice from a local resident, let's take a look inside his apartment and the bedrooms for rent…
It seems fitting that a book developer and avid reader would live in one of the literary hot spots of NYC and have an apartment whose walls are lined with — books! That is just one of the personal touches that make this apartment feel like home. Located on the top floor of a 2 story walk-up building, this apartment share in Williamsburg offers a choice of rooms for rent.
There is the larger bedroom with queen bed and antique dressers for storage, plus a desk located near two large windows that overlook the street and let in lots of natural light. The second room option is labeled "living room 2" in the pictures and is smaller in size, with a twin size bed, antique dresser and mirror, and a round marble topped table and chair near the window facing the street. Price varies by room so you can select one that fits your budget.
The apartment has wood floors throughout and the living room, kitchen and bathroom are shared with your roommate, Michael. Electricity and WiFi are included and there is a monthly cleaning fee. The retro bathroom has tub and shower options. The kitchen is equipped with all the necessities including stove/oven, refrigerator, coffee maker and toaster, as well as an espresso machine for the coffee lover! The living room has both sitting and dining areas with wood furniture, an artsy brass coffee table and decorative fireplace mantle. Curl up in the living room with a good book or head to the outdoor patio area with seating overlooking the back gardens where you have a quiet space to enjoy the fresh air. Don't forget to check our blog on other fun ways to spend the fall outdoors!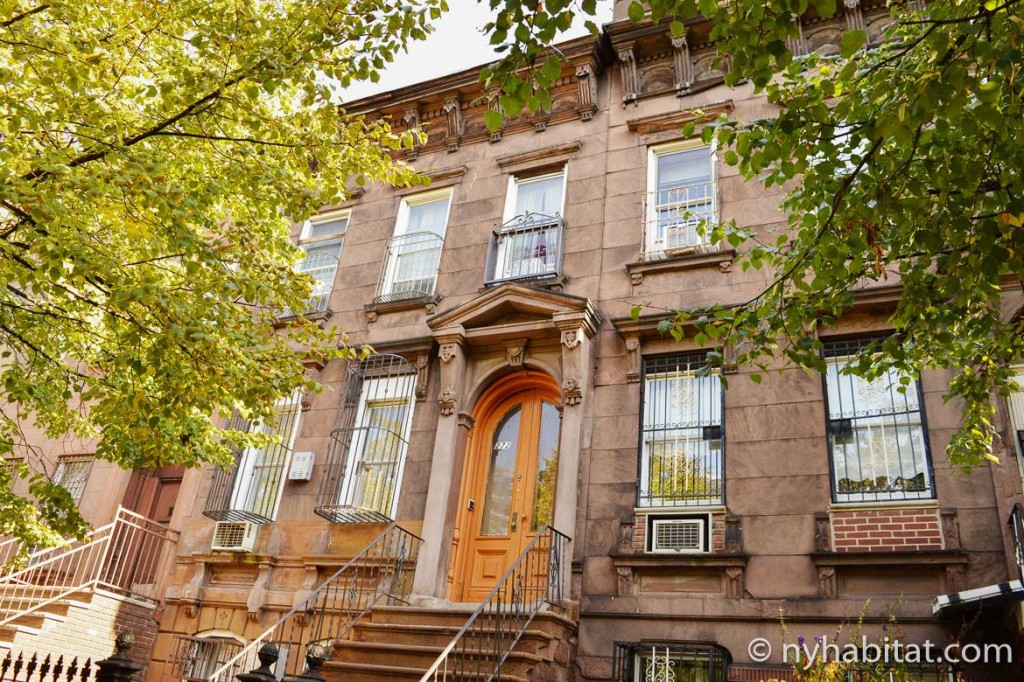 Live in a beautiful brownstone right in the heart of Williamsburg
Outside in the neighborhood you have Williamsburg's shopping and dining scene at your feet, plus plenty of live music venues, and your roommate is happy to provide you with his recommendations in the area. If you're heading to NYC for the fall season, be sure to check out our blog on fall festivities! And don't forget to make the most of your stay in the Big Apple by taking a day trip and exploring all the surrounding areas have to offer!
You can check out other Williamsburg apartment share options on our website. Submit a request online for faster process. Call +1(212) 255-8018 if you need assistance with your request and we'll connect you with one of our apartment share agents to guide you in your housing search!
Related apartment rental posts from New York Habitat: