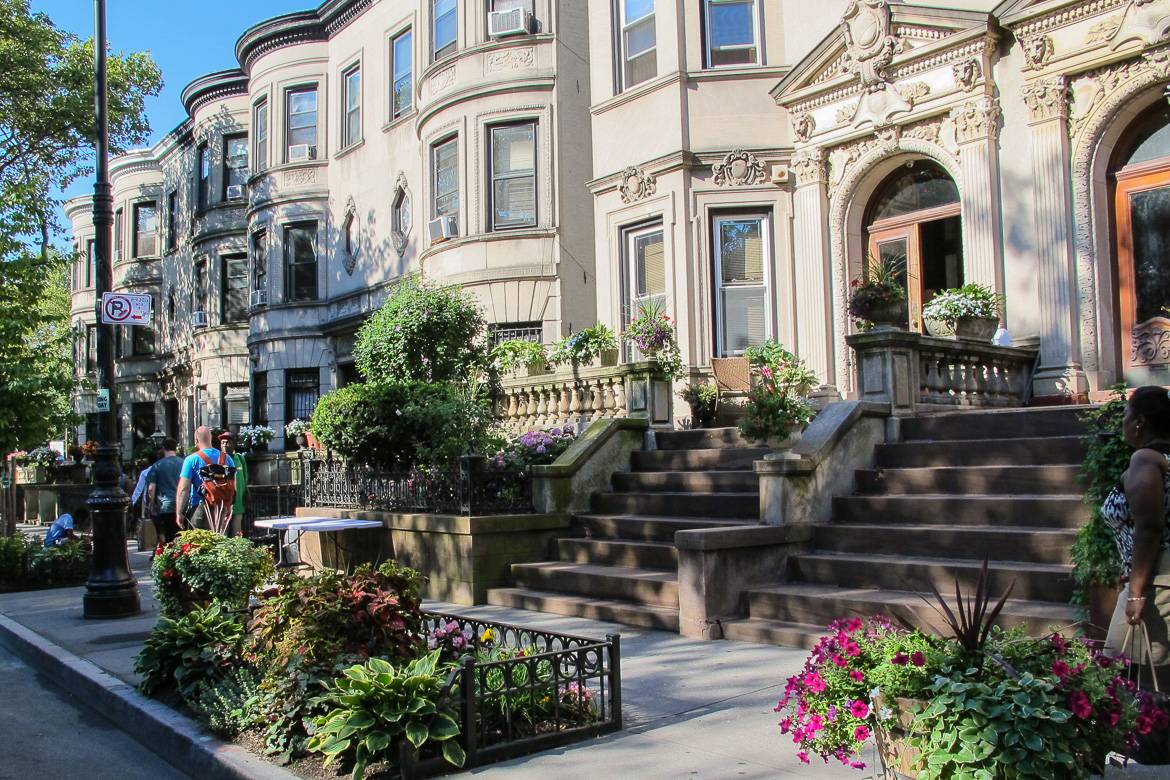 Stroll the lovely townhouse and brownstone lined streets of Bed-Stuy, Brooklyn (Photo Credit: Brooklyn Botanic Garden www.bbg.org)
This week's neighborhood focus is on the Bedford Stuyvesant area of Brooklyn, also known by locals as "Bed-Stuy". Bed-Stuy is a neighborhood that became a hub for African-American families looking for a place to live in the 20's and 30's. During this period, many of these families left the South and initially relocated in Harlem, but soon left in order to establish themselves in this Brooklyn neighborhood. The same can be said today, as young professionals and artists are looking to relocate to this unique area. With the arrival of these new tenants, Bed-Stuy is seeing restaurants, bars, and cafés pop up across its streets.
One of the biggest draws in the neighborhood is the brownstone homes, some of the cheapest in the New York area. Many of these homes represent various styles of architecture, like Queen Anne and a Romanesque Revival. It is this unique mélange of architectural style that has many residents pushing for the area to be designated as a Historic District.
RENTAL PRICES
Finding the perfect place to call home in NYC means taking into account your housing budget and the type of area and housing that suits you best. At New York Habitat we offer a range of furnished housing options including full private apartments and rooms for rent in shared apartments all over New York City.
We all wish we could live in a beautiful, luxury apartment, perfectly located near our university or work, but sometimes our finances can hamper these dreams of opulence. Knowing what areas of New York you can afford is an important step in finding an apartment that fits your needs. (Don't worry, the impressive NYC views are always free!) For many millennials, apartment shares (i.e., renting a single room in an apartment) are the way to go! They can help curtail some of the cost associated with moving to New York City and they are a great way to test out an area before making a long-term commitment. But how exactly will living in Bed-Stuy affect your wallet? The following infographic will break it down for you: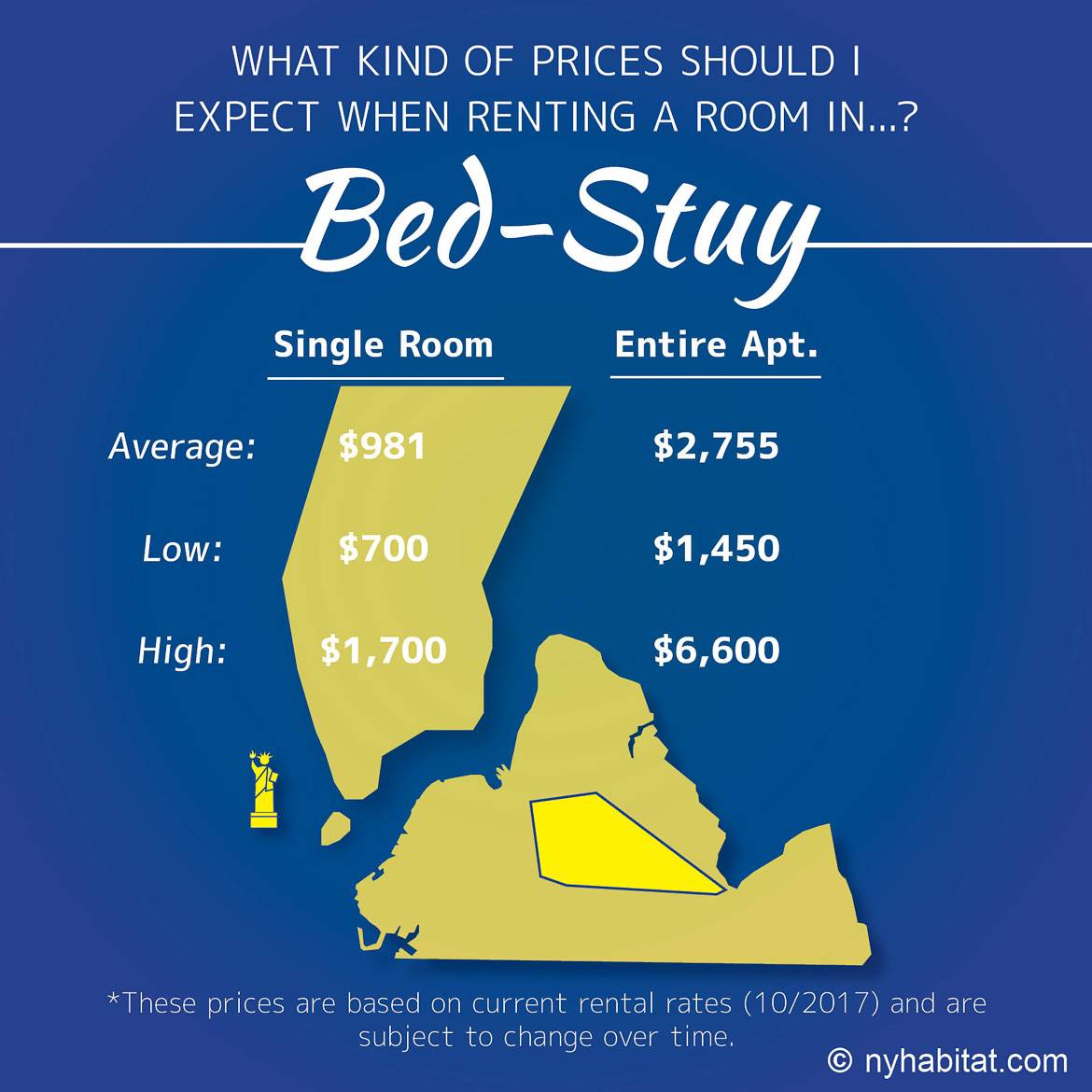 Millennials can save money sharing an apartment in Bed-Stuy, Brooklyn
Sharing the rent and utility expenses on an apartment can let you live in an area that might otherwise be out of your budget and still leave you with pocket money so you can enjoy all that New York City has to offer. Why live paycheck to paycheck footing the bill for your own apartment when you can split the costs and have spending money to go out on the town? After all, you came to NYC for a reason and we doubt it was to sit at home wishing you could afford a night out! Plus, many people find it less isolating to live with other people who you can socialize with, especially when you are new to town. Apartment sharing is a win-win situation, which is why you'll often see New Yorkers of all ages, from young people who just arrived from out of town to senior citizens that have lived here their whole lives, sharing apartments in the Big Apple.
THE REVIEWS
So what are some of Bed-Stuy's former residents saying about the area? We are breaking down our clients' feelings about the neighborhood to give you a general idea of what you can expect as a future tenant.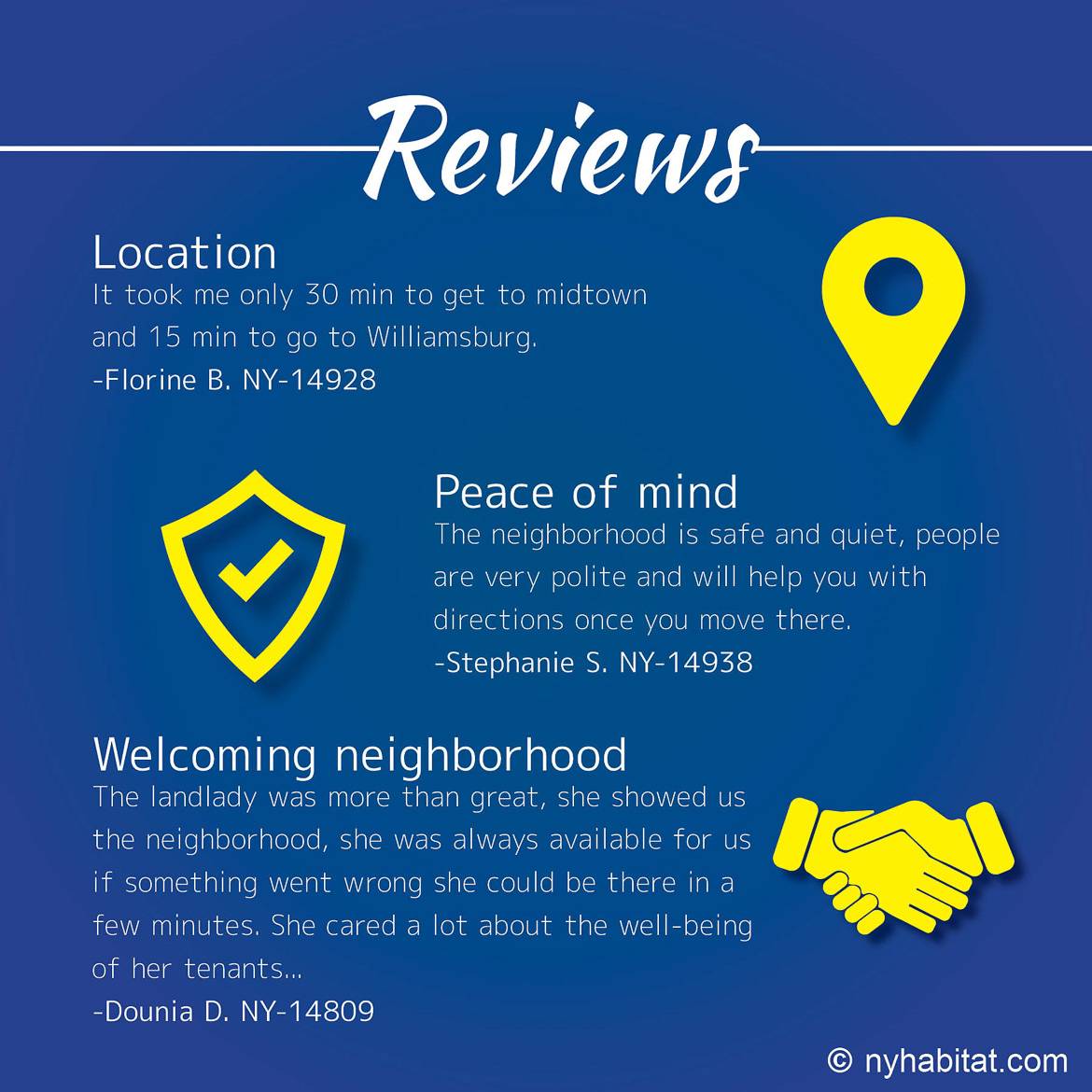 Check out what our clients thought about living in Bed-Stuy, Brooklyn
BED-STUY'S HOTSPOTS
Thinking about moving to Bed-Stuy? Take our video tour and see what this part of Brooklyn is all about, then get to know the area a bit by checking out our list of some of our favorite local spots that make this neighborhood an exciting place you'll want to call home. From recreation and shopping to entertainment and dining, Bed-Stuy has a bit of everything you could want in a neighborhood!
1. ENTERTAINMENT & LEISURE
a. C'mon Everybody
So maybe you will always be upset that you never got to see Studio 54 at its prime, but worry not, C'mon Everybody is the bar-lounge that will make you forget all that. This is the perfect space for those of us who lean towards the creative side. While up-and-coming musicians will bring the place to life, special events, such as burlesque shows, will keep you coming back. Also, don't forget to indulge in the straight-out-of-Mexico, spicy pear-jalapeño margarita – the Nile Rodgers.
2. RECREATION
a. Herbert Von King Park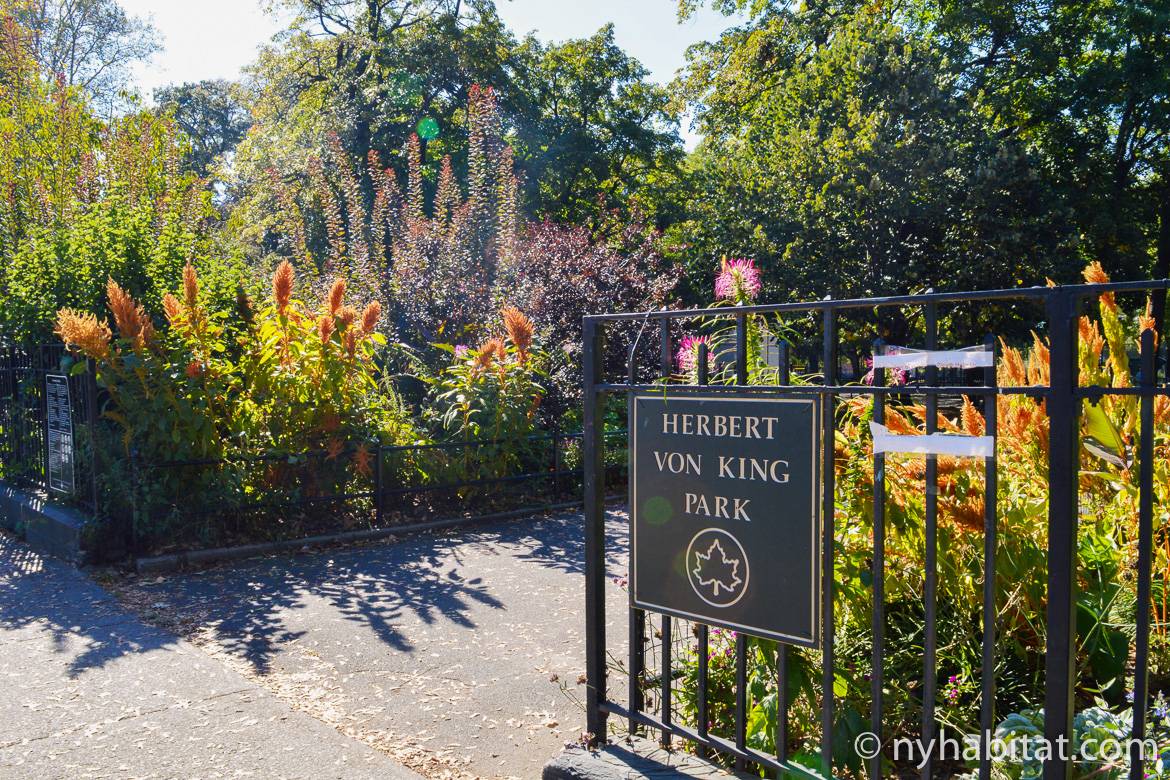 Visit the local parks and soak up some nature in the neighborhood
One of Brooklyn's first parks, Herbert Von King Park is the perfect place to spend a Sunday morning. Aside from the green landscape, the park provides fitness equipment, a baseball field, a recreation center, and an indoor dance studio. For a more relaxing time, an outdoor amphitheater provides the neighborhood with free concerts and artistic performances. If you love the outdoors, spend a day visiting some of NYC's other beautiful parks as well!
3. LOCAL CUISINE
a. Peaches
There is never a bad time to pig out on some good southern comfort food – it's probably the best way to deal with a stressful week. While the whole menu at Peaches is extremely appetizing, you shouldn't miss the opportunity to eat some shrimp and grits (don't forget the collard greens and cornbread on the side!).
b. A&A Bake & Doubles Shop
Whether you're running out the door heading to work or need something for the morning after you go out, A&A Bake and Doubles Shop will always be the right choice. This Trinidadian restaurant is famous for its doubles, a snack that consists of curried chickpeas stuffed inside fried bread. You may not be from the island, but you better believe that this will become your go-to when in a pinch. I mean two doubles are only $3, how can you beat that?
c. Daily Press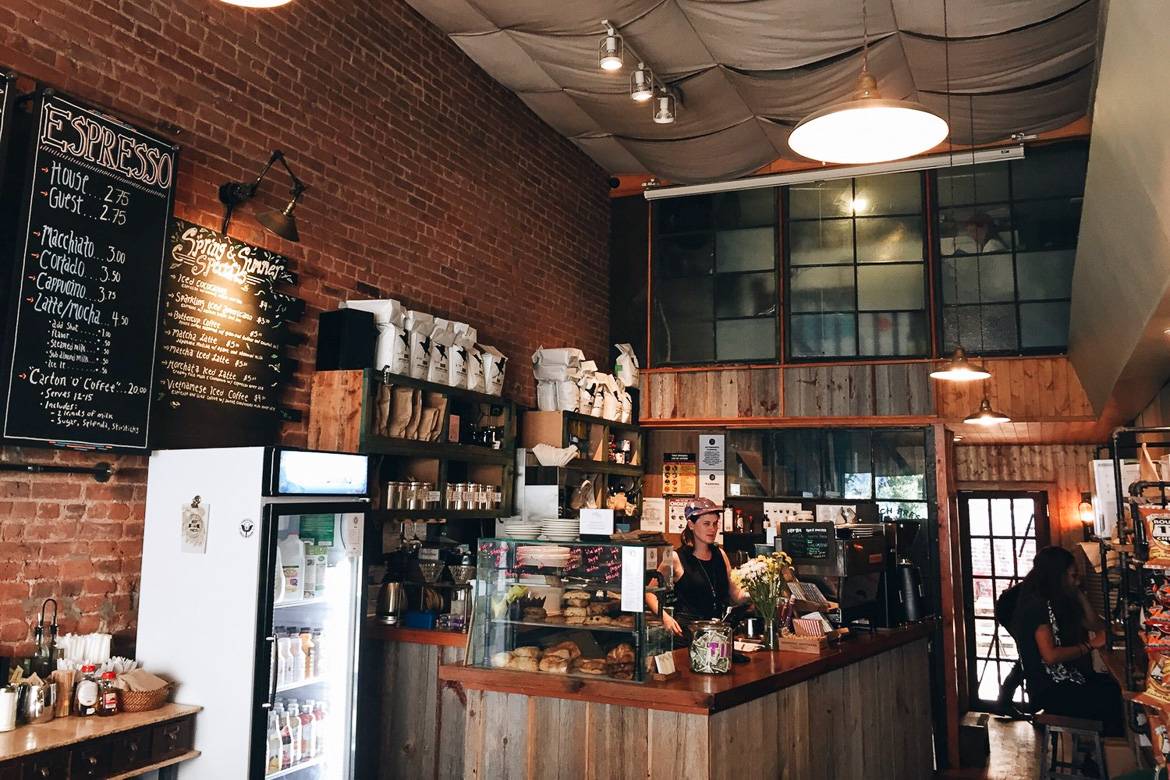 Grab your daily cup of joe at the hip Daily Press (Photo credit: http://dailypresscoffee.com/)
When you're in a hurry, but don't want to skip out on your morning coffee, make a quick stop in Daily Press! Both of their locations are conveniently located next to metro stops. Not only is the convenience there, the taste will have you coming back every morning. If it's not the rich coffee, then the flaky, warm pastries will have you hooked. If you're serious about your coffee addiction, don't forget to check out our list of the best coffee shops in NYC too!
d. L'Antagoniste
When you think of Bed-Stuy, farm-to-table French cuisine is definitely not the first thing that comes to mind; well L'Antagoniste is looking to change that. A seasonal menu ensures that every season your palette embarks on a new culinary journey. Not looking to break the bank on dinner? Then enjoy one of their daily specials, from B.Y.O.B. to $1.50 oysters.
e. Dough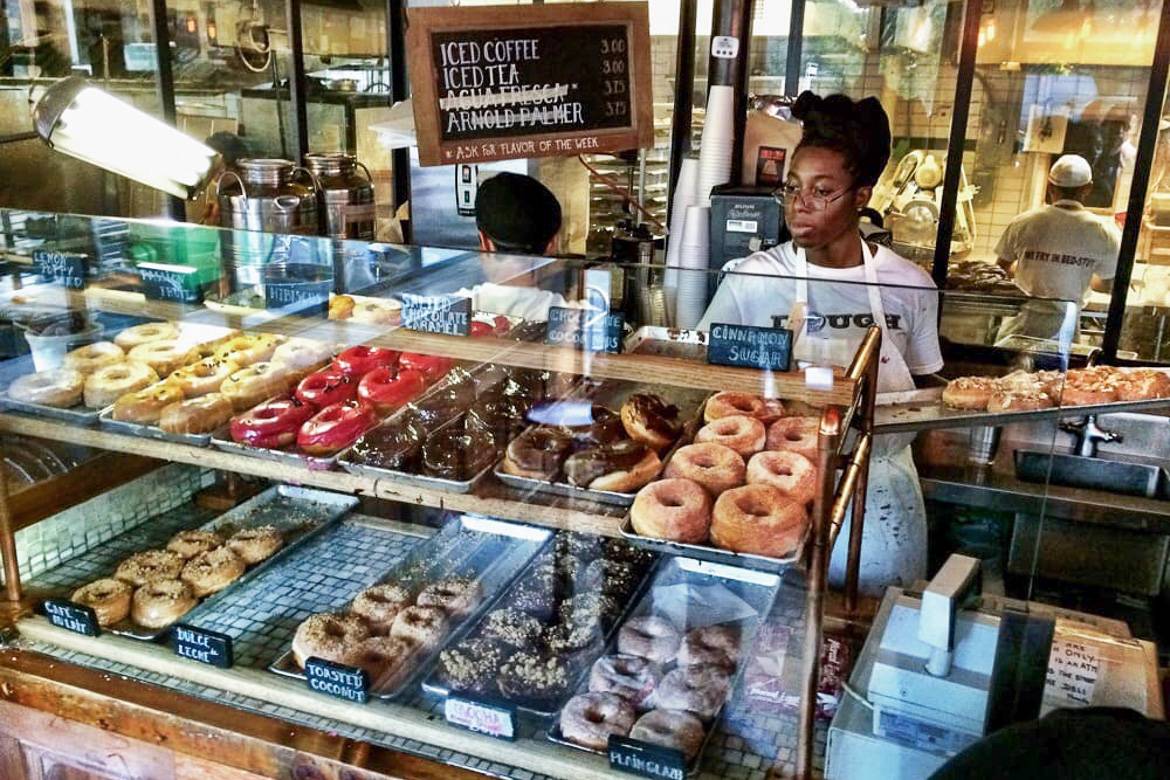 Try a creative twist on doughnuts at Dough
Tired of the same ol' doughnut flavors? So are we. This is why Dough needs to be your new go-to doughnut shop. While their most popular flavors stay year-round, some seasonal concoctions will have you wondering what flavors they're going to come out with next. There are enough unique flavors, like hibiscus, café au lait and dulce de leche, to have you coming in more often than you probably should. If you're craving a little more than a doughnut, try one of the top 10 brunch spots we found in NYC!
f. Stonefruit Espresso + Kitchen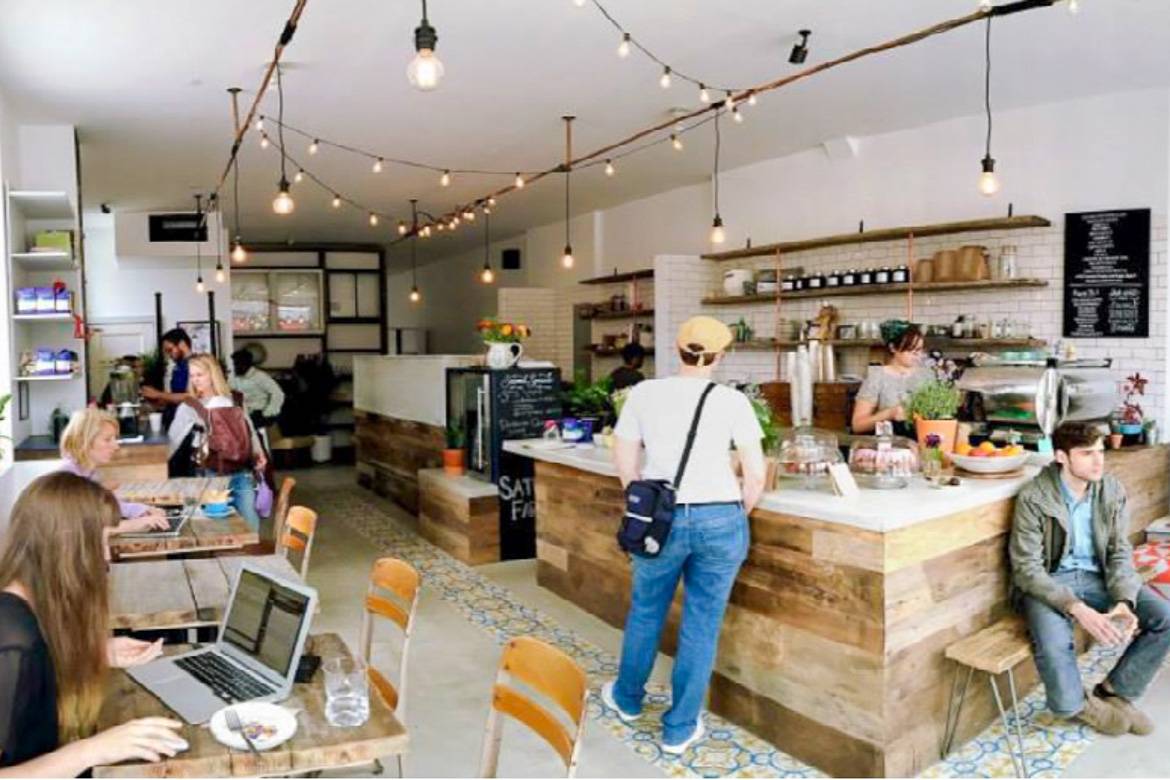 Farm-to-table cuisine + people watching at Stonefruit Espresso + Kitchen (Photo credit: http://stonefruitespresso.com/)
If you need a place to get some work done, but also need some good coffee and food to keep you going, then head to Stonefruit Espresso + Kitchen. The organic, seasonal produce used guarantees that you're getting the best quality meal, every time. With the holiday season on its way, Stonefruit is also the place to order a delectable, eye-catching cake or pie to please all your guests and family members (even the ones you don't quite get along with).
g. Paris Dakar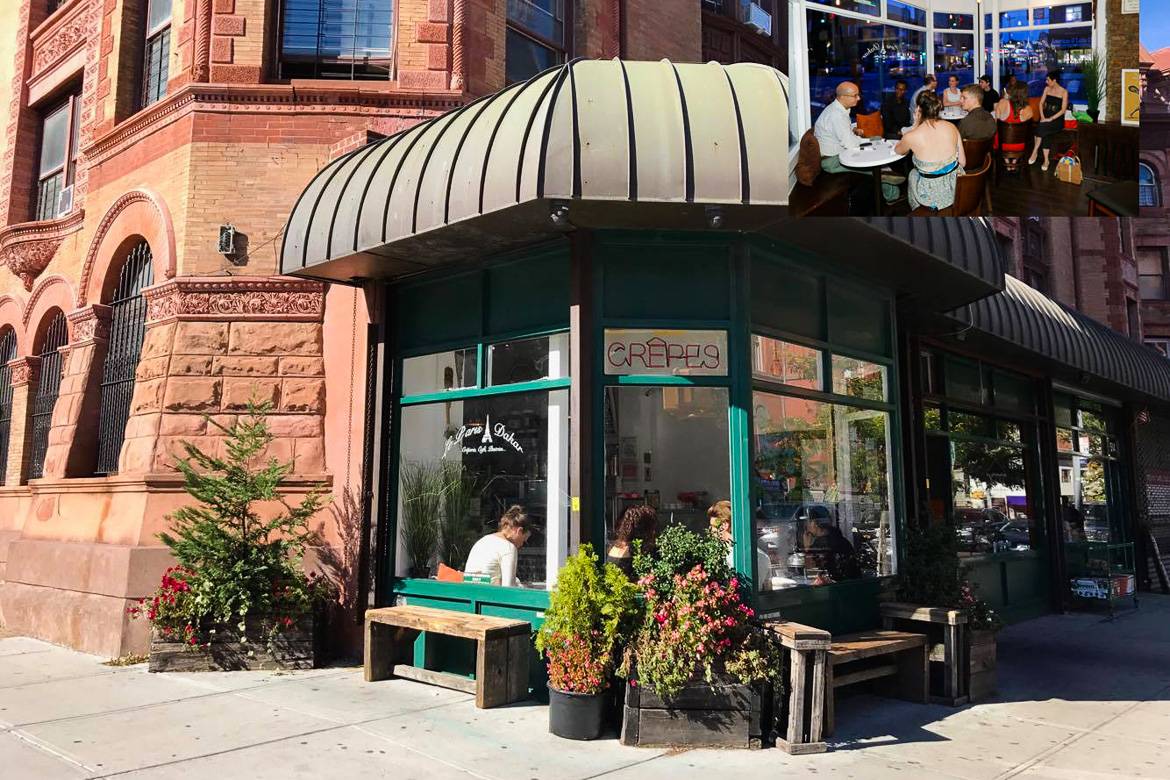 Sweet and savory crepes in a quaint setting at Le Paris Dakar (Photo credit: Paris Dakar http://leparisdakar.com/index.html)
As much as we love the New York life, sometimes we just want a little taste of Paris. At Le Paris Dakar you can get the best of both worlds. Their selection of savory and sweet crepes is pretty extensive, making choosing all the more difficult! Although we are drawing to a close on warm, sunny days, the outdoor area of Le Paris Dakar is perfect for enjoying a crepe-filled brunch. Don't forget to enjoy every last bit of the crisp autumn weather in NYC with our tips on the best ways to enjoy the fall in NYC before it's over!
4. SHOPPING
a. Harold and Maude – Vintage Store
A trip to a vintage store can be hit or miss depending on the store's current selection. Harold and Maude Vintage is the exception. A quick scroll through their Tumblr or Instagram will have you falling in love with what they have to offer (I mean, a Wizard of Oz inspired denim jack is hard to pass up). Harboring pieces from the 50's, 60's and 80's, Harold and Maude is the place to fulfill all your vintage fashion dreams.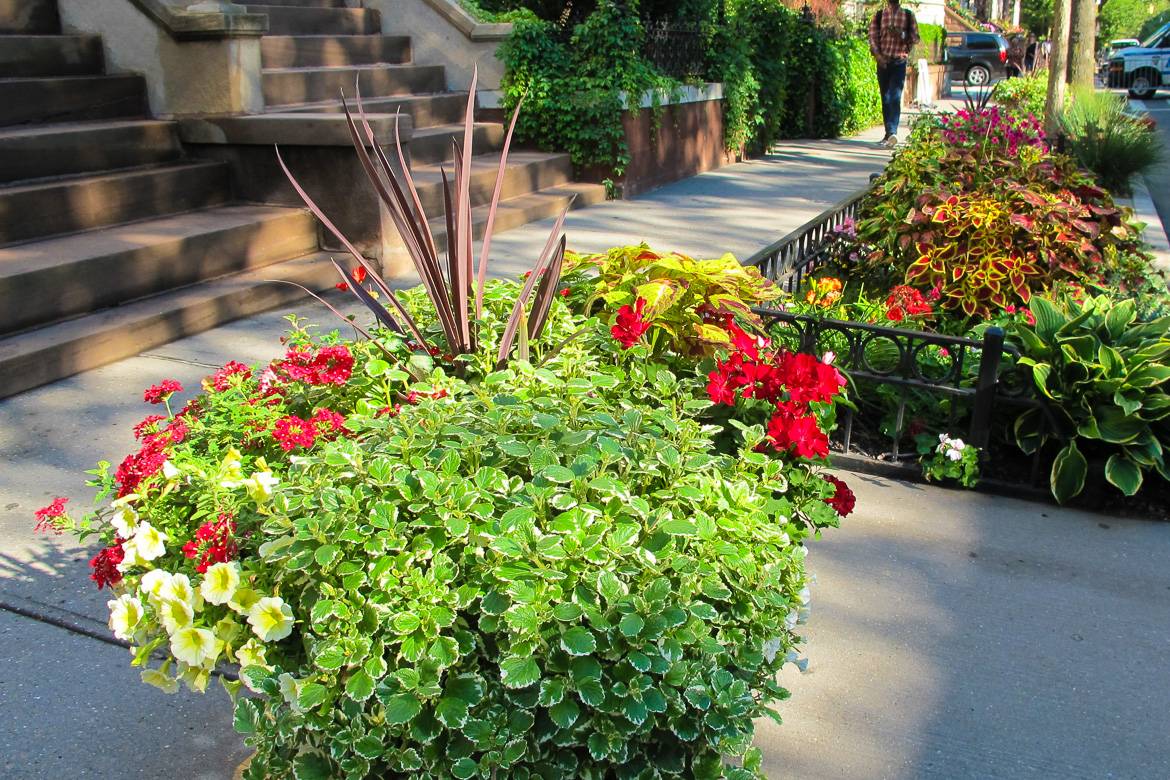 This Bed-Stuy block was voted "Greenest Block in Brooklyn" by the esteemed Brooklyn Botanic Garden! (Photo Credit: Brooklyn Botanic Garden www.bbg.org)
Bed-Stuy residents are proud of their community and work hard to make sure that the best of Bed-Stuy shines through. This past year, an area of Bed-Stuy was awarded the title of the Greenest Block in Brooklyn from the Brooklyn Botanic Garden. A title that is meant to honor the work of community members as they strive to enhance the area's streetscape. If you love greenery and gardens, Bed-Stuy has plenty of brownstone apartments with coveted garden access or check out these amazing community gardens just a short subway ride away in lower Manhattan!
Invigorated with new development, booming with local businesses, and still affordable, Bed-Stuy has a lot to offer the millennial apartment seeking crowd. If it will be your first time in NYC, we have some tips for getting acquainted with the Big Apple so it's less of a culture shock. You'll want to check back for our next blog on apartment shares in Bedford Stuyvesant where you'll get a local perspective from one of our hosts with a room for rent in the area and take an inside peek into their apartment.
You can browse through other Bed-Stuy apartment share options on our website. Submit a request online for faster process. Call +1-212-255-8018 if you need assistance with your request and we'll connect you with one of our apartment share agents to guide you in your housing search!
Related apartment rental posts from New York Habitat: