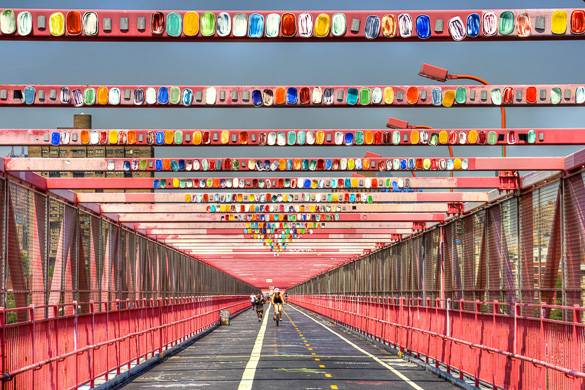 Head over the bridge from Manhattan and discover Williamsburg, Brooklyn
Welcome to the first in our series of blogs on a popular NYC housing option among the millennial crowd of first time renters, students and new graduates — the apartment share. Each week we'll be highlighting a neighborhood and giving you an inside look into what it's truly like to live there with a local roommate. We'll feature an interview with one of our local apartment share hosts in the neighborhood plus an inside look into the apartment and room for rent with New York Habitat. Our first neighborhood focus is on Williamsburg, Brooklyn!
If Portland and New York had a love child, it would be Williamsburg. This Brooklyn neighborhood offers some serious hipster vibes. And while this might not be everyone's cup of tea, it definitely provides an interesting art scene and an exciting nightlife. While prices may be on the rise, this is still a prime area to live for the young college grad. Its close proximity to Manhattan provides one of the easiest commutes.
RENTAL PRICES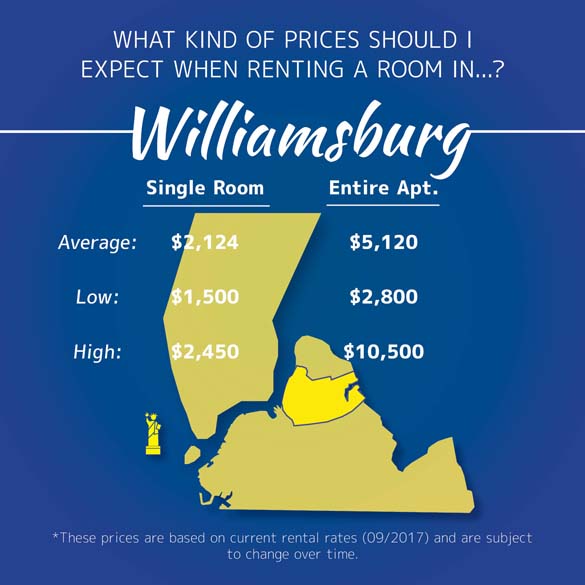 Apartment shares are a great way to keep costs down and still live in a trendy neighborhood
We all wish we could live in a high end luxury apartment, perfectly located near our university or workplace, but sometimes our finances can hamper those dreams of opulence. In addition to the monthly rent there are also electric, gas, WiFi and cable bills to be paid on top of basic living expenses like food and transportation. Knowing your rent budget and what areas of New York you can afford are important first steps in finding the right apartment and location for you. Check out our blog on finding an apartment to match your personality to help you narrow your apartment search as well. If you don't have the budget of a Wall Street tycoon, an apartment share — renting a room in a shared apartment as opposed to footing the costs of a full apartment on your own — can help curtail some of the cost associated with renting in NYC, one of the most expensive real estate markets in the world. Don't worry, we always have suggestions for free things to do in your free time in NYC on our blog! So how exactly will renting in Williamsburg affect your wallet? The above infographic will break it down for you!
WILLIAMSBURG'S HOTSPOTS
So you're thinking about moving to Williamsburg? Get to know the neighborhood with some local spots that top our list of favorite things about Williamsburg:
1. ENTERTAINMENT & LEISURE
a. Baby's All Right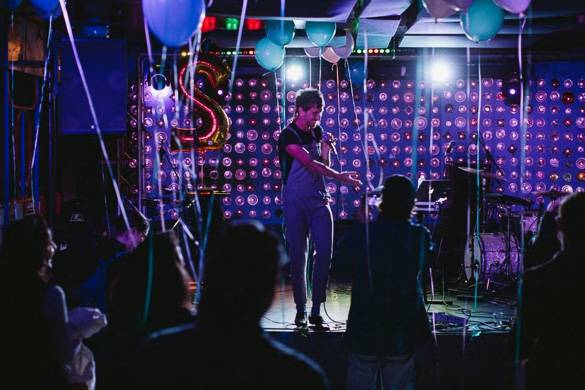 You'll find a myriad of music venues in Brooklyn (Photo credit: Jono Bernstein)
If there's one place that is going to have everything you need for an unforgettable weekend, it's Baby's All Right. The bar-restaurant-music venue embodies the vibe and spirit of Williamsburg. Their calendar is packed with acts from all music genres, so no matter what's on your playlist there is bound to be a show for you.
The food definitely leans on the Asian side, but we're not complaining. Any bar where you can get pork dumplings and Korean BBQ is a bar worth visiting. To bring it all together, Baby's bar has a varied selection of drink options. You can keep it classy with a glass of rosé or let the night take over with a Pink Baby (frozen vodka, grapefruit, and mate).
b. Videology Bar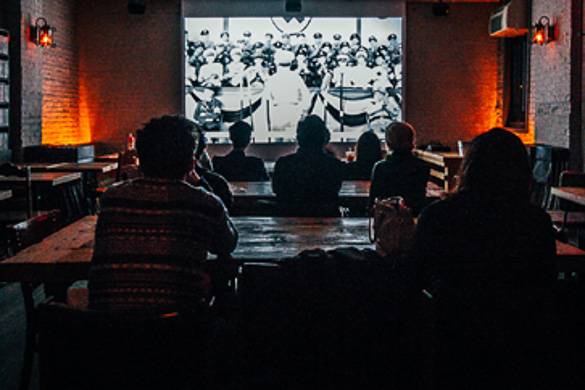 This bar offers a menu and drinks along with your movie (photo credit: videologybarandcinema.com)
This is not your average movie theater experience. Videology Bar is a micro-cinema that screens films from all eras, from classics like The Seven Year Itch to more recent releases like Midnight in Paris. What makes it better than most movie theaters is that there is always a full bar and food service. In addition to their films, throughout the week there are bingo and trivia nights.
c. East River State Park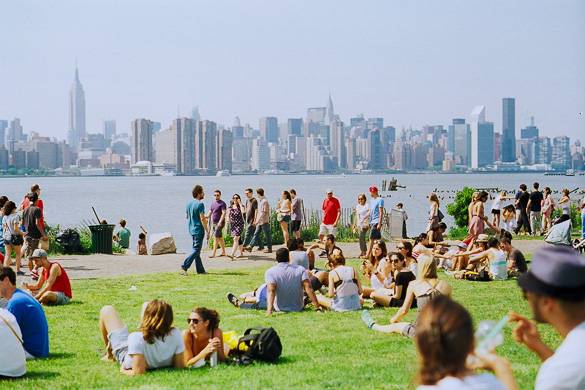 Escape the streets and head to the waterfront for relaxation with a skyline view
The view alone from East River State Park makes this park a must-go for any Williamsburg resident (and even for those that live further away). While it may be the home of Smorgasburg on Saturdays, every other day it's a beautiful seven-acre waterfront park that will make you forget all the stresses of the city. As you stroll around, informative signs will give you a bit of the history of this site as a 19th century shipping dock and today you can still see the cobblestoned streets and old rail tracks that once traversed the area. Pack a picnic and chill out with lunch and a stunning skyline view.
2. LOCAL CUISINE
a. Smorgasburg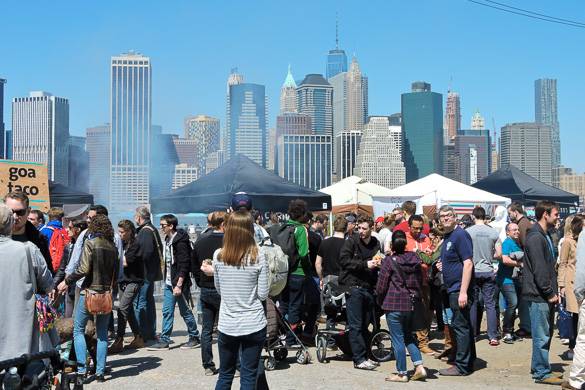 Taste all the flavors of NYC at Smorgasburg
Smorgasburg is the mecca of open-air food markets. With 100 local vendors participating, it will take you several weekends to try all of them. This is the place to sample truly unique food, from Mexican-Japanese fusion tacos to the puzzling ramen burger and the Instagram famous raindrop cake. This is basically the Holy Grail for all the foodies out there.
This food frenzy takes place on the Williamsburg waterfront on Saturdays and in Prospect Park on Sundays.
b. San Marco Pizzeria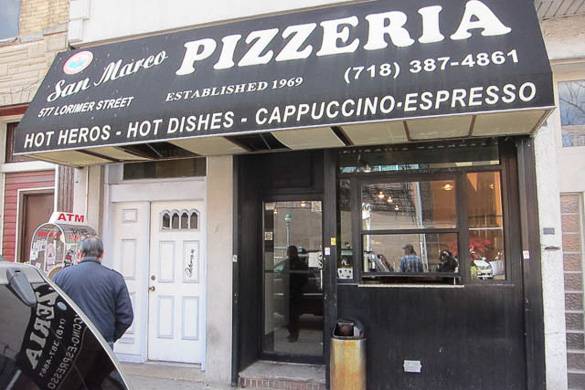 Head to San Marco Pizzeria for great local pizza and espresso (photo credit: mightysweet.com)
San Marco Pizzeria has been in business since 1962, long before Williamsburg became the new millennial hotspot, serving up some serious New York slices and top notch espressos. At $2.50 a slice and only $1.60 for a real Italian espresso, it's a great local spot to get your caffeine fix and quick, delicious food on a budget. If you're craving pizza, try some of our other top pizza place recommendations in NYC.
3. SHOPPING
a. The Mini Mall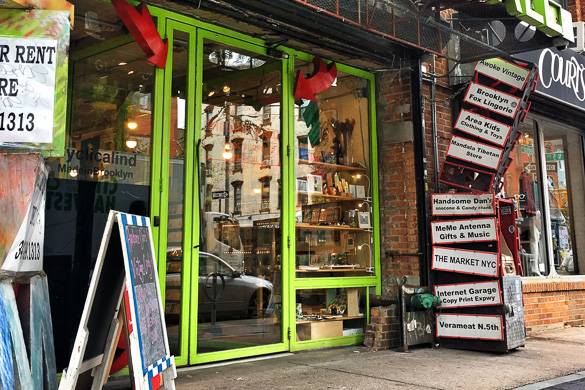 For a mall like no other head to this unique local market (Photo credit: youshld (https://www.instagram.com/youshld/)
Don't let the name fool you, this is not your typical suburban mall with a basic food court and an overtly prominent Macy's. The Mini Mall is everything you've come to expect from Brooklyn — vintage stores, handmade jewelry, work from local artists — all in one very convenient location. It is also the perfect place to pick up atypical, artsy souvenirs (i.e., something other than an 'I Love NY' t-shirt) for all your friends and relatives. Check out more of the best shopping spots in NYC on our blog.
THE REVIEWS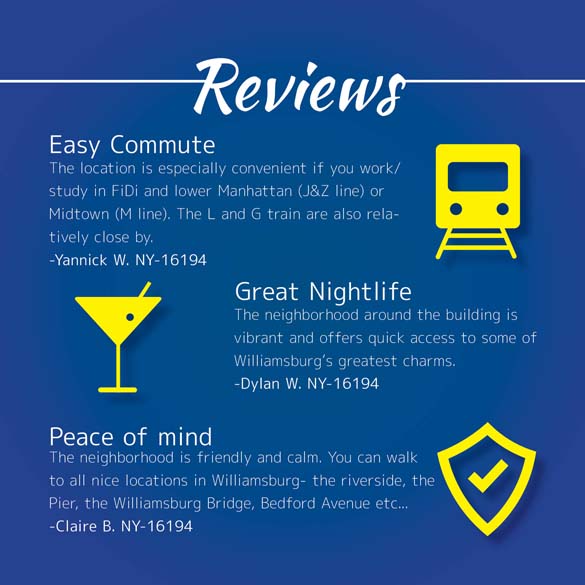 Check out what our clients think of living in Williamsburg
So what are some of Williamsburg's former residents saying about the area? Check out these reviews from our clients about the neighborhood to give you a general idea of what you can expect as a future tenant.
If you are looking for an apartment share in New York City, there seem to be a lot of options on the internet but the internet is also a hotbed of fake listings, scams and illegal apartments. That's why it's always best to use a reputable local agency like New York Habitat with licensed agents to ensure your apartment choices are legal and vetted for quality. Apartment hunting can be a daunting task, our agents are neighborhood specialists that can quickly help you narrow down your search and find what you are looking for without wasting valuable time and chasing properties that never reply to you. Head to our website to start your search and browse some of our inventory, submit a request online for faster process. Call +1(212) 255-8018 if you need assistance with your request and we'll connect you with one of our apartment share agents to guide you in your housing search!
Related apartment rental posts from New York Habitat: