Sunshine, a summer breeze and a glass of cold rose wine on a deckchair next to the strikingly blue water of your own swimming pool… If this sounds like your idea of a proper summer holiday, then this article is for you! The South of France is a fantastic destination for a summer vacation. There's the French Riviera, Provence, the Mediterranean Sea, picturesque villages, delectable food, wine, and plenty of sunshine to go around! If you choose to stay in a vacation apartment or villa, you'll be able to enjoy all these things and more like a true local. Of course there are countless fantastic accommodations to stay in the South of France. That's why we chose to compile a list for you with apartments and villas in Provence and the French Riviera that offer a little something extra, namely a swimming pool! Discover how you can enjoy the perfect summer holiday in the South of France.
Four-bedroom vacation villa in Salernes, Provence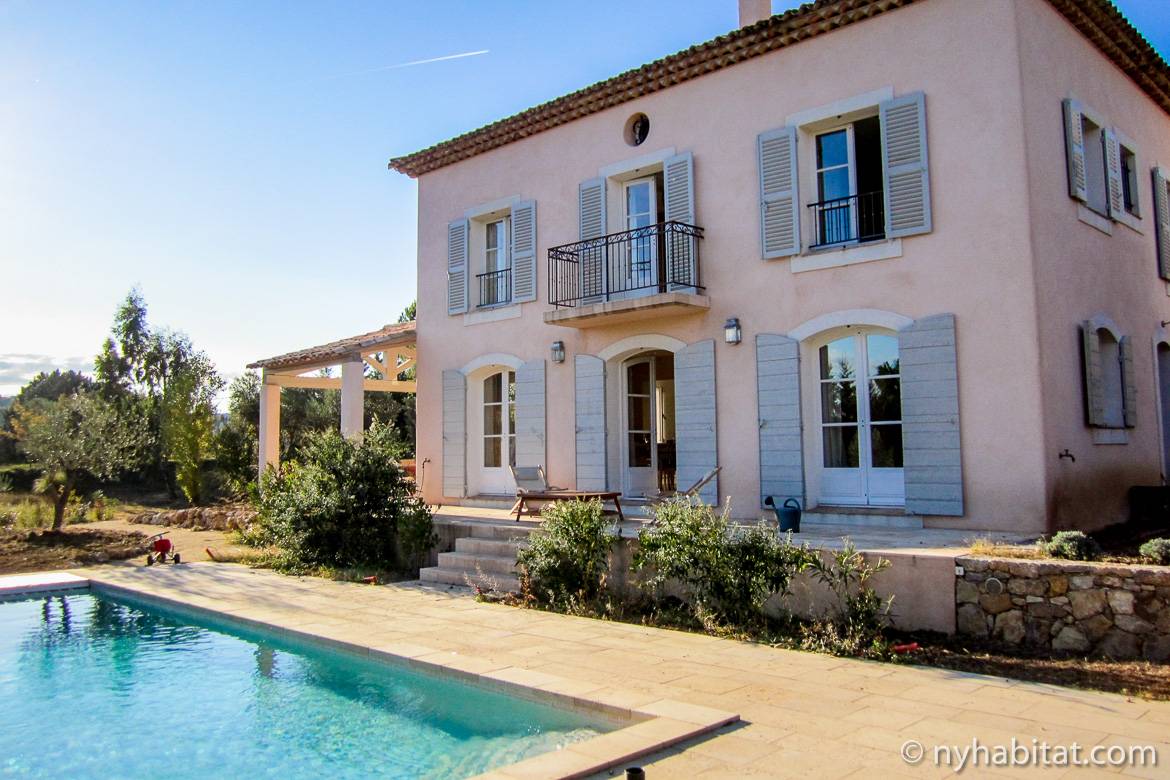 This villa in Salernes is a typical Provencal 'Bastide' with a gorgeous swimming pool and terrace
To start things off, this 4-bedroom villa in Salernes is a wonderful accommodation for a vacation with the entire family. The kids will go nuts for the gorgeous swimming pool, which has a salted water system so it's just like the sea! The villa itself sleeps up to eight people, and is a typical Provencal 'Bastide', but with a surprisingly modern and stylish interior. The four bedrooms and upstairs playroom ensure there's enough space for the whole family. The downstairs living room offers splendid views of the sunny terrace furnished with a swimming pool and of the garden, which is planted with olive and laurel trees. The fully-equipped kitchen makes it easy to cook your own meals with fresh, local ingredients. You can choose to eat dinner inside or outside al fresco on one of the two terraces.
The villa is located less than a kilometer (half a mile) away from the village of Salernes, where you can find shops for all your daily needs. Furthermore, there are many vineyards nearby where you can enjoy learning more about the winemaking process. The nearby town Lorgues has a fantastic farmers market where you can pick up fresh ingredients to take home with you. Check out Provence's Food Culture and Southern French Cuisine for some culinary inspiration! Read the entire story here…»