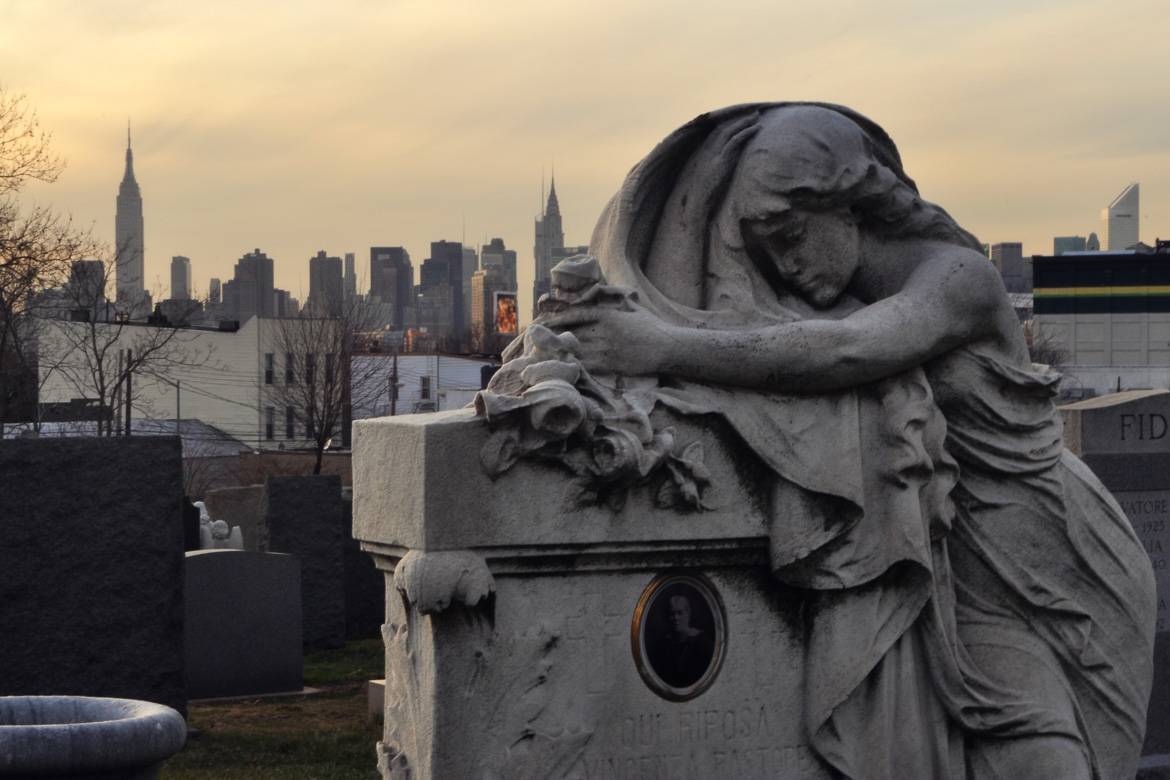 You can find evidence of the macabre even in the shadows of some of the most famous attractions in the world (Photo credit: Ludovich Bertron)
This fall, you may catch a chill as the temperatures drop… or maybe the chill you're catching is from something a bit more supernatural. No tour of a new place is complete without visiting some of the places that define the history of the city, but as you visit these historical places, you may find yourself in the company of other visitors… from the afterlife! If you're in the mood this Halloween season to have a really spooky experience, read on to discover some of the most infamous and reportedly haunted locations in our four destinations: New York, Paris, London and the South of France. Too scared to mingle with some locals from beyond the grave? You can always rent a furnished apartment from New York Habitat and live like a local. We can guarantee our hosts are not ghosts!
Haunted houses in the heart of NYC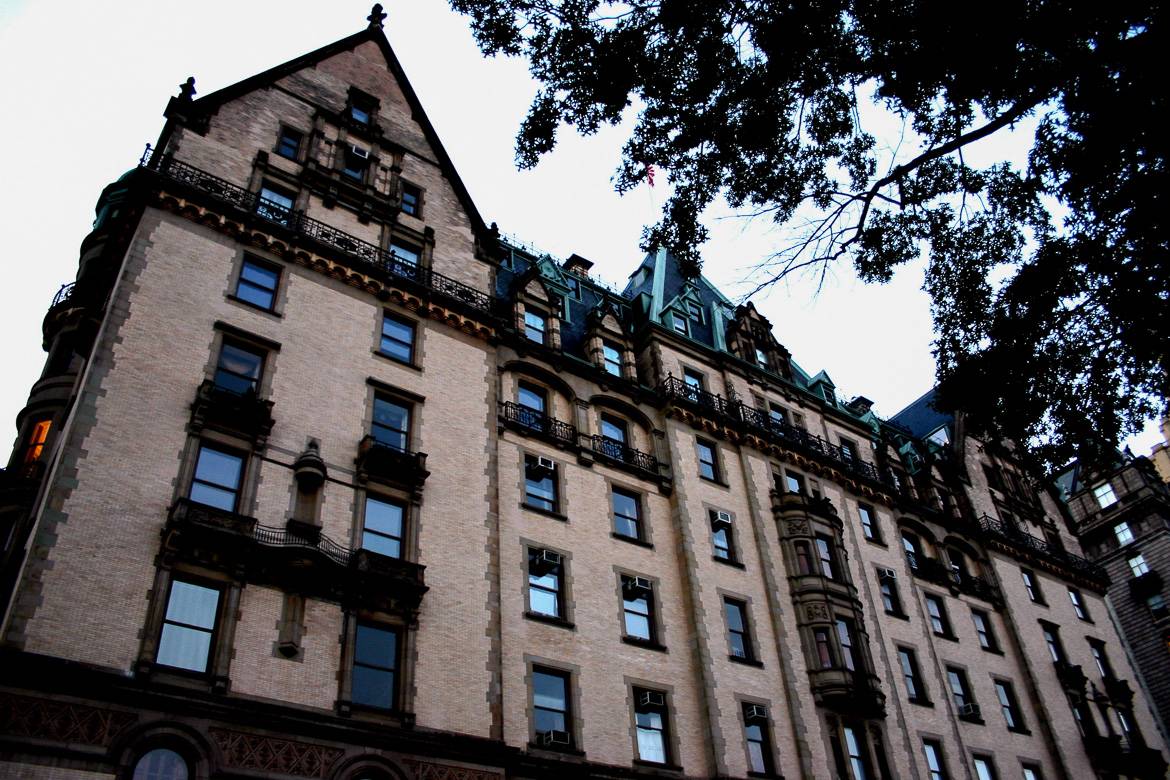 The Dakota made headlines with the murder of John Lennon, and now it may be home to his ghost (Photo credit: Patrick Gruban)
New York City is often summarized as "bright lights, big city," but when the lights turn off in some of New York's historic buildings, things can start to go bump in the night. Aside from getting an immersive history lesson, you can visit a handful of those locations to see if any of New York's historical figures are around to send a shiver down your spine:
Merchant's House Museum: Visit this East Village museum and see if you hear footsteps, doors slamming, or have strange sightings. Several of the home's former owners died in the house, and according to museum staff, the deceased matriarch of the family, Gertrude Tredwell, still watches over the premises.
14 West 10th Street, "The House of Death": Built in the 1850s in Greenwich Village, this apartment building was home to American author Mark Twain from 1900-1901. Though it is a private residence nowadays, the building has been called the most haunted in all of NYC, with sightings of 22 ghosts (including Twain's!) being reported over the years.
Hotel Chelsea: The Hotel Chelsea is famed for its famous guests, but some of those guests have allegedly never checked out! The hotel has received reports of strange noises, bizarre activity and disembodied screams. Some say that the ghost of Nancy Spungen, the girlfriend of Sex Pistols bassist Sid Vicious who was found murdered in the hotel in 1978, could be responsible for the activity.
The Dakota: This apartment building on the edge of Central Park was famously used as the setting for the 1968 horror film Rosemary's Baby. Though the film is fictional, residents have reported multiple sightings of ghosts over the years, including a playful little girl and a lady in white. Also, Yoko Ono reported seeing the ghost of her husband John Lennon in The Dakota after he was shot dead outside.
The Astor Room: To mingle with the most glamorous ghosts, head to this former fixture of Kaufman-Astoria Studios that is now a bar in Astoria, Queens. The Astor Room was a former hangout of movie stars, and Rudolph Valentino, a famous silent film actor who passed away at age 31, has reportedly been spotted hanging out at the bar… 92 years after his death.
Gay Street, Greenwich Village: Located off 6th Avenue in Greenwich Village, this picturesque street reportedly hosts a few friendly spirits, including an apparition of a man in a top hat and coat known as the

Gay Street Phantom

. Other visions of people in 1920s fancy dress have also been seen lurking around at night on the street, which once was the site of a morgue.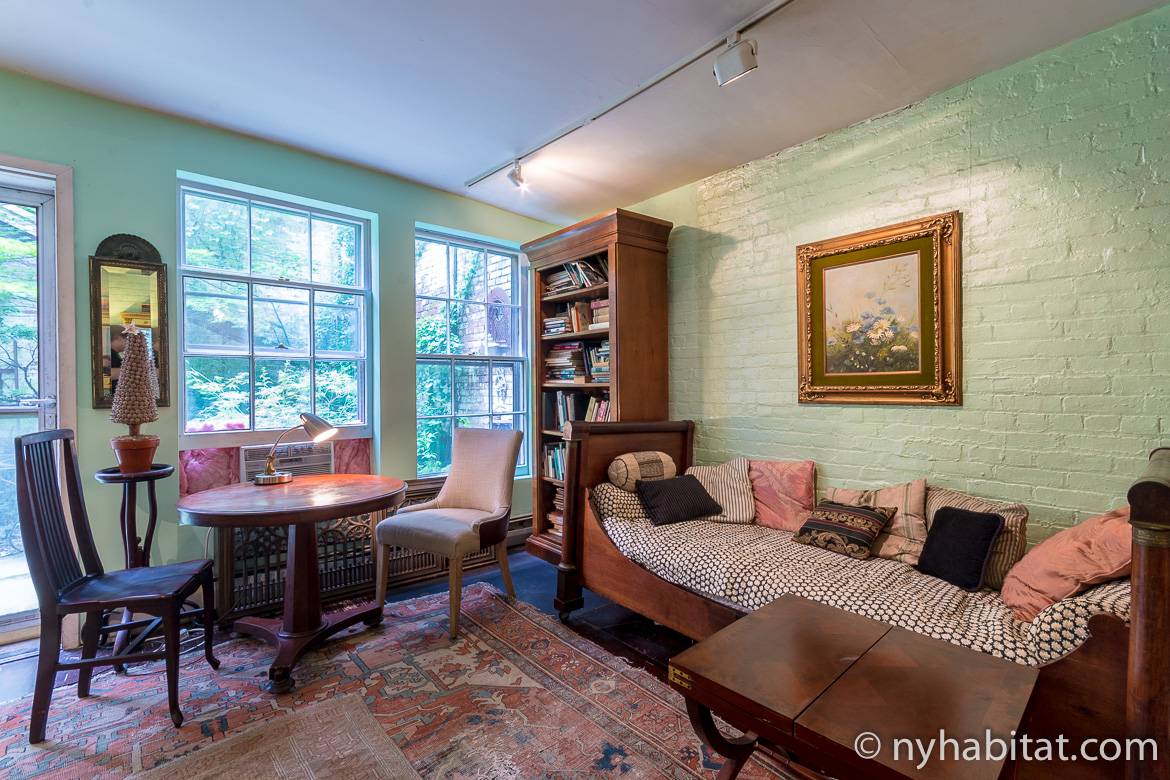 The vintage vibe of this Chelsea apartment adds to its cozy ambience
After a long and spooky day of ghost-hunting in New York, you can retire behind the comforting brick walls of this 1-bedroom furnished apartment in Chelsea! The apartment creates a sense of tranquility thanks to its large windows in the living room that look out onto the garden, as well as the exposed brick walls that are painted a lovely spring green. The space is decorated with antique and classic style furniture that will delight history lovers, but still keeps things modern and fresh thanks to the updated industrial kitchen, stylish stone-tiled bathroom and modern amenities like laundry facilities.
You can get comfortable around the decorative fireplace, or get cozy in the handsome double-sized bed with a good ghost story (maybe you'll find one or two on the living room's bookshelves!). And never fear, because while this apartment is close to attractions like the Hotel Chelsea (and more modern ones like the High Line), there are no ghouls or ghosts to be found in this warm and welcoming apartment.
Phantoms from Paris's past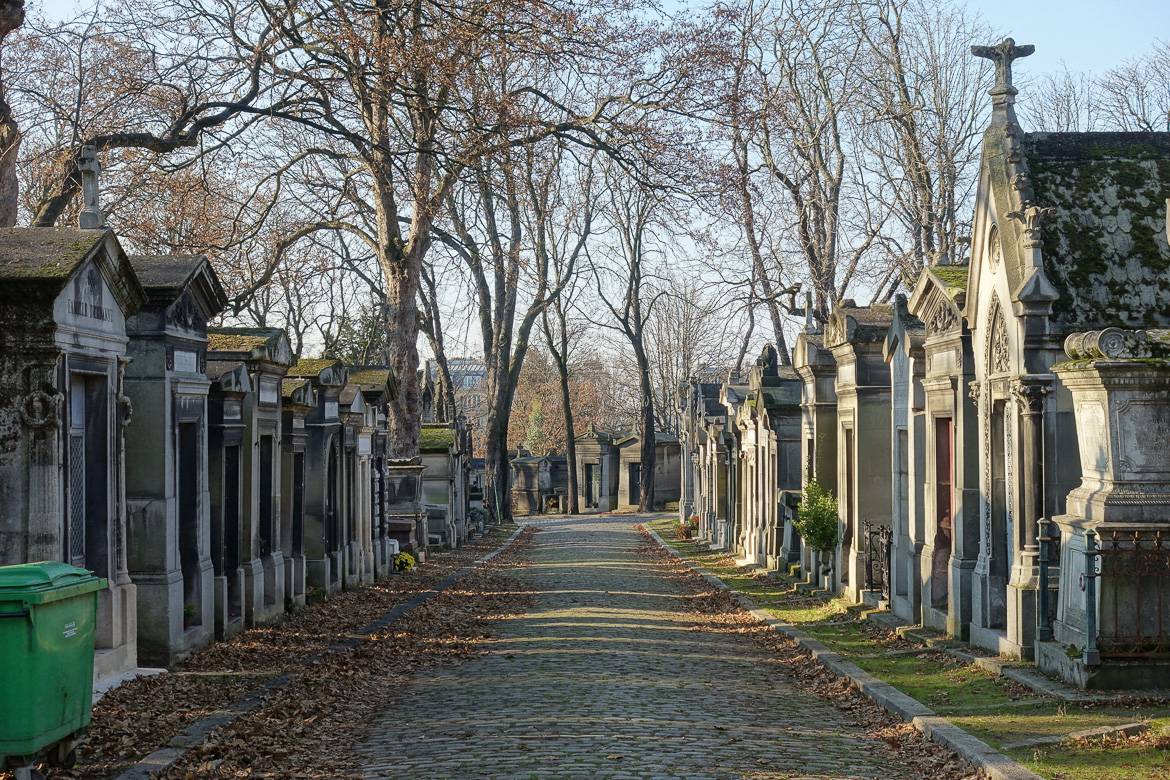 Père Lachaise Cemetery in Paris is famous for its beautiful gothic mausoleums… and its famous ghosts (Photo credit: Guilhem Vellut)
If there was ever a city that had a spooky history, it's Paris. The city's gothic architecture and macabre history of executions and unrest has certainly left some disquieted spirits in its wake. If you're planning a tour of haunted Paris, make your first stop at the world-famous Paris Catacombs. This location is eerie enough on its own as a mass burial site of the bones of millions of former Parisians, but the local legends—including reports of disembodied voices and footsteps and the claim that some people have disappeared in the catacombs and never been found—will surely make the hairs on your neck stand up.
If you'd rather get your fix of haunts from a traditional cemetery, head to Père Lachaise Cemetery in the 20th Arrondissement. The burial ground serves as the final resting place of over 1 million people, including some famous folks like Édith Piaf, Jim Morrison, Oscar Wilde and Frédéric Chopin. Visitors to the cemetery have claimed to see spectral figures, strange lights, and felt their clothing being tugged. Some have even claimed to see the spirits of Jim Morrison or writer Marcel Proust hanging out near their graves!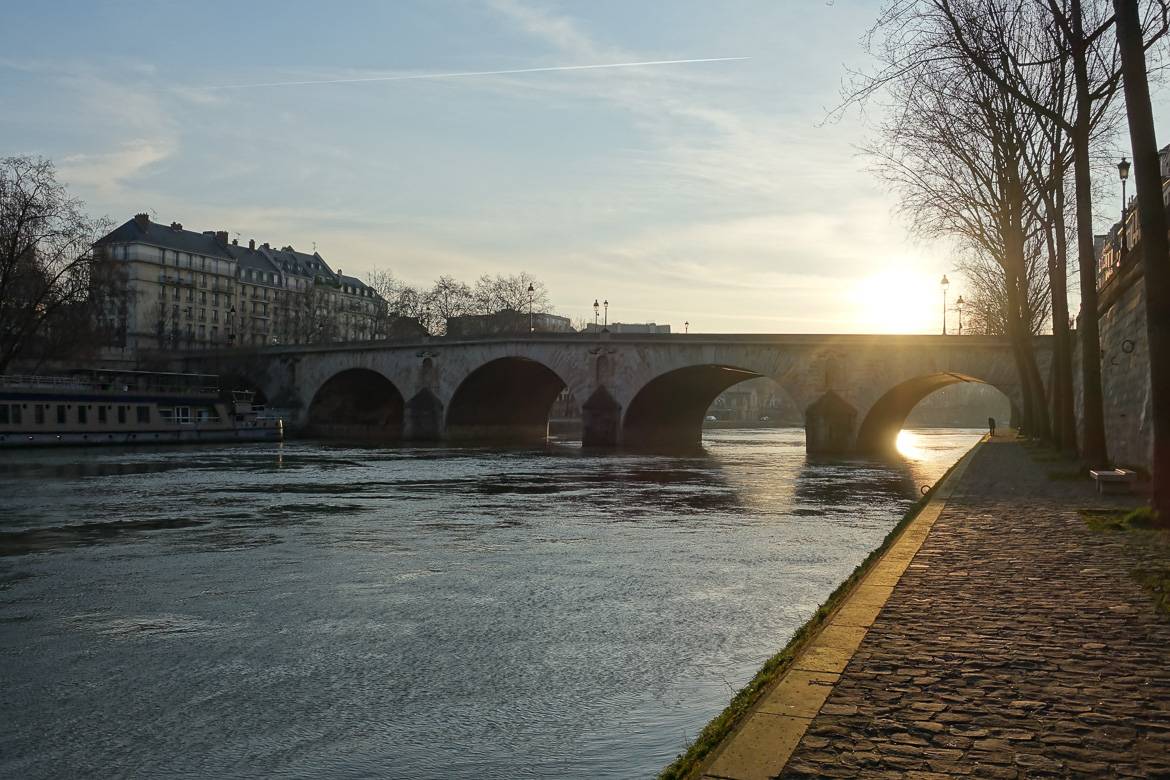 See if you can see or hear the spirit of a Parisian woman when the sun sets over the Pont Marie bridge
If haunted bridges are more interesting to you, check out the Pont Marie. This bridge over the Seine is said to be haunted by the cries or apparition of a weeping female ghost who died waiting for her lover to meet her on the bridge.
For the truly brave, you can also visit some of the most gruesome sites from the French Revolution, including Parc Montsouris and the Place de la Concorde. The former was allegedly used as a testing site for the guillotine in the 18th century, and because of that, visitors to the otherwise tranquil and family-friendly Paris park have reported seeing headless ghosts wandering around the green spaces and among the trees. As for the Place de la Concorde, did you know it was once called the "Place de la Révolution?" The plaza used to serve as a public execution site, and is where Marie Antoinette and Louis XVI met their fates. You may not see many spirits here, but the bloody history and the dungeons of La Conciergerie, where the accused awaited their executions, will definitely leave you with the creeps (if you can see past the beauty of the area)!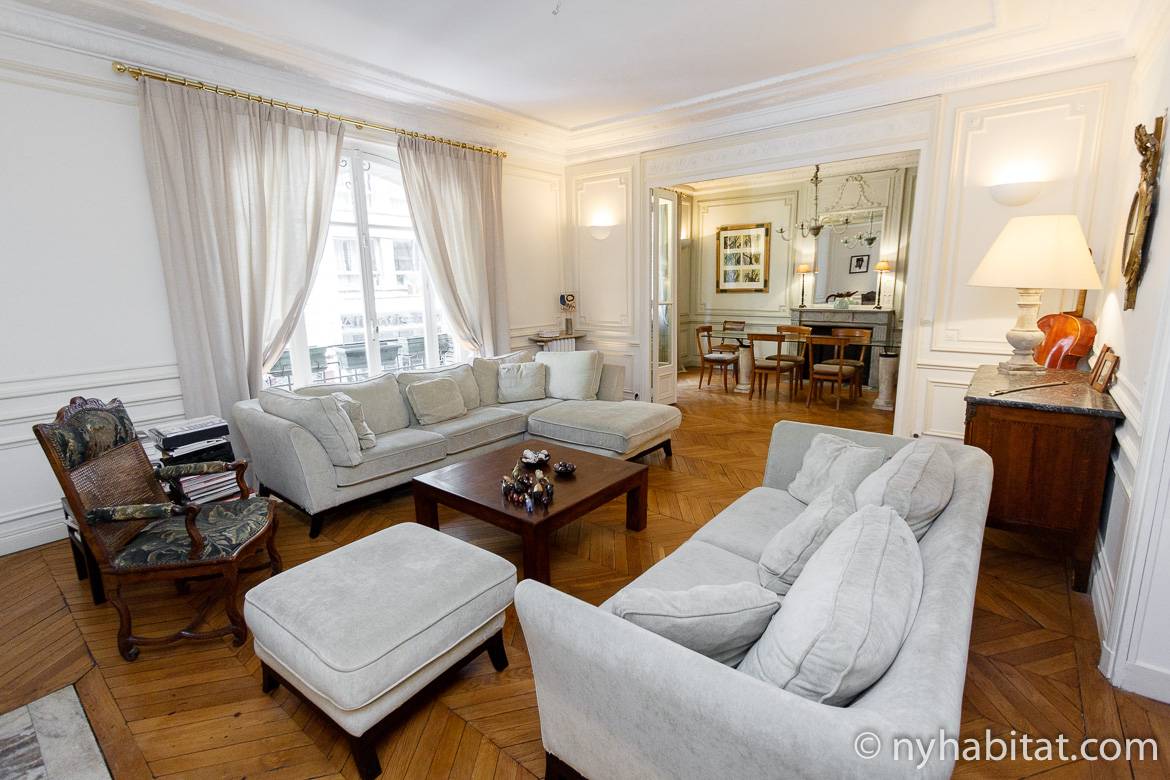 Gather round and tell your favorite ghost story in this Trocadéro apartment that's big enough for the whole group
Don't lose your head when you see this elegant 4-bedroom vacation rental in Trocadéro, Paris! You'll enjoy some respite from the gloomy side of Paris thanks to this apartment's high ceilings, parquet wood floors, light-filled windows and decorative French molding. Classic and tasteful furniture keeps the environment light and welcoming, and the full kitchen has huge wrap-around counters for preparing a tasty dinner! The apartment, which sleeps 8 and has 3 bathrooms, is also located in an updated pre-war building that has an elevator, concierge and intercom security system, ensuring that no uninvited guests (living or dead) make their way inside. Relax and enjoy your vacation as you swap paranormal stories in the open living room, and enjoy easy access to neighborhood attractions like the Arc de Triomphe and the haunted locations on this list.
Spirits lurk in the stone halls of London's castles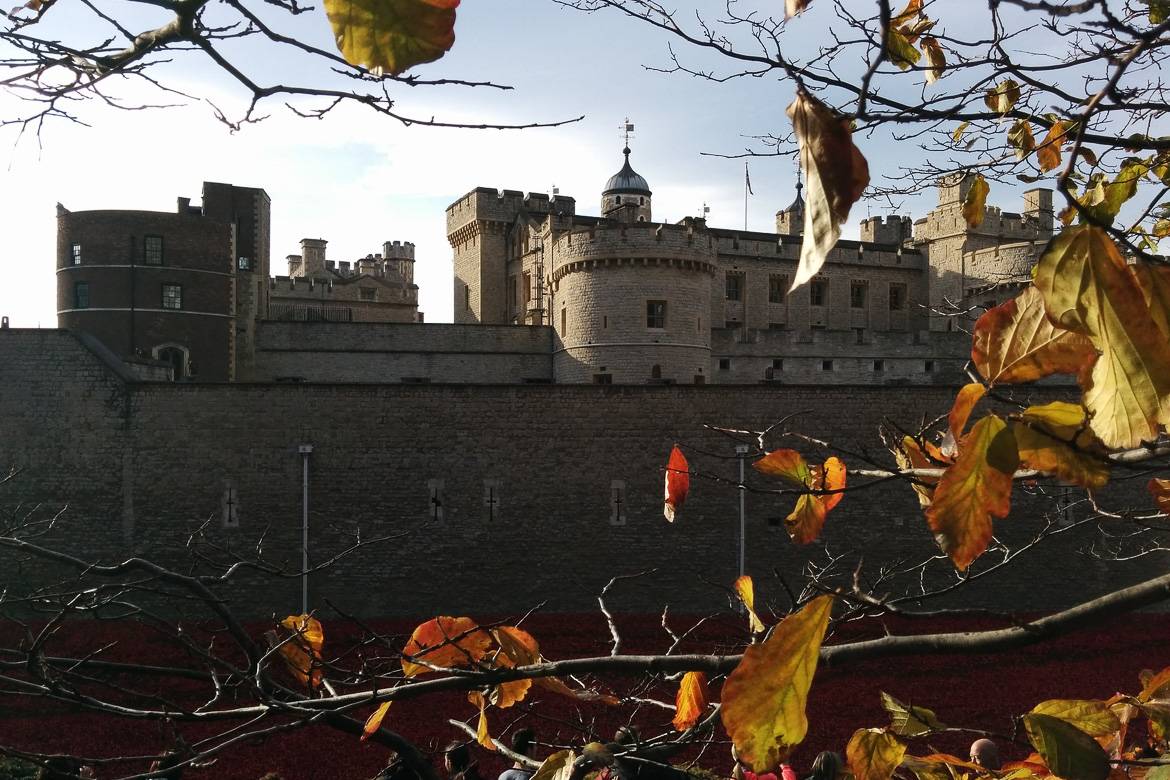 The Tower of London's dark history makes it a perfect place to search for spirits!
London certainly doesn't shy away from its creepy past—whole attractions are devoted to retelling some of London's most chilling moments in history. At the top of the list is the Tower of London, which, despite its gruesome past, is one of London's must-see attractions. The Tower was formerly used as a prison and was the site where Henry VIII's second and most famous wife Anne Boleyn was beheaded. The notorious tower is famous for its ghost sightings, including the headless spirit of Anne Boleyn (who reportedly wanders the White Tower carrying her head) and the restless spirits of the two young princes who were murdered there by Richard, Duke of Gloucester.
If you're hoping to catch a glimpse of ghostly royalty, Hampton Court Palace is another must-visit. Two more of Henry VIII's wives, Jane Seymour and Catherine Howard, are said to haunt the tower. Catherine's screams are supposedly heard in the gallery!
A few more of London's local ghosts can be encountered at Covent Garden tube station, where the ghost of actor William Terriss is occasionally spotted waiting for a train that never comes, and at The Flask, a pub in Highgate. The Flask has not one, not two, but three famous ghosts including a barmaid, cavalier, and monk who occasionally show up to observe the rabble.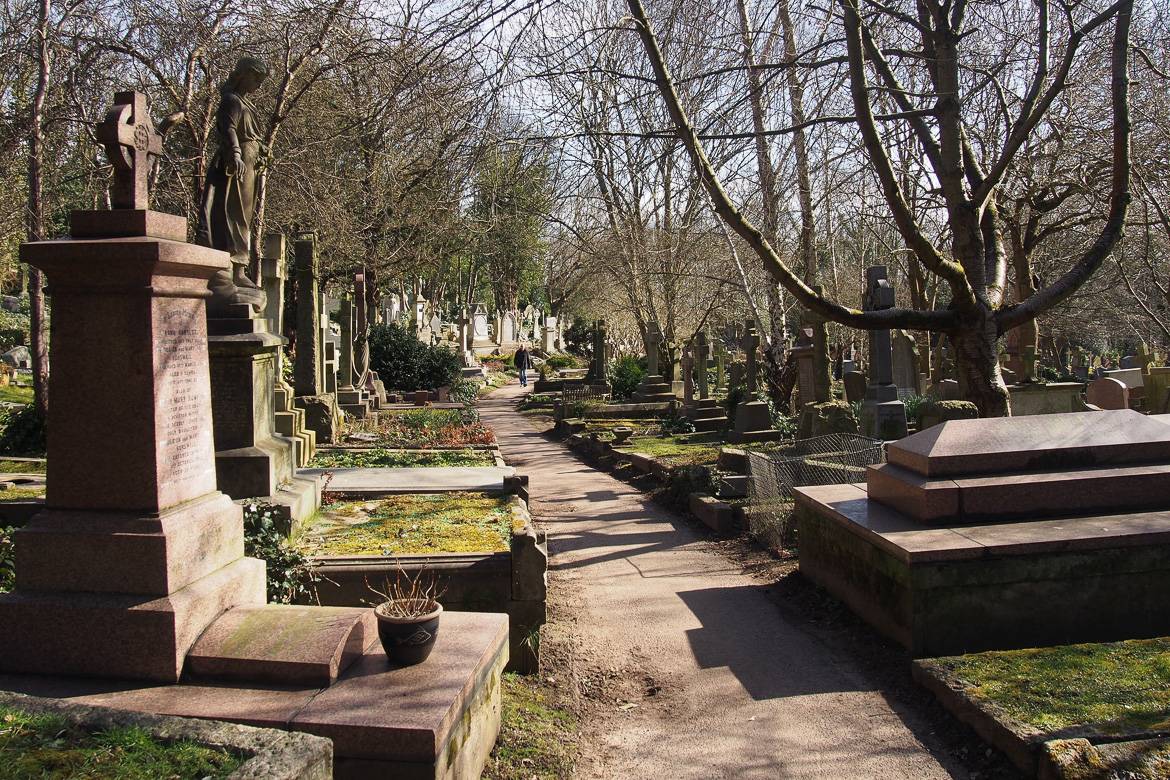 Will you catch a glimpse of the Highgate Vampire when you visit the mysterious Highgate Cemetery? (Photo credit: Dario Sušanj)
Despite all the well-documented hauntings at the above London locations, we've saved the best for last. First, there's 50 Berkeley Square, a townhouse in Mayfair that is reportedly one of the most haunted buildings in London. Though ghost sightings haven't been reported in years, the employees of Maggs Bros. Book Dealers, which occupies the ground floor, have reported hearing noises from the upper floors, which are unoccupied and off-limits for use.
This townhouse isn't the only local legend. The historic Highgate Cemetery, located in the London neighborhood of Highgate, is considered one of the most haunted places in the world! This is due in part to a rash of sightings of the "Highgate Vampire" in the 1970s, a tall, shadowy figure with red eyes. Also spotted within the cemetery are apparitions of a ghostly bicyclist and a hysterical young woman with a baby. If you're not too frightened of a potential ghost sighting, the cemetery is worth a visit any day; the historic graves among the tall trees and shrubbery make this cemetery as picturesque as it is chilling (and it's a nature reserve too!).
A cozy, airy Notting Hill apartment is the perfect place to come home to after exploring some of London's creepy places!
Don't miss the chance to complement your exploration of haunted London in this 1-bedroom Notting Hill vacation rental. If you have a penchant for classic London style, this apartment is perfect for you. With its timeless modern furnishings, elegant hardwood floors and serene decorating scheme, it will put you at ease if you're still on edge from a brush with a ghost! Glass shelving, a glass-topped dining table and the glass shower in the contemporary bathroom to go along with the large windows mean this apartment is totally airy and full of light—no creepy dark corners here! You'll also get plenty of rest in the full-sized bedroom. Enjoy living like a local near Portobello Road Market where you can pick up a few quirky souvenirs or perhaps some artisan Halloween crafts.
The souls of the South of France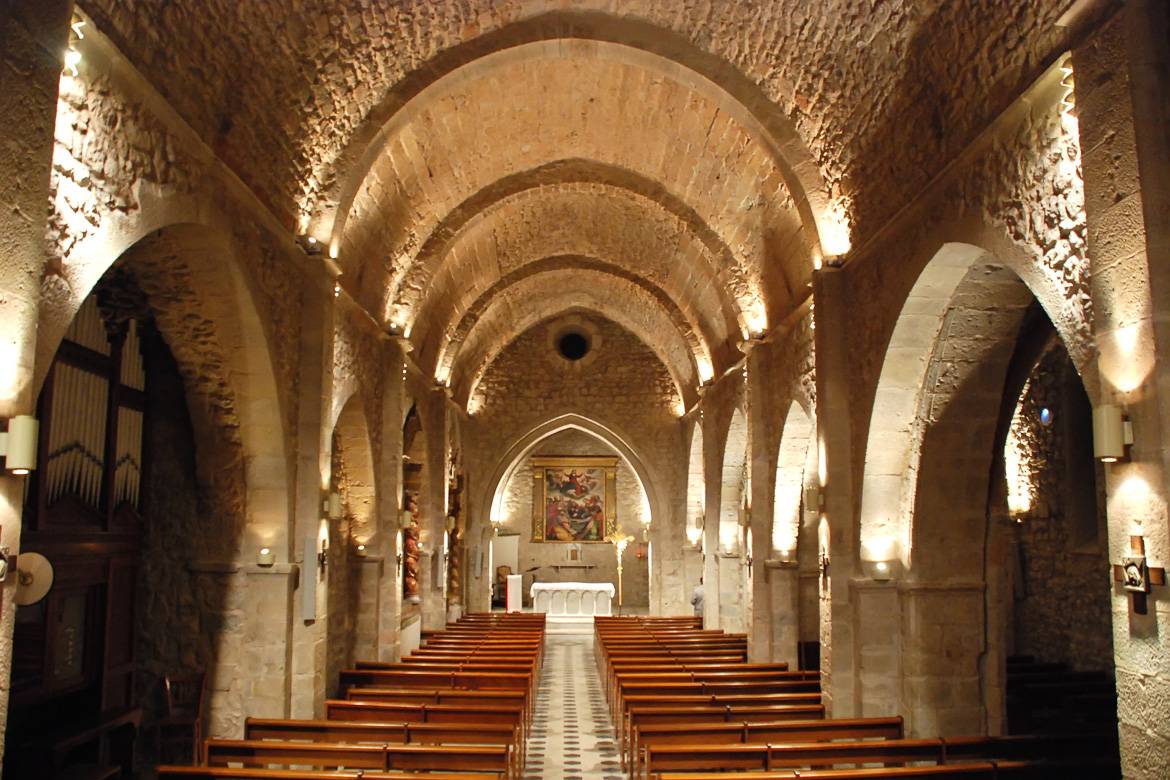 The stone structures of Gréoux-les-Bains are said to have strange shadows dance across them, if you look closely enough
Despite being so steeped in history and gorgeous ruins, the South of France seems to be a mostly peaceful place in terms of paranormal activity. Perhaps it's because the region is widely regarded as one of the most beautiful in the world, so there's no time to be a gloomy spirit! However, there are still a few spooky and breathtaking places to visit if you're looking for a scare. Possibly one of the most famous ghost stories in France, the legend of La Dame Blanche (The White Lady) can be explored in the Dordogne Valley in southwest France. La Dame is said to be the ghost of Thérèse de Saint-Clar, who was imprisoned in Château de Puymartin for 15 years until she eventually died. Legend has it that her spirit may ask you for a ride, get into your car and then vanish with a scream. Visit the chateau and see if you can catch a glimpse of her! The area is just about 3 hours north of Toulouse by car.
For another chill, you can visit Gréoux-les-Bains, a mountaintop fortress in Provence. The village is picturesque enough for any visit by day, but at night, villagers claim to hear disembodied whispers and see strange shadows among the walls of the fortress. And as a last stop, don't miss the village of Oppède-le-Vieux in Luberon. Though not purportedly haunted (as far as we know), the village was once a ghost town after centuries of bloody conflict left it abandoned. The ruins of castles and older stone structures may send a shiver down your spine, even if a few friendly locals are now out and about!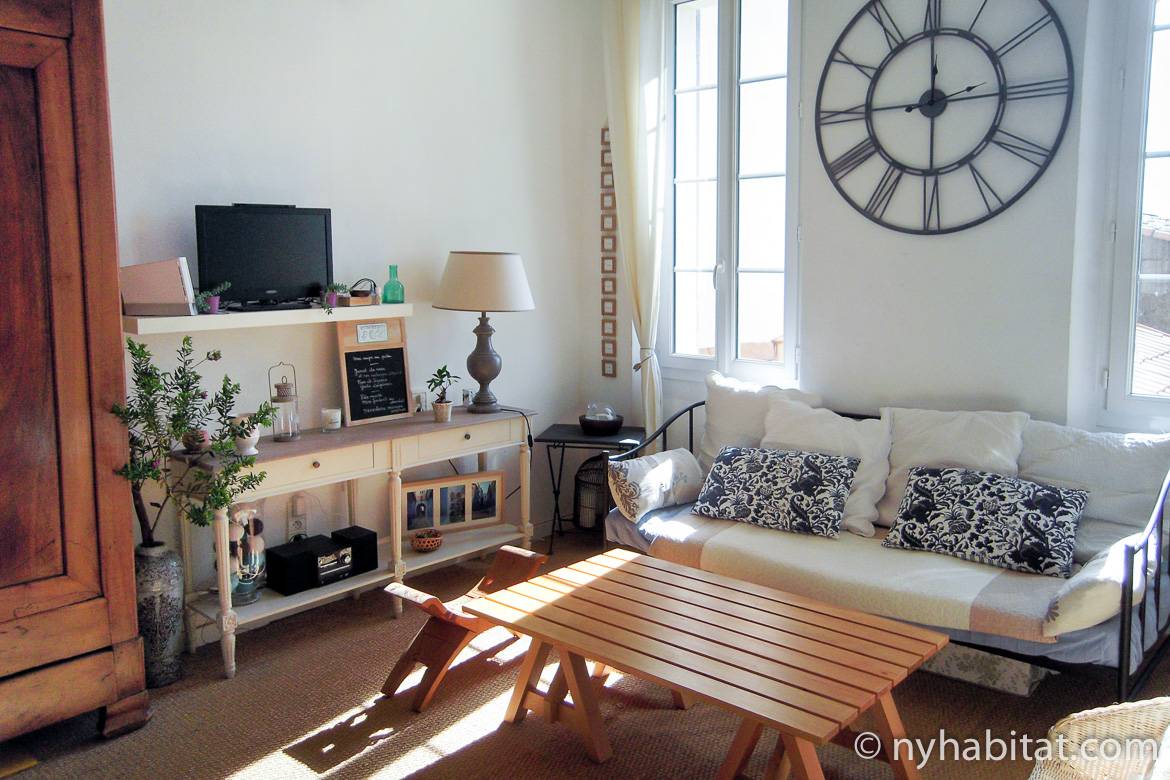 A light and airy apartment in Puyloubier, Provence gives you accessibility to many famous towns in the area
Fortunately for travelers, Provence is an easy place to find a warm and welcoming accommodation, and this 2-bedroom furnished apartment in Puyloubier is no exception! The two bedroom duplex villa has country charm to spare with classic Provencal features like French windows, tile in the kitchen and bathroom and classic wooden furniture. Of course, having that charm doesn't mean you have to sacrifice any modern amenities! This villa comes outfitted with air conditioning, internet, a television and washing machine. There's also a terrace to enjoy some French sunshine and soak up the warmth of this historic region, because even the bravest paranormal investigators need a break from all the gloom and doom. Finally, if you plan to cover a lot of ground in the South of France, this rental is perfectly located as it is close to both Aix-en-Provence and Marseille, as well as Gréoux-les-Bains.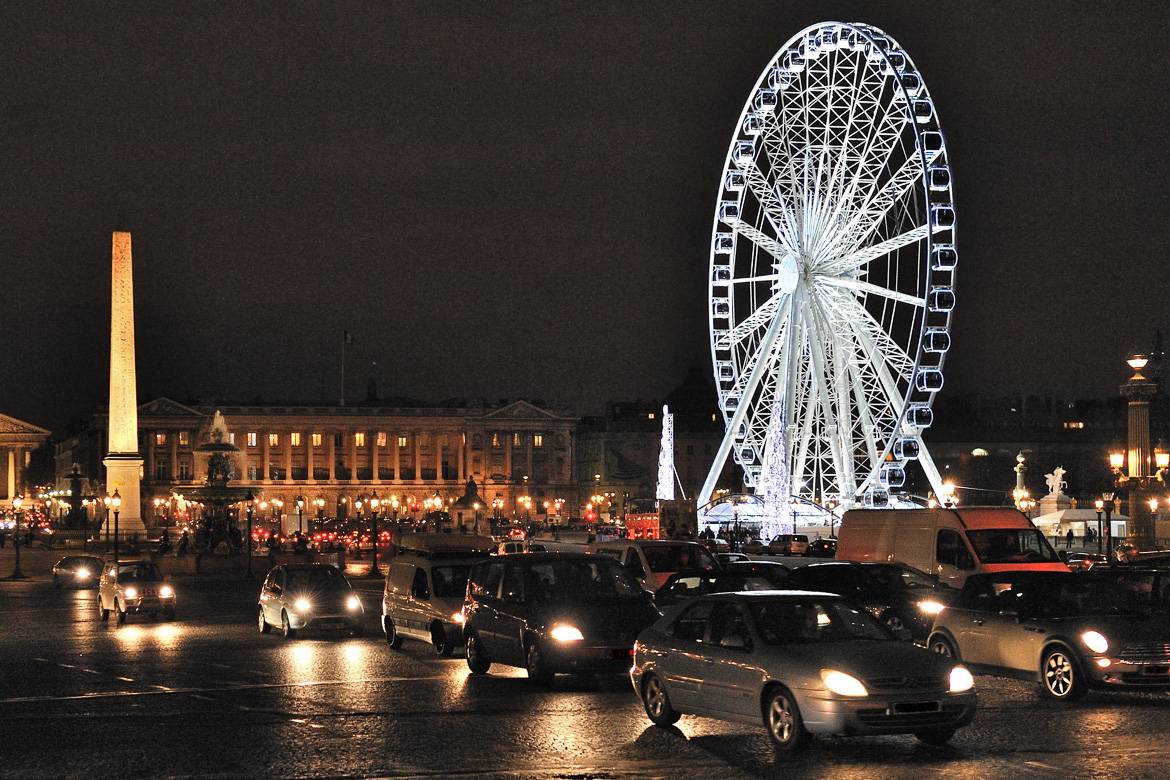 Perhaps the ghosts of executed French royals are lurking around the breathtaking Place de la Concorde when night falls…
As thousands of visitors or new residents pour into New York, Paris, London and the South of France per year, they may be seeking some of the most well-known, beautiful and exciting attractions in the areas to visit and enjoy year-round. However, as October and the Halloween season arrive, those who love a good scare may seek something a little more sinister. Fortunately, all four destinations have plenty of ghosts, vampires, and spooky haunted history to offer for those looking for an eerie good scare. Additionally, New York Habitat has plenty of hospitable accommodations to ensure that you get a good night's sleep, and that any howling wind, strange footsteps or restless spirits stay outside your door…
Happy Halloween!