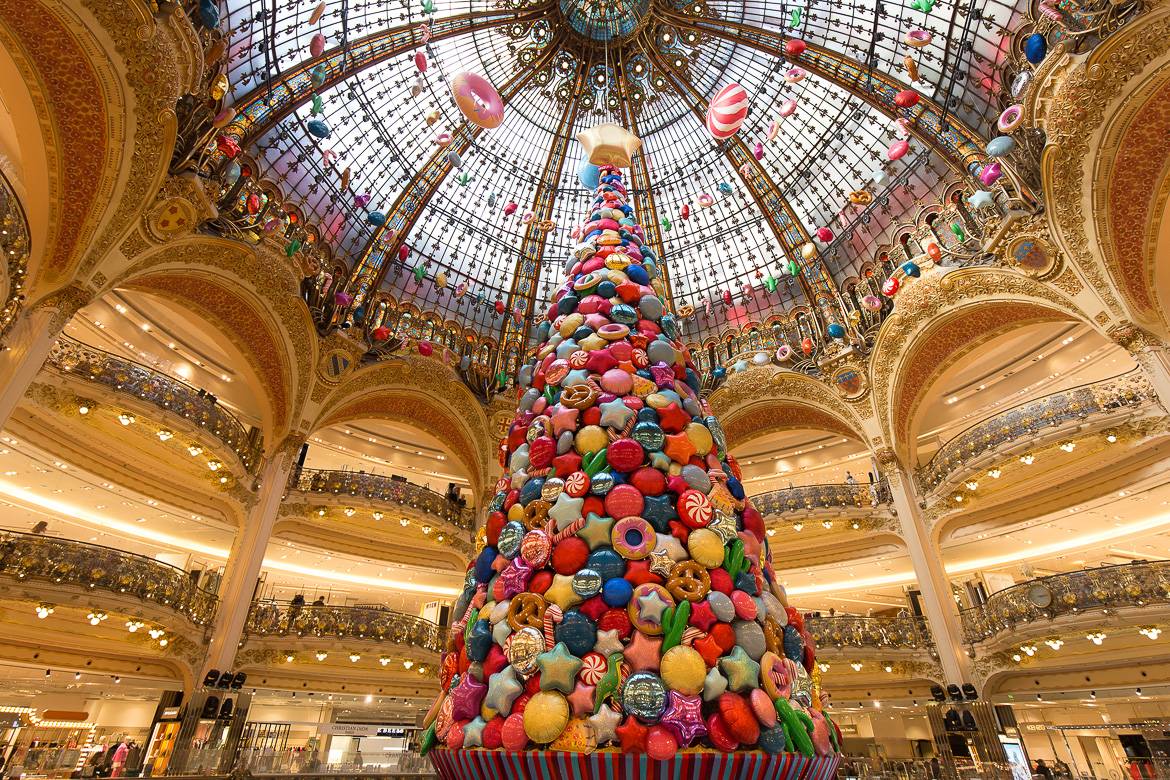 Christmas shopping in the beauty of the Galeries Lafayette is an experience not to be missed (Photo credit: b-senses photographie- Facebook: https://www.facebook.com/B-senses-photographie-272035832899555/ )
Some people prefer to huddle inside and hibernate as the chilly winter winds return, but savvy travelers make the most of low airfares and off-peak bargains on vacation rentals and go explore a new destination. Paris is one of the most breathtaking spots you can visit at this festive holiday time. Sparkling holiday lights, world-class shopping and delectable delicacies are waiting to entice you out of your winter slumber. So throw on an extra sweater and let's explore the magic of Paris in the wintertime!
1. Shopping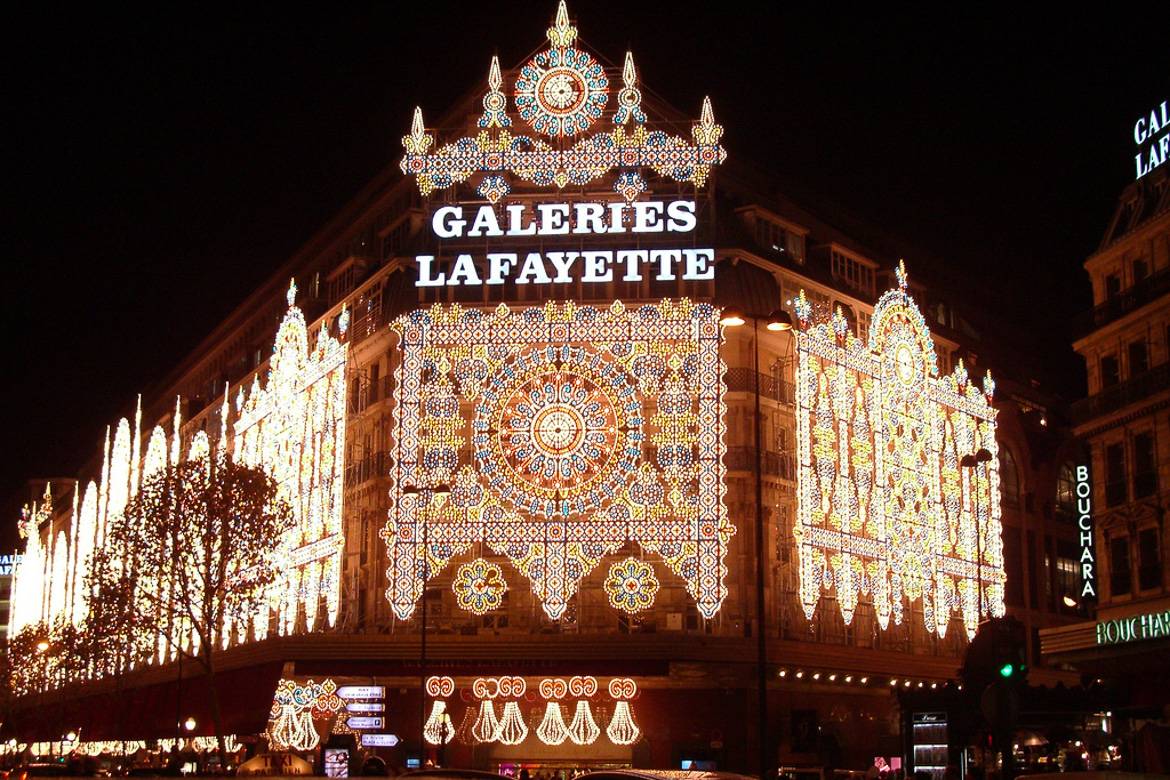 Enjoy the illuminated city of Paris at holiday time while getting your Christmas shopping done (Photo credit: shivapat via Flickr)
What better way to get your Christmas shopping done than amidst the twinkling lights and the holiday market stalls lining the famed Champs-Elysées? Here you'll find everything from high-end fashion and jewelry labels for the style-obsessed, to unique handcrafted items you'll only find on the streets of Paris. Make your way along the Champs-Elysées, admire the window displays with a glass of vin chaud (mulled wine heated with sugar, spices, and citrus fruit) in hand, or stop by one of the stalls selling delicious raclette (cheese melted over a fire and then scraped onto bread or boiled potatoes) to keep you fueled for all that holiday shopping!
2. Ice Skating
If your kids (or your significant other) get cranky from all the shopping, take them for a spin around one of Paris's patinoires — a festive ice skating rink! The rinks dot the Paris landscape from mid-December to late January. No need to drag along your skates; rentals are available! Take a twirl around the rink while you absorb the breathtaking surroundings. Some of the most notable patinoires include those at the Hôtel de Ville in the 4th arrondissement, the Eiffel Tower in the 7th, Grand Palais in the 8th, Trocadéro and Jardin d'Acclimatation in the 16th, and the Zoo de Paris at Bois de Vincennes. If you happen to be heading to Paris this winter for a bit of romance, we've got the perfect accommodations for snuggling on a cold night!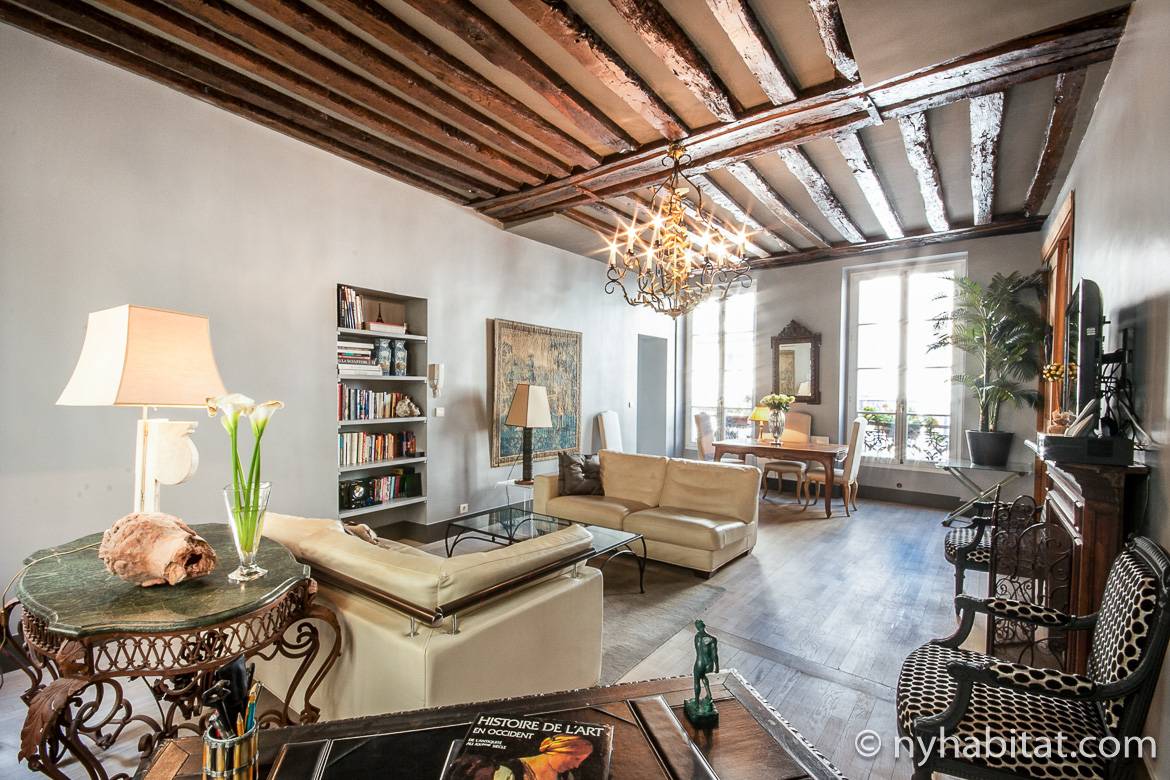 This glamorous Parisian-styled apartment is just a short walk from shopping at the Bazar de l'Hôtel de Ville
Once you've had enough of the outdoors, retreat to this 2-bedroom/1 bath apartment, located on the 2nd floor of a five-story 18th-century building in the Le Marais section of Paris. Available as both a vacation rental and as a longer-term furnished rental, this gorgeous Parisian-styled residence is only a five-minute walk from the BHV Marais (Bazar de l'Hôtel de Ville), the iconic French department store dating back to 1856. You can't get much closer than that for Christmas shopping convenience! After a long day of shopping, you can head back to the comfort of your furnished rental to unwind. The apartment encompasses classic features such as parquet flooring and bay windows overlooking the courtyard and street, letting natural light flood the space. The exposed wood-beam ceiling and decorative fireplace add a warm touch to this stunning apartment. Gorgeous chandeliers illuminate the living room and bedrooms, adding grandeur and charm to this residence. Gilded mirrors and heavy wooden doors in the bedrooms evoke a romantic image of Paris from centuries past, while the modern-style kitchen, bathroom and laundry machine within the apartment give it updated convenience.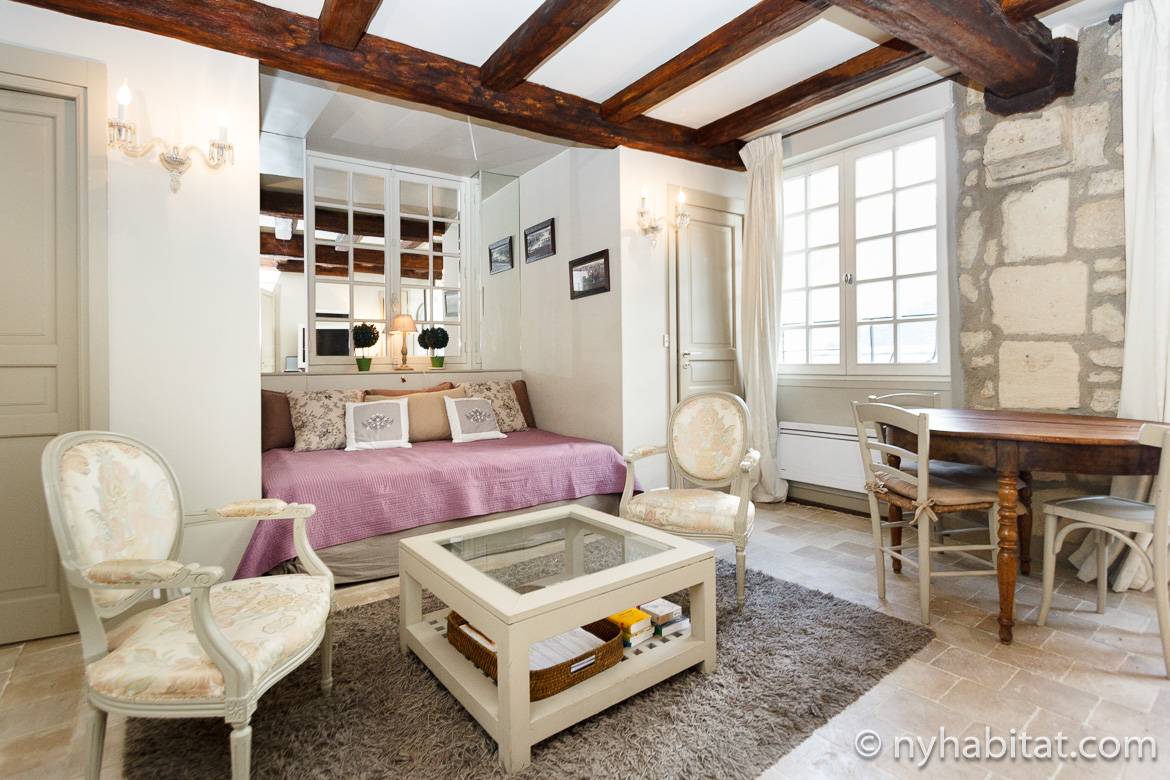 The daybed in this Marais vacation rental is the perfect spot for a long winter nap
This 1-bedroom apartment located in the trendy Marais district is another charming rental located within walking distance of the BHV that will delight any serious Christmas shopper. Located in a 17th-century building in the 4th arrondissement, this apartment retains the coziness of classic features such as original hardwood floors, exposed stone and wooden beams. It also combines modern conveniences for today's traveler, such as a mounted flat-screen television with international cable channels, a combination washer/dryer, and a dishwasher. Curl up on the daybed in the cozy nook of the living area with your morning coffee and plan your day of touring and winter revelry that lies ahead. A wooden dining table sits between the windows, where you can enjoy a home-cooked meal in the comfort of your own Parisian apartment. When you're ready to go out and explore again, try one of our suggested day-trip excursions that are easily reachable from a rented apartment in Paris. Or, you can check out these apartments near the Eurostar line for a quick getaway to London or the South of France.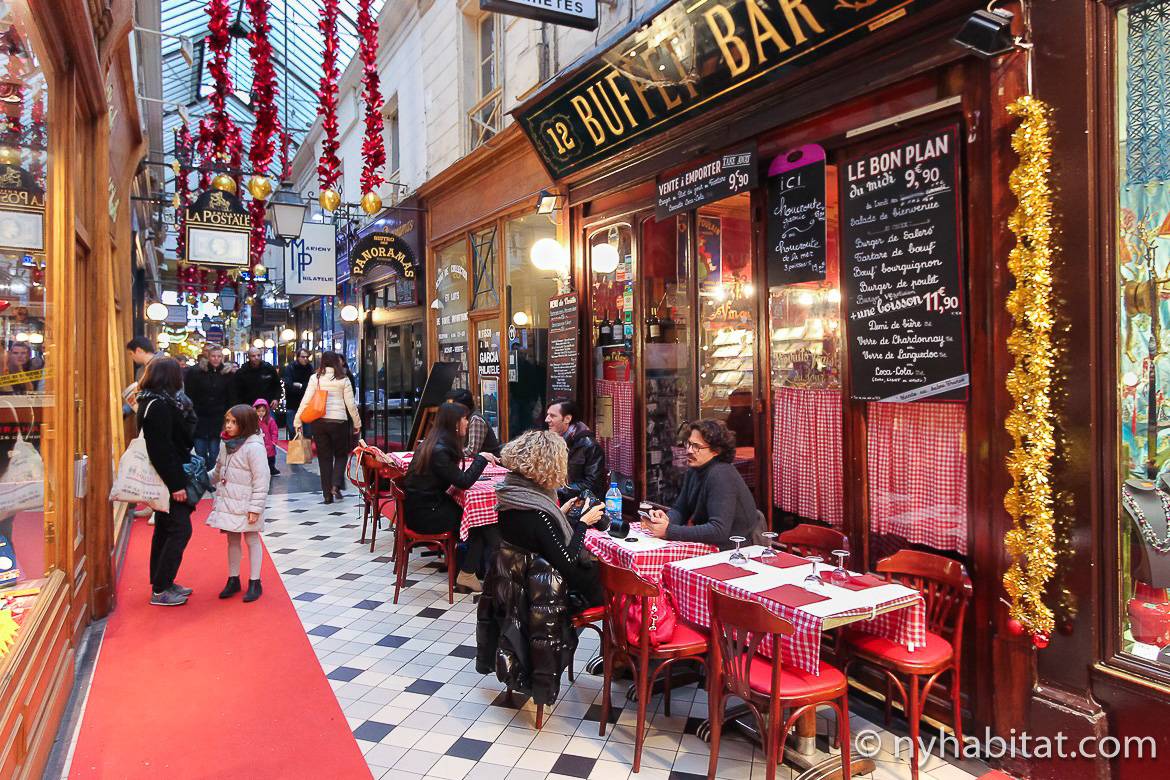 The Passage du Panorama offers indoor shopping and dining under a glass roofed gallery (Credit: http://jpblaisephotography.com/)
For shopping with a bit of a historic twist, meander through the 18th-century glass-roofed shopping galleries known as les passages couverts (covered passages). This includes Galerie Vivienne, Passage des Panoramas and Passage Jouffroy. Here, you can find shopping and dining all within an indoor gallery, in case the weather in Paris gets a bit nippy. Stop by to enjoy the shopping and dining, or just to admire the architecture, artwork, and mosaics that line these historic passages which pre-date modern shopping malls.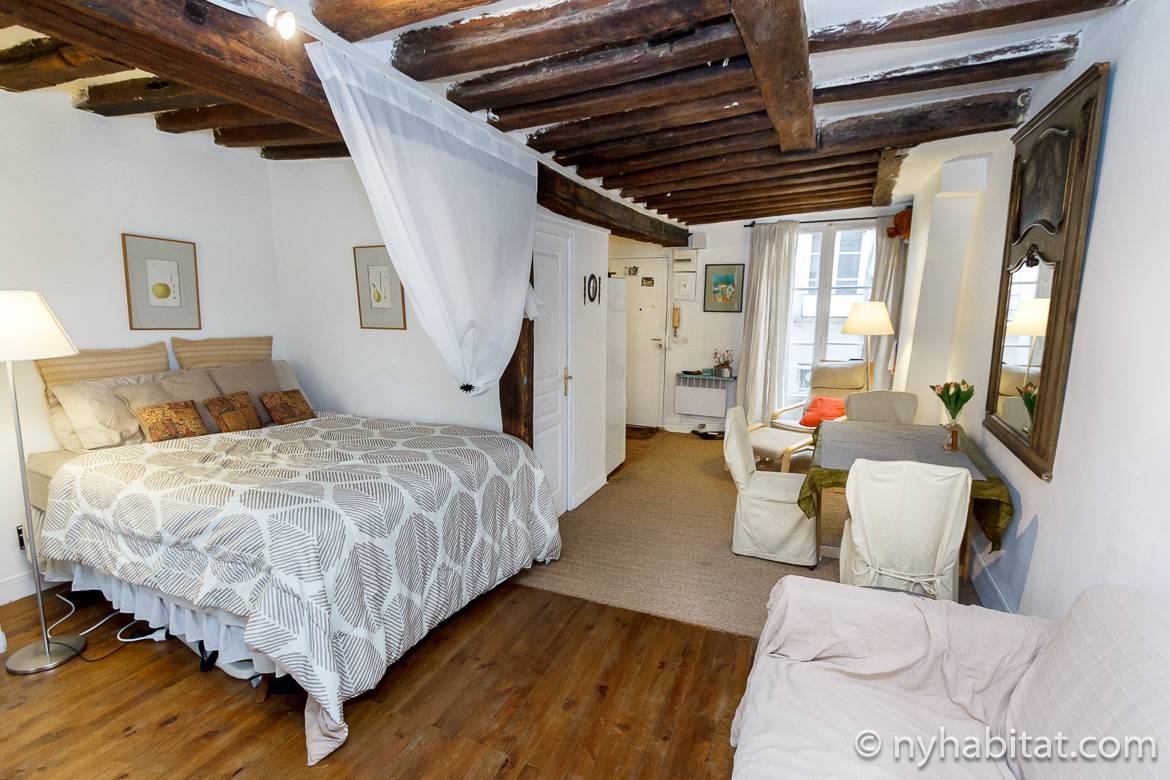 After a long day of holiday shopping, the relaxing bedroom of this Paris vacation rental will be waiting for you
If you're looking for a cozy spot to settle into for the winter that is close to all the best shopping including the Passage des Panoramas and the famed Galeries Lafayette, this studio apartment in Le Marais is here! The studio is warm and inviting, with exposed wood beams and courtyard views. An antique mirror and built-in bookshelves add classic charm to this property, while modern conveniences ensure you have all the comforts of home, including a washer and dryer. The kitchen includes a dishwasher and essential cooking appliances for preparing meals, while the dining table accommodates three. Sleeping accommodations include a queen bed and double sofa bed. Rent this property and you'll be surrounded by boutiques and galleries among the narrow streets of Le Marais, where you can immerse yourself in the architecture of the Medieval and Renaissance eras.
3. Christmas Markets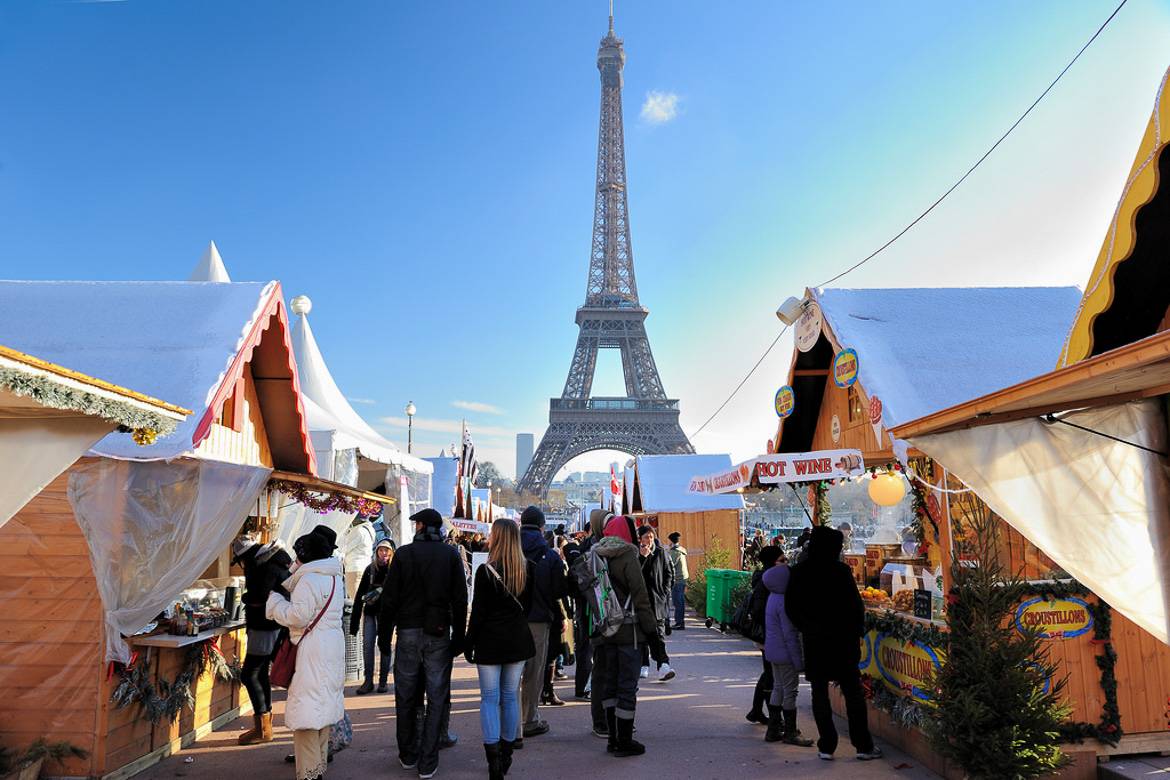 Shop the Christmas markets with an Eiffel Tower backdrop (Photo credit: JanetandPhil via Flickr)
For shopping with a festive flair, European Christmas Markets (known as Marchés de Noël in France) are famous throughout the world and will surely make your winter trip to Paris unforgettable! Browse the gingerbread cottage-like stalls and find truly unique gifts for all the people on your holiday shopping list, while you treat yourself to some well-earned traditional holiday goodies for all your hard work! Here you'll find everything from handmade wooden toys, to soaps scented with fresh lavender from Provence, to chic scarves no Parisian woman can do without.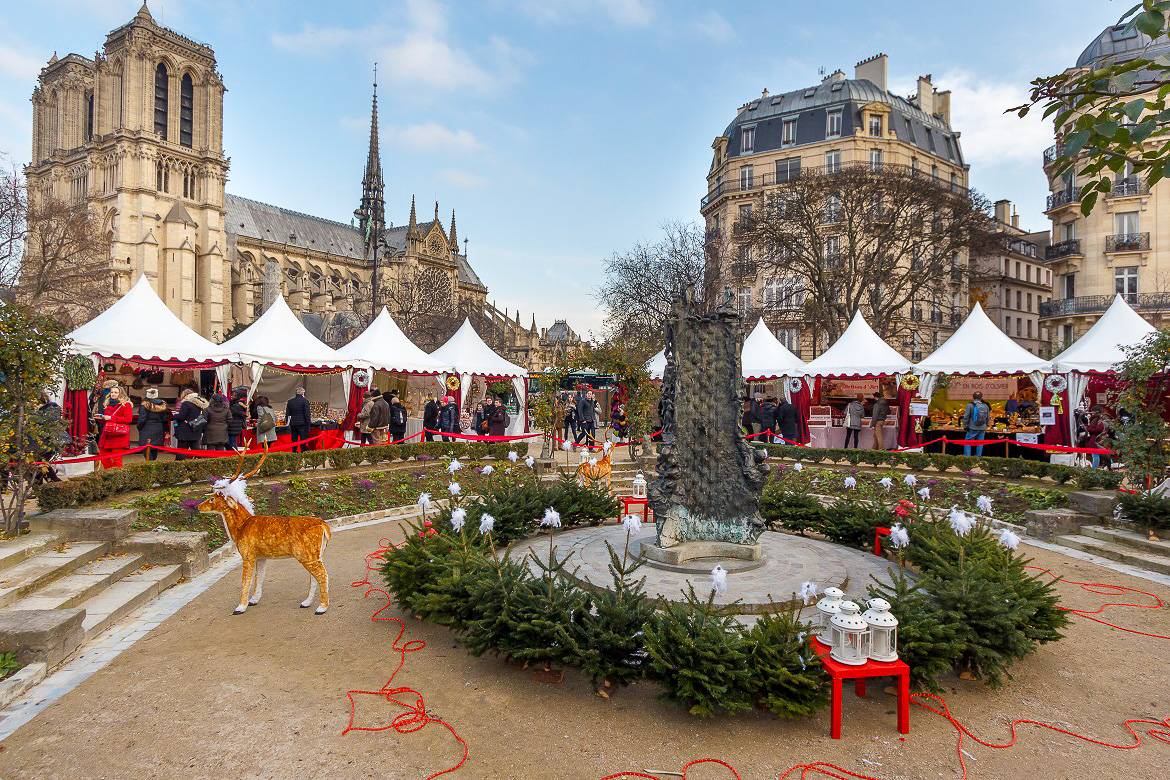 Discover Paris's Marchés de Noël, which are dotted around the city (Credit: http://jpblaisephotography.com/)
Marchés de Noël can be found throughout the city, in both small squares and next to famous sights like Notre Dame Cathedral. Some of our favorites include Le Village de Noël Parvis de La Défense (11/23 – 12/28), Marché de Noël aux Invalides (12/15 – 12/24 and 12/26 – 12/31), Marche de Noel Paris Notre Dame (11/15-12/24), and Village de Noël Champs de Mars (12/21-01/08).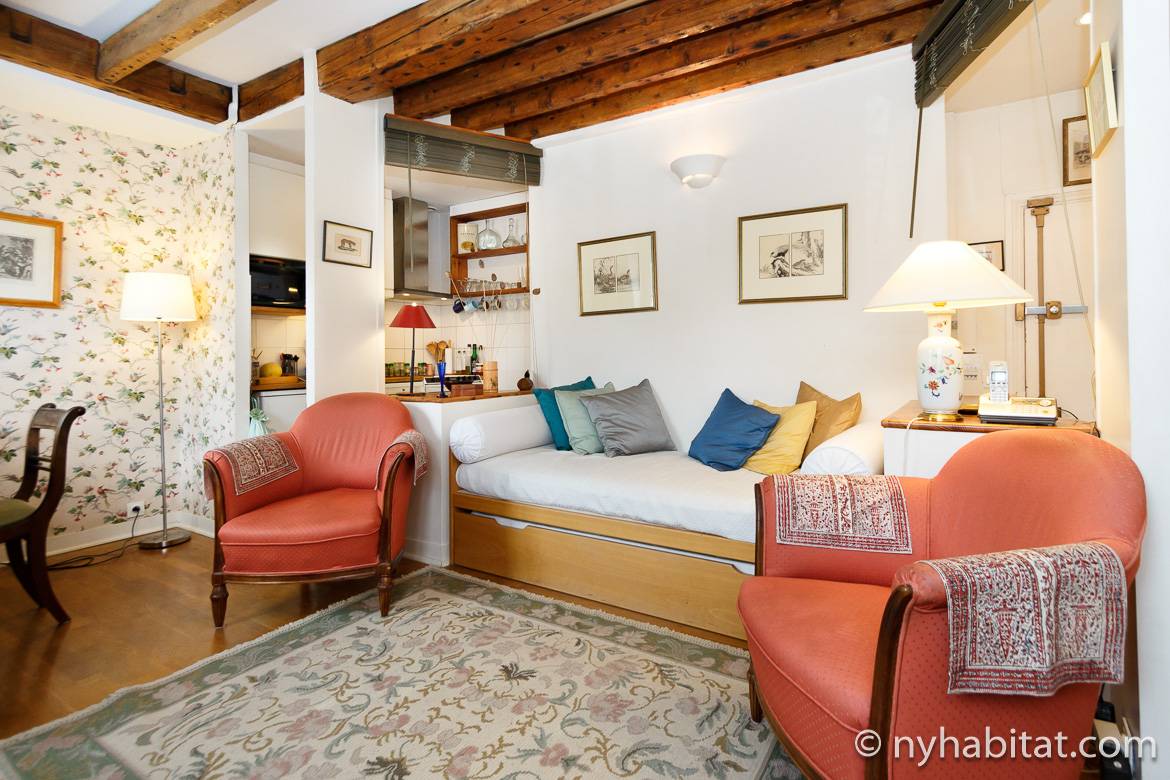 Stay in true Parisian style at this furnished rental that is within walking distance of the famed Notre Dame Cathedral
You can stay in true Parisian style at this furnished 1-bedroom apartment in the Saint-Germain-des-Prés section of Paris that is just a 20-minute walk from Notre Dame Cathedral. Experience the grandeur of Paris's past in this 17th-century building that retains its grand marble entry staircase and stuccoed ceilings. The cozy living room with daybed and armchairs overlooks the courtyard and features exposed wood-beam ceilings. The kitchen is fully equipped for preparing meals in the comfort of home on a winter's day with local ingredients and includes the convenience of a dishwasher and a laundry washer/dryer. The bedroom has a double-sized bed, antique desk with chair, built-in bookshelves and parquet floors, and overlooks the courtyard. The full bathroom with tub and shower is accessible off the bedroom, while an additional half-bathroom is located off the living room.
In the area you will find the convenience of restaurants, cafes, cinemas and supermarkets. The Quartier Latin, the intellectual core of Paris, abounds with nearby historical points of interest such as the Seine, Musée d'Orsay, Notre Dame, and the Boulevard Saint-Germain, as well as many antique shops. Don't miss our top ten must-see museums, or if the arts interest you, don't miss Paris's grand entertainment venues.
4. Theme Park for Christmas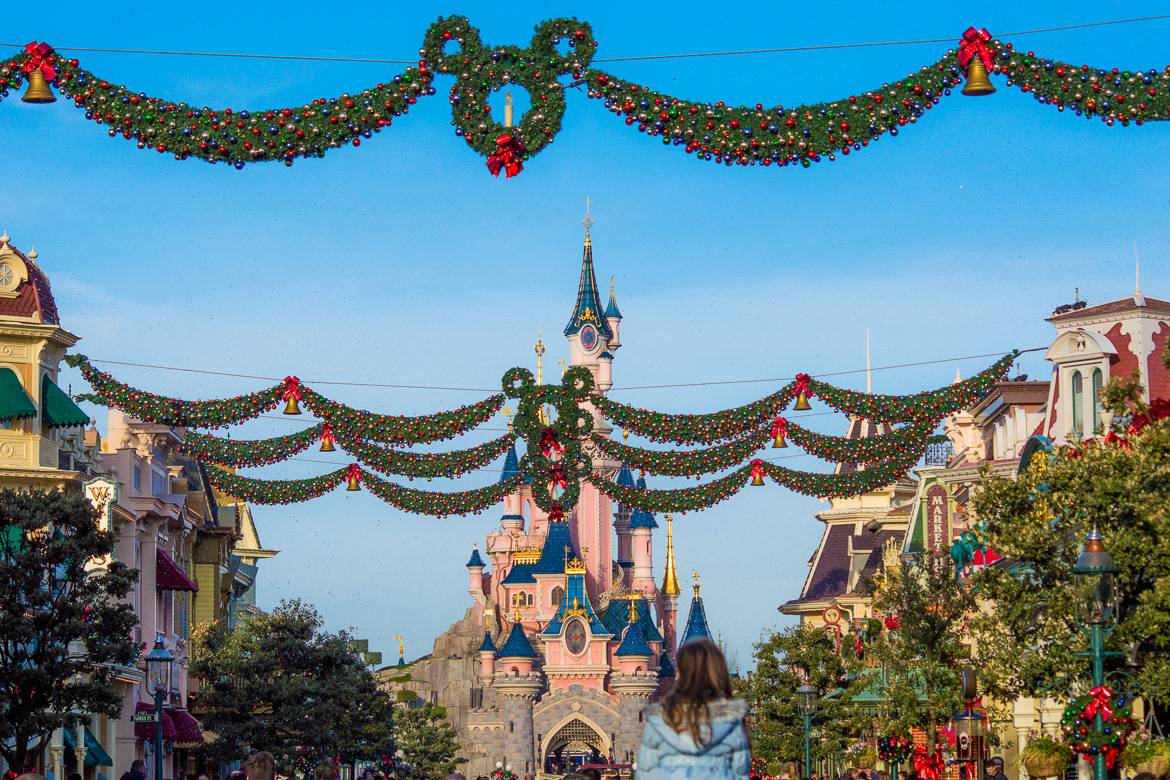 Treat the kids to the splendor of Disneyland Paris at Christmastime (Photo credit: Kevin Gaudin via Flickr)
Last but not least, if you're visiting Paris with the family, plan a stop at Disneyland Paris to reward the kids for their patience while you did your holiday shopping. The excitement of Christmastime, the thrill of all the amusement rides, and the fascination of seeing their favorite cartoon characters come alive is a magical combination no child will soon forget. And who can resist Mickey Mouse? For more kid-friendly winter activities in Paris, check out our blog!
There's something for everyone's wishlist this holiday season in Paris. From shopping for famous Parisian fashions to taking a spin around an ice rink with the Hôtel de Ville as the backdrop, Paris is a truly magical city at Christmastime. At New York Habitat, we have plenty of dreamy apartments filled with Parisian charm and coziness to make any trip to the City of Lights truly unforgettable. Head to our website to browse our inventory and make a wishlist of your favorites.