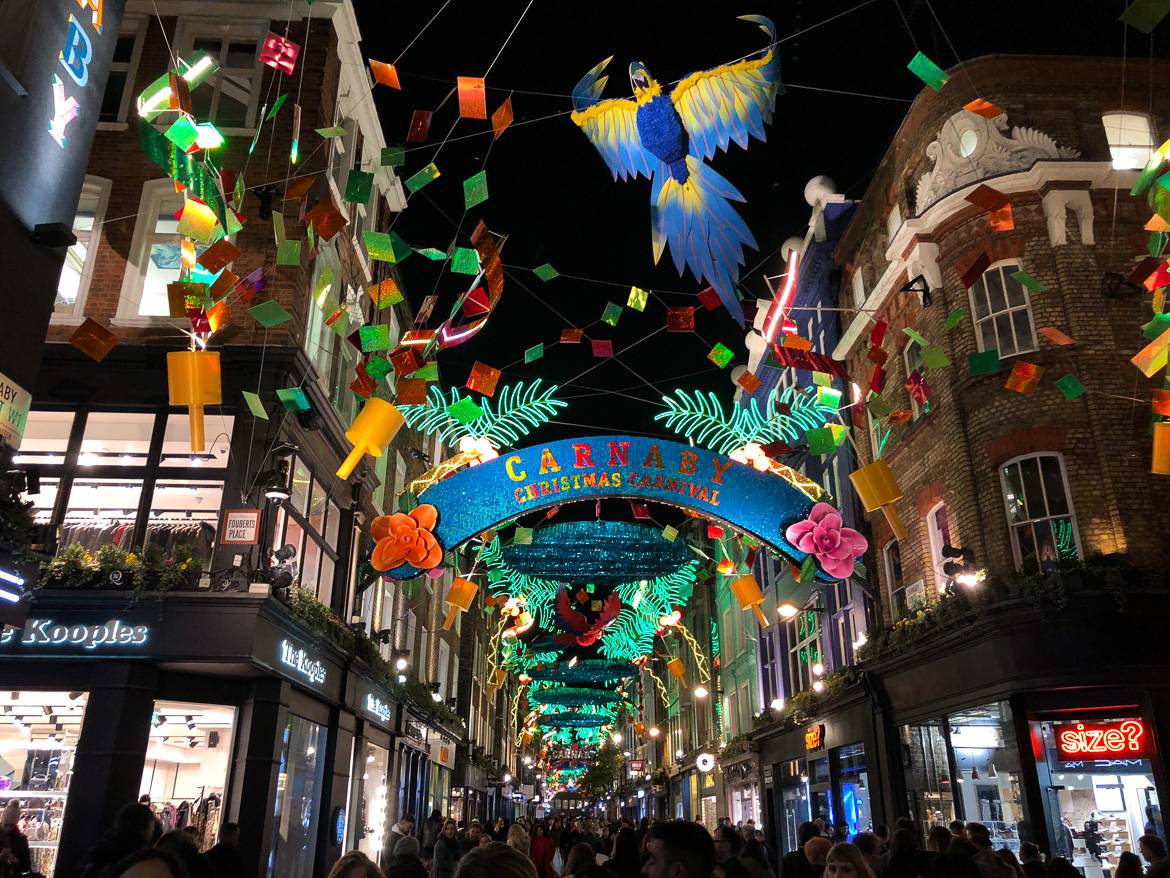 The Carnaby Christmas Carnival lights up the streets of London's West End (Photo credit: Alex Stoen www.alexstoen.com - Instagram @alexstoen)
Don't let Europe's travel off-season keep you from discovering the magic of London at wintertime — this city is just heating up for winter's merriment! Historic streets and squares take on a wintertime mystique when illuminated with colorful holiday lights and decorations that bring back a childhood sense of fascination. Take advantage of low airfares and discounts on apartment rentals, and explore the magic of London in wintertime minus all the tourist crowds!
1. Covent Garden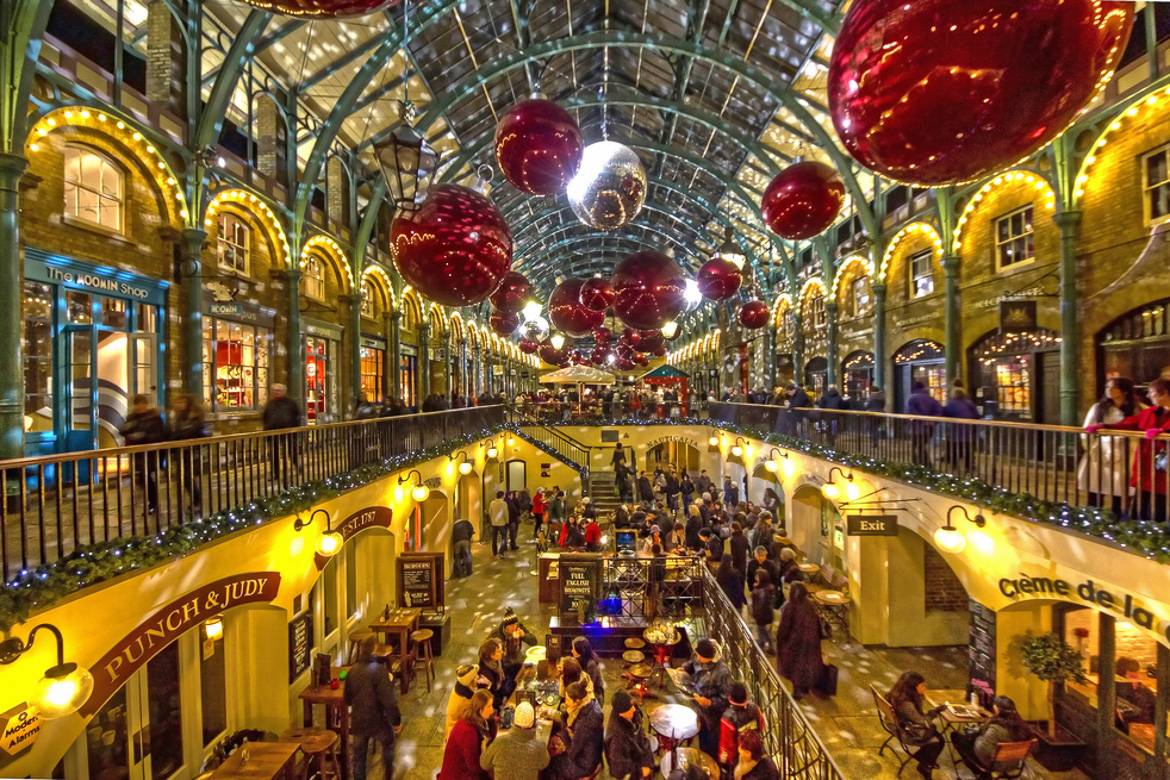 Shop under the mistletoe in Covent Garden (Photo credit: Andrew Thomas - https://www.flickr.com/photos/andrew_thomas_73)
Covent Garden is the perfect place to shop for everyone on your holiday gift list. With over 200 stores, you are sure to find something for even the most difficult to impress. Plus, the piazza is bursting with plenty of holiday cheer, including a 22-foot-tall reindeer! This year's theme is mistletoe, so you can shop and stroll the streets under mistletoe chandeliers that supply plenty of places to sneak in a romantic kiss!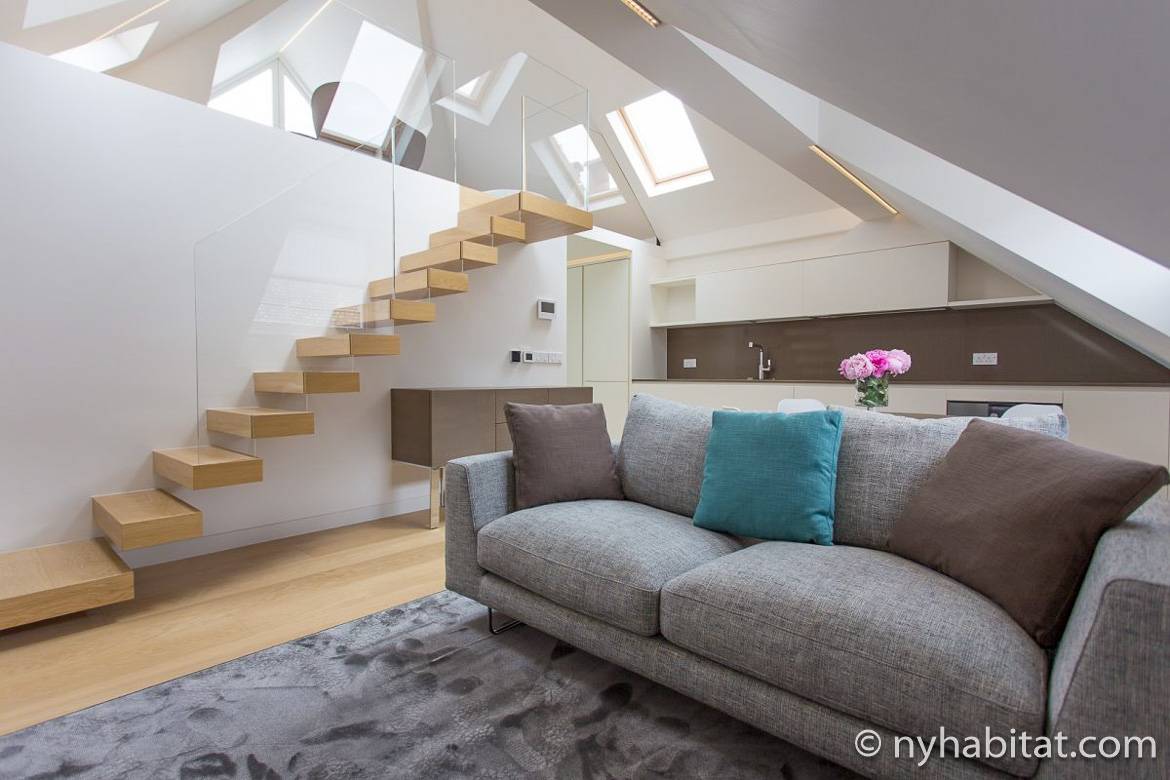 This modern London flat definitely lets the sun shine in!
Just a ten-minute walk from Covent Garden, you can rent this 2-bedroom furnished penthouse apartment in London's Soho neighborhood. This chic and modern apartment boasts hardwood floors and angled ceilings with skylights, providing plenty of natural light (and moonlight). A floating staircase leads from the living room to an elevated mezzanine sitting area. The fully-equipped kitchen includes dishwasher, while a four-person dining table lets you eat in comfort. The bedroom has a double bed, built-in wooden wardrobe, and night table. If the multiple skylights aren't sunny enough, head to the rooftop balcony that has amazing city views!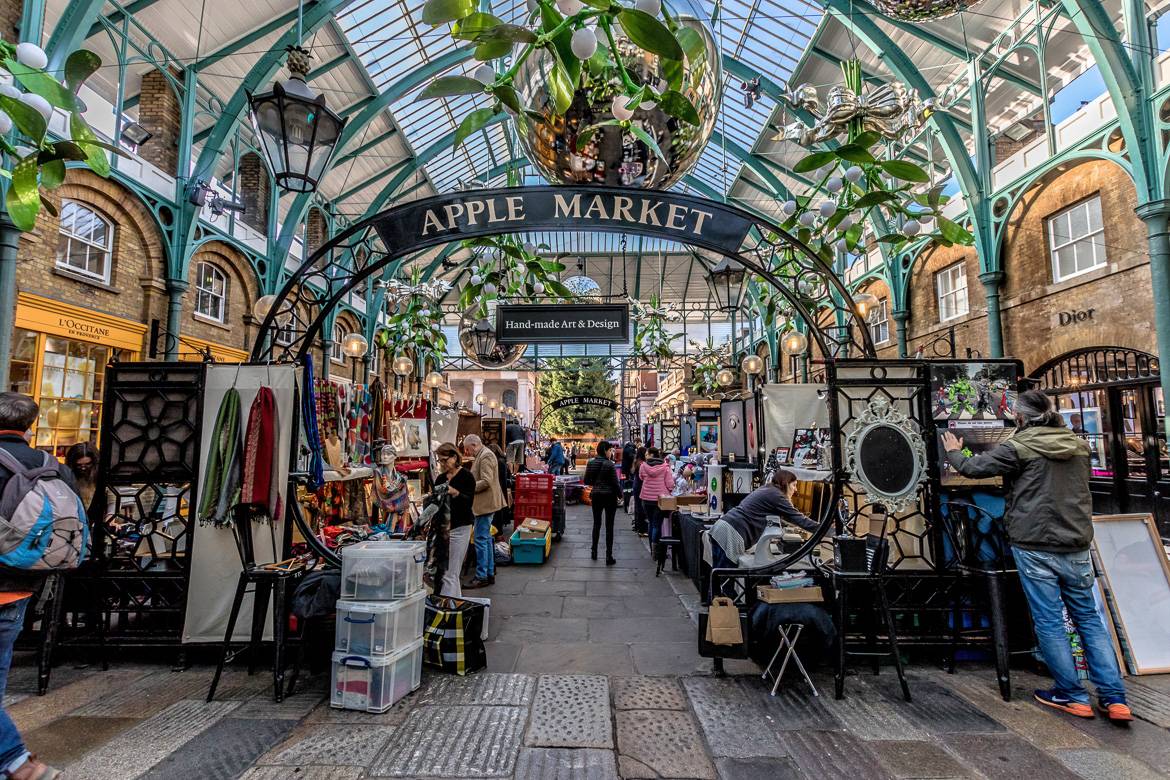 Visit the market in Covent Garden, London (Photo Credit: David Champnet - https://www.flickr.com/photos/champnet)
In the bustling neighborhood of Soho, restaurant options are numerous, as well as the hip public houses and all-night coffee shops. Peruse the vintage boutiques in the neighborhood, or walk just ten minutes to Covent Garden, Carnaby Street or Trafalgar Square.
2. Carnaby Street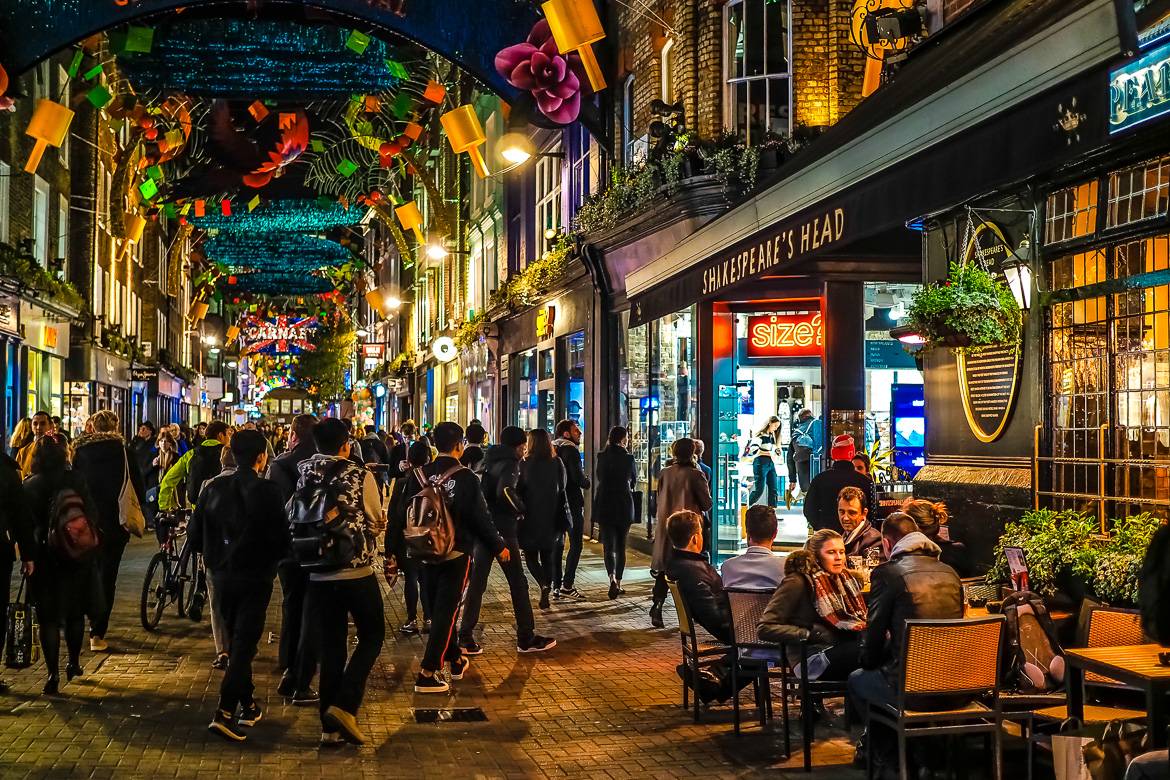 The festive lights of Carnaby Street Carnival (Photo Credit: Steve Gombocz - https://www.flickr.com/photos/126265661@N05)
One of the most popular shopping spots in London is Carnaby Street in the heart of London's West End. At holiday time, the street is decked out in vivid lights and decorations and transforms into a whole new world. Carnaby Street itself has been pedestrianized, allowing shoppers to casually stroll and enjoy the holiday decorations as they shop. Known for independent boutiques and global brands, you can find unique gifts for everyone on your list. If you need a break to recharge before continuing your shopping spree, stop for a bite at one of the pubs or bistros along the way.
3. Natural History Museum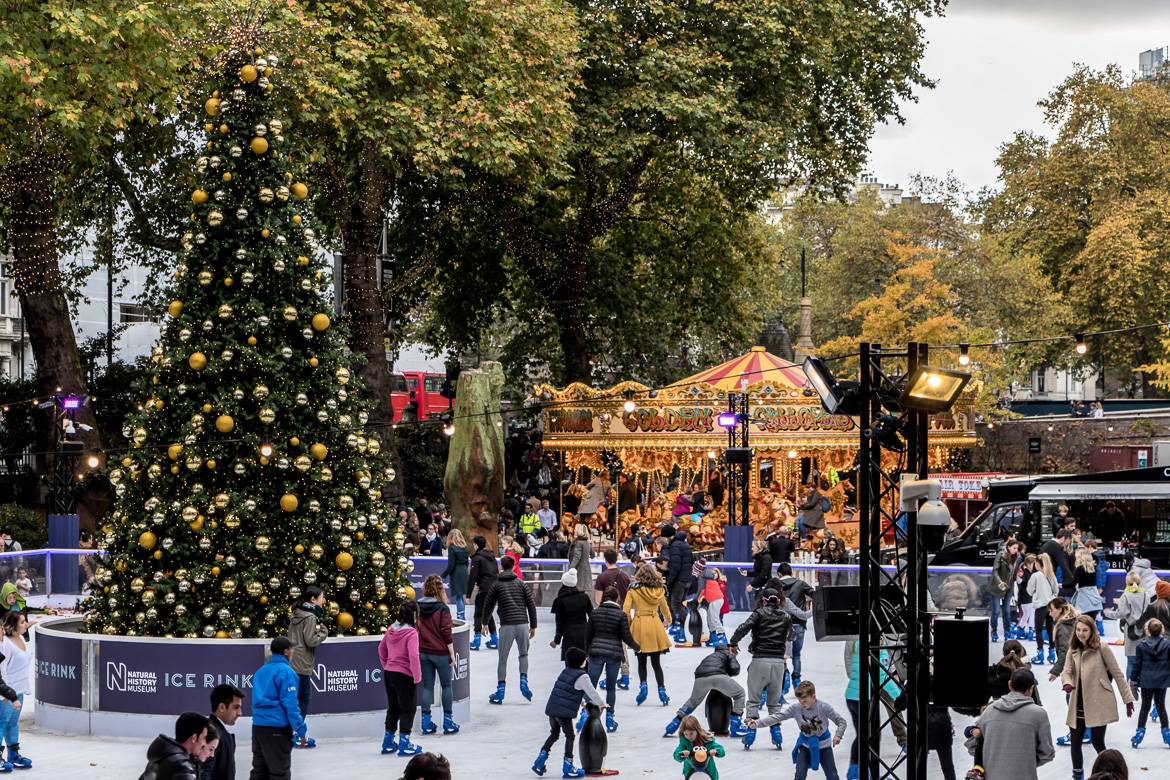 Take a spin around the ice rink at the Natural History Museum (Photo Credit: David Champnet - https://www.flickr.com/photos/champnet)
People of all ages enjoy spending a day at the Natural History Museum, learning about the past and marveling at the towering dinosaurs. During the winter season, you get even more bang for your buck. Join the ice skaters at the rink outside and take some picturesque family holiday photos, then warm up inside as you wander through the museum's grand halls.
4. Leadenhall Market & Barbican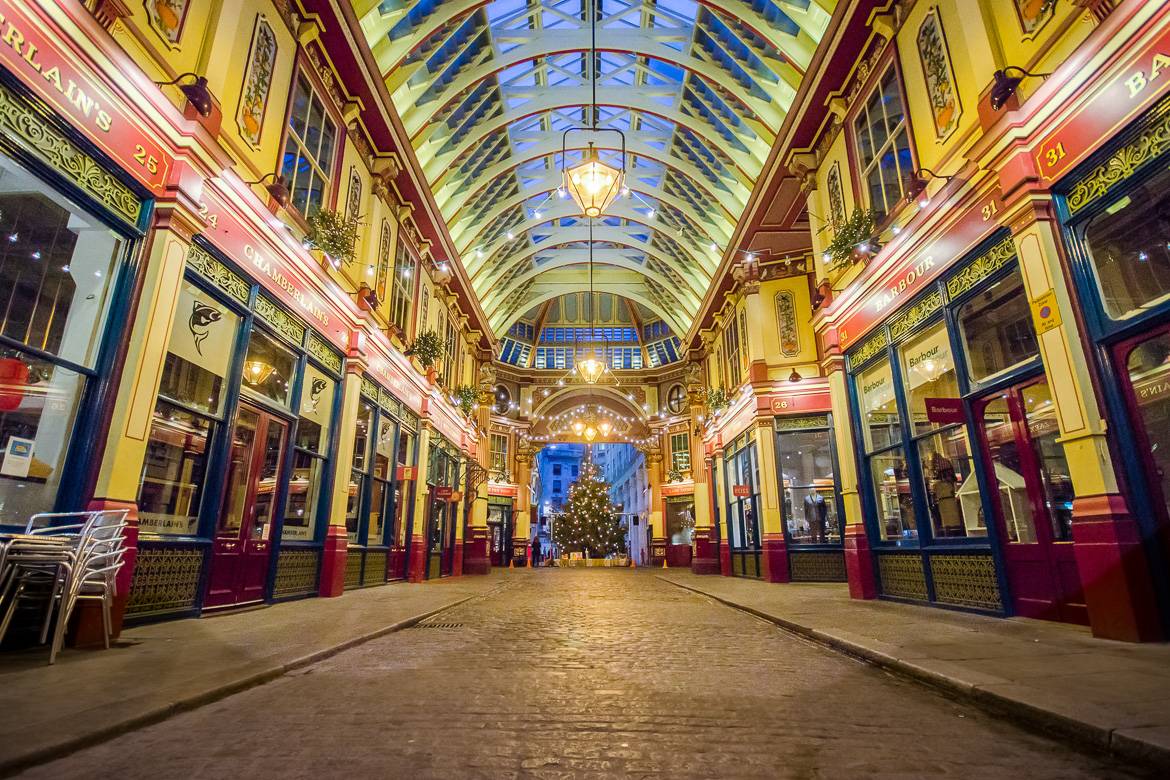 Head to Leadenhall Market for all your food needs (Photo credit: Dom Crossley via Flickr - https://www.flickr.com/photos/flashcurd/23801230631/in/photolist-CgewDn-BQ1CsR)
Combine shopping with history as you wander around Leadenhall Market, one of London's oldest markets, in the historic centre of the City of London Financial District. Bask in the nostalgia of this spot as you admire its awe-inspiring architecture that dates back to the 14th century. It's such an iconic spot in London that it has been featured in many films including Harry Potter and the Philosopher's Stone. Here you'll find all sorts of shops selling fresh foods, as well as butchers and florists, so you can pick up everything you need to host a nice dinner at your London apartment.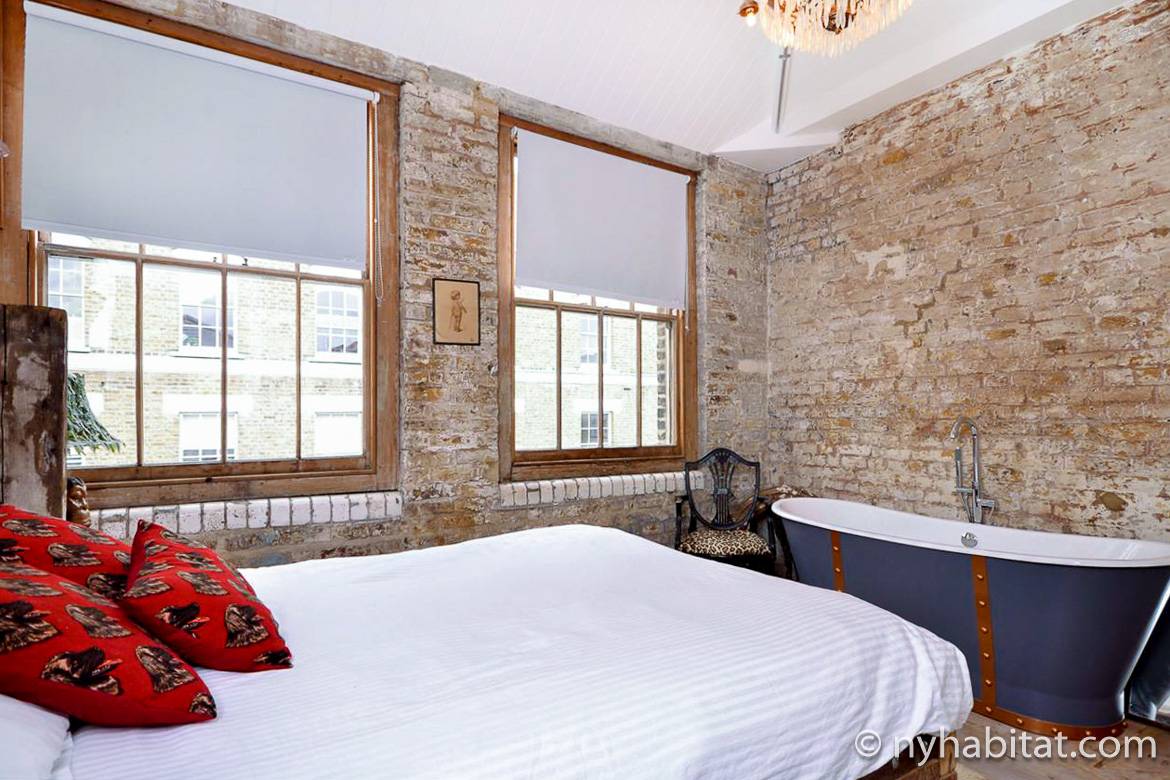 This apartment in Barbican has old world charm, including exposed brick and an antique tub
If you're traveling with family or a group, this 2 bedroom / 2 bath furnished apartment in Shoreditch has plenty of room to accommodate up to six people and is just a 25-minute walk to the Barbican area. It's available both as a vacation rental and for extended stays. The building has a history itself: once an old warehouse, it's now a residential building. It retains charming remnants of its past such as gorgeous exposed brick walls and an antique tub, while benefiting from a recent renovation adding modern amenities like marble bathrooms, a dishwasher and a laundry machine. The sloped ceilings are unique and allow sunlight to illuminate the apartment. The first bedroom features an en-suite bath, and the second bedroom has a loft-style sleeping area. Both bedrooms offer full-sized beds, with an additional Murphy bed in the living room. The large kitchen is perfect for cooking meals at home, which will save you a bunch of money.
5. Hyde Park Winter Wonderland
Hyde Park Winter Wonderland is full of winter fun (Photo credit: The Royal Parks)
If you're traveling with the family, be sure to stop at Hyde Park Winter Wonderland, an annual Christmas event held from mid-November to early January that is sure to be a memory kids will never forget! You can find Christmas markets, rides, and a giant observation wheel, plus entertainment for the kids, including Cinderella on Ice, Cirque Berserk, and Zippos Christmas Circus. For the adults, there's Bar Ice where everything, including the seats and glasses, is made of ice! Upon arrival, you'll be given gloves and a winter cloak to keep you warm as you head into the -10°C bar! At Bar Hütte you can reserve "cabins" decorated like an alpine village and enjoy warm stone-baked pizzas and custom cocktails.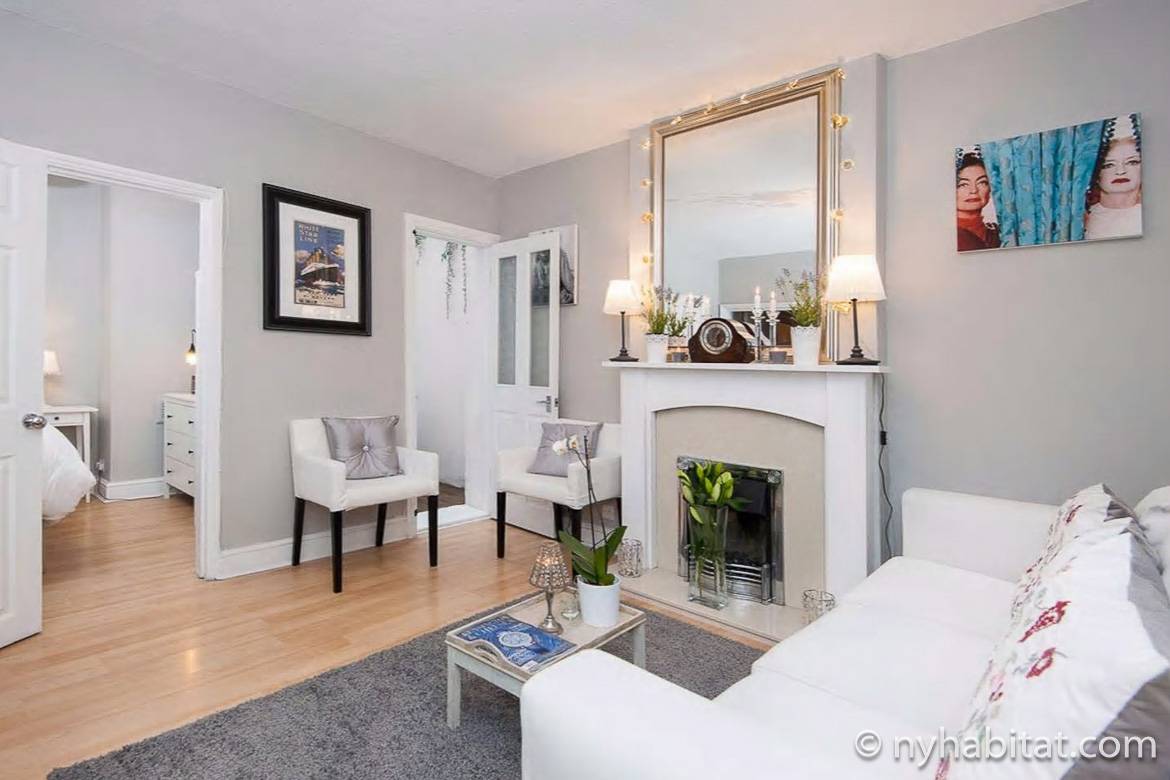 This charming apartment is just a 10 minutes' walk from Hyde Park
You can rent this 2-bedroom rental in Knightsbridge that will accommodate the whole family in comfort and is just a 10-minute walk from all the action. The decorative fireplace adds a cozy winter touch, and there's also a terrace if you prefer a bit of the outdoors. The full kitchen makes family meals a breeze, while a laundry machine in the apartment means you don't need to venture outside to get your laundry done. The shopping of Knightsbridge is close at hand when you stay here, with shops such as Giorgio Armani, Prada, and Chanel about four streets south.
6. Southbank Centre Winter Festival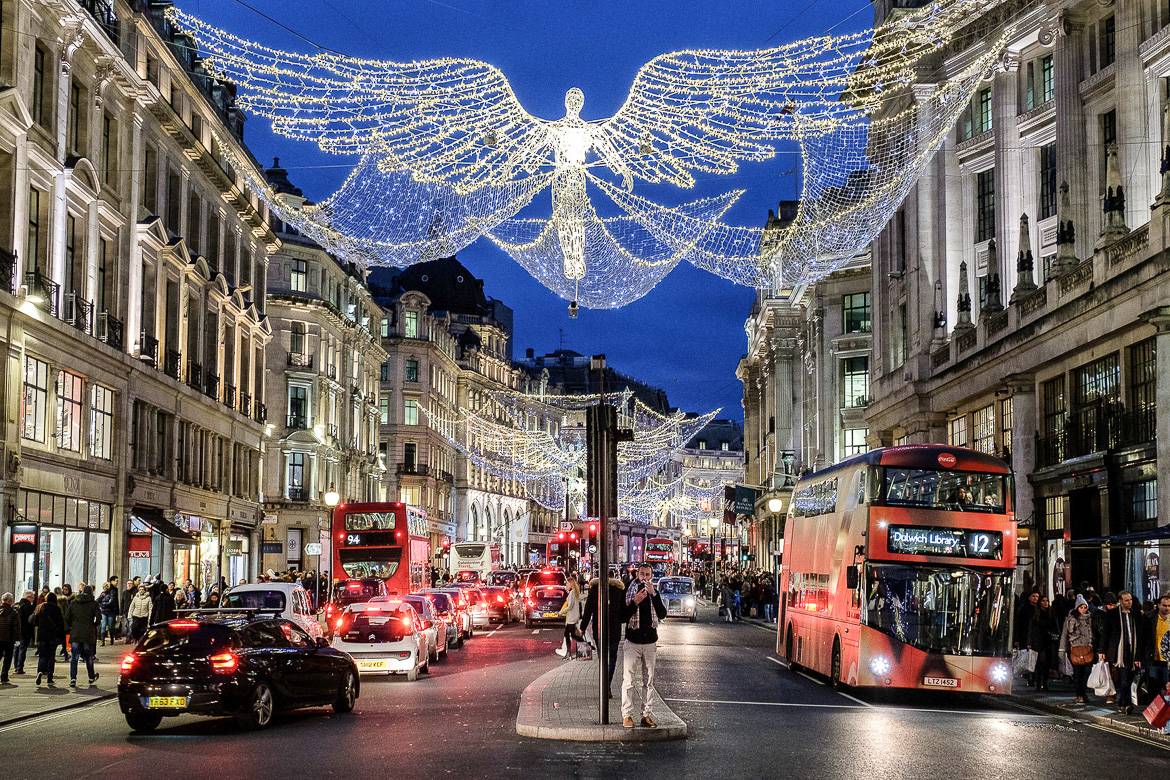 Regent Street is stunning when lined with sparkling holiday lights (Photo credit: Andrew Stawarz via Flickr - https://www.flickr.com/photos/stawarz)
If you're looking for live entertainment, the Southbank Center Winter Festival runs until Jan 4, 2018 and is full of shows and performances. This Thames-side festival has one of the best Christmas markets in London, where you'll find everything from baubles to gingerbread treats to handmade wreaths, so be sure to bring your holiday shopping list! The winter theme has a Nordic twist this year, with a pop-up alpine lodge and a rooftop Finnish sauna in the Queen Elizabeth Roof Gardens, where you can defrost in style!
If you happen to have a penchant for ice, Somerset House has London's most beautiful ice rink. New for 2017, there are Skate Lates, where you can skate at night to the tunes of specially-curated music. Afterward, have a delicious meal at Fortnum's Lodge, or enjoy the rink-side view with a drink at the Skate Lounge.
7. Trafalgar Square's Christmas tree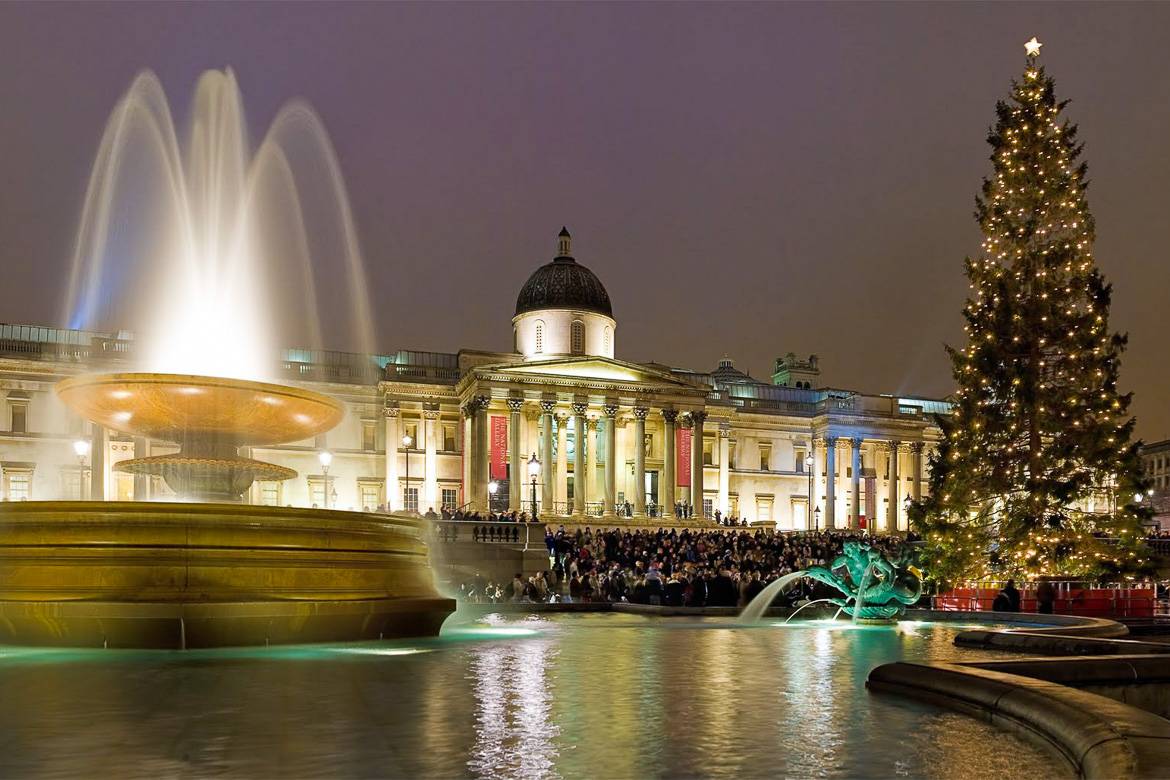 Christmas trees suddenly appear everywhere during winter in London (Photo credit: restaurant kaialde via flickr)
The Trafalgar Square Christmas tree has a history behind it. The people of Oslo, Norway have donated a Norwegian spruce to the people of Britain every year since 1947 as a token of gratitude for Britain's support during World War II. Carol-singing and a tree lighting welcome its arrival, and when all the fun is over, it gets recycled into mulch. The gift keeps on giving!
8. Iconic London stores
If toys are on your Christmas list, don't miss Hamleys, the oldest and largest toy shop in the world, located on Regent Street! You can pick up toys for the kids, while the "kid" in you can revel in the magic of this iconic store. Another not-to-miss London store is, of course, Harrods. This luxury department store is world-famous and located in Knightsbridge, London. Here you can find luxury gifts, top international brands, 27 restaurants, and gourmet food halls for the aspiring chef on your list.
9. Dreamy London apartments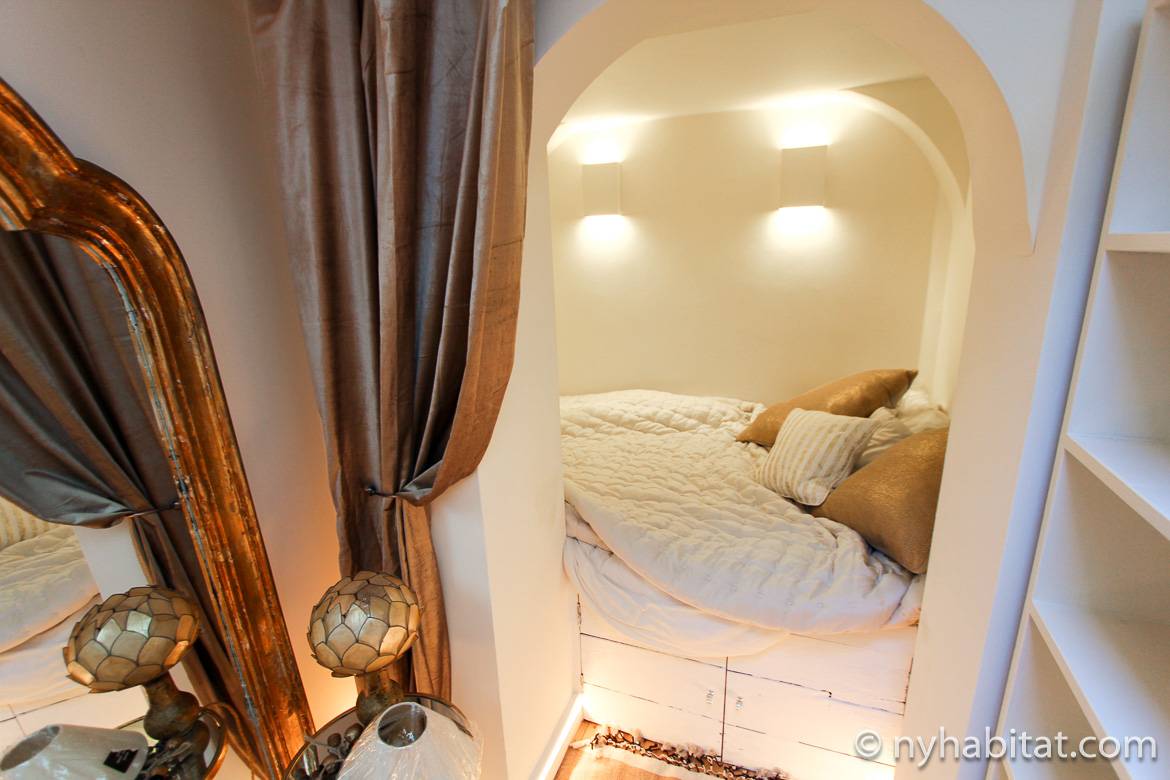 This cozy sleeping nook is a perfect spot to curl up on a cold winter night
The best way to get to know London is by staying outside of typical tourist spots and living among locals in one of the many lovely neighborhoods London has to offer. This elegant two-bedroom apartment, located in a beautiful townhouse in Primrose Hill close to Camden Town, is steeped in British charm from tufted couches to gilded mirrors and a quaint garden. Enjoy some British tea while sitting in the living room of this furnished apartment, which is located in one of London's most exclusive residential neighborhoods. The first bedroom has a comfortable double bed and ornate decorative fireplace with French doors opening onto a planted terrace, while the second bedroom is quite unique, with a large standing mirror and double bed tucked into a cozy alcove.
The comforts of home make a vacation more enjoyable, while the spaciousness of an apartment surpasses any hotel room. Access to a full kitchen saves money on meals, so you can spend money taking day trips instead!
Any trip to London deserves accommodations with style. Whether you're heading to London on vacation or for an extended stay, we have furnished apartments to match even the most refined British taste. Head to our website and find the perfect London apartment to enjoy this winter. And don't forget to watch the New Year's Eve fireworks along the Thames (or from the comfort of your furnished apartment, live on BBC)!