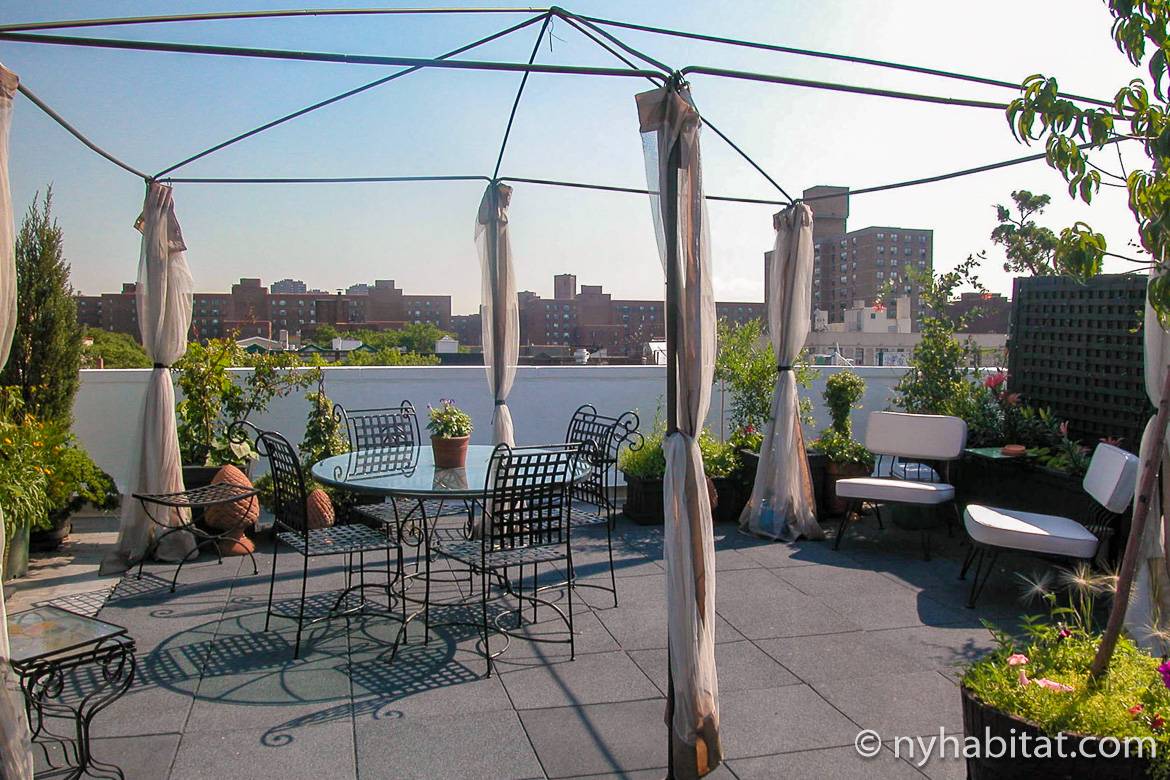 Take in the bird's eye view over the East Village from this rooftop terrace
Millennials are discovering that apartment shares are an economical way to tackle the high cost of living in New York City. Share an apartment with a roommate (or a couple of roommates) and you can split the cost of housing and utilities, which will be easier on your wallet!
At New York Habitat, we have a dedicated team of apartment share agents specialized in finding you the perfect room for rent with a roommate in NYC. If you are unfamiliar with New York City, they can help you to find the neighborhood that gives you the easiest commute to work or school, or the one that matches your personality. Just tell your New York Habitat agent your preferences and needs, and let them help you find the perfect rental!
Not sure what to look for? You can read our blog on finding an apartment to match your interests, or check out our neighborhood blogs and videos on our website to get a feel for the many different neighborhoods in NYC and find your favorite.
NYH AGENT TIP FOR A SUCCESSFUL APARTMENT SHARE:
Choose a compatible roommate
Once you have decided on your housing budget and selected the neighborhood that best meets your needs, the next step is finding a roommate with whom you are compatible. While you can never be 100% sure whom you will get along with, we bet there are certain characteristics that you know would never be a good match for you. Some of us are strictly one way or the other and prefer our roommates to be as well, while some are able to co-exist with people completely opposite from them, and others are flexible on certain issues. At New York Habitat, we try to facilitate the exchange of information by having apartment-seekers and hosts provide some general information about themselves during the initial intake process. Some general factors you might want to consider when selecting a roommate are:
• Smoker vs. Non-Smoker
• Drinker vs. Non-drinker
• Introvert vs. Extrovert
• Quiet vs. Loud
• Organized vs. Disorganized
In this second part of our East Village neighborhood guide, you'll get to meet two of our apartment share hosts with rooms for rent in the East Village. Take a peek into their apartments and hear their thoughts on why they chose to settle in this exciting neighborhood which is bustling with bars and live music venues, but also quiet side streets where you can stumble upon eclectic restaurants, vintage shops and hidden community gardens! You can check out some of our favorite spots in the neighborhood as well in Part 1 of our East Village blog.
Our first apartment share is a two bedroom apartment, located in the East Village section of downtown Manhattan with Dana, one of our friendly New York Habitat hosts! You can get to know more about Dana and her East Village apartment share in our interview and apartment profile below…
A-Dana Voehl NY-11476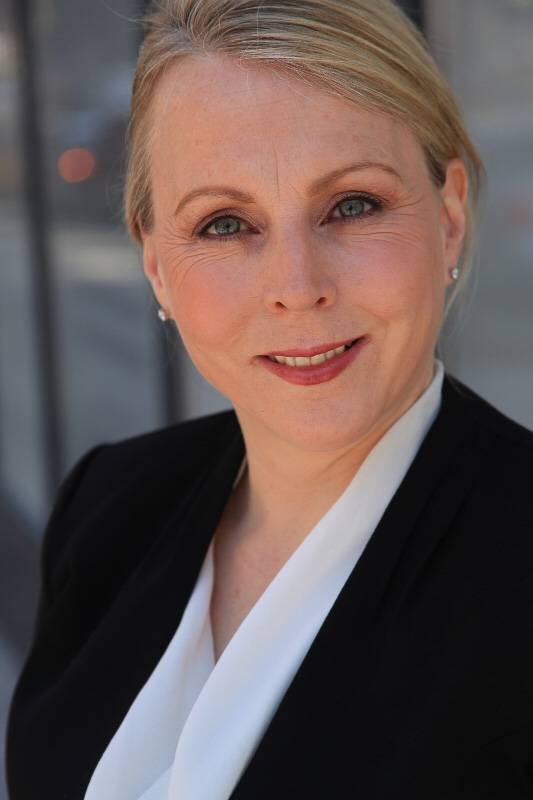 Meet Diana, Manhattan native and host of apartment NY-11476 in the East Village
1. Can you describe yourself in a few sentences?
I was born in Manhattan. I've lived in this neighborhood since junior high school. I'm an artist, but I currently work as a flight attendant. I'm a pretty social person. I'm a super neat and clean person. And that's about it!
2. What words best describe the neighborhood?
This neighborhood has gone through enormous changes. It's an artist neighborhood. It's a creative neighborhood. It's a garden neighborhood. This neighborhood is also very quiet. It has a lot to offer in the city and it's great for people that aren't used to the city.
3. What's the general atmosphere?
It's a very thriving neighborhood! There is always something going on 7 days a week, there are always people going to restaurants, bars, etc.
4. What are the MUST KNOW for people looking to live in the area?
I tell them, "Explore the neighborhood, otherwise why are you living here?" I would also say go to the gardens and go see whatever art is here. Get a Citi Bike key, it'll be your best friend. Also, make sure you know all the ways to get in and out of the city so that you are not frustrated.
5. What's the one place that you love to go to in the East Village?
When I'm home, my friend and I go take a walk alongside the East River with her dog to watch how the seasons change. Aside from that, I do the same things; I go to the same bars. I've gone to the same bars for the last 20-something years because it's like home.
5b. Which bars do you normally frequent?
I normally go to Mona's, Otto's, Manitoba's, 11th Street Bar, Lucky.
6. How did you end up living in the East Village?
You want to know the real story? I was a total punk rocker with a Mohawk and used to hang out in Tompkins Square Park, so that's how I ended up here. Plus, I went to college here, and then I bought this apartment.
7. What's the one thing you wish millennials knew about the East Village?
This neighborhood used to be about giving back, so give back to the gardens, volunteer. If you can, buy at the local shops, because local shops are what made the culture of this neighborhood, and it's why people wanted to come here. But, if you let all the commercialism in, then it's going to look like any other neighborhood.
8. What are some of the highlights about the apartment?
No one else has an 800 sq.ft. private roof deck! It's only for this apartment, so you can go up there and take a nap, read a book, etc. You can hang out there all day.
9. What do you enjoy most about sharing your home?
The reasons why I always get short term people is that I get to meet different people.
10. Why should a potential renter pick the East Village over other neighborhoods?
Because it's the most diverse neighborhood. It has so much to offer you between the quietness, the gardens, the art galleries, the shopping, and the restaurants. As far as eating out, you can't eat anywhere cheaper in NYC than you can eat here.
11. What's your favorite street to stroll in the area?
I have a lot of friends that are members of different gardens, so I'll meet them for coffee at whatever garden they are at because they want to show me what they did.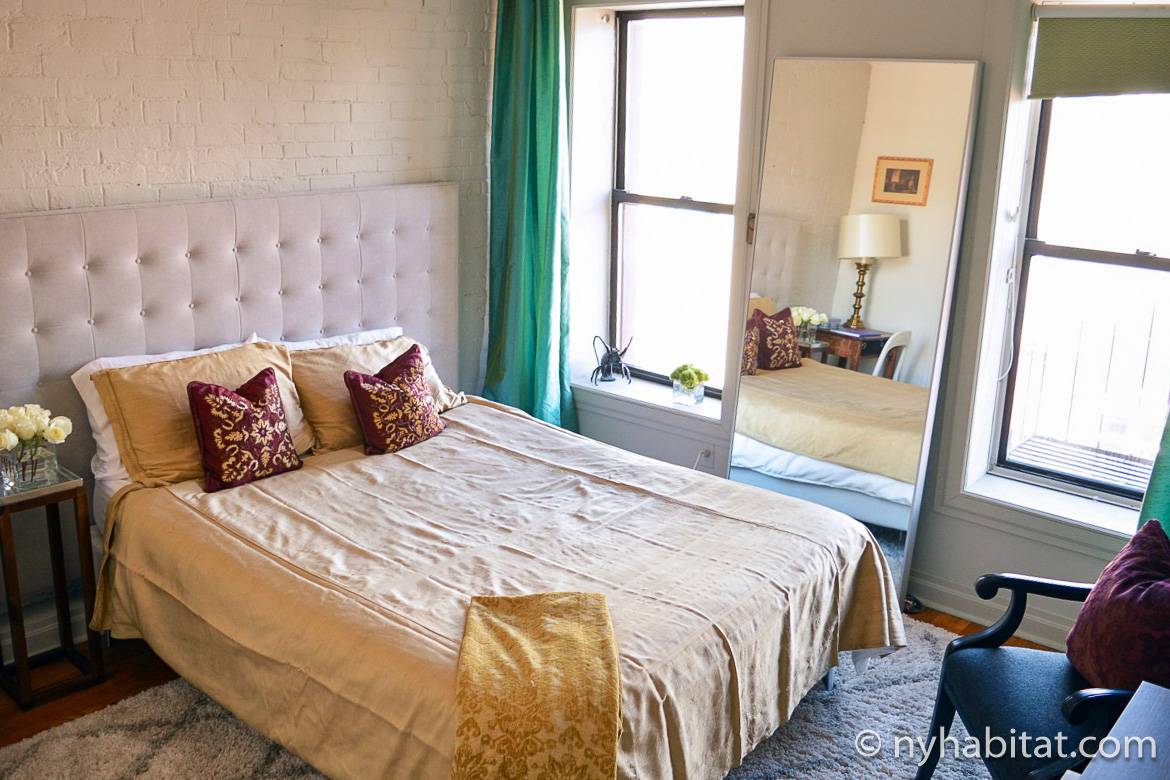 The bedroom of this East Village apartment features large windows that allow natural light to fill the room
Dana's two-bedroom apartment is located in a walk-up building on East 11th Street & Avenue A in the East Village. There is a convenient laundry room in the building and a private roof terrace exclusively for this apartment! The living room is eclectically furnished, with a sofa and seating and a bright red wall that adds a pop of color. Between the living room and kitchen is a breakfast bar with bar stools for having a casual meal. The kitchen comes equipped with all the essentials for preparing meals at home, plus the added convenience of a dishwasher. The bathroom provides both a tub and shower plus a vanity with storage space. The bedroom for rent has hardwood floors and a white painted brick accent wall behind the queen-sized bed. Two windows facing the street allow natural light to fill the room and air conditioning cools the space in summer. Relax with your own TV with cable in the bedroom. A dresser and closet provide storage space. There is a desk with chair for reading or getting some studying done. Whether you need a quiet place to study, a place to dine al fresco, or just to chill out, the rooftop terrace is a true luxury and will surely be one of your favorite reasons to live here.
B-Beverley Love NY-14846
Our second featured apartment share is a three-bedroom apartment located in the Alphabet City section of the East Village with Beverley, one of our friendly New York Habitat hosts! You can get to know more about Beverley and her East Village apartment share in our interview and apartment profile below…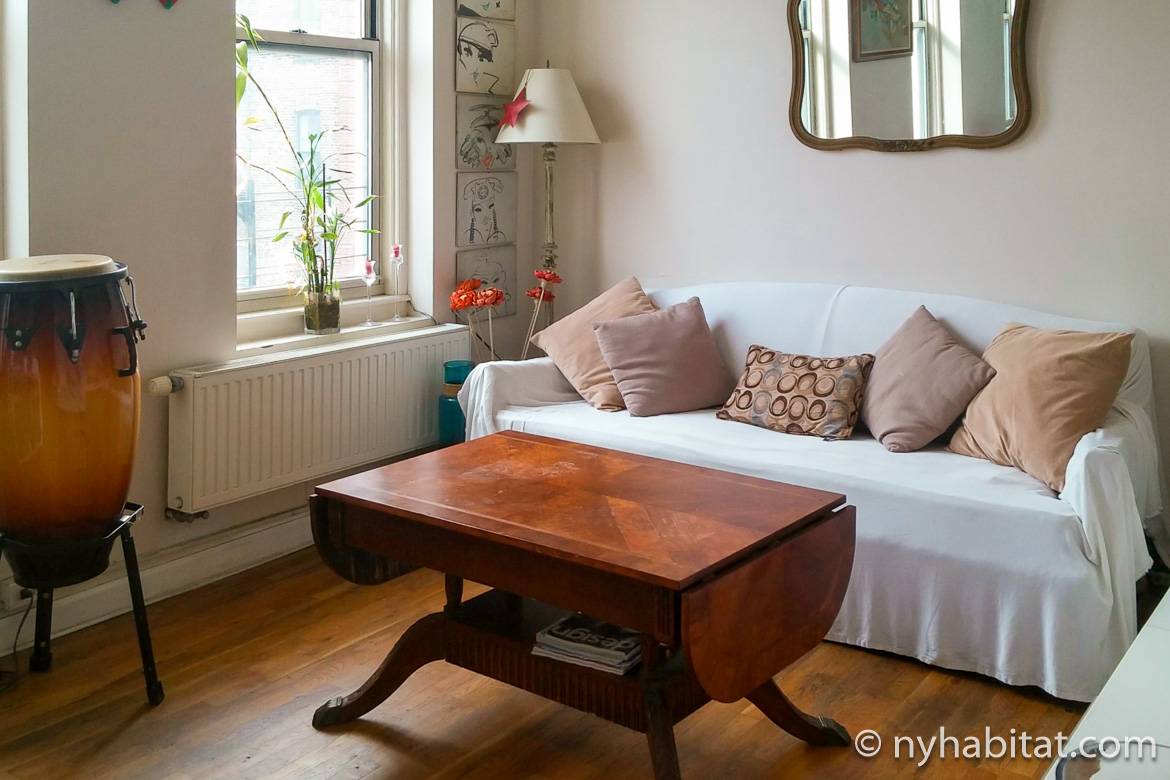 The living room of this East Village apartment has a relaxed, bohemian vibe, just like the village itself
1. Can you describe yourself in a few sentences?
I'm originally from London, but I've lived in Portugal, Lebanon, Australia and here! I used to own a restaurant in the neighborhood, and now I'm actually a grad student at CUNY.
2. What words best describe the neighborhood?
I think the neighborhood is bohemian chic, anything goes, and the area has a lovely Latin flavor.
3. What's the general atmosphere?
When you step outside, for me it's a feeling that it's a real neighborhood; you are always going to see people you know and everybody is pretty friendly and says hi and you'll end up going for coffee. There are many times when I've gone out to get a loaf of bread at 2 o'clock and come back at 5 am with like half the loaf of bread, because I've gone from this café to that café and I've met this person…
3b. A lot of the time people don't imagine New York having that neighborhood feel, do they?
It really does. This neighborhood is 24 hours and you can get anything here. I think the hardest thing here when it comes to food is deciding what cuisine you want to eat.
4. What are the MUST KNOWs for people looking to live in the area?
The first thing I say is just be yourself, because that works in this neighborhood. This is sort of the most tolerant neighborhood in the city. Express yourself. This is freedom and especially in this area, it doesn't matter what you wear, we've all seen it before. It's like okay, welcome to the neighborhood!
5. What do you love most about the East Village?
The main thing is that it definitely feels like a community, I mean I can walk out and know everybody and I feel comfortable here. You hear how quite it is? You wouldn't really think that you're actually in Manhattan, it's really great, it's quiet. So this is really a neighborhood because everybody walks around, everybody is on a bike, and it's just real life. On this block everybody pretty much knows everybody, will say hello or chat for a moment. You don't get that in Midtown.
6. What's the one place that you love to go to in the East Village?
One place I love is a North African restaurant called Nomad on 2nd Avenue. They've got this pizza which is goat cheese, arugula, raisins and pine nuts; it's absolutely delicious. They make their own flatbread and they have a great happy hour. On Wednesdays, they have a wonderful singer in the back room, her name is Dana, and she sings a lot of jazz.
7. How did you end up living in East Village?
By accident! I used to live on the Lower East Side when I first came, and I was hanging out with a lot of artists. I was living in a store front, but had to leave, and so I sort of found this place. I had never been this far east, but when I saw the size of the apartment, I said, "I'll take it!" And I've been here ever since. Another reason I ended up here is that there was so much going on, so much art.
9. What's the one thing you wish millennials knew about the East Village?
The history of activism and art. Also, the drag scene; there was a large drag community down here that started off with the Pyramid Club. It was crazy. It was original. There is just a great history of grassroots activism here.
10. What are some of the highlights about the apartment?
Lots of windows. Everyone always says it feels comfortable in here. It has a little bit of a view of the Empire State Building. I also have a washer and dryer, and a nice big bathroom.
11. What do you enjoy most about sharing your home?
You know what I like? I like the energy of other people, other ideas, and other cultures. Right now I have a guy from Taiwan and he's a culinary student downtown, so he is always cooking and bringing stuff back; it's just amazing. I also have a guy from Spain and he's studying for his Ph.D.; he's doing some experiments at NYU. So you see that sort of cultural mix, which is what makes it so great. Everybody learns something from everyone else.
12. Why should a potential renter pick the East Village over other neighborhoods?
This is a laid-back neighborhood. You can get anything. You can walk to Avenue C and there are many restaurants. You've got Serbian, Austrian, German, Brazilian, and Latin, so there is a great mix in this neighborhood. It's great that you can walk from here to Union Square, to Flatiron, and down to Chinatown, easily. It's so accessible to other neighborhoods. I mean, downtown is where it's at.
13. Favorite street to stroll in the area?
I love the whole neighborhood. I love 7th Street. There are a lot of little stores along 7th, so you don't get the big-name stores. You can pass Miss Lily's, which is Jamaican food, Yuca Bar, The Shape of Lies, basically everything. 10th street is also very beautiful. You know, you just have to sort of explore.
14. Hidden gem in the neighborhood?
The community gardens. We have about 43 community gardens in the East Village and the Lower East Side. They were originally abandoned lots, and residents transformed them into gardens. I belong to one, and in our garden we put on music shows, do pumpkin carving for kids, etc. We also have a music and arts festival at the end of September that encompasses all the gardens. Just to go into them on the weekend when they are open and see what people have done; it's an urban oasis.
*interviews have been edited for quality and length
Beverley's three-bedroom apartment is located in the Alphabet City section of the East Village, in a walk-up building with the convenience of a laundry washer/dryer right in the apartment!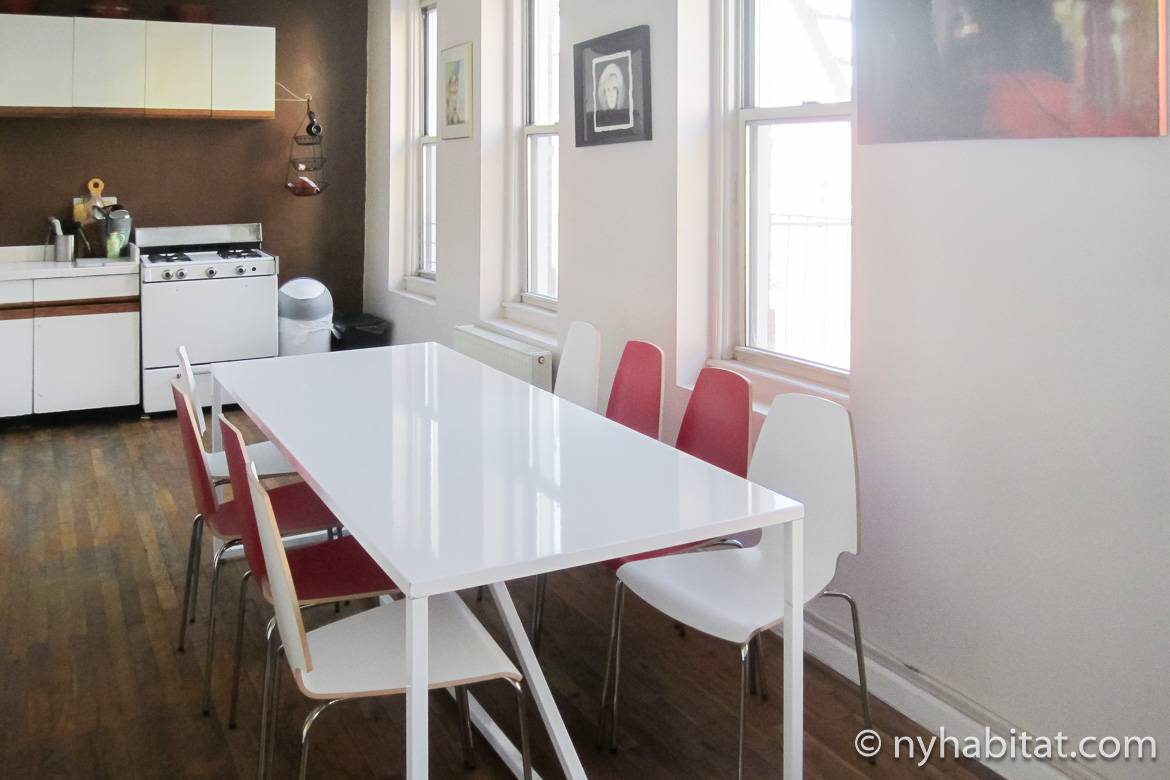 Prepare meals at home in this spacious and fully equipped kitchen
This 3 bedroom apartment features hardwood floors, and the quaint living room has a bohemian-chic style with couch and coffee table. The spacious kitchen is a rarity in Manhattan and is a bonus for those who love to cook. Equipped with gas stove, microwave, refrigerator and coffee maker, it has everything you could need for preparing meals. A large dining table sits outside the kitchen area. The bathroom is also roomy, with a dresser-vanity, step-up tub and shower, plus laundry machines. Two bedrooms are available for rent. Both feature double-sized beds, cable TV and a desk with chair, and Bedroom #2 has extra closet storage space. Air conditioning cools the bedrooms in summer, and internet is available throughout the apartment.
If you've fallen in love with the East Village already, you can get to know some of the bordering areas like the Lower East Side, Chinatown, and Little Italy through the articles and videos on our blog. Still looking for the perfect area and apartment for you? Browse our full inventory of other apartment share options on our website. Submit a request online for faster process. Call +1-212-255-8018 if you need assistance with your request, and we'll connect you with one of our apartment share agents to guide you in your housing search!
Related apartment rental posts from New York Habitat: