Funky shops, brownstones and small, unique apartment buildings are classic features of the East Village
This week's neighborhood focus is on the East Village section of Manhattan. The East Village has been the home of every kind of individual imaginable: young, old, beatniks, punk rockers, hippies, and even today's yuppies. No matter what you do or where you come from, the East Village will open its doors to you.
The artistic essence that was intrinsic to the area when artists like Iggy Pop and Jean-Michel Basquiat took over is still palpable today, even as the neighborhood has become a friendlier, touristy area. Everywhere you go, art is present. Just a stroll down the street can reveal a number of murals painted by locals.
Many of the buildings found in the East Village, particularly within Alphabet City, are tenement apartments. These once housed the many immigrant communities that first called the East Village home. These buildings are easily recognizable by their flat brick façade accentuated by rows of windows. Although they were at one point considered low-income housing, today these buildings are prime real estate due to their location and because of their unique New York architectural style.
Rental prices: What you can expect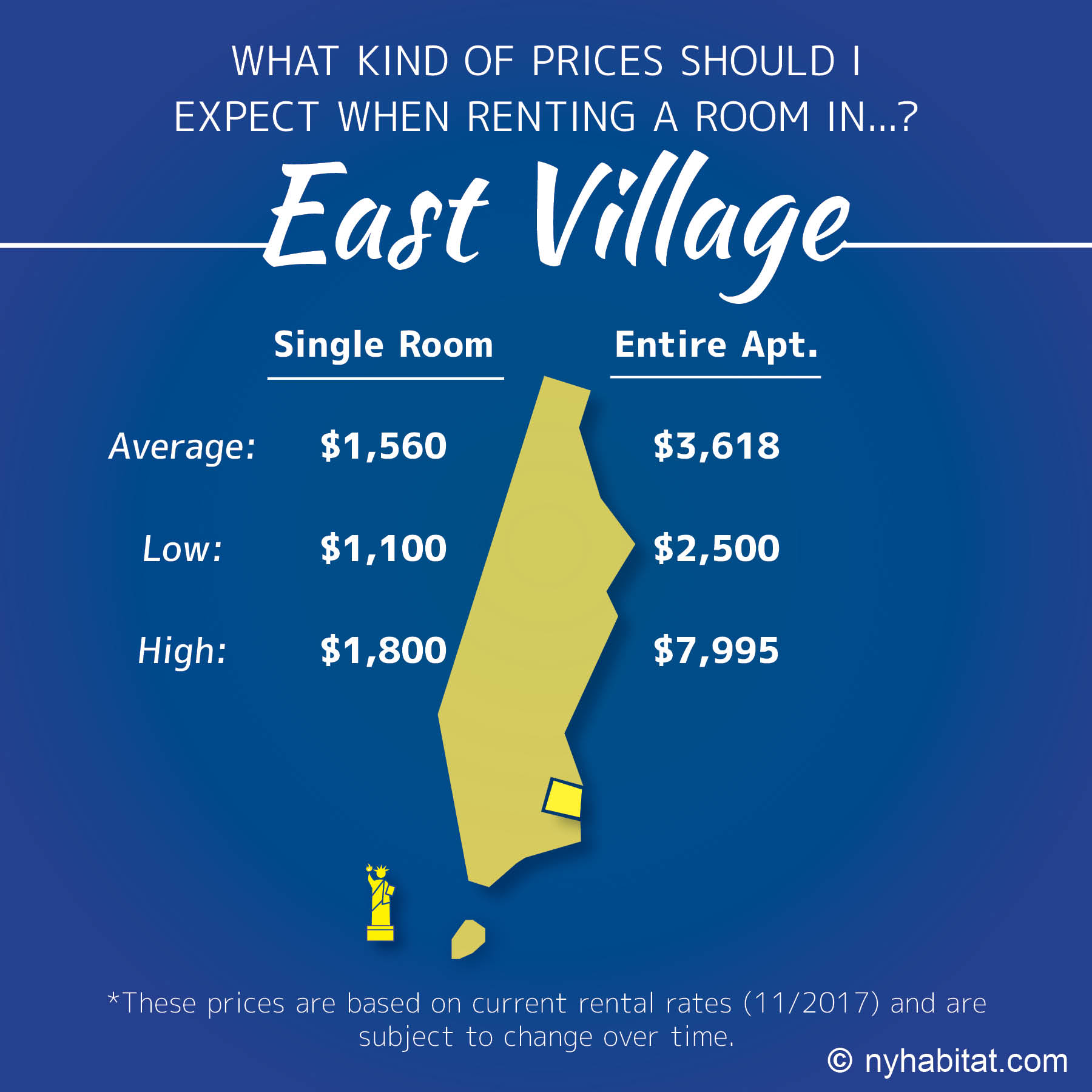 See how room vs apartment prices measure up in the East Village
At New York Habitat we offer a range of furnished housing options, including full private apartments and rooms for rent in shared apartments all over New York City. So how do you start your housing search?
Knowing which areas of New York City are within your rent budget is an important step in finding an apartment that fits your needs. Apartment shares are popular among the millennial crowd because they allow you to share the costs of NYC apartment living. Plus, you get to live with other people, which can make life less lonely in a new city, and you can test out a neighborhood and an apartment to see how you like it before making a long-term housing decision. For a little help deciding what aspects of an apartment or neighborhood would match your lifestyle, check out our blog on the topic!
You will usually need proof that you make 40 times the monthly rent as a financial requirement for a typical New York apartment lease. That can be a huge hurdle for many people when apartment hunting, especially new graduates and those just starting out at a new job. Sharing an apartment lessens this burden, as you just have to show you can afford the room's rent, which is substantially lower than a full apartment. You also get to live with some cool people, many of whom are locals and can give you tips and advice on living in the area, including insider information about all the best places to go! So how exactly will living in the East Village affect your wallet? The above infographic breaks it down for you.
Reviews: See what people are saying about the East Village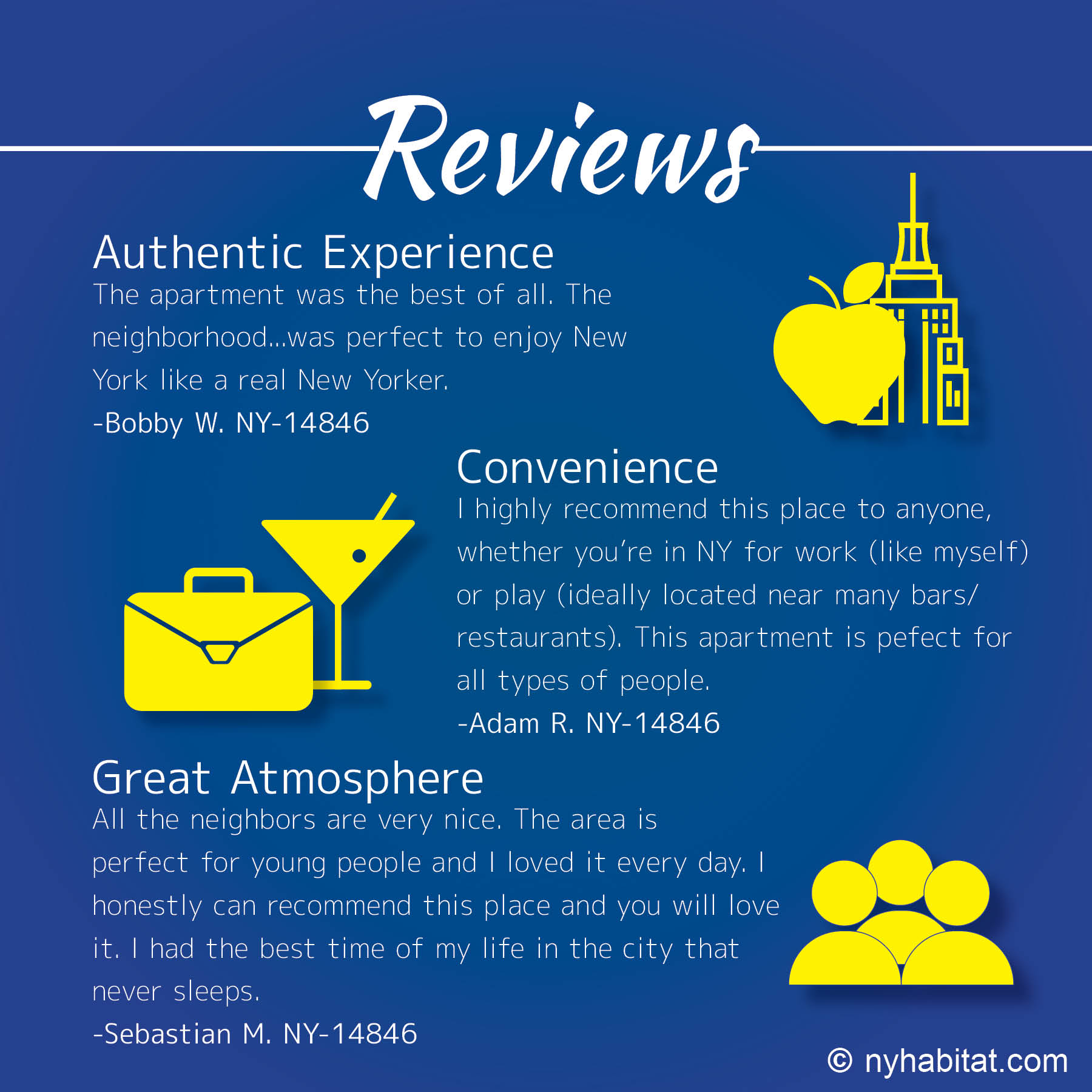 Check out the reasons our clients love the East Village
Hearing from the locals is a good way to get a feel for a neighborhood if you're coming from out of town or abroad and can't visit it ahead of time. So, what are some of the East Village's former residents saying about the area? Above, we break down our clients' feelings about the neighborhood to give you a general idea of what you can expect as a future tenant.
Thinking about moving to the East Village? Take our video tour and find out what this area is all about, then check out our list of local spots that make this neighborhood an exciting place you'll want to call home. From recreation and entertainment to an array of unusual dining options, the East Village has a bit of everything you could want in a neighborhood!
East Village hotspots

1. ENTERTAINMENT & LEISURE
Anthology Film Archives
Anthology Film Archives is a must-visit for any cinephile. Housed in an old courthouse on Second Avenue, Anthology Film Archives is dedicated to the preservation, study, and exhibition of independent and avant-garde films. It provides the public with a wide array of cinematic masterpieces (particularly those that push towards the avant-garde) from all corners of the globe. Even if experimental cinema isn't your cup of tea, you can still catch screenings of commercial hits like Clueless and The Wolf of Wall Street here as well. If you're a film buff, you also won't want to miss our blog on iconic film locations and the apartments you can rent near them.
Nuyorican Poets Cafe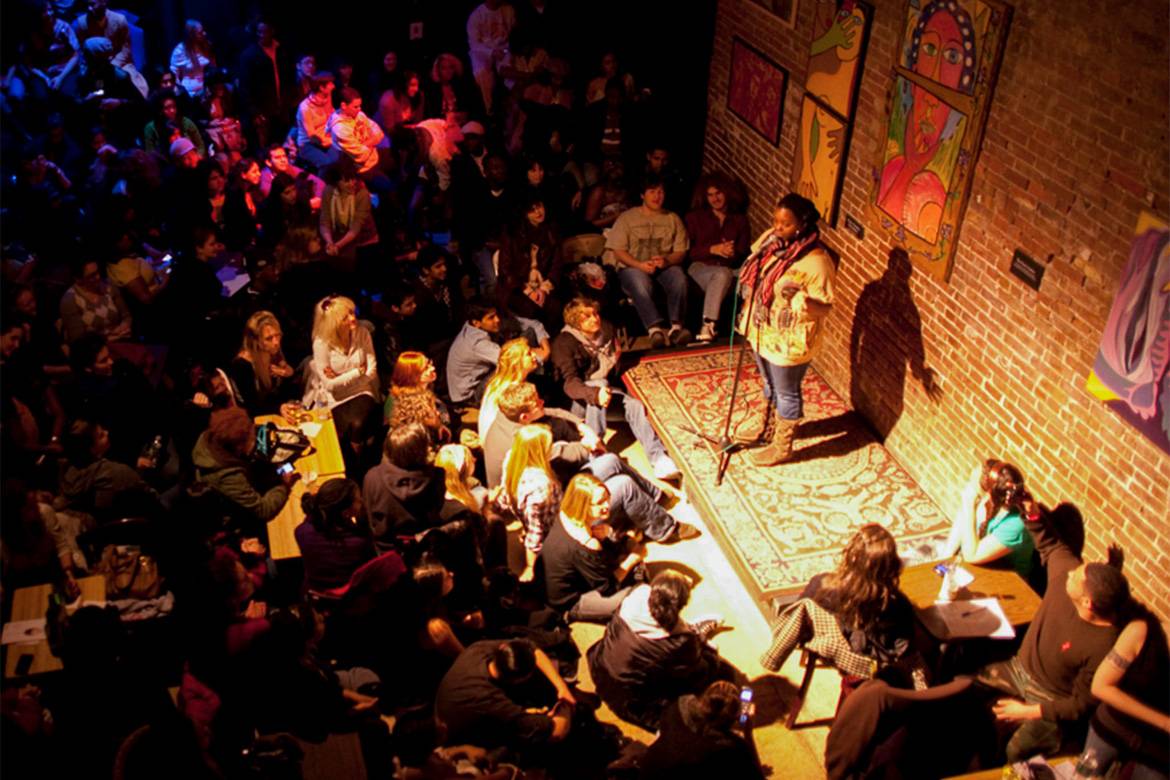 Uncommon finds like the Nuyorican Poets Café make the East Village truly one-of-a-kind (Photo Credit: Nuyorican Café)
Looking for some fresh, new entertainment? Let the Nuyorican Poets Café be your entry to a world of undiscovered artists and rousing slam poetry sessions.
Their open mic nights are the perfect opportunity to let New York see your inner star shine. For those with stage fright, being a spectator is just as amusing; each night brings together a unique conglomeration of talent.
The café originated as a haven for artists of color to unveil their art in a time when they were rejected from mainstream venues. Throughout the years, the café has expanded to be an inclusive space for anyone to perform.
The Museum of Reclaimed Urban Space (MoRUS)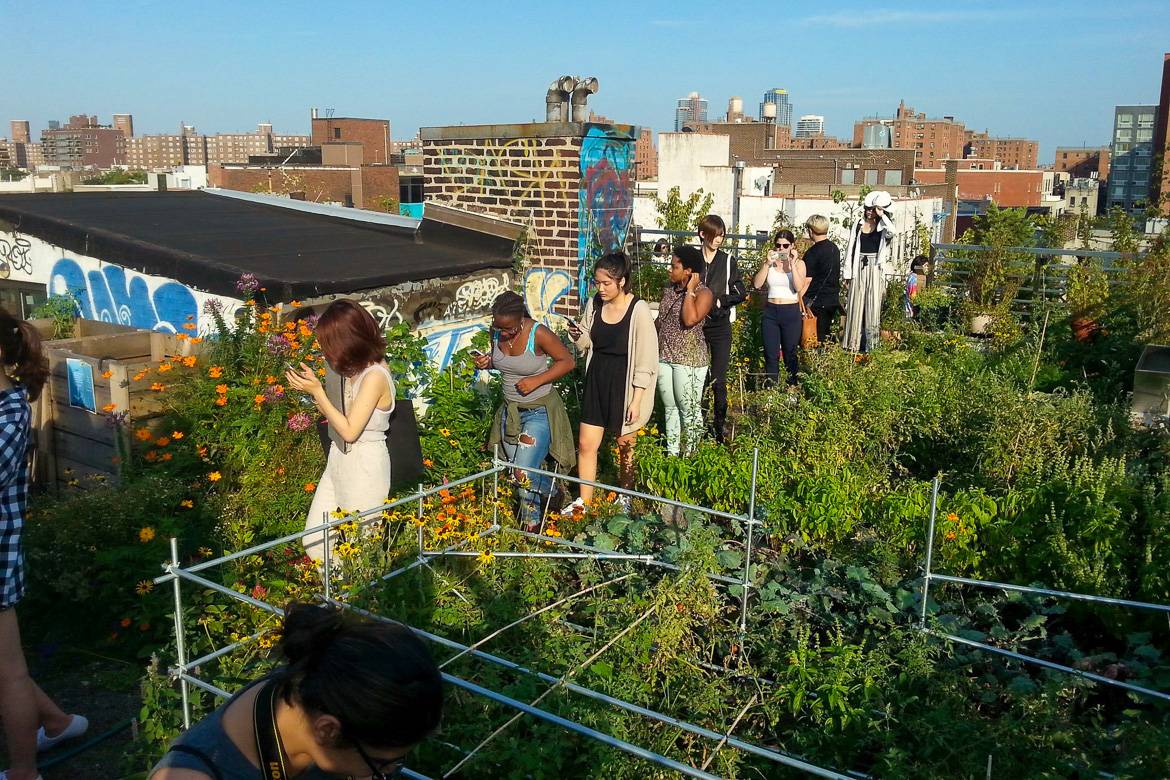 You'll find imagination in the most unusual of places here!
Today the East Village is considered a trendy neighborhood to visit, and new residents are moving into the million-dollar glass condo buildings being constructed. However, that hasn't always been the case for this NYC neighborhood. In its past, the area was the center of counterculture and was home to those who defied the norm, from beatniks to punk rockers. The area still maintains unique small buildings and brownstones among the growing apartment towers, and in between, you will find some surprising locally-cultivated green spaces.
The Museum of Reclaimed Urban Space is here to educate visitors about the community's history of grassroots action and the neighborhood's fascinating past through guided tours by the individuals who lived through it. The most unique part of the tours is the exploration of the community gardens that were born from vacant lots taken over by local activists. The museum promotes the history of grassroots activism while educating people about sustainability, green design, urban farming techniques and composting. Afterward, take a stroll on your own through the neighborhood and see what secret garden spaces you stumble upon!
The New Museum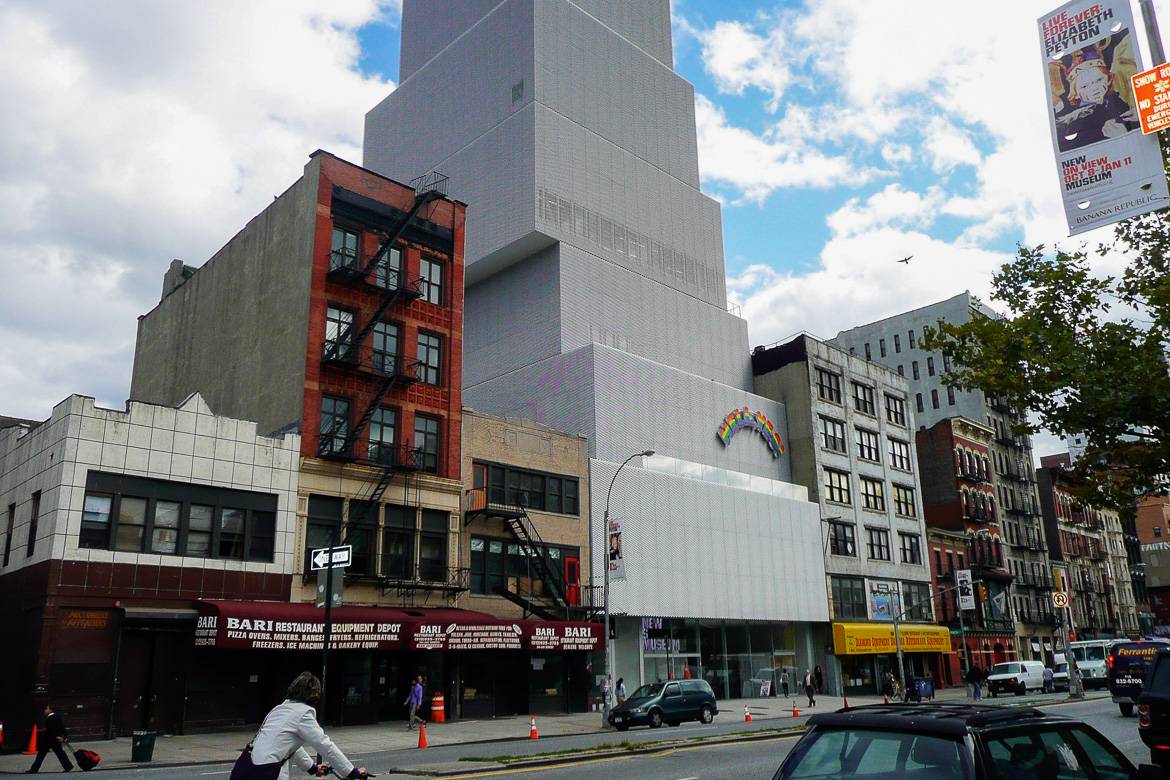 The New Museum stands out from the crowd
As implied by its name, the New Museum is here to host some truly avant-garde art exhibits. This uncommon structure located on Bowery looks like boxes stacked askew and definitely makes a statement. The unique façade of the museum makes it a standout among the classic architecture of New York City's buildings. The museum is focused on showcasing the contemporary work of young, underexposed artists. Each exhibit is meant to push boundaries and make one rethink what defines art and how art can be a direct response to modern social issues.
Tompkins Square Park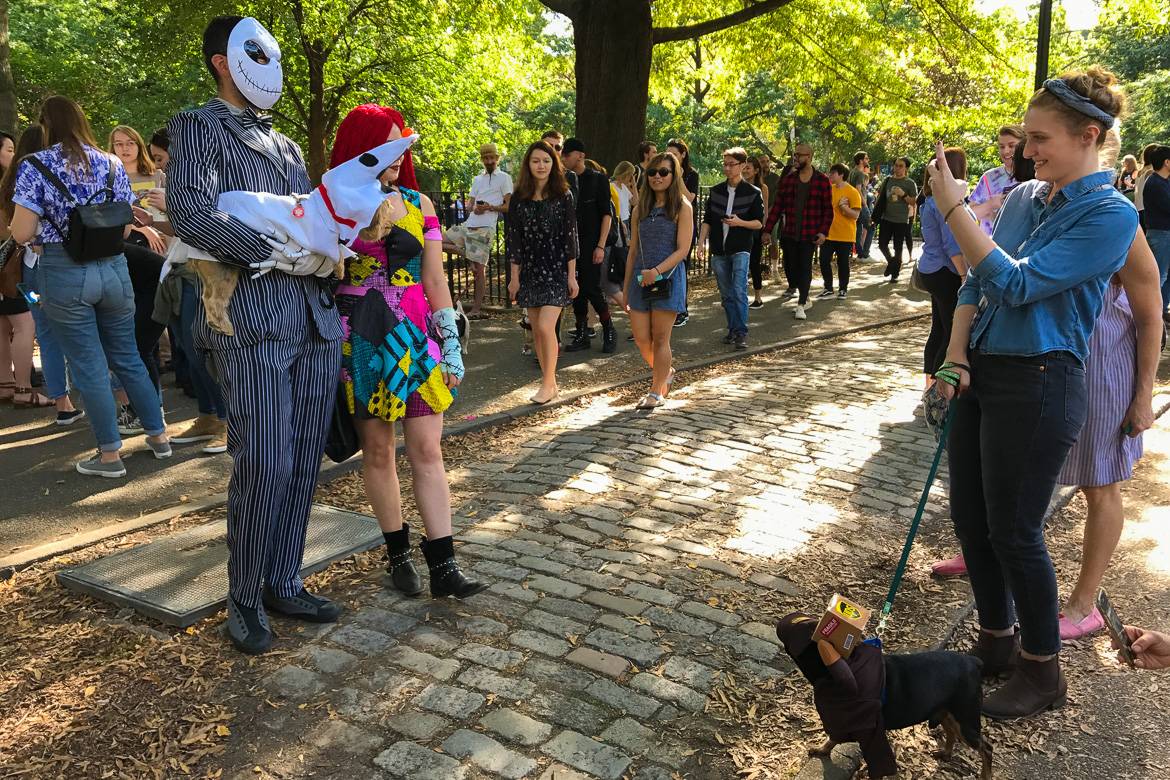 Nothing's too odd for the eccentric Tompkins Square Park ( Photo Credit: Clement Debrach @zedouphotography)
Over 100 years of history have made Tompkins Square Park more than just a green space in the city;  it has transformed into a cultural landmark.
The park is more than just a place to unwind. It provides residents and visitors with plenty of truly unique cultural experiences; events like the drag festival, Wigstock, and the Charlie Parker Jazz Festival truly embody the spirit of the neighborhood. For those of us with furry friends, the park's dog run is the perfect place to socialize with other dog lovers. This is especially true during the Halloween season, when the park hosts a Halloween dog parade. The biggest event of its type in the US, this parade is a must-see for those looking for a bark-tastic Halloween celebration. Each May, you can catch the annual New York Dance Parade that makes its way down Broadway and ends in Tompkins Square, wherein dozens of dance and performing arts students show off their moves.
2. LOCAL EATERIES
Abraço Espresso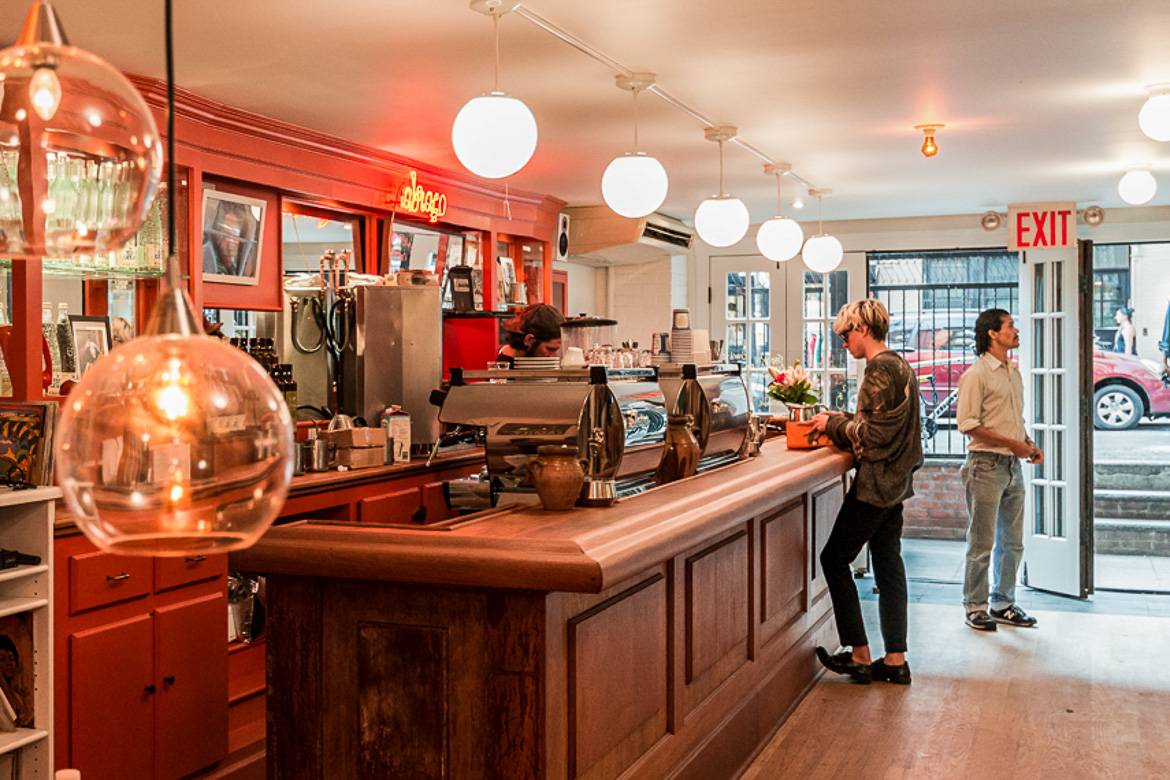 Get your morning caffeine fix at this neighborhood coffee shop [Photo credit: Manhattan Sideways (sideways.nyc)]
Start off your day at this Spanish/Italian-inspired café and get your morning caffeine fix. This no-frills café and neighborhood staple gives you the best of your daily favorites, from espresso to iced coffee. No wonder the locals roam in and out all day long! The mouthwatering selection of homemade pastries also gives those with a sweet tooth more of a reason to linger and do some people-watching while sipping their cups of java. Serious about your morning coffee? Check out some of our other favorite NYC coffee shops and our top 10 brunch spots too!
Cha-An Tea House
If tea is more your thing, take a trip to the Far East via the East Village and immerse yourself in the wonder of Cha-An Tea House. This Japanese dessert and tea house is the perfect spot for an after-dinner treat, but they also serve creative, healthy meals as well. Each item on the menu looks more delectable than the last. Even if you can't decide whether to get the mochi or the green tea parfait, you're in for a treat. Aside from the amazing flavors, the presentation of each dish is like a work of art in itself.
Momofuku Noodle Bar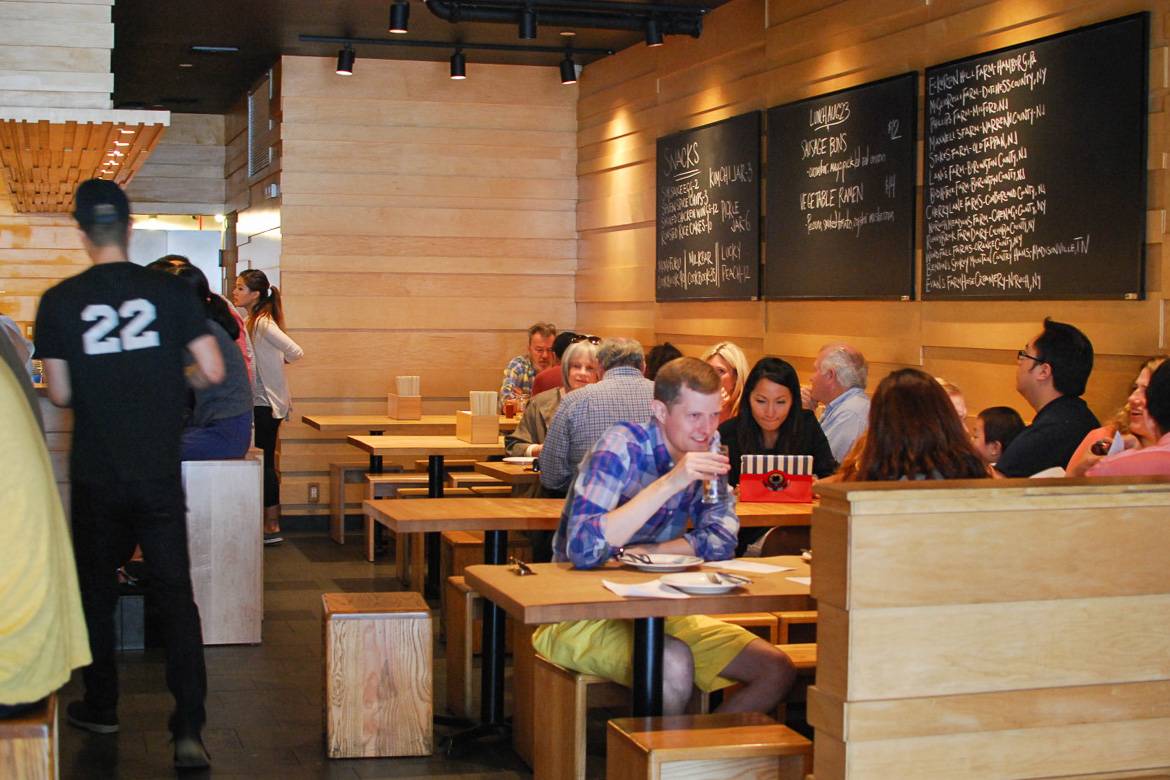 The decor may be minimalist, but the food is extraordinary at Momofuku Noodle Shop (Photo credit: Nilbarcode Food)
If you love Asian-inspired American cuisine as much as we do, then you're going to be head-over-heels for Momofuku Noodle Bar. This casual minimalist noodle bar inspired by favorite Asian street food serves up everything, from its famous pork buns and ramen to fried chicken, on a menu that changes with the seasons. Looking to splurge on a truly unique meal? Make a reservation for their caviar and fried chicken meal. This never-before-seen combo will certainly turn heads, but for all the right reasons. If you're adventurous, continue your culinary world tour through the rest of NYC, where you can find foods from every corner of the world!
PDT (Please Don't Tell)
PDT (which fittingly stands for Please Don't Tell) was sort of a secret place, formerly known only by those "in the know." But people couldn't keep quiet about the expertly-crafted cocktails, so word eventually got out. It's still a thrill just to slip into this tucked-away gem for a drink. Enter through a phone booth in Crif Dogs and be transported into this East Village speakeasy for a night to remember.
Out-of-the-ordinary places and people are what give the East Village its particular character. The East Village has something for everyone: a rebellious history, unique local shops, vintage stores, cheap eats, nightlife, live music venues and a neighborhood vibe. Check back for our next blog on apartment shares in the East Village, where you'll get a local perspective from two of our hosts with rooms for rent in the area, and take an inside peek into their apartments.
You can browse through other East Village apartment share options on our website. Submit a request online, or call +1-212-255-8018 if you need assistance with your request and we'll connect you with one of our apartment share agents to guide you in your housing search!