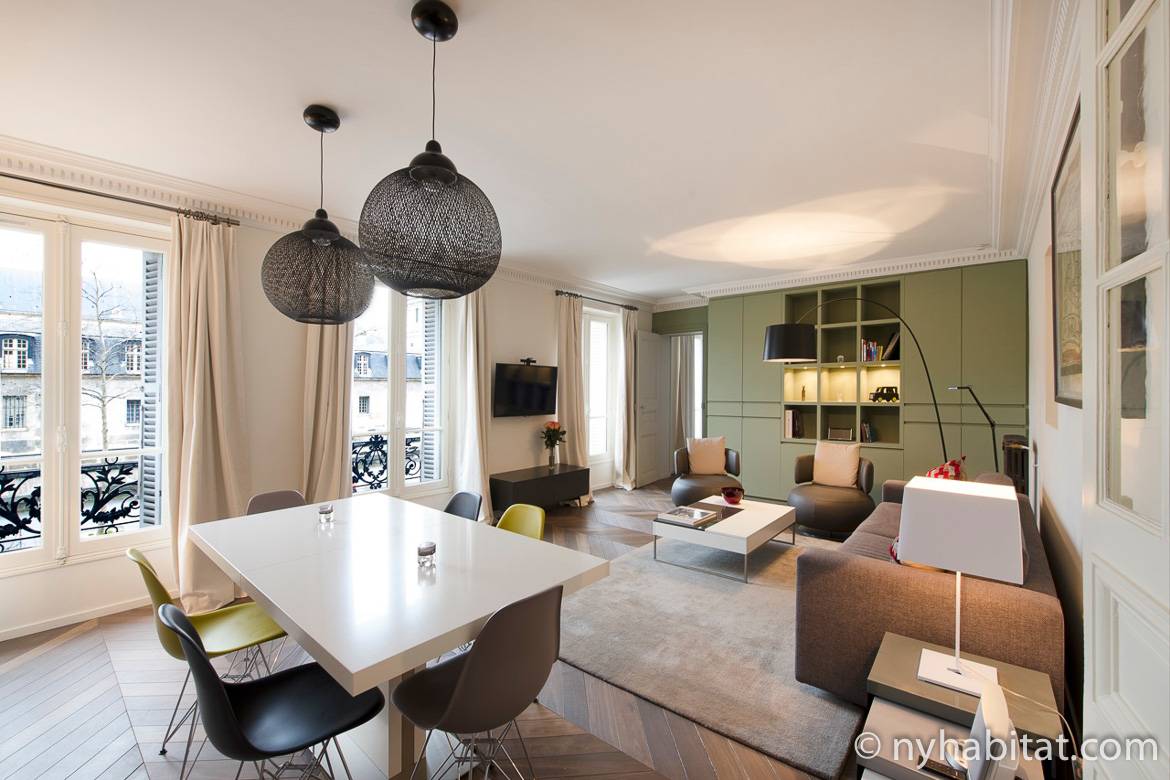 The views are amazing from this spacious Paris furnished apartment's living room!
The new year is upon us, and that means it's time to shake things up and set some lofty goals for the coming year! If your goals happen to include a new loft apartment, well, you're not alone! One of many peoples' top aspirations for the new year is changing where they live, trying out an exciting new neighborhood and finding a new abode to call home. Whether your dream apartment is in the Big Apple or across the pond, we have an array of apartment options to fulfill your New Year's resolutions.
Just in time for the new year, we've picked 4 amazing apartments around the globe that will inspire you to take a leap and move to a new place — and as a bonus, they're all close to some fabulous winter fun!
A New Year in New York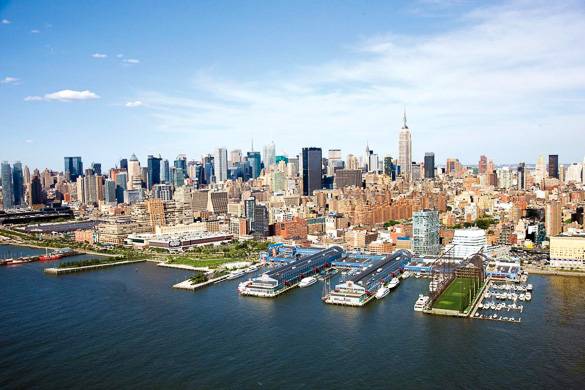 Chelsea Piers offers a multitude of activities, including two world-class skating rinks with river views! (Photo credit: Chelsea Pier)
If you aspire to reside in the midst of the glamour and excitement that is New York City, we have plenty of options available all over town from the frenzied energy of Times Square to serene residential neighborhoods that make you forget you're in NYC.
The neighborhood of Chelsea in downtown Manhattan is the perfect place to settle down for the winter, with residential streets, charming townhouses tucked between avenues full of cozy fireside cafes and bistros, boutiques, and art galleries. Renting an apartment here will put you close to picturesque outdoor spots like High Line Park and the Hudson River. In the spirit of winter, you'll also be near a year-round indoor ice rink at the Sky Rink at Chelsea Piers, one of the premiere skating rinks in the country! Here you can enjoy ice skating and ice hockey, join a competitive team, take group or private figure skating lessons, and even rent out an event space for parties. You also can do it all with an expansive view of the Hudson River!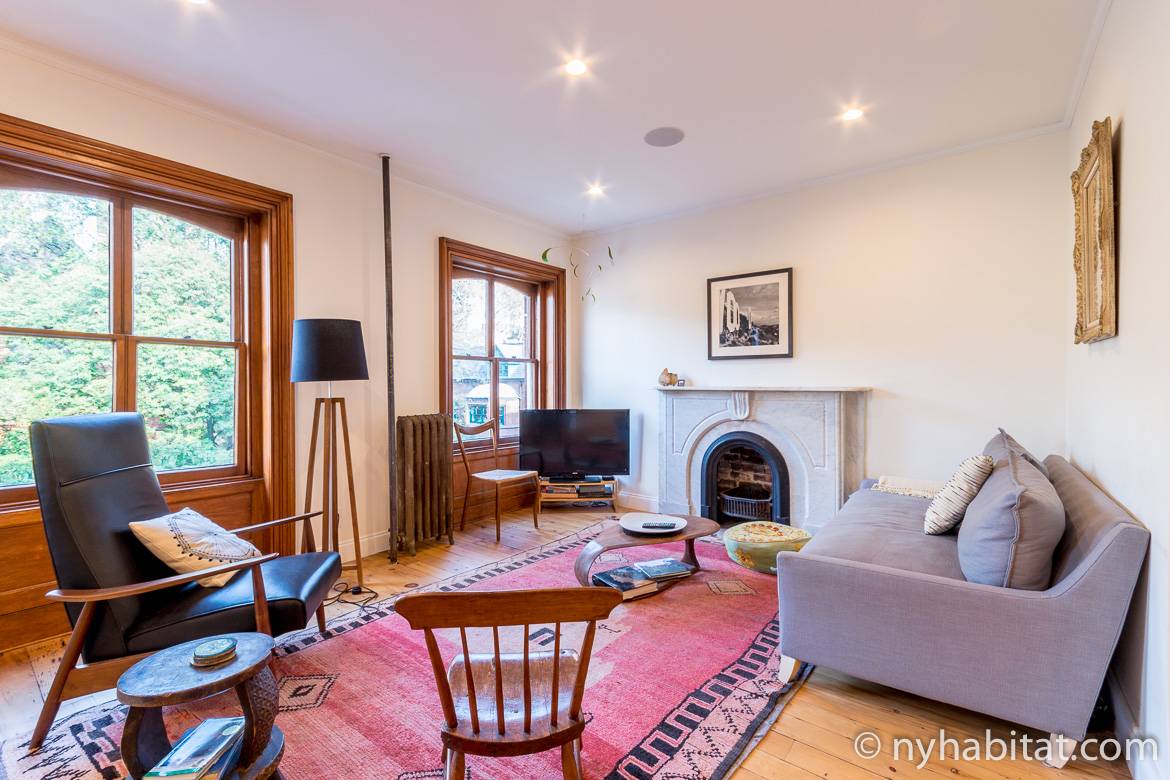 Start the new year near the fireplace in this charming townhouse in Chelsea
Start the new year off in trendy Chelsea where this two-bedroom furnished apartment sits in a charming townhouse on a quaint tree-lined street. This apartment has the best of both worlds, situated in a residential neighborhood but also close to a hip mix of restaurants, nightlife and shopping. The apartment has hardwood floors throughout, while original exposed-brick walls and decorative fireplaces instill it with a warm, homey feeling. The large, open kitchen is a luxury in NYC, perfect for preparing meals at home or hosting friends for a dinner. Relax in the spacious master bedroom, while a second bedroom has a murphy bed that tucks away into the wall, saving space and providing room for extra guests. You'll also enjoy conveniences such as laundry in the apartment and a terrace space with outdoor seating.
A fabulous apartment in Paris by February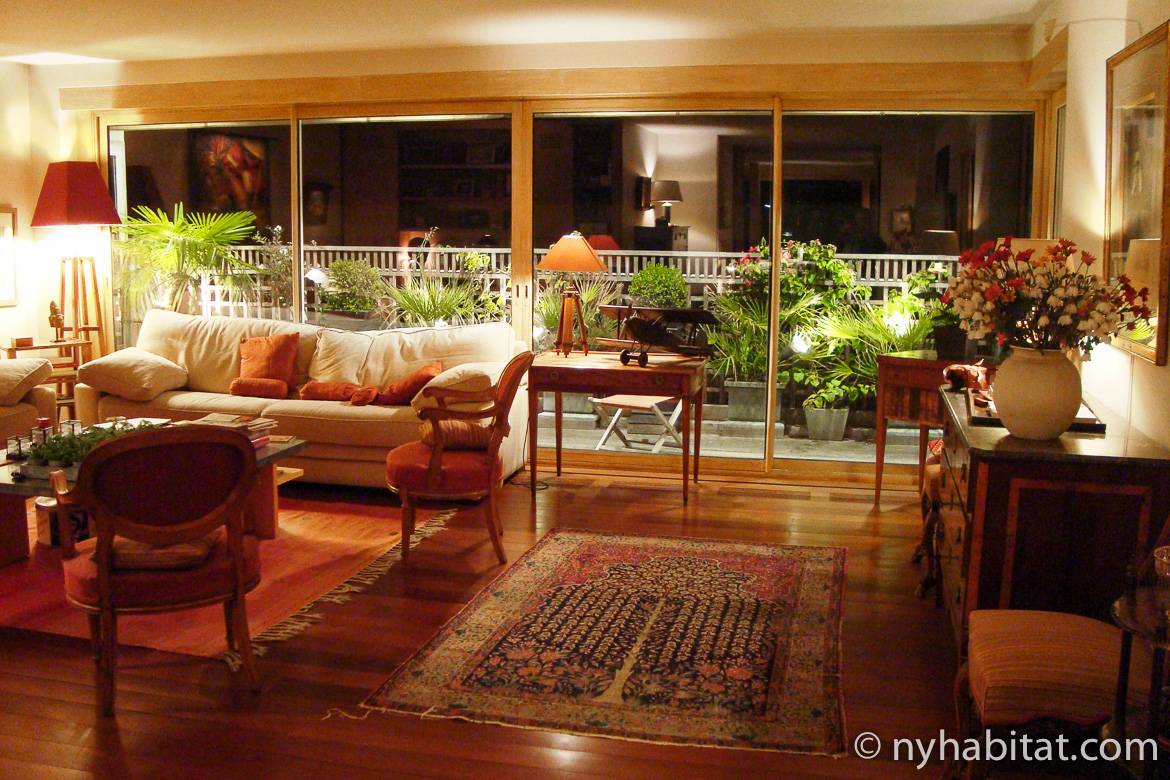 Sip your morning coffee on the planted terrace of this Paris apartment with a view of the Eiffel Tower
Maybe you visualize a new year living in France, drinking vin chaud and skating under the iconic Eiffel Tower. We can certainly help you realize that dream, with plenty of classically Parisian apartments in every arrondissement with spectacular views of Paris. This one-bedroom furnished rental in the 7th arrondissement is located near Les Invalides and boasts the most surreal views of the Eiffel Tower from its terrace! Floor-to-ceiling windows in the living room flood the space with natural light, while balcony doors give access to a large terrace space where you can enjoy a glass of French wine while looking out at your dreamy view of the Eiffel Tower! Every room has such a spectacular view in this apartment, you won't believe your eyes! From the living room, bedroom and the dining table, what looks like a framed picture is actually a real-life view with the dome of Les Invalides taking center stage. Try out some French recipes in the fully-equipped kitchen. With such breathtaking views, you'll be tempted to show off to your friends and family, and with a second living room space with sofa bed in addition to the main living room and the bedroom, you'll be able to comfortably accommodate them.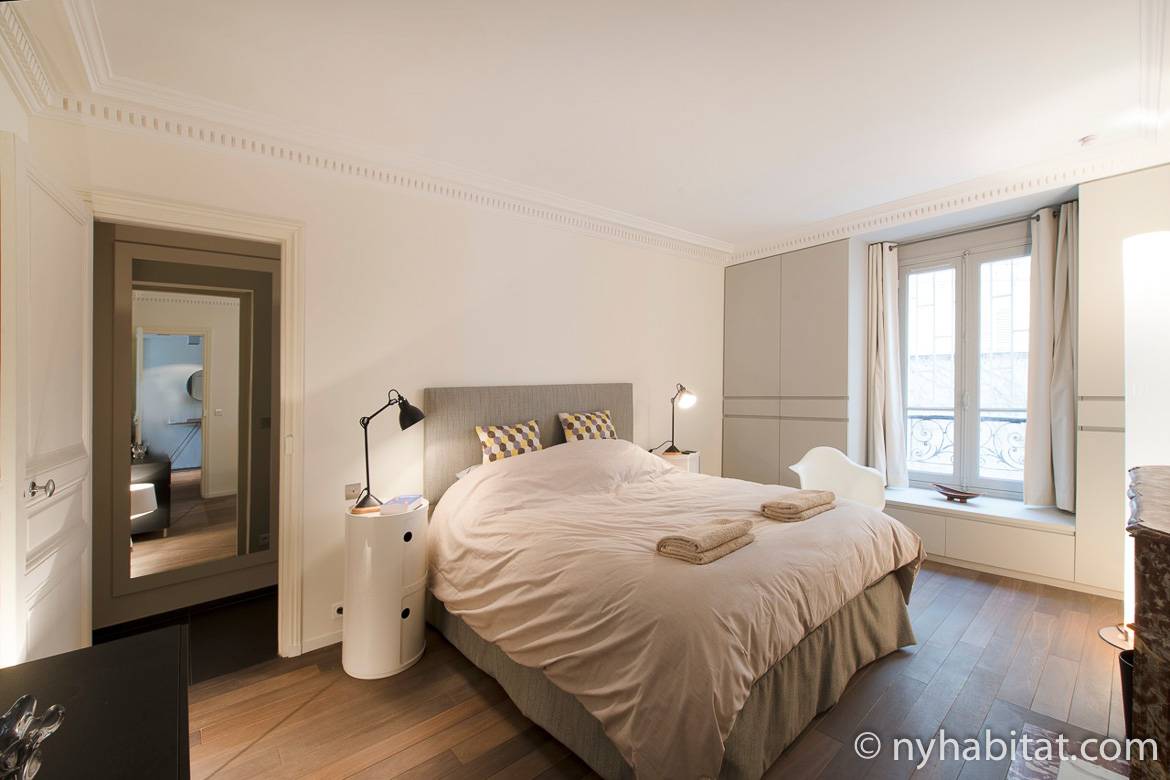 This Paris apartment comes complete with views of Les Invalides
Another equally impressive accommodation in Invalides is this 2 bedroom/2.5 bath apartment in a Hausmannian building with views that overlook the iconic Les Invalides. This apartment can be rented as a vacation rental for short stays or a furnished long-term rental. Hardwood floors, crown molding and a cozy decorative fireplace add charm to this modern apartment. This spacious accommodation has plenty of room for a family or larger group to spread out, and multiple bathrooms ensure there will be no line waiting for the shower! The living room has plenty of space to gather and relax, including a large dining table for family meals. The sleek white kitchen is ultra-modern with a flat-top range and stainless steel appliances. Each bedroom has its own TV. The first bedroom has a comfortable double bed and the second bedroom has two twin beds for flexible sleeping arrangements. After a long day or night on the town, you'll look forward to returning home to the luxury of the deep soaking tub and rainfall shower!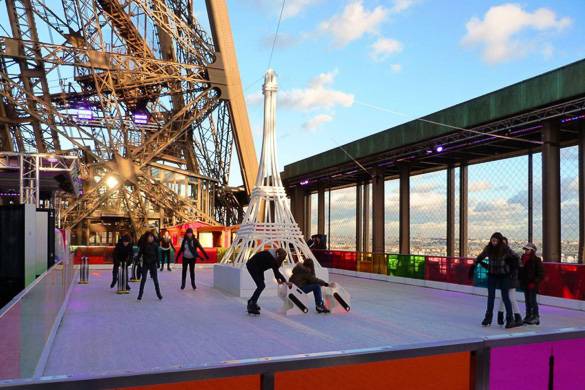 What could beat skating under the Eiffel Tower?
Best of all, between late November/early December to February (depending on location), you can take advantage of fabulous free ice skating rinks that open around Paris for the season, many of which are found around some of the city's most famous sites. Check out the Ice Rink at the Champs de Mars, close to the Eiffel Tower, where you can experience ice skating with a view of this majestic monument! From December 16, 2017 to February 18, 2018, the first floor of the Eiffel Tower itself will transform into a winter fairyland, complete with giant penguins and a replica Eiffel Tower all made of mirrors. What could be more dreamy than walking among the giant quartz crystals in a forest of white birch and black fir trees? Get a few Instagram-worthy photos among the magical winter landscape, and then head to the Cacao Corner to warm up with some decadent hot chocolate! Paris is the City of Love, so if you're lucky enough to be there in February for Valentine's Day, be sure to check out our tips to make the day unforgettable!
An Exciting New Life in London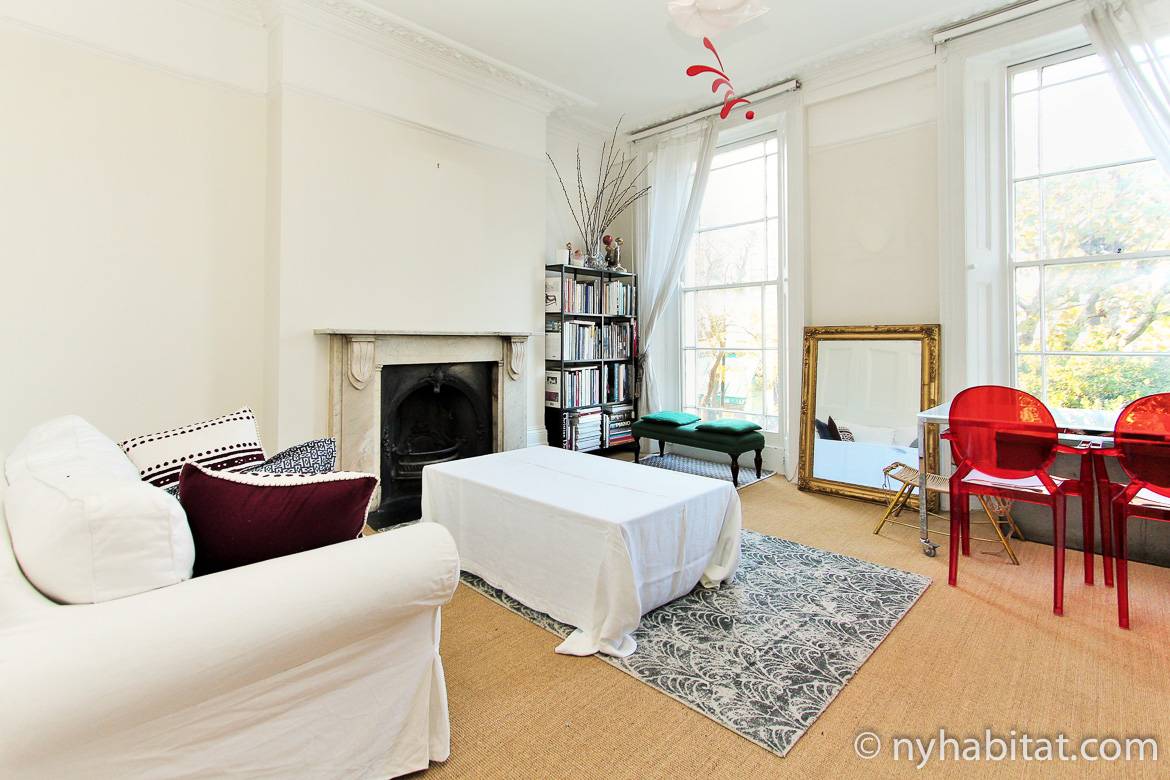 Sunlight flows through the huge windows of this London apartment
If having a pint sounds more like your style, or if you long for some fish and chips at a cozy neighborhood pub and a chat with locals to work on your refined British accent, consider renting an apartment in exciting London! After all, it's the ideal spot for cozy pubs on cold winter days! With a wealth of history, royalty and unmatched contributions to the musical world, London is packed with places and experiences to discover! Who could resist settling down for the winter in this charming 1-bedroom duplex apartment in the exclusive Primrose Hill section of London? Curl up on the sofa with a cup of tea by the decorative fireplace while sunlight illuminates the living room through large windows providing scenic natural views. The kitchen is equipped with all you need to get cooking and make yourself at home, and a convenient washing machine is located in the apartment. The bedroom is fitted with a double-sized bed, and a double-sized sofa bed in the living room provides additional arrangements if your family decides they want to visit you in London. After a long day checking out all the sights around the city, you can come back and relax it all away in the sunken tub.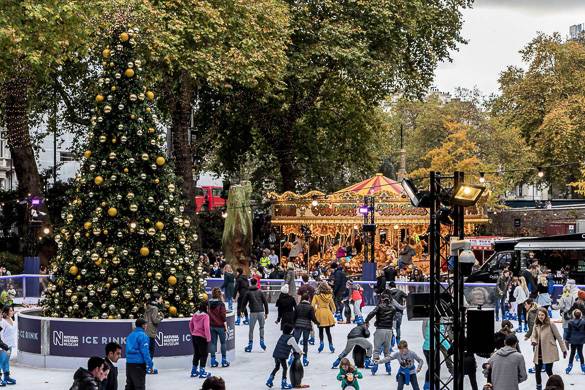 Outside of London's Natural History Museum is a winter wonderland (Photo credit: David Champnet)
Enjoy living like a true local in this stunning residential area that also has a number of restaurants, bars, and cafes close by for an evening outing. The beauty of this location is also its proximity to nature with Primrose Hill Park and Regent's Park close by. Enjoy the season with an ice skating outing like no other. Take a spin around the rink at the Natural History Museum surrounded by a backdrop of majestic Alfred Waterhouse buildings! There's also a centerpiece Christmas tree and a carousel for the kids, and don't forget to warm up with a delectable hot cocoa at Hotel Chocolat (or something stronger at the Café Bar) on the perimeter after you get off the ice!
Whatever destination you decide the "new you" needs, the off-peak winter season is a perfect time to get settled into a new apartment and to get to know the neighborhood and surroundings without all the tourist crowds. If you're craving a change for the new year, browse the apartment inventory on our website, see which location around the world is calling to you, and get planning for the year ahead in a brand new place!