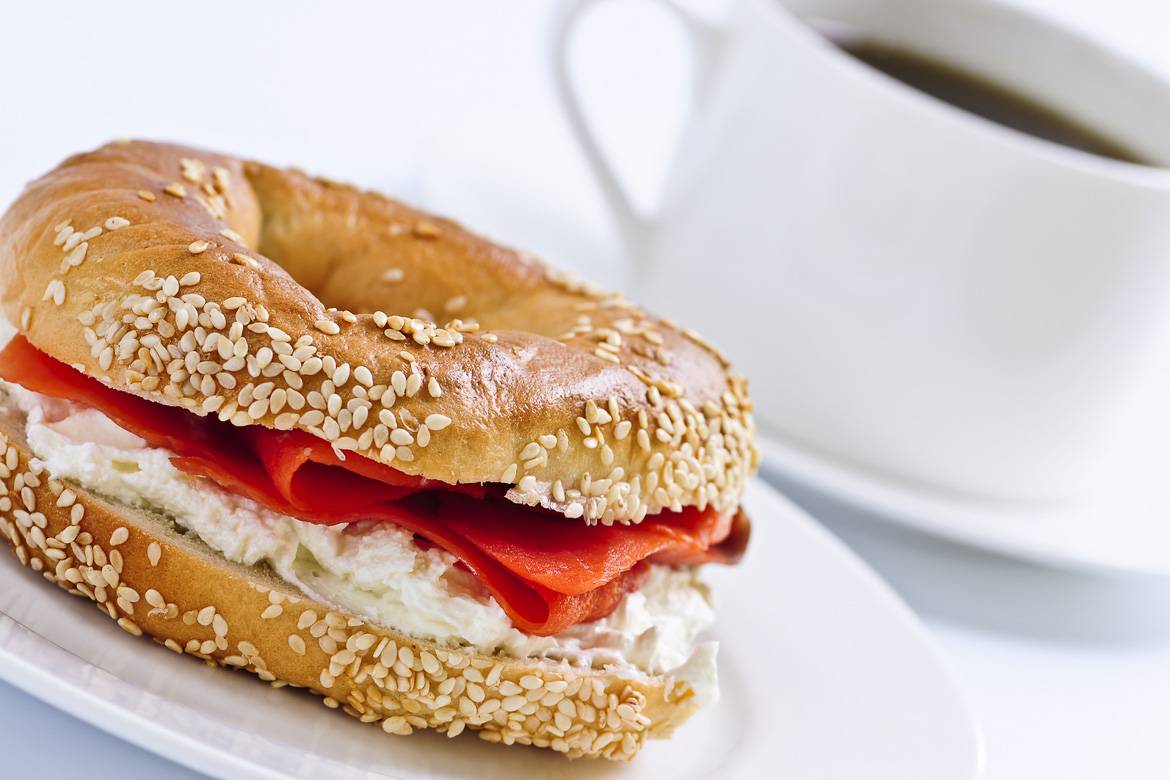 New York is known for its bagels. Coffee? Not as much!
There are two types of foods New Yorkers take extra pride in: pizza and bagels. You'll find lots of delis, cafes and even restaurants offering the latter across the city, but which should you put at the top of your list? Here at New York Habitat, we have a few suggestions – so when you're searching for the perfect breakfast treat, this collection of our ten favorite bagel spots should give you plenty of food for thought.
1. Absolute Bagels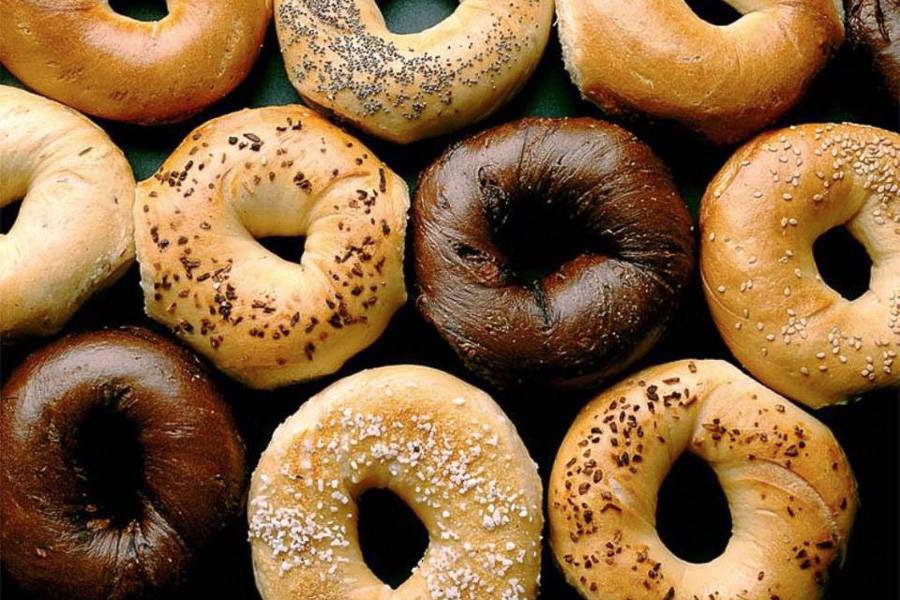 Absolute Bagels takes pride in its authentic products
New Yorkers love Absolute Bagels for their authentic baked goods and delicious spreads. Another bonus? Its location on the northern end of Broadway keeps it hidden from tourist traffic. That doesn't mean, however, that it's unpopular: between flocks of local Columbia University students and Manhattanites looking for quality food, Absolute Bagels is never short on crowds. Be mindful of overcapacity as you visit the shop – only a handful of tables sit inside the small interior, and lines can wrap around the sidewalk. Unique spreads – including the highly recommended lox – are reason enough to go, as are the main attraction themselves (we suggest ordering whichever bagel is fresh out of the oven).
Prices start around $1 for a plain bagel and increase with added fillings and cream cheese. The cash only establishment is located at 2788 Broadway in a neighborhood now known as Manhattan Valley (or the northern section of the Upper West Side to some) and operates from 6am to 9pm. Take the 1 subway train to the Cathedral Parkway station or the A, B or C to the Cathedral Parkway at 110th Street station. Absolute Bagels is also accessible via public bus. While you're there, tour the Upper Manhattan districts of Morningside Heights, Hamilton Heights, and Washington Heights using our handy guide!
2. The Bagel Hole
New York's trendiest borough, Brooklyn, is all about embracing its vintage history – including old-style bakeries. For the real deal, stop by The Bagel Hole, which opened its doors in 1985 under the teachings of a baker who learned his craft in 1940s Germany. In the nearly thirty years since its debut the Bagel Hole has become a Park Slope – learn how to live like a local here — institution, beloved for its hand rolled products that are made on the premise. With poppy, sesame, and cinnamon raisin bagels on the menu, you'll have a tough decision ahead of you – but the notable whitefish salad should make your choice of filling an easier one. A bagel loaded with cream cheese is roughly $1.50, and the cost will rise with extras, such as Boar's Head cold cuts. (Cash only!)
It is open seven days a week all year-long, with hours beginning promptly at 7am and ranging until the early evening hours. Easily accessed via public transportation, take the F or G train to 7th Avenue or the D, N, or R to 9th Street; bus stops nearby will also get you there. The interior is tiny, so be prepared to grab your order and walk around the lovely Park Slope neighborhood while you enjoy your delicious boiled (not steamed) bagel! If you seek closer access, we've got furnished rentals throughout the district – and others close by – that should do the trick.
3. Terrace Bagels
While in the Park Slope district, why not continue on to Terrace Bagels? Unlike many of its competitors, it offers plenty of newly-renovated inside seating, a deli counter, and café items along with the bagels. Patrons rave about their customized cream cheeses – olive pimiento, blueberry, and pumpkin walnut are some options – and seasonal surprises (green bagels for St. Patrick's Day!) Prices average out at $4 for a breakfast sandwich and a medium-sized coffee to $6 for a bacon-egg-cheese filling on a seeded bagel. Cash only.
At 224 Prospect Park West, the eatery is within walking distance of the F and G trains at the 15th Street/Prospect Park station. Terrace Bagels opens its doors at 5am daily, with hours extending to 10pm and beyond – perfect for a late night snack! One tip: there are two lines, one for ordering and one for pickups, to make the system more efficient; be on the lookout for the correct queue! Something else to consider? Our New York vacation rentals!
4. Ess-A-Bagel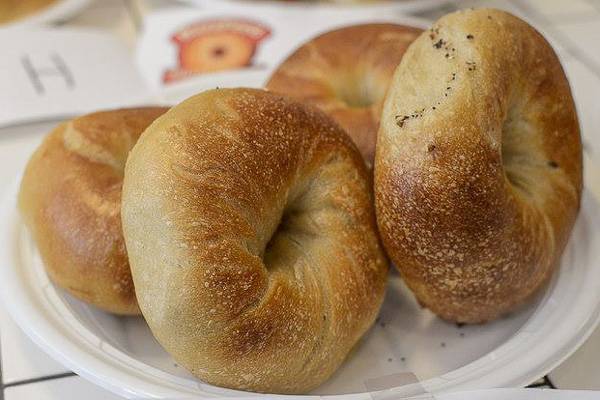 Austrian traditions make Ess-A-Bagel a special eatery
Two spots – one in the heart of Midtown East, the other in Gramercy – ensure that there's double the opportunity for you to stop by and sample Ess-A-Bagel's baked goods. An Austrian family tradition since 1976, this establishment serves its treats with crunchy outsides and soft bread inside. Known for the seafood items on its menu, customers recommend the "Nova" – a garlic bagel piled with scallion cream cheese and smoked salmon. The shop also carries Kosher bagels.
The original location in the Gramercy Park district is near the 1st Avenue L train station and 23rd Street 4 and 6 train station, while you can take the 4 or 6 train to the 51st Street station for Midtown East locale. The former has limited seating inside, but the latter's larger interiors accommodate more seats. Ess-A-Bagel is open from 6am until 9pm on weekdays, with hours shortened to 5pm on weekends. Bagels are $1.15 apiece, with sandwiches and pastries at varying prices. And yes, they accept credit cards!
5. David's Bagels
Not far from the previous entry on our list, David's Bagels lies in Stuyvesant Town and delights its guests with great food and thrifty prices. We hear they're pretty generous when it comes to cream cheese, so ask for the 'lite' chive or vegetable cream cheese at your visit for roughly $3.25 (for comparison, a single bagel is only $1). Stay for the hazelnut coffee and deli menu, too!
There are some booths inside for seating, but the interiors – like many other bagel spots – are a bit on the cramped side, so be prepared to wait for an unoccupied table. David's Bagels is one-tenth a mile away from the 1st Avenue subway station; take the L train there. A few blocks away sits the Union Square station, which is serviced by the 4 and Q lines, among others.
6. Murray's Bagels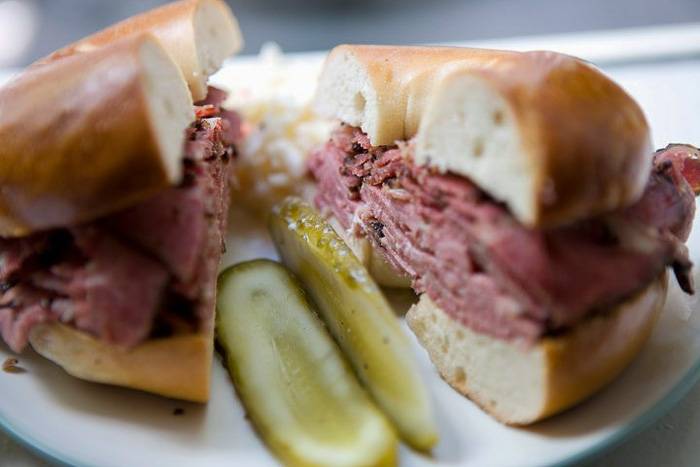 Murray's Bagel is the brainchild of Adam Pomerantz, and his dream is hugely successful today
Long lines outside of Murray's Bagels are the first stamp of approval you'll get from the local crowd. The second, of course, is yours. Opened in 1996, the original Greenwich Village location (another is in Chelsea) was the dream of owner Adam Pomerantz, whose father instilled in him a love of the culinary arts. Custom and excellence are the priorities at Murray's, which uses the best ingredients and traditional baking techniques to create its popular bagels. We advise you to take advantage of the establishment's fresh-baked daily policy and order whatever's from the newest batch. Murray's also has delicious tomatoes for their sandwiches, which translate into tasty sun-dried tomato and roasted garlic cream cheese – don't miss out!
The Greenwich Village site sits along the Avenue of the Americas (6th Ave) between West 12th and 13th Streets, while the Chelsea location rests on 8th Avenue between West 22nd and 23rd Streets. The former is close to the F, M, 1, and 2 subway lines at the 14th Street station, and the latter is nearest the A, C, and E lines at the 23rd Street station. There is some seating at both spots; we prefer the Greenwich Village setting for its exposed brick walls and warm coffeehouse feel. Prices are a bit pricier than others (a bagel is $1.15 each and sandwiches range from roughly $9 to $15), but for the quality it's worth every penny.
7. Bagel Oasis
Itching to take your taste buds out of Manhattan? Why not pop over to Queens (our guide to the borough here) and test out Bagel Oasis, a favorite among natives for over fifty years! Freshly made (kettled, not boiled) bagels appeal to customers on the way to work or in pursuit of a chewy treat. We recommend ordering a plain or seeded bagel with bacon cream cheese (or at least helping yourself to bacon slices as a topping) alongside Bagel Oasis's well-known chicken salad. Pricewise, a bagel with cream cheese will set you back around $2, and $6 if you indulge in the chicken salad. Inside seating is minimal, so be ready to take your order to-go.
Bagel Oasis is in the Fresh Meadows neighborhood of Queens, situated along the busy Long Island Expressway. If it sounds like a bit of a hike from Manhattan, it is – there are no direct subway lines to the area. You'll need to drive or take a public bus there. Don't worry, it's not as hazardous as it may sound – and with Bagel Oasis open 24 hours every day of the year, there's no rush to arrive! Of course, sharing a New York apartment would ensure you'd have a partner for your foray into the outer borough!
8. Kossar's Bialys
The finest flour and a traditional brick oven in New York City…must be pizza, right? Wrong – it's bagels! At Kossar's Bialys in the Lower East Side (take a closer look at the neighborhood here) you'll find an assortment of pletzels, sesame sticks, bagels, and the titular treats to satisfy your cravings. What's a bialy, you may ask? It is baked dough, rounded into shape and with chopped onions smoothed into the center indentation. Bagels are treated with the same level of care and craftsmanship. A large onion bialy is just $2, while you can order a bagel for just $0.90. Neither is going to break the bank, so why not try both?
Inside seating is limited to some counter space. This decades-old favorite is cash only and is open from 6am to 7pm daily, with Saturday hours extending to midnight. Kossar's is also conveniently located near several subway stations: the J, M, and Z lines at Essex Street; the F train at Delancey Street; and the B and D routes at Grand Street. Why not supplement your meal with coffee from some of our favorite New York coffee shops?
9. Bergen Bagels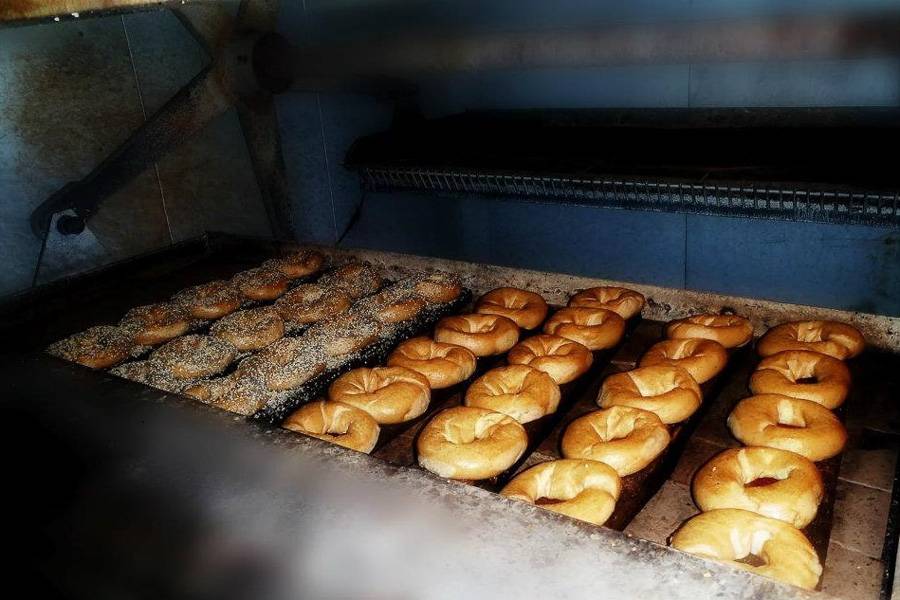 Fresh out of the oven, Bergen Bagels are too good to miss
For a wide variety of choices, Brooklyn's Bergen Bagels is a top spot. A full buffet of bagel toppings and cold cuts awaits you inside, plus intriguing flavors of cream cheese (feta pesto, anyone?) The pumpernickel bagel comes highly recommended – and for about two dollars (creamy spread included), it's worth your cash. Bergen Bagels (cash only) has three locations peppered throughout the Brooklyn borough: one in Prospect Heights and two in Clinton Hill. All three are walkable from local subway stations ranging from the 4, B and Q to the G, A and C.
10. Brooklyn Bagel & Coffee Company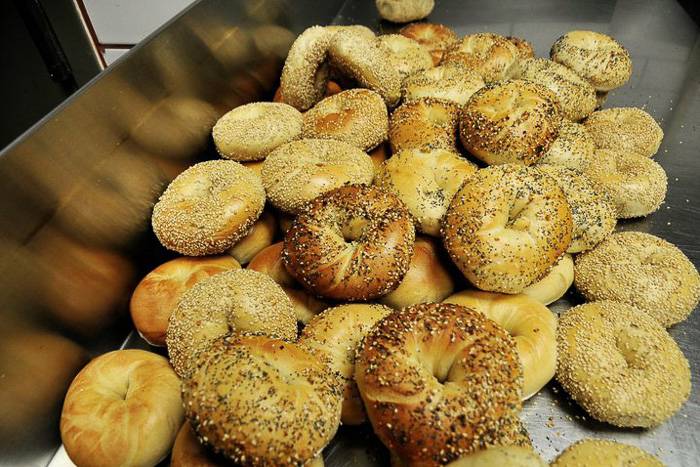 See a bagel you like? Brooklyn Bagels & Coffee has them all!
The final entry in our list is notable for its cream cheese flavor of the week – and that's just the beginning! Beyond its mission to use the healthiest ingredients in its products, Brooklyn Bagel & Coffee Company has an extensive menu of paninis, soups and, of course, bagels. Not sure what to get? Sample the whole wheat everything bagel with whatever cream cheese is highlighted that week (such as the July pick, fluffernutter). The hole-shaped delicacies come in two sizes here: $1.20 for Big and $1.05 for Mini.
Brooklyn Bagel has locations in Chelsea, Manhattan and Astoria, Queens and is open daily from 6am to 4:30pm. Seating varies from place to place, but our favorite is at the Chelsea branch; its sleek, modern interiors invite guests to enjoy its café-like setup. The Manhattan and Queens sites are easily accessed by the city subway – the 1, A, C, and F trains are some of the lines that will bring you into Chelsea; meanwhile, the E, M, N and Q are a handful of the lines that will transport you to Astoria.
Bagels are great for breakfast, but you know what's great for lunch? Burgers! Sneak a peek at our favorite burger spots!
What are your favorite bagel spots, readers?
Related apartment rental posts from New York Habitat: