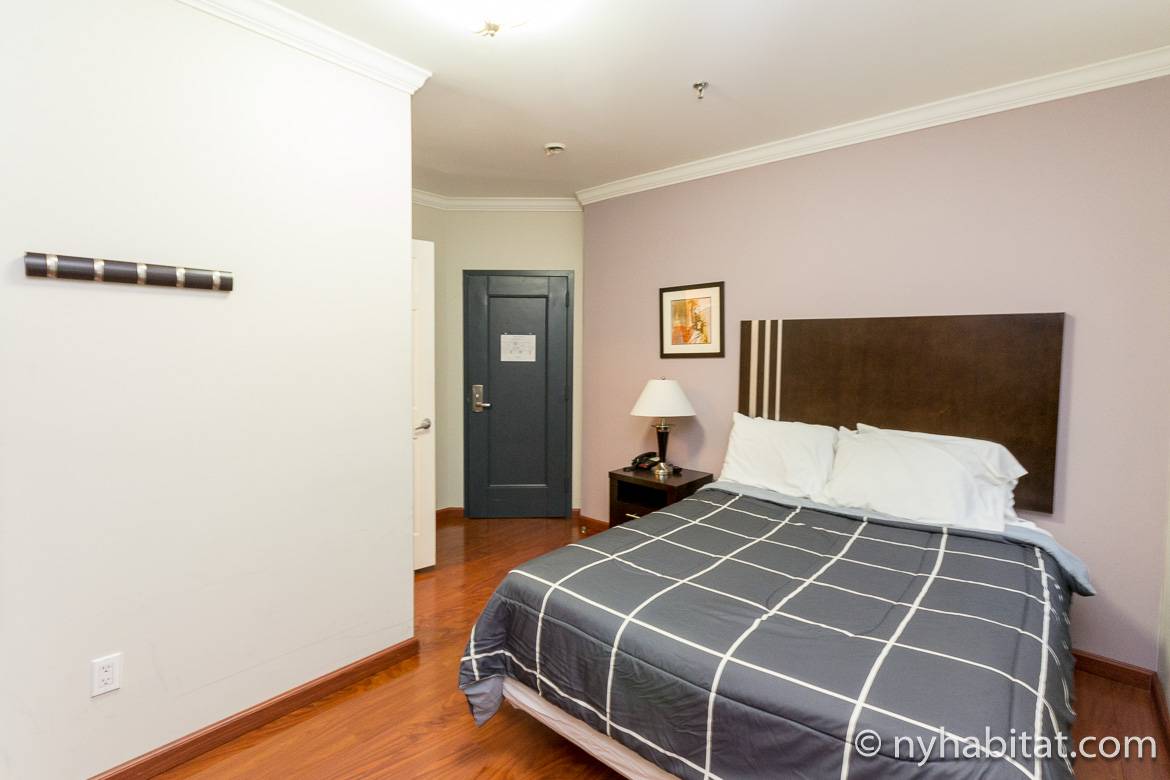 A single room with private bathroom in a dormitory-style shared building is a cost-effective rental option for millennials
The Upper West Side is a popular neighborhood offering various shopping, dining, and access to cultural institutions like Lincoln Center and the Museum of Natural History.
The location is prime for students and people who love nature and the outdoors with Riverside Park and Central Park on either side. Due to these perks, apartment rentals can be pricey in this neighborhood. One way for millennials to enjoy the benefits of living here without breaking their budget is by opting for a shared apartment. An apartment share can be a convenient and cost-effective way to experience living in New York City while offering flexible rental lengths without the commitment of a year-long lease. They can also be the perfect way to "test out" a neighborhood before making a long-term commitment.
New York Habitat has an array of shared accommodations, ranging from a spare room in a host's apartment to an apartment shared with multiple roommates, or a dormitory-style building where each resident has a studio-like private room while common kitchen and bathroom areas are shared.
New York Habitat's agent tips for finding a compatible apartment share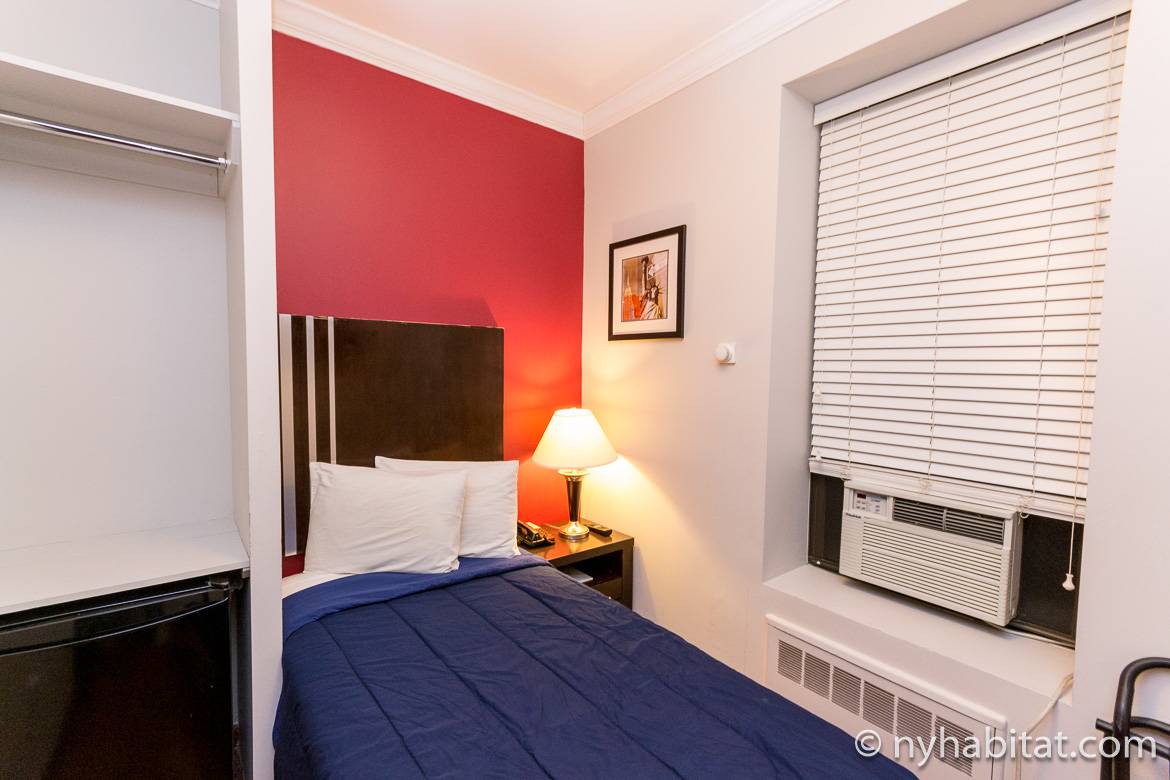 A single room in a dormitory-style shared building is a money-saving rental option for millennials
Consider a dormitory-style residence if you want the privacy of your own room, but enjoy socializing with others in common areas. You also won't have to worry about cleaning, as it's left to the building staff.
This part of our Upper West Side blog series focuses on a dormitory-style residence where you can rent a room for a month or more. You can choose from a variety of room and bed sizes, including single bed units with a shared bath or a private bath. Pricing varies according to room size and whether or not the unit has a private bath. Communal kitchens and bathrooms are found on each floor and shared among the residents of that floor.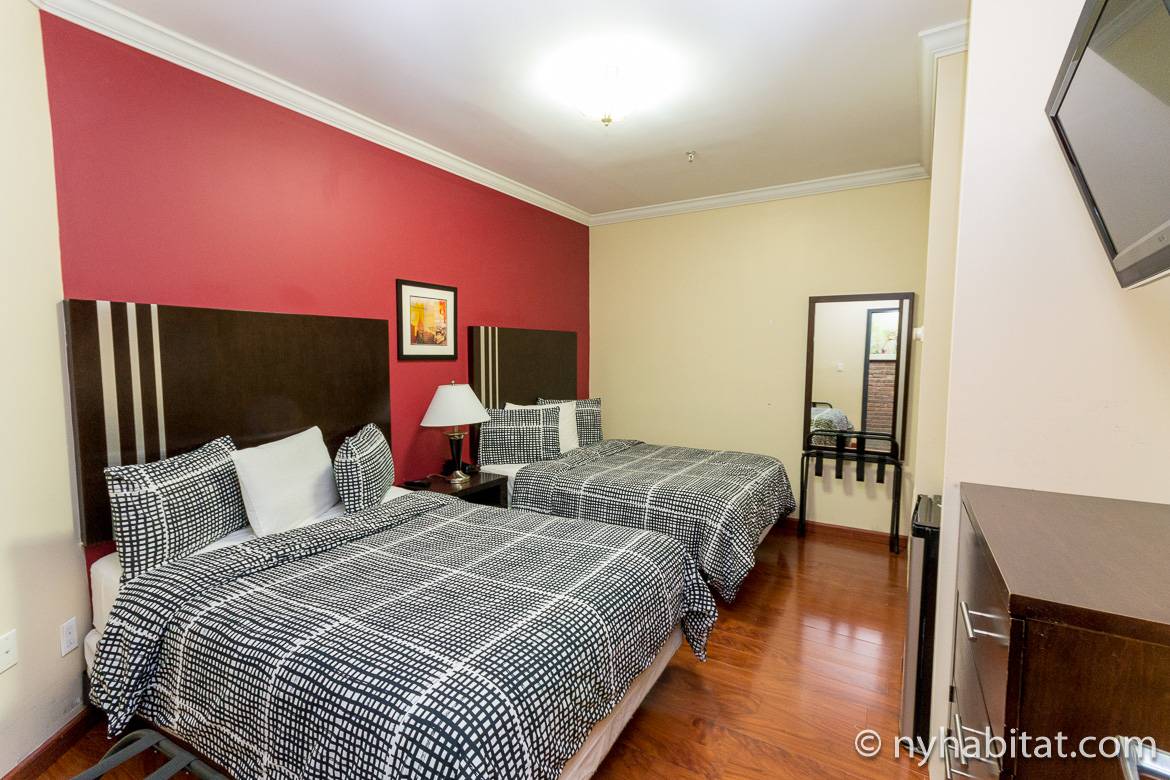 Two friends can share this room with two queen beds on the Upper West Side.
Private "studio" rooms range from low-priced rooms with two beds to larger rooms with a double-sized bed. There are a limited number of rooms available with a private bath as well. You can also share a room with a friend! Options range from two twin beds with a shared bathroom at the lower end of the price range, to two double beds with a private bath at the higher end of the price range.
Ashleigh is the manager at this dormitory-style residence on the Upper West Side that many millennials choose to call their home away from home. Get to know a bit about Ashleigh, the building and resident life, and all the best reasons to choose the Upper West Side when looking for an apartment share.
1. Can you introduce yourself and explain the work you do?
My name is Ashleigh and I've been managing this property for at least 7 years now. We focus on extended stay, which is a 30-night stay. We mainly cater to international students that come here to do internships or go to Columbia University or Fordham University; anyone that is entering the work force or learning English from abroad. I am here to oversee the whole extended stay. I also manage the front desk, housekeeping, and maintenance.
2. Since tenants are primarily students, what kind of atmosphere does that create at this residence?
We aim to create the best place where students can find their purpose, and we believe we provide a friendly and safe place where anyone with a student spirit can connect and thrive.
3. Can you explain to our readers the concept behind this extended-stay facility?
We do two types of room options. One is the shared bathroom, which is more affordable. There are 3 bathrooms on each floor, which are shared by 5 to 7 people per bathroom, and are cleaned hourly by housekeeping staff. There is a communal kitchen on each floor that is shared by the whole floor. You get a mini fridge and freezer inside your room, and housekeeping comes into your room once a week to change the linens, take out the trash, and if you have a room with a private bathroom, they clean your bathroom as well. For the communal areas, they are here Monday to Sunday 9 to 5, cleaning hourly.
4. How does the dorm-like setup of your facilities better suit your tenants' needs? How can this model of shared living be a more appropriate fit for tenants than living in an apartment?
For students, especially those who are traveling alone for the first time or coming from a different country, an environment with others that are perhaps here accomplishing the same goals and/or speaking their language is what they want. Committing to a long-term one-year lease for an apartment is something that our tenants are not looking to do, and it's often harder to do so if you are not a resident here. We offer month-to-month with no commitment.
5. What are some things you wish people knew about this type of facility, especially if they are hesitant about staying in a shared accommodation?
People are hesitant about the idea of a shared bathroom, but even though they are shared, they are individual bathrooms used by one person at a time where you can lock and close the door, not a series of stalls in one large communal bathroom. The plus side is that housekeeping is here during the day to clean and make sure that everything is spotless. As far as staying here, I feel like people like the front desk. They want someone there 24/7. They definitely want an elevator. Laundry is also a plus.
6. You mention that people enjoy the front desk. Can you elaborate more on the different services that the front desk provides?
Concierges help to enhance the quality of residents' living experience in a number of ways. They normally take package deliveries and get them to residents. The concierge helps residents get timely resolution on housekeeping and maintenance issues. We provide directions, arrange services, and of course, provide a friendly "Hello" and "See you later" to residents and guests when they enter or exit. Getting to know the names of residents is especially important to providing quality personalized service.
7. What differentiates this facility from other types of rentals?
At our facilities, it's easier to book with the leniency to stay one month, two months, six months, up to a full year. Tenants can also extend as long as we have availability. Tenants can come to the front desk and speak to me about extending their stay up to a year.
8. How do you think this facility makes for a better living arrangement for students than, for example, a dorm at Columbia or Fordham?
Privacy. You can get your own room rather than sharing a dorm with someone. There are fewer rules, and there's no curfew or lockout. We entertain guests. The facilities are normally quieter than a dormitory and, most importantly, people like that, at the end of the day, they are away from campus.
9. From talking to people who have lived here, what are some of the things they enjoyed the most about this specific rental?
We have a communal room where we have pizza parties, bagel parties for breakfast, parties for Halloween and Christmas, all those sorts of things. We try to get everyone together to try and get them out of their comfort zone. People learn English here from other guests; not even from their school, but from speaking to people in the hallways.
10. So you throw monthly events?
Shared living accommodations are popular among millennials
We absolutely do. We do them in the morning and at nighttime to accommodate people's needs, and it's definitely a great thing for us.
11. What words best describe the neighborhood?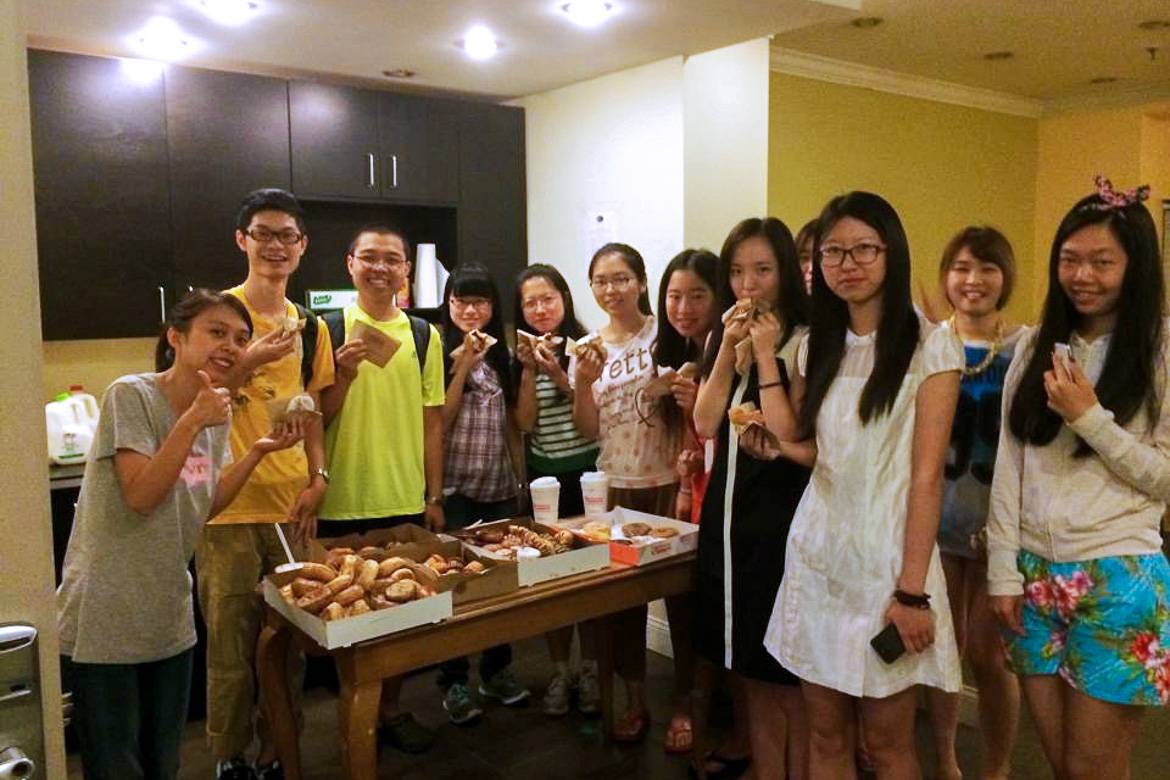 This shared residential building hosts social events allowing residents to mingle
I particularly like the UWS because it's not so crazy like Midtown or downtown. We don't have that many bars, but we do have a lot of restaurants. But you know, downtown definitely has the vibe of college. Here it's more quiet; people do their own thing. We have Riverside Park, which is fantastic! We also have Westside Market; it's our favorite place to go and where the staff and I go to eat.
With graduation season quickly approaching, you may want to look into various apartment options if you're staying in or relocating to NYC. Read our other blogs in the Millennial Guide series to discover other popular areas like the East Village, Williamsburg, Harlem or Bedford-Stuyvesant. Then head to our website and browse our apartment shares to see all the options we offer throughout NYC. Submit a request online for a faster process. Call +1-212-255-8018 if you need assistance with your request, and we'll connect you with one of our apartment share agents to guide you in your housing search!