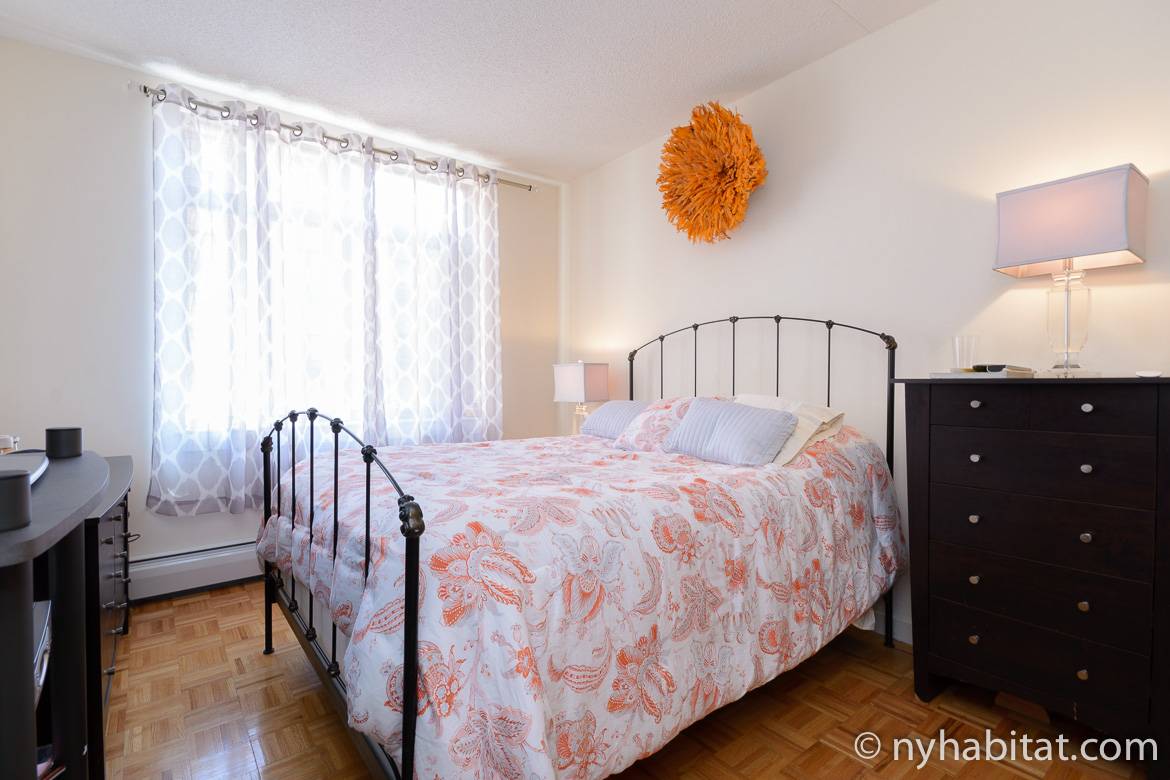 Rent a room in this spacious Harlem apartment share and enjoy the outdoors with Jackie Robinson Park right next door!
An apartment share is a great way to share the costs of living in NYC with one or more roommates, plus it lets you live with a local, which helps smooth the transition of moving to a new city. It also means you will be sharing the apartment and common spaces with your roommate(s), so it's important to find the right "fit."
At New York Habitat, our agents always strive to match you with the perfect roommate and apartment. Through our tailor-made service, our agents assess your needs and strive to offer the most compatible living options for you. You can also read our blog on finding an apartment to match your interests to help you better target your apartment search. In each of the blogs in our series on apartment shares, we will provide a tip from our agents on finding an apartment share that works for you.
New York Habitat Agent Tip for finding a compatible apartment share:
Understand the apartment's guest policy
If you are sharing an apartment with other people, it's important to respect each other's space and privacy. This includes bringing visitors into the apartment. Remember that the owner or tenant from whom you are renting a room is not legally obligated to allow you to have guests over, so it is important to understand the guest policy in advance. Roommates can have very different habits and expectations in this regard, so communication is key. Most hosts will try to be accommodating if the frequency or duration of guests isn't overbearing, while others have a strict "no overnight guests" policy. Agreeing to these terms in advance avoids awkward situations and disputes. Ask whether visitors are allowed at the apartment. Are overnight guests okay? Is there a limit to how often you can have an overnight guest or for how long? Do you need to notify the other roommates in advance? After all, you are sharing a living space and each roommate is entitled to feel comfortable in their home, so be clear about the guest policy from the start for a harmonious co-habitation!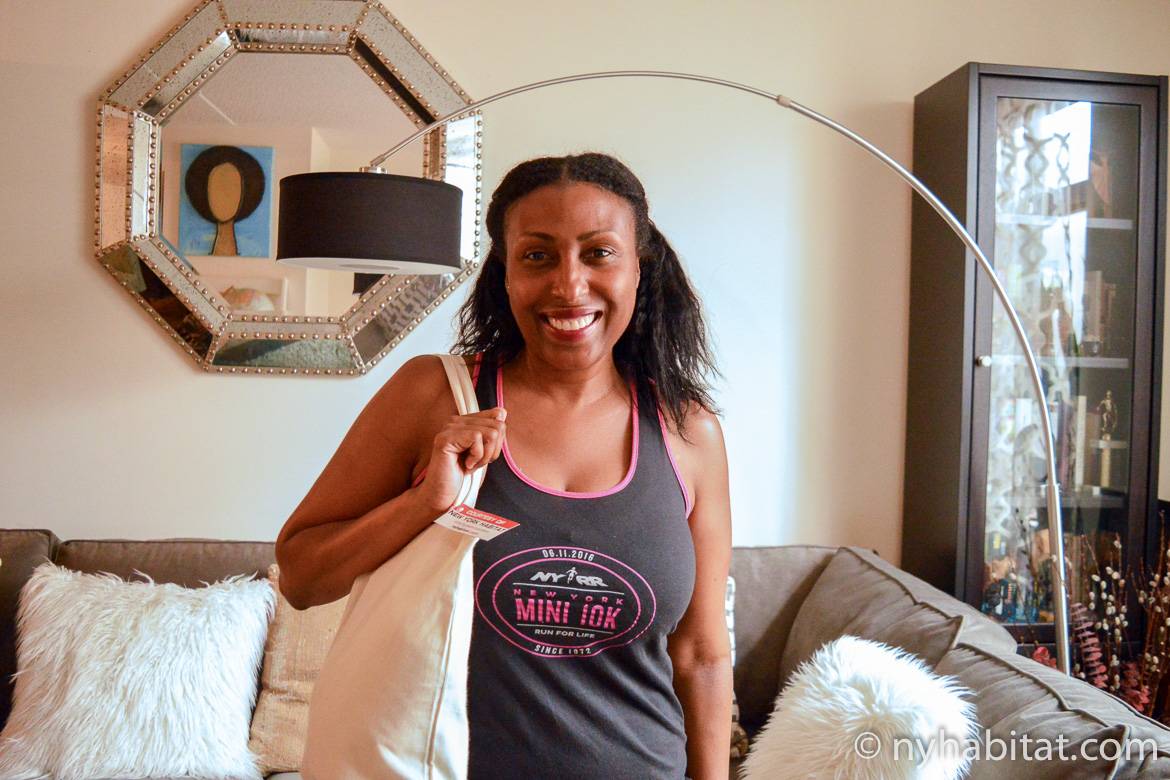 Share an apartment with Jennifer - a native New Yorker who has plenty of knowledge about NYC to share!
Speaking of roommates, you'll certainly want to know the person with whom you will be sharing an apartment, which is why it's important to get to know a bit about your potential roommate(s) to ensure the right match. We can put you in touch for a phone or face-to-face informal meeting with your potential roommate if you request it.
Our featured apartment in this blog is a two-bedroom apartment share in Harlem, Manhattan with Jennifer, one of our friendly New York Habitat hosts! You can get to know more about Jennifer and her Harlem apartment share in our interview and apartment profile below.
1. Can you describe yourself in a few sentences?
I'm a busy mom of a five-year-old. I'm a native New Yorker; I was born and raised in Brooklyn. I moved to Harlem about 7 years ago.
2. What words best describe the neighborhood?
It has changed a lot. When I moved here 7 years ago, the people that lived here way longer than I did told me how much things have changed. It's part of the redevelopment that's happening across the whole city. My building is like a little microcosm of the big city. It's family-oriented; it's a lot of young people. Everyone is here. It's very diverse.
3. What's the general atmosphere?
Community. It's very community-oriented. People watch out for each other.
4. What do you love most about Harlem?
The history. Jazz. I go to all the different open mics in Harlem.
5. What's the one place that you love to go to in Harlem?
I like going to Red Rooster for the social scene. It's definitely the place for good music and dancing.
(You can find more of our recommended spots for great food and entertainment in Harlem in part 1 of our Millennial Guide to Harlem.)
6. How did you end up living in Harlem?
The reason why I got here was because I had the opportunity to buy a co-op. It was affordable, and I think this is one of the last affordable co-op buildings in Harlem, so I was feeling really blessed to be able to jump on this opportunity. Every time I tell someone that I moved from Brooklyn to Manhattan they say to me, "You're doing the reverse, most people are moving from Manhattan to Brooklyn." But I'm glad I made the trek.
7. What are some of the highlights about your apartment (i.e., it's close to a metro or grocery store, surrounded by great restaurants, near a park, etc.)?
I love the fact that I have a washer/dryer and a dishwasher inside the apartment; I love the nooks and crannies, the galley kitchen. It's small, so I might be outgrowing it, but it's cozy.
8. What do you enjoy most about sharing your home?
I enjoy just making sure that the person is feeling comfortable. I enjoy telling them about all the different places to go, especially if they are new to New York. I enjoy seeing the excitement when they say, "Oh, I got to go here and there!"
9. Why should a potential renter pick Harlem over other neighborhoods?
It's in the city, but I feel like Harlem has a lot of history, and the amenities are here. A lot of parts of Harlem are changing.
10. Favorite street to stroll in the area?
I like going to an area called Sugar Hill. I love looking at the brownstones. I like driving through 139th St., between Frederick Douglass and Adam Clayton. It's a whole bunch of townhouses, but it's really nice; it makes me feel like I'm not in the city. I love walking by the water down by Riverside Park. I love that area.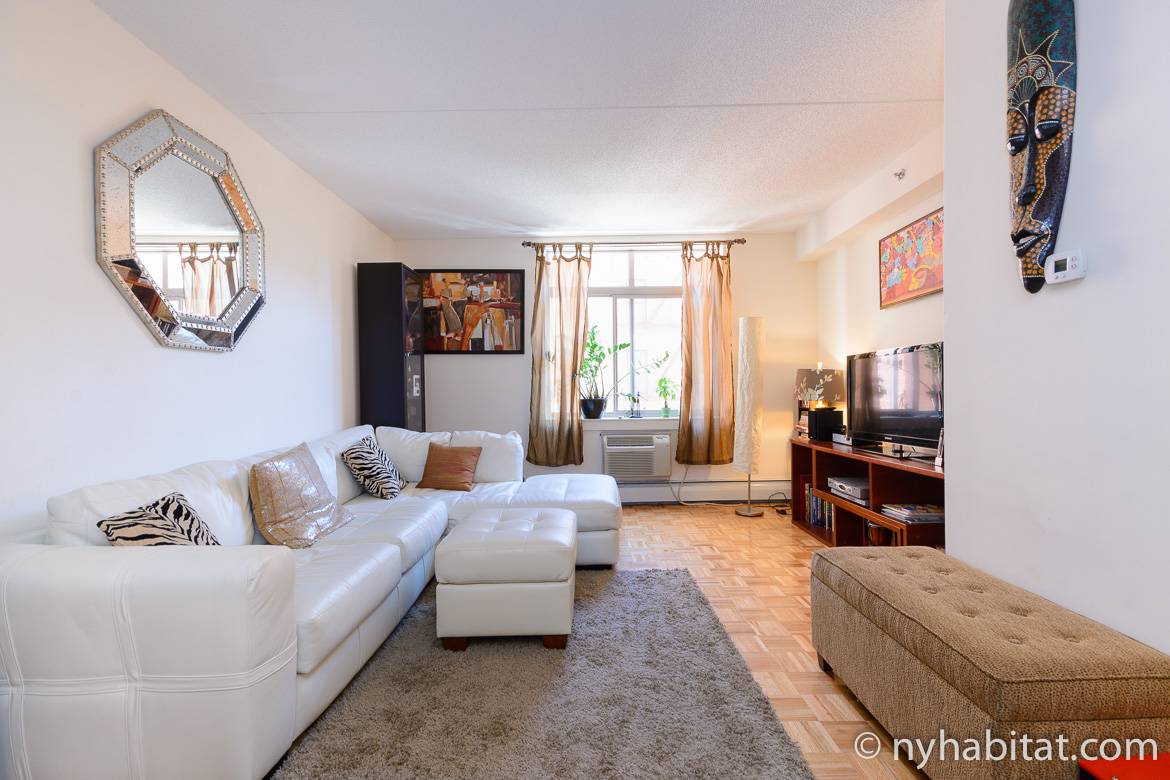 This modern Harlem apartment share has a 24-hour doorman and an on-site gym!
Jennifer's 2-bedroom/1 bath apartment is located in Harlem near West 148th Street and Bradhurst Avenue in a modern elevator building with the safety and convenience of a 24-hour doorman! The property is close to Jackie Robinson Park, so you'll be able to enjoy the fall foliage right nearby. Also, if you're into sports, you'll have the option of taking your workout to the park or the super-convenient residential gym right in the building! The spacious shared apartment has parquet floors throughout and its walls are decorated with African-inspired artwork. A white leather sectional sofa provides a comfortable place to lounge in the living room by the flat-screen television, and an upright piano is available for the musically-inclined to use! The room for rent has parquet floors and a window facing east for natural sunlight, along with a cozy queen-sized bed, a dresser with mirror, a night table, and your own cable TV. There's also plenty of closet space for your belongings. Amenities in this apartment include a laundry washer/dryer right in the unit and a fully-equipped kitchen with dishwasher where you can prepare meals. Enjoy them at the dining table for four or the table and bar stools in the eat-in kitchen for a casual snack spot.
Harlem is a great option for students, since Columbia University and City College are nearby, allowing an easy commute to school. For other apartments convenient for students, check out our blog on apartments near NYC universities. Harlem is also an affordable option for students and those on a budget if you want to keep your home base within Manhattan without the sky-high rent. Retreat to nature among the 13 acres of Jackie Robinson Park, where you'll find a recreation center, baseball fields, volleyball courts and even an outdoor pool! Fall is upon us and it's the best time of year to enjoy the outdoors in NYC. If you need some ideas on the best ways to enjoy the fall in the city, visit our blog for inspiration!
For a bit of history (and there's plenty of that in Harlem), stop by the Morris-Jumel Mansion. This historic site is the oldest house in Manhattan and served as a headquarters during the American Revolution! Harlem has always been an epicenter of music, so there's never a shortage of local talent on display. Head out to some of the neighborhood music venues like Harlem Nights, Shrine World Music Venue and Red Rooster to catch the latest live music acts, some of whom may be your neighbors! Don't miss out on the thriving local food scene while you're out. Visit world-renowned eateries like Sylvia's that specialize in the famous soul food of this area. Then, head east and discover all that East Harlem has to offer as well.
If you're new to New York City, don't miss our top 10 must-see sights in NYC! You can also see our full inventory of other apartment share options on our website. Submit a request online, or call +1-212-255-8018 if you need assistance with your request, and we'll connect you with one of our apartment share agents to guide you in your housing search!